Running a company is a multifaceted task. Many companies use different platforms to carry out their sales, marketing, services, and revenue operations, but this process soon becomes tedious and time-consuming. Having to duplicate and integrate data frequently and dealing with miscommunication because of the constant switch between platforms can significantly hinder your company's efficiency. And that is exactly when platforms like HubSpot and Salesforce come in handy. Are you wondering how to get a free membership? In this article, we are sharing with you how to easily get free membership on one of these solutions, HubSpot.

What is HubSpot?
You can think of HubSpot as the toolkit that holds your company's most needed sales and marketing tools in one place. It is hard to create a compact description that includes every key point of HubSpot. It's simply a platform that has it all, so let us briefly list some of HubSpot's features.
CRM
HubSpot CRM has various tools to help you manage your sales functions. It has a sales pipeline management tool to track your pipeline and decide on the direction of your new deals. HubSpot also holds sales reports and performance management tools that clearly show your sales metrics. Using the various metrics, you can view reports of your leads' activities clearly and plan your marketing roadmap.
Shared Data
HubSpot data can be shared among your teams. HubSpot keeps information and data from different branches of your business under the same roof, so you don't have to deal with the bothersome data dueling or sharing processes.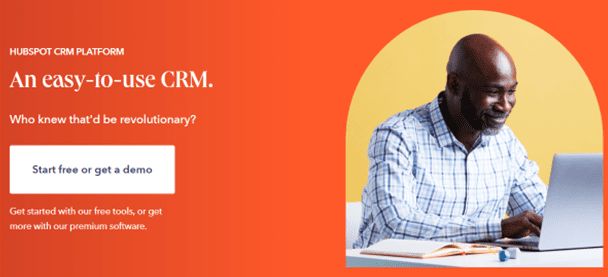 Automation of Marketing Activity
HubSpot provides integrated tools to make your communication with your leads much easier and effortless. For example, the email automation tools of HubSpot are very beneficial for adopting the best approach while emailing your leads. You can send messages to your leads based on their user behavior and maximize your efficiency using these tools.
Distinguishing Your Active Leads
Depending on user activity, HubSpot distinguishes your active leads from the rest. This allows you to focus on leads that are most interested in you according to their activity.
There are surely many more features of HubSpot. To get more information on HubSpot's new features, you can read about their most recent updates on their website.
How to Get a Free HubSpot Membership
Along with paid options, HubSpot offers a free plan as well. Here are the steps you should take to get your free HubSpot membership:
1) Go to the HubSpot official website and click "Start free or get a demo" button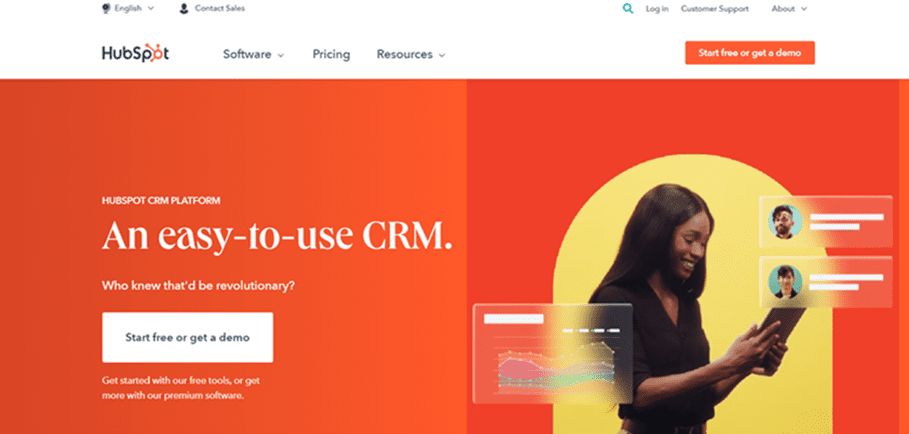 This will lead you to a page where you can view different features of the various services that HubSpot provides its users. You can take a minute to examine the features in detail and decide whether a demo or a free plan is more suitable for your business.
While you can directly start using HubSpot by starting with a free plan, a demo could help you find answers to any questions you may have. Weigh the pros and cons of both options for your business and start discovering.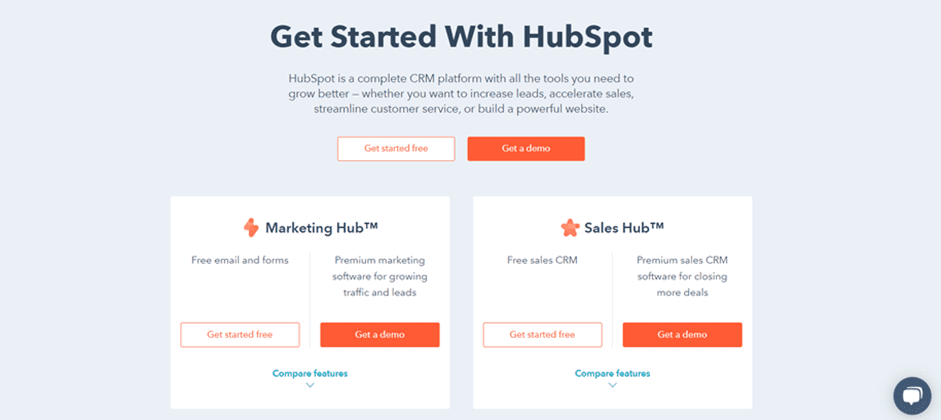 2) Fill in the Information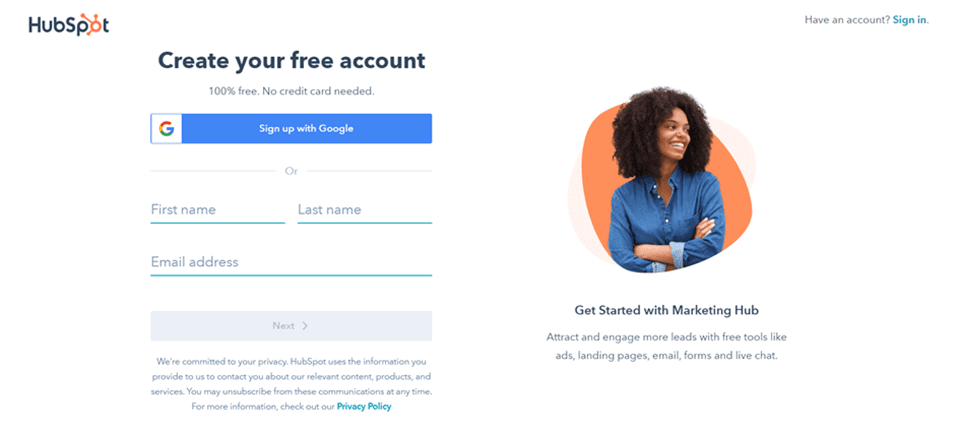 If you decide to create a free account, click the "Get started free" button, and you will be directed to the page above, where you can fill in your information. HubSpot will collect information about your name, email address, industry, company name, website, and more. This information will help HubSpot create a suitable account for your use.
3) Create a Password
After filling in the needed information and verifying your mail address using the mail HubSpot has sent you, you can finally create your password. Make sure your password exceeds eight characters, including at least one lowercase and one uppercase character, and one number, symbol, or a whitespace character.
4) Start Your Journey with HubSpot!
After completing all the steps, HubSpot will ask you about your previous experience with CRM to give you the best start.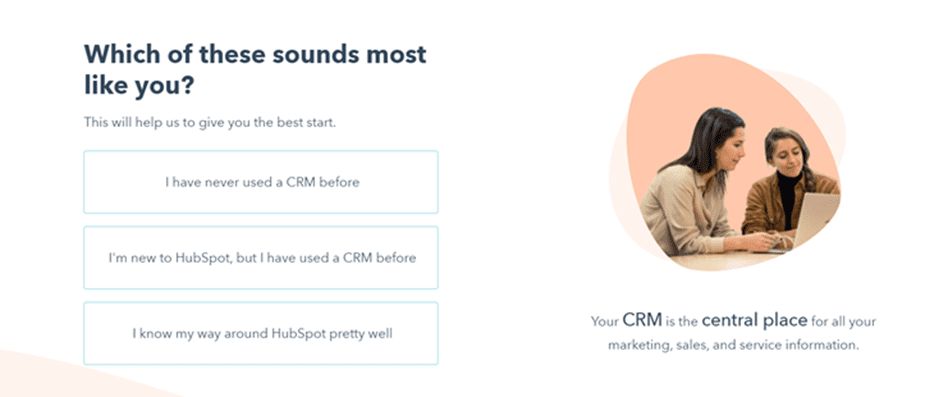 After choosing the option that best suits your experience with CRM, you will be provided a quick demo. We recommend that you start and complete this demo to get a glimpse into HubSpot's features and find your way around the platform easily.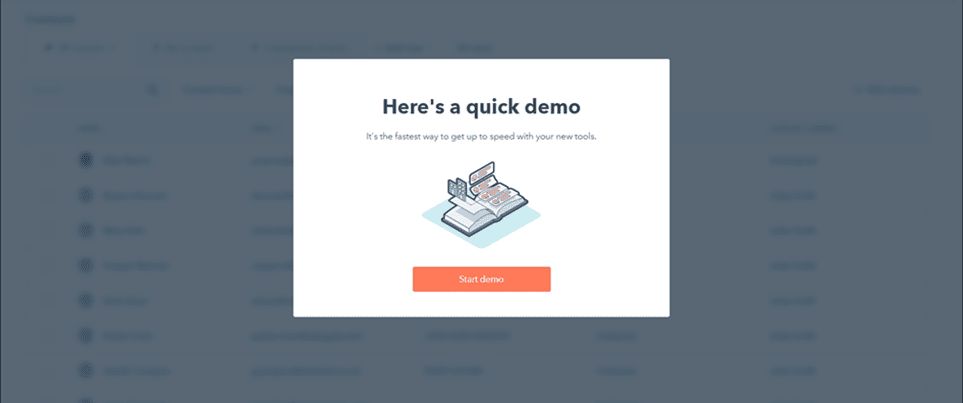 …And There You Have It!
Now you have a free HubSpot account that will help you improve your sales and ensure quality communication with your leads. You will now see just how simple everything becomes when you use suitable CRM tools.
Never forget that only you can know what your company really needs, and finding the best option can only be possible with research. If you're on the lookout for a different CRM software or discovering your options, you can always check out Raklet and try our free plan or schedule a demo with us as well!
Read other articles from our blog: