A good membership renewal email template is the most important factor while you gear up for a member renewal campaign for your community. Spending time and energy in this step is important to help you grow as an organization. 
Renewal emails and letters can either make or break your relationship with your members. This direct mode of communication is a great way to remain engaged and have active members. This is one of the most important forms of communication you have with your members every year.
What is a renewal reminder?
A renewal reminder email is sent about 30 days before the subscription ends. It is delivered to everybody who has a subscription or membership that has to be renewed. Renewal emails and letters can either make or break your relationship with your members. This direct mode of communication is a great way to remain engaged with your community and have active members. This is one of the most important forms of communication you have with your members every year.
How do you create a membership renewal email and encourage people to renew their memberships?
A membership renewal email should begin by thanking the consumer for their membership and asking if they want to renew for another year. Explain that their membership is about to expire and that you need it renewed within the next two weeks or you will have to cancel it. You might start by giving a membership renewal discount to encourage your members to renew their subscriptions. It might be a great motivator for a member to take the last step and finish the process.
Also, a great renewal reminder email not only gets opened but also provides the member with an easy and direct way to pay their membership fee. These renewal emails are also a great way to update member information once they pay the membership fee.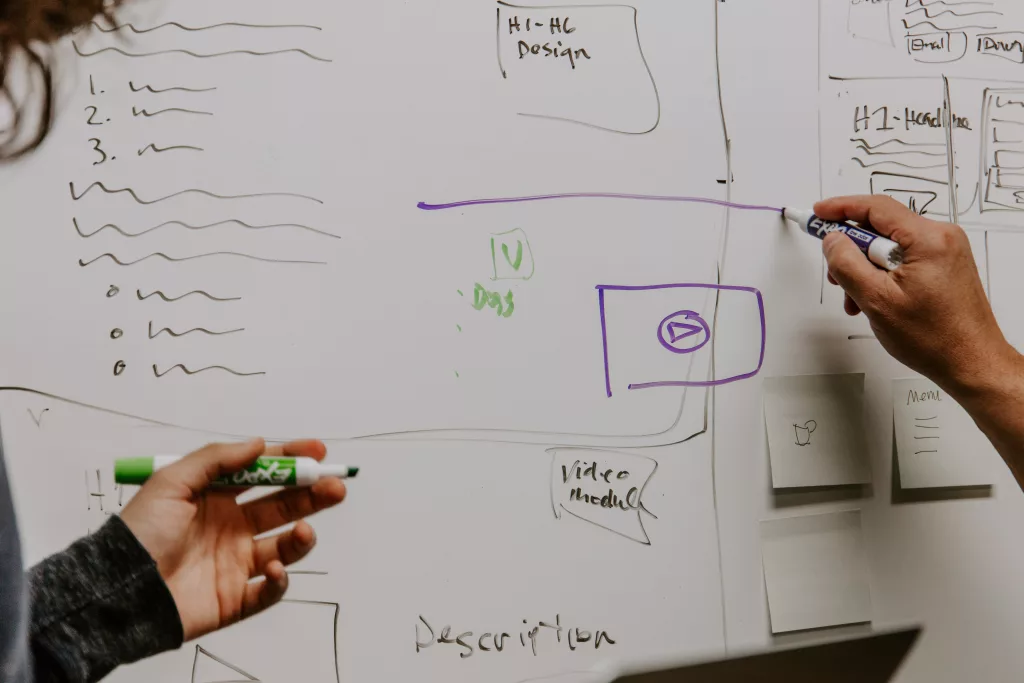 What is the Difference Between Renewal Rate and Retention Rate?
The terms "renewal" and "retention" are frequently used interchangeably. They ought not to be. To analyze, you must divide your consumers into groups of customers who share characteristics such as when they signed up or when they last renewed. What divides the two is how you define membership in those groups:
Renewal rate investigates customer cohorts defined by the expiration date of their contracts.
Retention rate tracks initial groups (customers who signed up at the same time) over the course of their contracts.
How can you increase your membership renewal rate?
In an idealistic situation, a membership organization's renewal rate would be 100%. In all honesty, associations rarely reach, let alone maintain, a 100% membership renewal rate, especially in today's volatile environment. Any form of membership group or society should aim for a membership rate of at least 90%. To achieve this rate, you must write an excellent membership renewal letter.
These renewal reminders work on improving your renewal rate and they save you a lot of time and energy. With a good membership renewal letter, you can focus on creating a valuable platform for your members instead of simply managing them.
Read this article to learn how to send a debt renewal email to your members of your membership community.
Top 5 tips to improve your membership renewal email for your members
1. Customize your email for your members
While sending out a renewal email for your members, make sure you customize the content for your members. Learn about your members, their interests and likes before you send the renewal email. Focus on specific member benefits they might be interested in based on their activity.
Try to create separate emails based on the membership status of a member. You can try 'miss-you' emails for members who haven't been active on the portal; a 'thank-you' email for long-standing members who have significantly contributed to the community or 'welcome' emails for new members.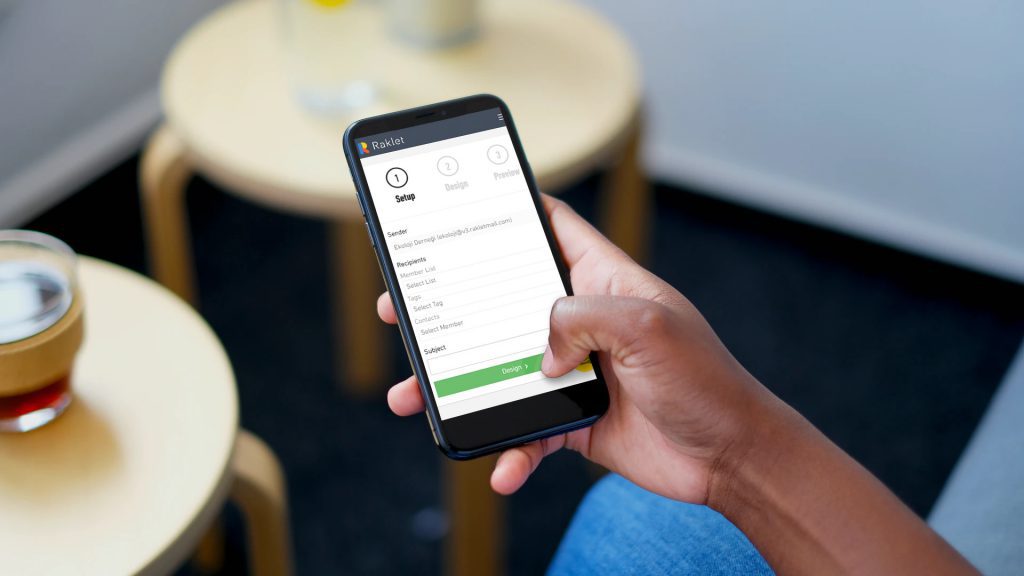 If you are using Raklet's membership management software, you can customize and create new email templates for your members based on membership categories, segments, or levels.
2. Set up automated payments for your members
Set up automated payments for your members. This process helps you to automatically charge the membership fee from your members at the end of the membership duration. This process is set up once and helps you improve your renewal rate.
Automated payments help you save time and money from processing membership fees. In addition to this, they also help you to avoid late payments from your members. You also don't have to send nagging emails to bother your members about upcoming payments.
Learn more about the payment activation requirements before you set up automated payments for your members.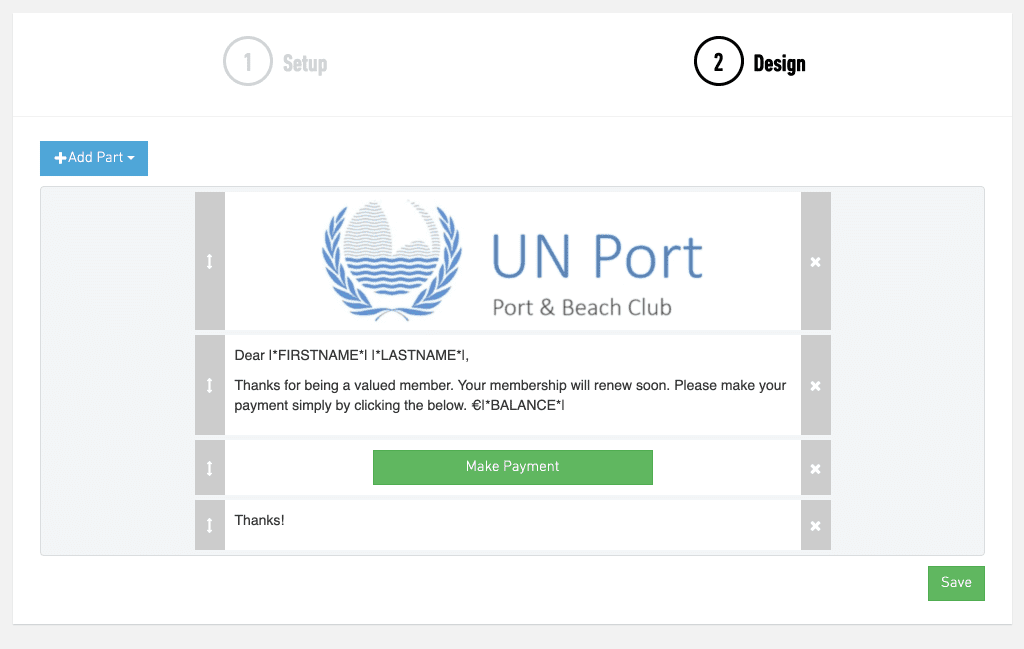 If you are looking out for a great membership management software for your organization, Raklet is deemed as one of the top 20 membership management software by Capterra. And if you are a small organization trying to set up a membership management system, get started with our completely free account today.
3. Highlight the benefits of being a member of your community
Members are prone to think about the benefits of being a part of your community. So, it is very important to highlight the benefits of being a member.
Your membership renewal email must be able to showcase all the benefits of being associated with your organization. Your renewal messages must be crafted in such a way that the members feel a sense of belonging.
Don't simply talk about your products and offerings; instead, make sure to write in a way that helps them connect emotionally with your community and its services. Your benefits don't have to be detailed but relevant.
Check out how Raklet's Alumni Portal brought Koç University alumni together by using the alumni management software.
4. Acknowledge your members and connect with them personally
If you have a membership management system such as Raklet that has automated payments for membership renewal, all your due are collected automatically. However, this does not mean that you do not connect with your members personally. Make sure you acknowledge your members and their contribution to your community.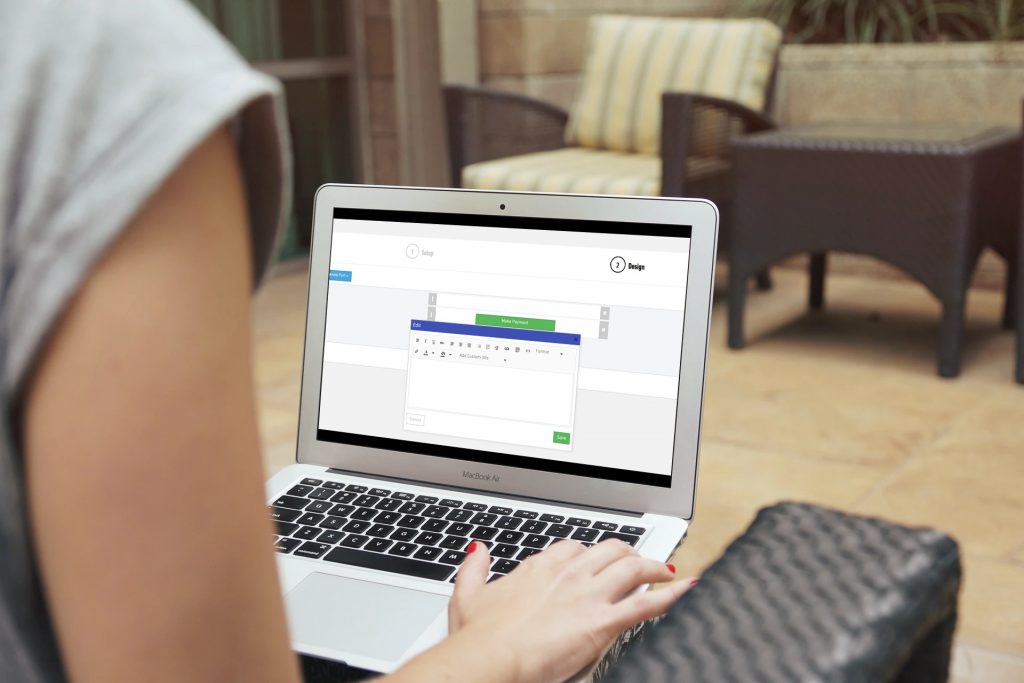 It is crucial to reconnect with your members on a personal level. Notify them of the upcoming membership renewal and that their credit cards will be charged. These small efforts will be highly appreciated and help you to grow your community.
5. Take time to draft the right membership renewal email template for your members.
As a community, it's expected that you will send emails and text messages to your members over a period of time. However, a membership renewal email is important and must be drafted with care.
The two types of emails that you can draft for the membership renewal email template
Members generally receive two types of membership renewal emails from a member management software.
A membership renewal reminder email sent before the renewal date
A member is often busy with various tasks, so it is important to send multiple renewal email reminders. Make sure you are frequent with your communication but do not over bombard them with irrelevant messages.
Include a thank you note at the beginning of the email to make them feel valued. Talk about how their current membership helped you achieve various milestones as a community. Make sure you include their last renewal date and how to renew their membership. Don't forget to highlight the membership benefits too.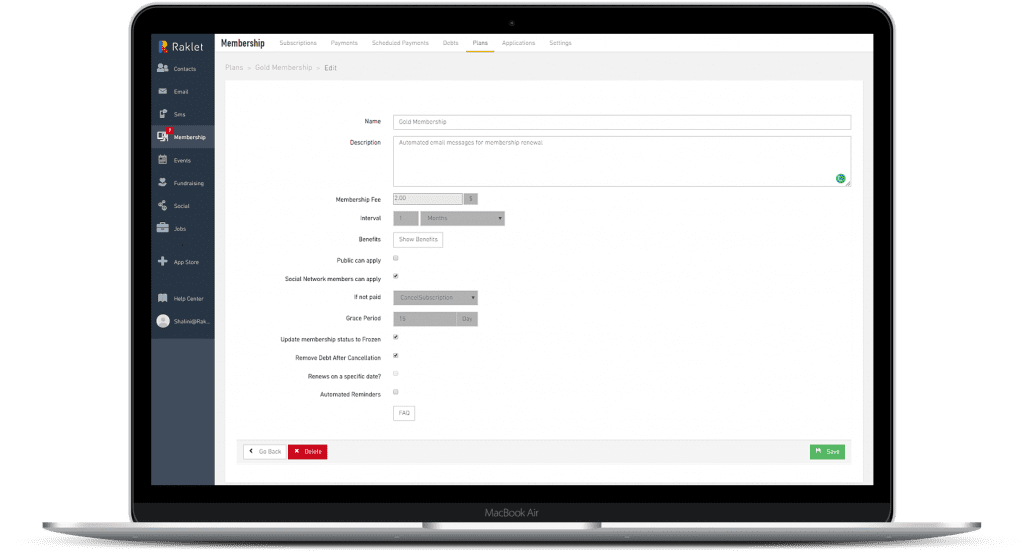 You can send automated reminder emails to your members using Raklet's automated email reminders. Read more to understand how to send automated email messages for your members.
A membership renewal email template sent after the renewal date
What happens if a member does not renew their membership before the renewal date? It is a chance to send them a reminder email to let them know that they have missed renewing their membership.
If you have a grace period, don't forget to include it in your email message. And make sure to include all the benefits that comes with their membership. Don't forget to add an easy link to direct them to the payment page.
Add a 'payment button' directly in your email template to help them pay for their membership. Send them a genuine note of thanks while closing your email. Make sure your membership renewal email is warm, personal, and friendly.
Easy-to-use membership management software for your community
If you want to enhance your membership renewal rate with a great membership renewal email, you should follow the tips offered above. It will be easier to follow these if you use excellent membership management software like Raklet, and you will be able to complete your tasks in much less time.
Raklet provides a powerful CRM to improve the efficiency of your membership management operations. Raklet may be used to get real-time updates from your members and allow them to import and update their data. In addition, each member will receive a digital membership card that can be used to check in for events or community meetings, making them feel special and included. To simplify your events and promote upcoming ones, you may send your members bulk emails and SMS messages.
You can check out our extensive features and our transparent pricing plans for more information! 
To read more about memberships and how to make the best of them, check out our comprehensive article: Making the Best of Memberships.
If you'd like to learn more about membership management, check out these articles below: