Donations are the backbone of a nonprofit organization, and PayPal is one of the most popular options to process these donations worldwide. Many organizations use PayPal as a donation payment gateway and a payment processor rolled into one. However, it comes with many challenges, especially for small organizations where every penny counts. In this article, you will find our top five alternatives to PayPal, many of which are geared towards nonprofits.
Pros of PayPal: What does PayPal offer?

There are a lot of reasons why PayPal is the most popular option for these kinds of payments. One of them is that it is a fast and easy way to accept donations. It is user-friendly, both on desktop and mobile, and can be used by everyone. It also accepts credit cards, debit cards and PayPal payments.
PayPal also has over 200M potential donors, available to over 200 countries and accepting over 100 currencies.
When it comes to its benefits towards nonprofit organizations, we can begin with the pricing. If you're an approved nonprofit organization, PayPal offers 2.2% + $0.30 per transaction, instead of its 2.9% + $0.30 rate. For in-person donations, you can also use PayPal here card readers.
If your organization is located in the US, PayPal automatically registers you under the PayPal Giving Fund. This fund allocates funds from donors according to their wishes.
Cons of PayPal: What is PayPal bad at that you're looking for alternatives?

PayPal can be particularly expensive when you're dealing with international donations. Especially for smaller organizations, PayPal's steep conversion fees and transaction rates might be harmful in the long run.
Another challenge is that unless you're using PayPal Pro, your donors will be redirected to the PayPal site. Consequently, this might result in your donors getting distracted, and they might not return back to your domain.
PayPal's lack of customizations might also cause challenges for your organization. Not every nonprofit is the same, and it is very likely that you will need to make changes on your payment gateways to provide the best service and ease for your supporters. While PayPal is easy to use, there are not a lot of options for customizations.
And finally, one of the most important downsides of PayPal is its transaction reports, which are not created for nonprofit organizations. Donation data is certainly very important to figure out patterns, so that you can reach out to more supporters. However, PayPal's transaction reports are not particularly helpful for this purpose.
5 Alternatives to PayPal for Nonprofit Organizations
Now that we know about what PayPal is good at and what it's bad at, let's look at other payment gateways and processors that might fit your needs better. We'll be ranking them from 5th to 1st, so continue reading if you'd like to learn more!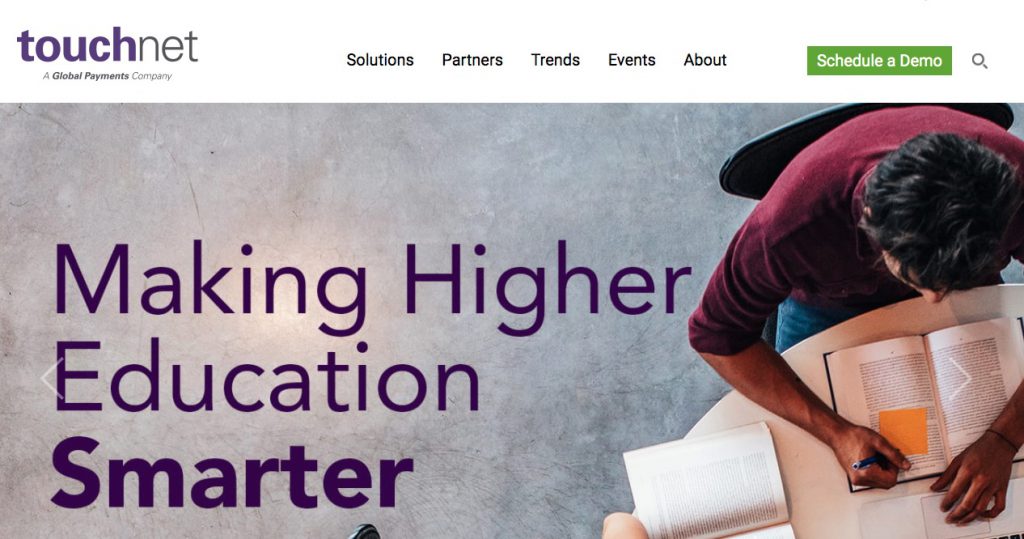 TouchNet is one of the alternatives to PayPal especially for higher education nonprofits, such as universities and colleges. Since it is specifically designed for institutions of higher education, if you're one of these organizations, integration to TouchNet will be particularly seamless.
Because it is created and geared for universities and colleges, its customization and donation options offer a great variety of options in the same vein. There are a lot of payment options available for tuition, sponsorships, events and so on.
There are also options for online storefronts and registration sites. Your donors can pay for registrations online and also make donations accordingly.
Another unique quality of TouchNet is its SponsorPoint® program. Sponsors can review accounts collectively or individually, and receive simple invoices for quick and easy payments. It also provides contract transparency, which can be valuable for recurring donations.
They accept:
Credit cards
Debit cards
PayPath
ACH
Bank wire transfers
Pricing:
When it comes to pricing, TouchNet does not offer a clear cut answer on its website. However, it is powered by PayPath, and rather than cutting transaction fees from your account, it pays you the 100% tuition amount, and cuts any occurring fees from the sender's account. They state that this charge is equal to the amount that credit card providers charge, so there is no loss on your end.
The reason that TouchNet does not rank higher on our list is that it is geared towards one specific type of nonprofit organization.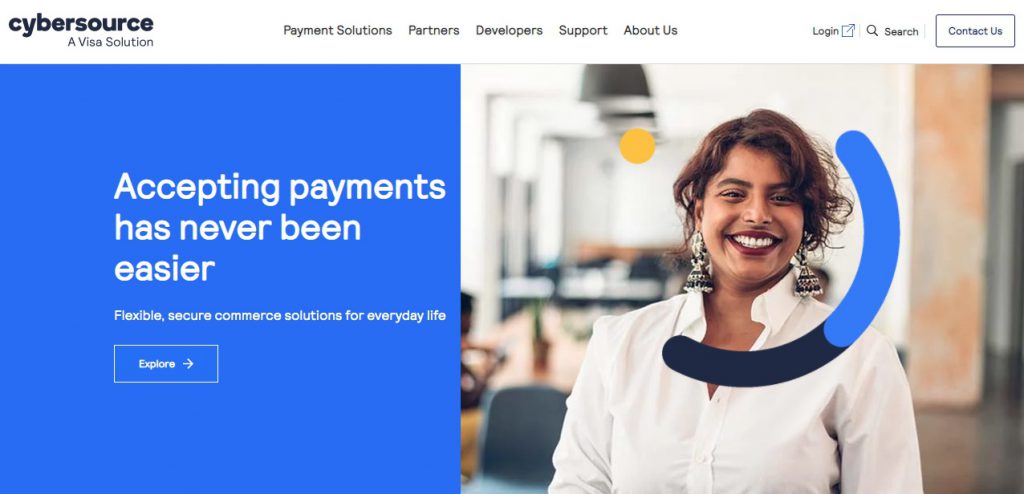 Cybersource is a credit card payment gateway, powered by Visa. They also own authorize.net and have been around since 1994. They specialize in fraud management services and are often geared towards medium and large sized organizations.
We particularly recommend Cybersource as one of the alternatives to PayPal for organizations who have international supporters and receive donations from all around the world, since this is what Cybersource specializes in. Similarly, they also focus on making sure these payments are secure and that organizations won't get harmed in case there is fraudulent behavior.
There aren't direct benefits for nonprofit organizations to use Cybersource, but they emphasize the importance of their fraud prevention systems especially for nonprofits. That is to say that because nonprofits require little information when receiving donations, this can trigger fraudulent behavior and Cybersource specializes in preventing these problems.
They accept:
Credit cards
Apple pay, Android Pay
Visa Checkout
Pricing:
Unfortunately, they do not have specific prices on their website, and ask you to reach out to them to get a rate for the services you need. However, we do know that they charge by transaction, rather than a subscription fee.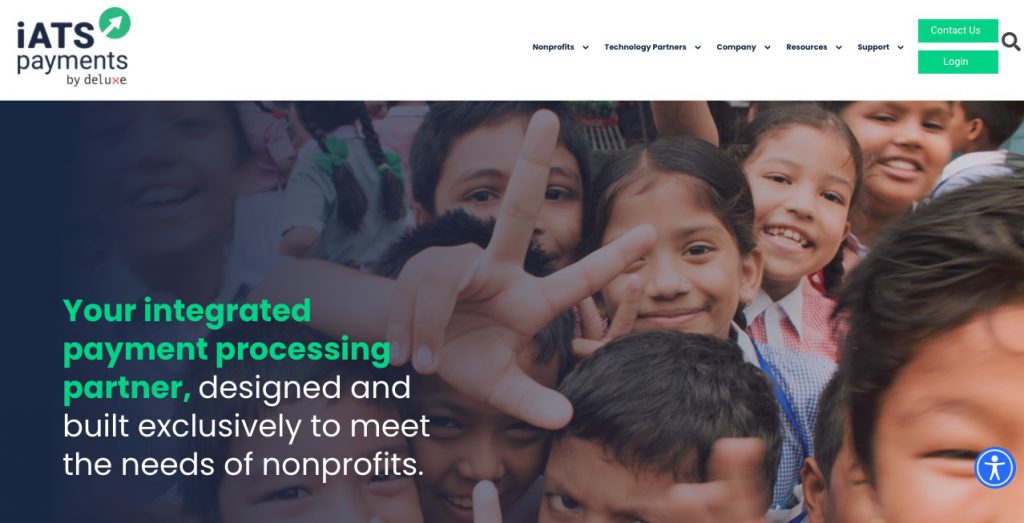 iATS Payments has been active for 30 years and it was founded for the very purpose of helping nonprofit organizations as a payment gateway and processor. 14,000 organizations use iATS Payments and it processes billions of dollars every year.
We recommend iATS payments as one of the alternatives to PayPal especially for organizations that are recently starting to accept online donations, and need personalized options and support. It is seen as a basic and affordable option, and it also offers for donors to pay any transaction costs instead of cutting it away from donations.
They also offer free and customizable fraud detection and protection tools for secure payments and date storage, which can be important for nonprofit organizations. Similarly, as we said before, nonprofits do not require a lot of information when accepting donations, so it is wise to look into fraud protection measures when looking for payment gateways.
However, if you need particular customizations, it is difficult to implement them without third-party help. iATS is geared towards nonprofits, but any further changes and improvements according to your needs might be a bit challenging if you do not know how to code.
They accept:
Credit cards
Debit cards (only for Canada, the US and the UK)
International payments
ACH
Pricing:
When it comes to pricing, they also do not have specific prices on their website. However, we do know that they do not offer a free program or a free trial period, and charge on a transaction basis. Some sources have claimed that iATS' transaction rates vary from 2.49% to 3.2% and that they charge a flat rate of $0.26 per ACH transaction.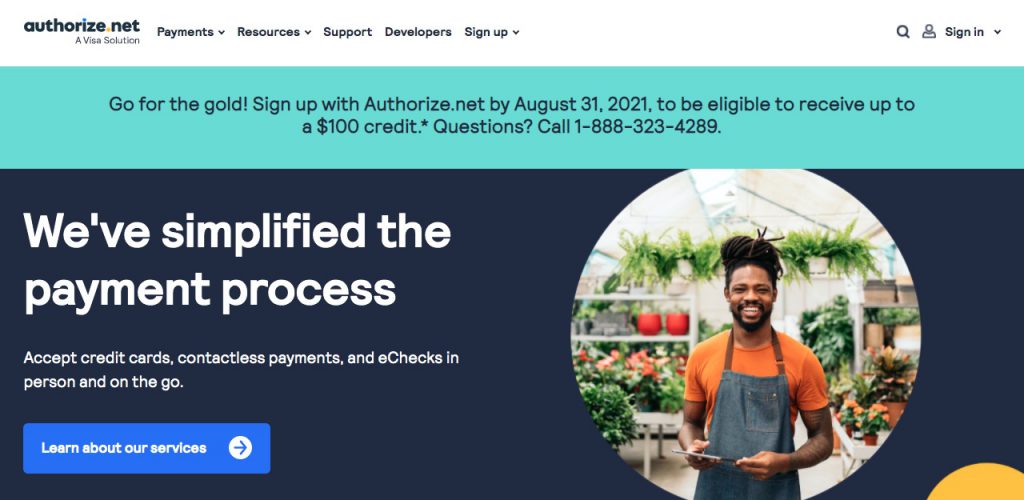 Authorize.net is a payment gateway and processor for small to large organizations, also powered by Visa like Cybersource. Founded in 1996, it has been operating for over 20 years. As a result, they currently have 430,000 users and handle $149 billion in payments every year.
As one of the alternatives to PayPal, Authorize.net has a built-in fraud detection and prevention tool called Advanced Fraud Detection Suite (AFDS) that is configurable and easy to use. Once again, this is very important for nonprofits since fraud can pose a great problem to all organizations, no matter how large or small.
For donors, Authorize.net accepts recurring billings for continuous donations. Furthermore, it also allows them to save their billing and paying methods for future use. The simple "donate" buttons on your website also makes it easier for donors to quickly make their donations.
When it comes to customizations, they offer a variety of API features for developers. This can be valuable to further customize your nonprofit payment gateway to suit your needs the best.
They accept:
Major credit cards,
Signature debit cards
eChecks
Online payments.
Pricing:
They charge a monthly fee of $25 and their rate of 2.9% + $0.30 per transaction. If you handle a lot of donations through them ($500.000+) you might be eligible for a discounted rate. However, for smaller organizations, Authorize.net can be a bit more expensive.
Raklet, a CRM for nonprofits all around the world, can also support Authorize.net. We can make the required customizations to allow payments through this gateway for any one-time or recurring donations.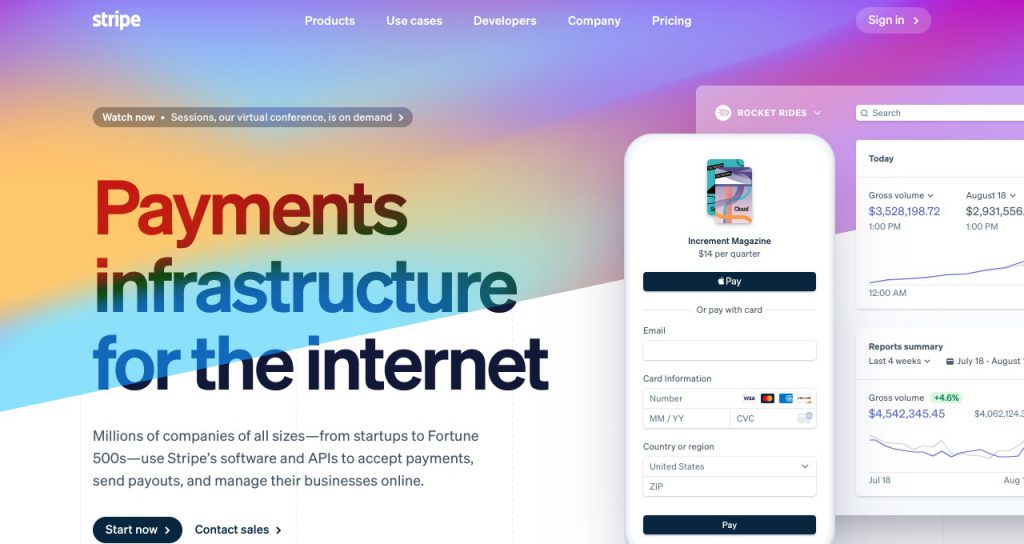 As the biggest competitor to PayPal, there are a lot of reasons why Stripe ranks so high on our list. Similar to other gateways here, Stripe is also an online payment processor for donations all around the world.
Firstly, what sets Stripe apart from the other competitors on the list is its great variety of customization options. It has made a lot of technological advancements for payment gateways. As a result, it can provide a great variety of necessary tools for your nonprofit organization. You can change and customize your processor according to your needs, which will help your organization get more supporters.
Unlike PayPal, there is also no redirection when your donors want to make a donation on your site. They can remain and make their payments on your own domain, without any extra charges on your end.
When it comes to international donations, it also becomes one of the best alternatives to PayPal. This is because Stripe lets you configure international donations. It allows you to avoid steep exchange rates by collecting payments and distributing them to your accounts whenever you wish. Its short remittance time also helps process payments quickly and easily.
They accept:
All major credit cards
Debit cards
Alipay, Apple Pay, Google Pay, Microsoft pay, Click to Pay, WeChat pay
ACH, Checks, bank wires and more.
Pricing:
Its base rate is the same as PayPal, which is 2.2% plus $0.30 per transaction for nonprofit organizations.
Our thoughts as Raklet on Alternatives to PayPal for Nonprofits

As Raklet, we also use Stripe! We particularly like its customization tools and short remittance period all over the world.
If you're a nonprofit organization looking for a cloud platform to manage your supporters, donations, and events — look no further! Raklet is an all-in-one community management platform that makes your job easier while you change the world. We have specialized customizations for your needs, so make sure to check out our Non-Profit Management Software. You can also schedule a demo with us, so that we can understand your needs better and help you accordingly!
For non-profit organizations, we also offer a 50% discount on our Professional and Premium annual plans. For eligibility requirements please reach out to us at [email protected].
To read more about nonprofit organizations and how to reach your utmost potential, check out our pillar content where we have created an ultimate guide. We also have other articles that might be of interest to you as a nonprofit organization: