Glue Up Alternatives, Pricing, Reviews & Ratings
Following your members' activity, planning events and collecting payments. You can do all of these effortlessly by using a membership management software. If you're searching for one, or looking for a Glue Up alternative, tune in.
If you're planning to operate your organization through one of these platforms, you're on the right track to grow your organization. However, choosing the right engagement management platform for your organization is not easy. There are so many choices that you need to look for. To help you out, we will compare Glue Up and Raklet below. You'll be able to decide which one is the best choice for you.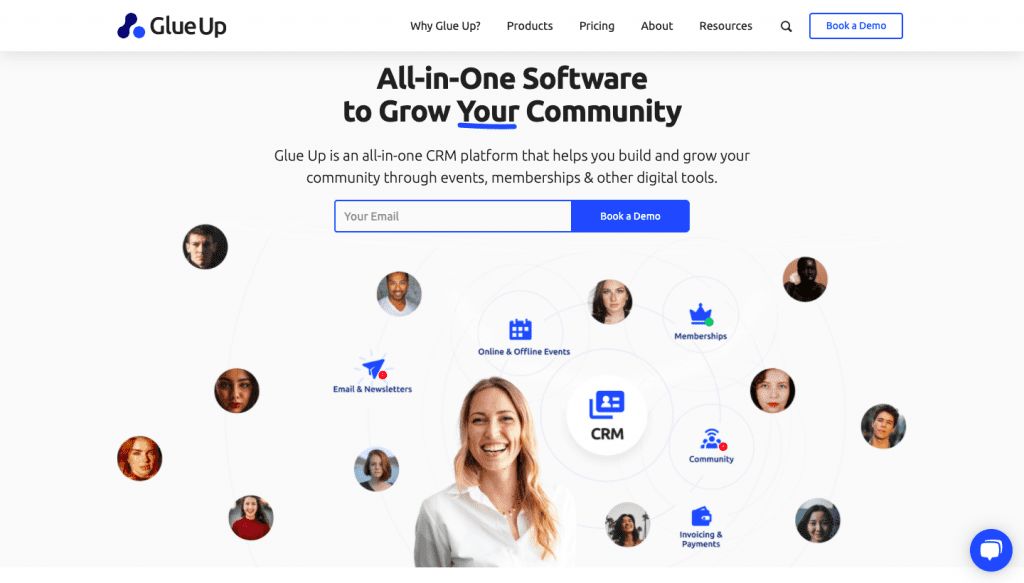 Glue Up is a cloud-based engagement management platform. It's an all-in-one solution for your organization. Glue Up provides its customers with CRM, event management, membership management, email marketing, project management, training management, and surveys.
It includes branded event websites, webinars and email campaigns for organizations.
Glue Up Strengths; It's a great platform for business networks as it integrates CRM. In addition to CRM, Glue Up offers Community Management features which enable organizations to engage with their audiences.

It is available on all platforms, with two different mobile apps. You'll have access to one app for your organization, and one for your community.
You can manage your contacts and members on Glue Up. Organizations can engage with their audience via;
1 on 1 calls
Event rooms
Digital cards
It can also provide you with;
Event management
Payment collection
Email marketing
Social media and 3rd party integrations
However, users of Glue Up highlighted some downsides too. To help you out, we gathered a few of them.
Glue Up's weaknesses;
Customization and flexibility problems
Not user-friendly, hard to onboard
Limited emails and contact allowance
Limited support
Outdated site builder
No premium plan
Glue Up Reviews on Capterra: Glue Up stands at 4.5 / 5 on Capterra. The customers generally state that they like the product overall, but it has lots of annoying bugs.
Glue Up Reviews on GetApp: They have a rating of 4.5 / 5 on GetApp. These Glue Up reviews usually revolve around flexibility. Glue Up is a relatively good option for most of the people. But on GetApp, users complain that it has flexibility issues.
Glue Up Reviews on G2Crowd: 4.6 out of 5. They have a high rating for sure. In general, Glue Up seems to be satisfactory. However, as any other membership management software, Glue Up has downsides. One of the common complaints of customers is that the platform is painfully slow.
One of the most questionable subjects about Glue Up is its pricing. First of all, they do not offer you a free plan.
They do have free trials, but after that; you have to choose a paid plan.
The pricing is usually $6000/year for Glue Up. However, you may need to pay much more to get your platform up and running.
For these reasons, you may want to look for another option. It is possible to get the same solutions and more, with half the price. Let's check out Raklet, and see what it's all about.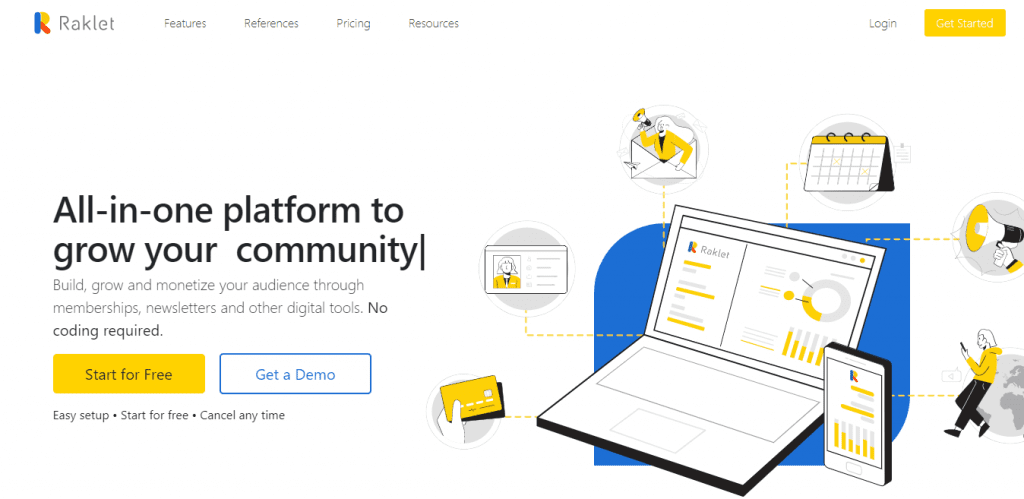 Raklet is an all-in-one membership management software to help your organization grow. Its versatile selection of features allows you to fully customize your platform.
Using Raklet, you'll be able to manage your members effectively. You can follow all of their activities. It comes with a powerful CRM too.
Organizations are also able to fully automate their memberships, saving time and money.
You can create events, paid or free tickets for your members.
Also, Raklet integrates with the best tools online. You won't have to deal with them manually which takes a ton of time. We have Zapier integrations that make it a lot easier to automate all of your management operations.
Raklet's team is fully remote, which makes it easy to be there for you all the time. In addition, our in-house engineering team can do all the customization you need.
But, let's check out the features that Raklet really shines through;
Branded mobile app development for organizations: Our engineering team can develop a mobile app just for you, with your brand logo and everything.
Modern site builder: We can make your site look however you want.
Fully customizable platform: If you want flexibility, Raklet is a great choice. All you need to do is to tell all of your requests, and our engineers will do it for you.
Fast and solution-oriented support: Raklet is a fully remote company, and we have team members around the world. This enables us to rapidly answer your questions and help however we can.
Freemium plan: Raklet has free plan, not a trial. You can use any feature that is listed in the free plan forever.
Virtual membership cards for organizations: Your members will have their digital membership cards with membership informations. They can add their cards into their Apple Wallet, or print them as hard copies.
Easy to onboard: Raklet is a user-friendly platform that doesn't make it complicated to onboard. You can add all of your contacts with just one click. Plus, our easy-to-use interface allows you to quickly get used to the platform. We can also help you with the onboarding process if you want.
Private social network: Do you want a private network with your members and your members only? Fortunately that's what Raklet offers. You can post discussion boards or send private messages just to your members. You can always choose who sees what.
Job Boards: You can post job boards for your members to apply. Like so, your members can post too, if they are seeking jobs.
Raklet Capterra Rating: Our rating on Capterra stands out at 4.8 / 5. Raklet customers shared their experiences with us that we made it easy for them to manage their association.
Raklet GetApp Rating: Again, with 4.8 / 5, Raklet is the highest rated membership management software on GetApp. Our customers say Raklet is easy-to-use, customer service is great, and features are more than necessary.
Raklet G2Crowd Rating: Raklet's rating on G2Crowd is 4.7 / 5. One of our satisfied customers on G2Crows stated that Raklet allows you to manage everything related to non-profit associations.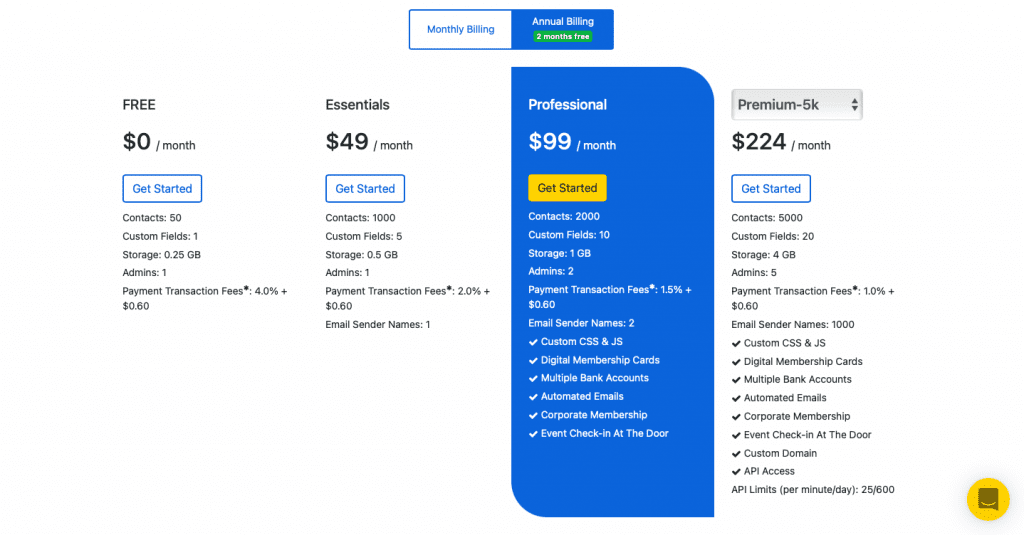 Raklet is free to use for as long as you want. Raklet offers a free plan with a limit of 50 contacts. Events, membership management, job boards, and other services are available. With the free plan, you can use all of Raklet's services.
Paid plans start at $49 per month. Up to 1000 contacts are included in our Essentials plan. You'll get 0.5 GB of data, which is twice as much as the free plan. You can also add up to five custom fields with the Essential plan.
Our Professional plan is $99 a month. There are 2000 contacts, 10 custom fields, and two admins available. You'll have digital membership cards with this plan. You can also set up several bank accounts and set up email automation.
The Premium plan begins at $224 a month and contains all of the Professional features as well as a few extras.
You will have 5000 contacts with this plan. To run your website, you can add up to 5 managers. Additionally, Premium plans have a personalized domain, allowing you to use your own domain that does not have Raklet.
For the free plan, our transaction fees start at 4% + $0.60. The Essentials plan costs 2% + $0.60, while the Professional plan costs 1.5%+ $0.60. If you have Premium, the fee percentage will be reduced to 1%.
Here is a side-by-side comparison for you:
How is Raklet better than Glue Up?
You can see the comparison below:
Free or starts from $49/mo
Don't listen to us, listen to what our clients say

Good membership software! I really liked the support responsiveness. They are on the ball, listen to your comments and try to integrate if the comment can bring value to their product.
Powerful event management software! Raklet's web and mobile apps makes it really easy for us. We create tickets for public and members-only, offer coupons to promote our events and check-in guests onsite.
I am satisfied. We manage the administration and communication of our associations thousands of members. Support team is really kind and help us solve problems quickly through chat or video call. We sell tickets and also crowdfund on the platform.
We publish digital cards for our members on Raklet. They can benefit from the perks simply by using mobile app or adding their cards to mobile wallets. Highly recommended.
As we were about to spend thousands to develop membership software, we discovered Raklet and saved. Raklet has a lean and well thought architecture that provides you the most important features you need for membership management. It looks familiar from day 1, easy to use without extensive training.
Looking for other association software alternatives?
Create your account.
It's free for as long as you need.
Start for free & upgrade only if you need. Card not required.