Almabase Alternatives, Pricing, Reviews & Ratings
Looking for Almabase alternatives to improve engagement in your alumni association? Check out Raklet's alumni engagement software, we're here to compare Almabase to Raklet so that you can decide for yourself. Tune in to this article to explore an affordable, better alternative.
Having a proper, functional alumni association has many benefits for your members, as well as your board administrators: Ranging from career services, networking opportunities, various discounts, annual or one-time events, to giving back to future students. If you are considering opening or joining an alumni association, you'll want to make the most of it. Alumni engagement software are there to increase and improve the engagement in your alumni association and ease the process of all the hard work you'll have to get by. Some of the features to consider in an alumni engagement software would be its ability to help you create events, collect payments from donors, send mass emails and SMS messages, create discussion forums to build the social network between alumni, and even digital cards to further increase the sense of belonging and community. Almabase is one of the first alumni software that comes to mind. So, let's not waste time and explore their platform, features, pricing, and more.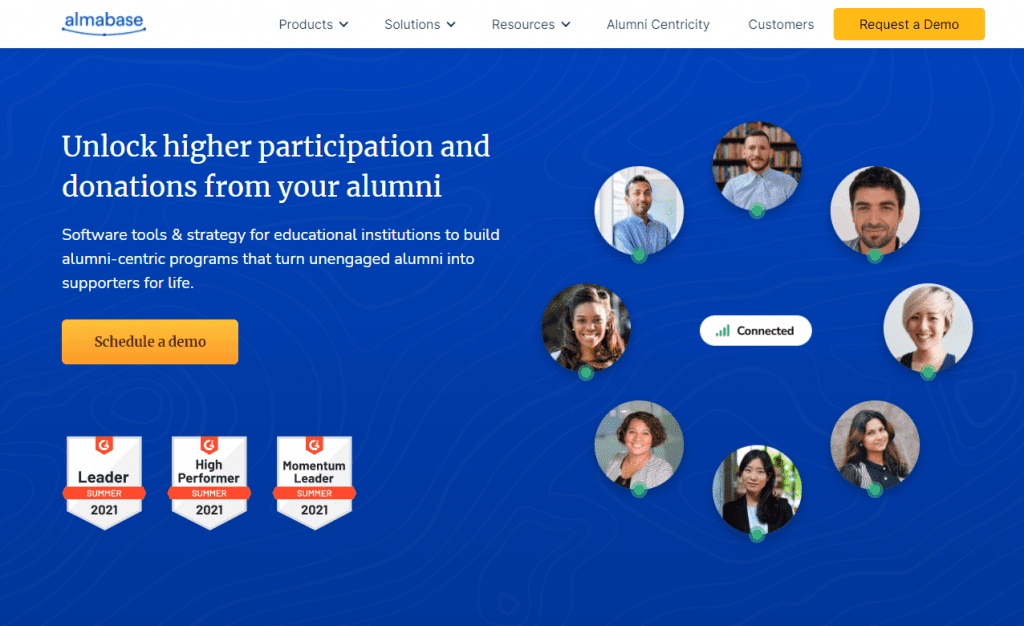 Almabase is a San Francisco-based, all-in-one alumni management software that was founded in 2013. They have been helping alumni associations ever since by providing a platform for them to build lifelong relationships with their alumni. They mainly work with K-12 schools, colleges, universities with alumni relations staff.
Although there is no dedicated page on their website for features that clearly state what they offer, we've gathered information from their blog posts as well as reputable review sites such as G2, Capterra, and GetApp.
According to their blog posts and their pages on various review sites, some of the key features they offer to their clients are as follows:
CRM
Event Management
Alumni Management
Discussions / Forums
Donor Management
Email Marketing
Jobs Board
Fundraising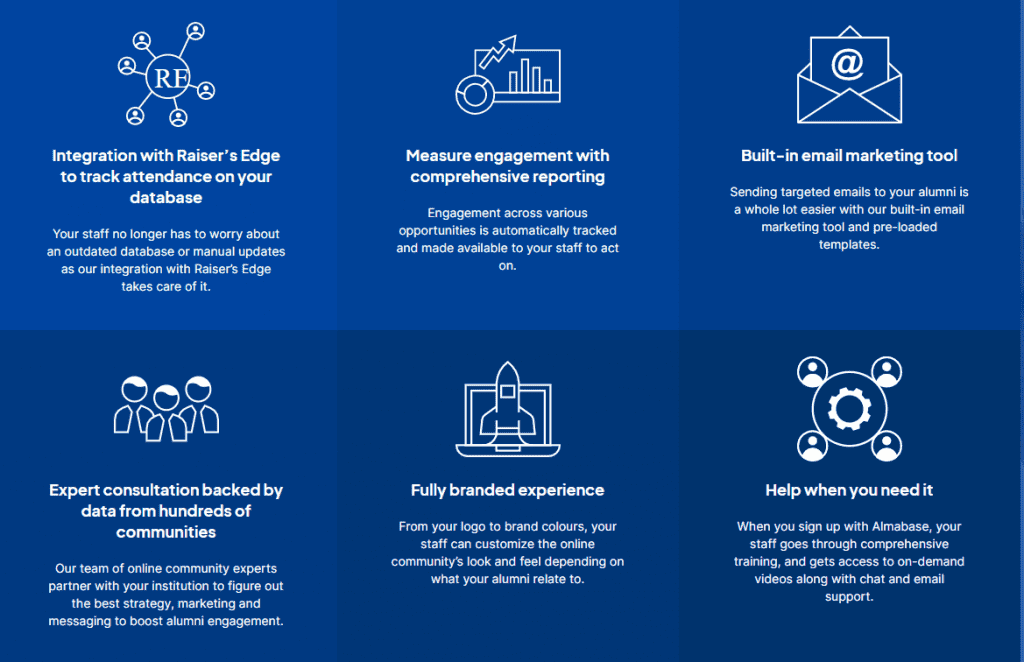 Almabase does a good job of covering the needs of alumni associations. Since, new graduates are leaning more towards technology every year, alumni engagement software are becoming more and more popular each year as well. Yet, they do not offer mobile apps which arguably is one of the downsides considering the need for mobility of said new graduates.
Although Almabase seems like a good option to consider, most of their clients argue whether their prices match the platform's value or not. Let's explore their pricing together for you to see it as well.
Just like their features page, they do not have a dedicated, transparent pricing page on their website either. We had to research review sites again to find out what their clients are paying for their services.
They ask you to schedule a demo with them to talk about your needs and goals to come up with a price; yet, the reputable review sites we've talked about before tell us that their pricing starts from $6000/year, per feature. Most of their clients are questioning the value/money ratio, let's explore their reviews together.
Almabase has received great feedback from its clients in review sites like Capterra, G2, and GetApp. Their clients, as expected, are mostly universities, colleges, and K-12 schools; they are generally content with what Almabase has in their bag.
Yet, some of their clients who are not pleased with the platform seem to focus on the lack of value for the money they have given, and the limited customization and integration possibilities they offer.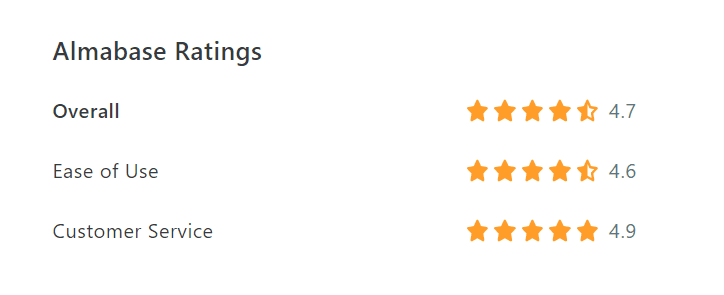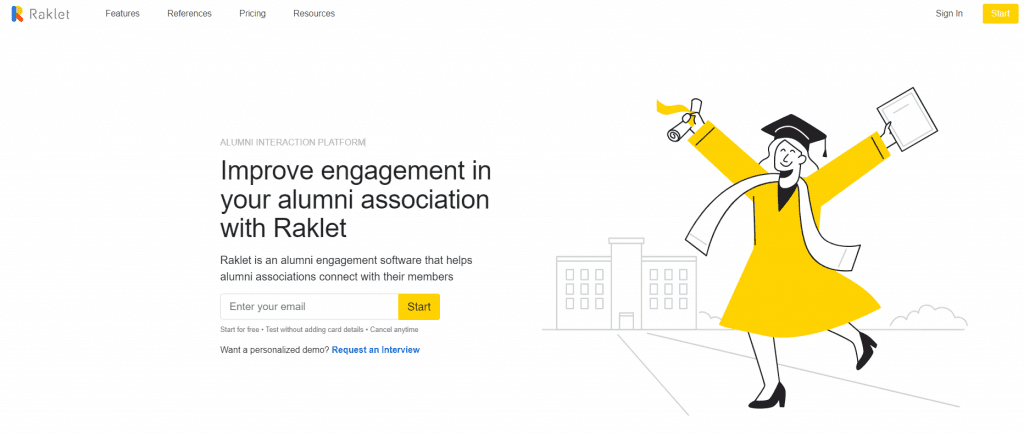 Our software Raklet is a cloud-based alumni engagement platform for your association that has the feature to create membership cards, on top of membership management, events, and more. Our extensive features are there to fit your needs perfectly, and all from one single place. Raklet, combined with more than 3000 integrations, is the best available alumni engagement platform in the market.
Let's have a look at Raklet's broad selection of features now: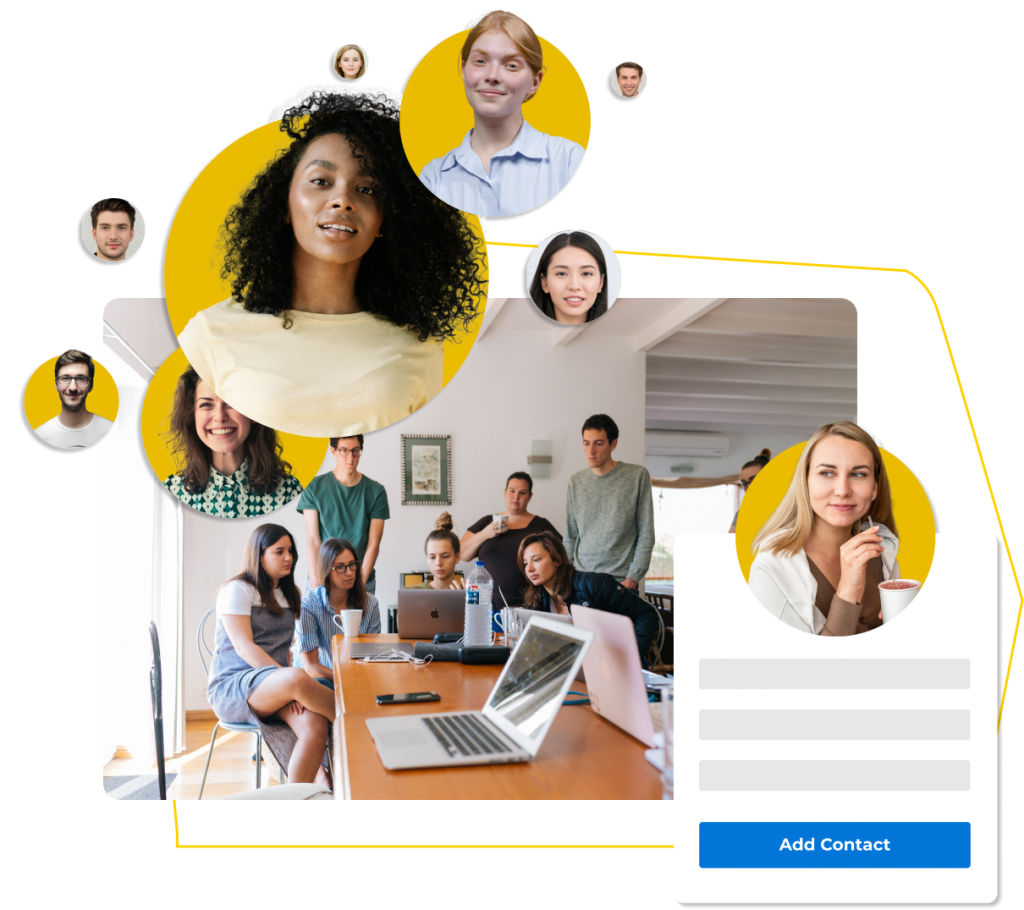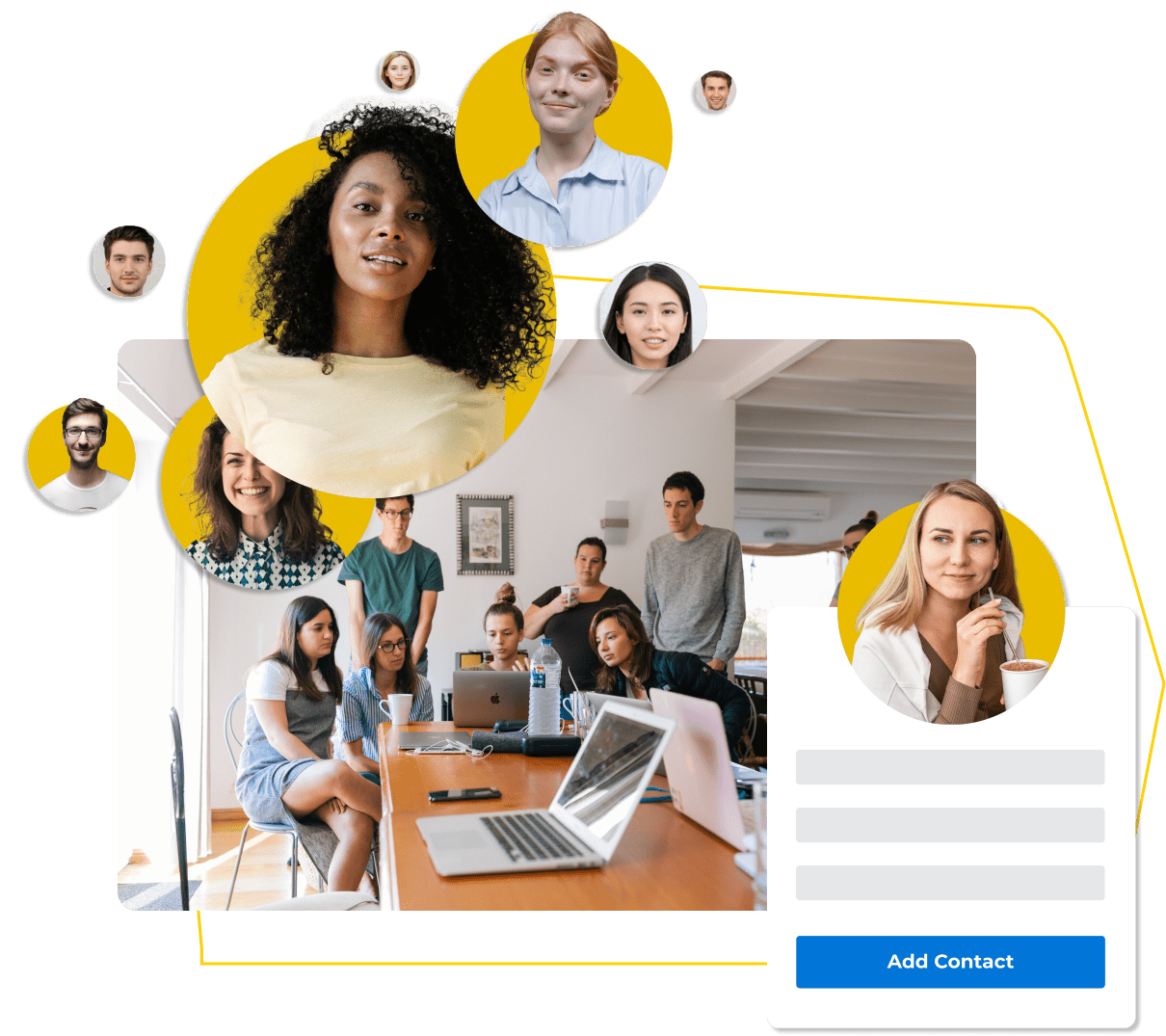 Our powerful CRM feature helps you get to know your contacts better, you can import and get the most recent alumni member information effortlessly. You can also collect any type of data you need to analyze, and automate alumni member management with Raklet.
An alumni engagement platform wouldn't be the same without robust features that'll help increase the engagement between alumni members; Raklet is there to cover your associations' social needs too! We help alumni associations accomplish the improvement they look for through private social networks where they can send private messages, emails, or discussion boards where they can talk about different topics.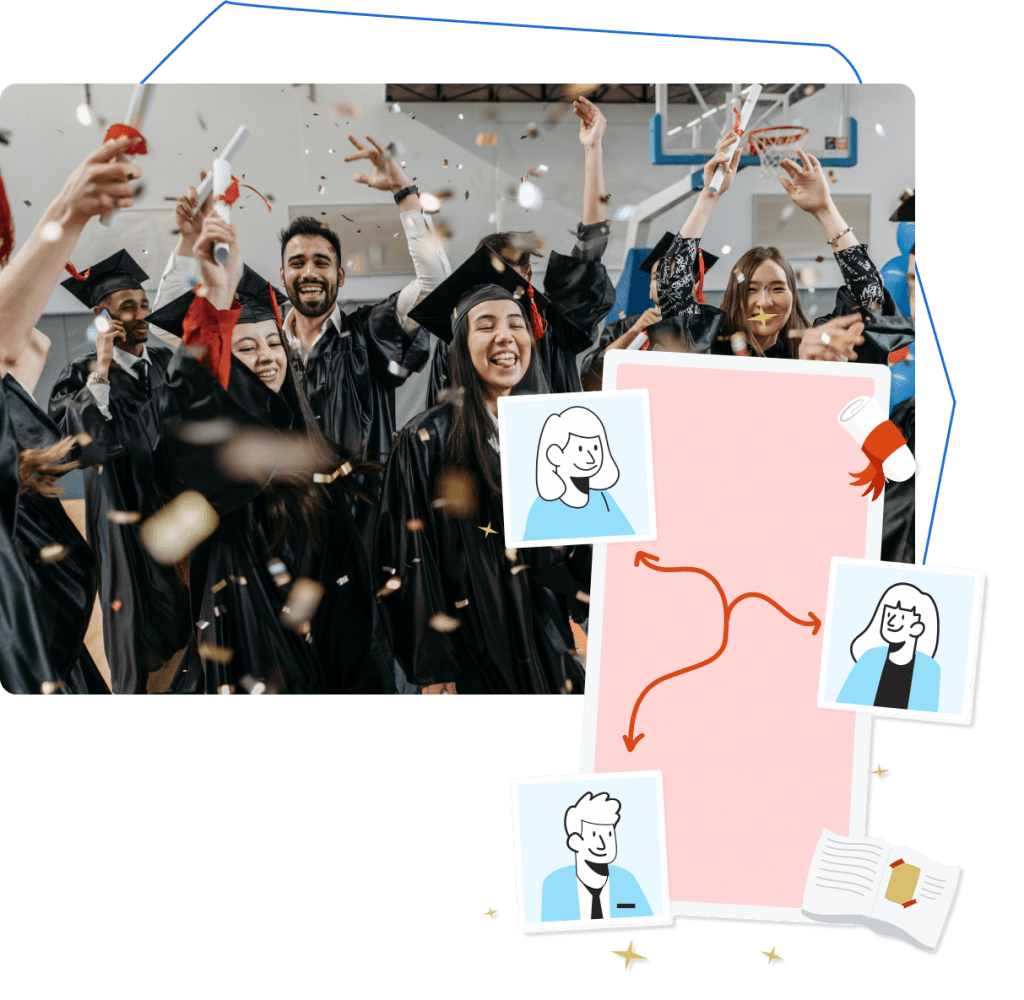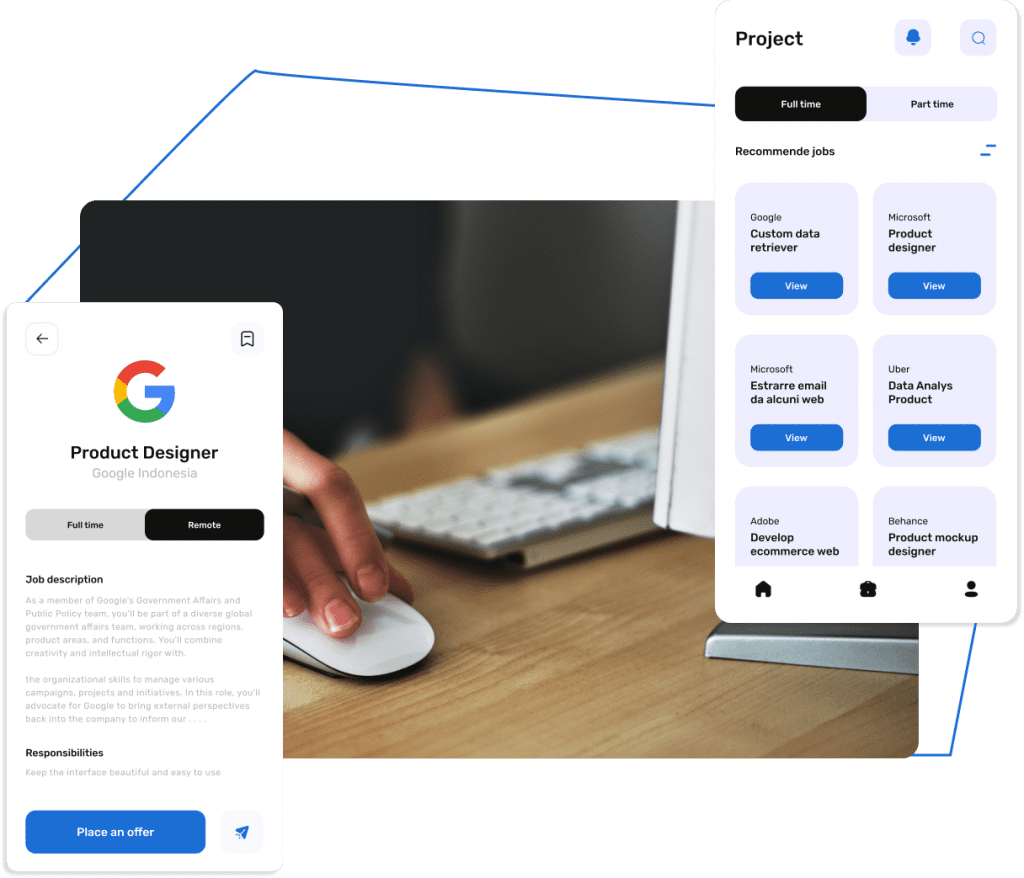 One of the best features of being a member of an alumni network is that its members have a chance to get started with their careers through this same network. With Raklet, you can post job boards, list vacancies and give your alumni members this exact opportunity. Know which member is looking for a job, and connect them with employers; help your alumni members professionally.
You'll have the opportunity to let your members engage with each other through various events, whether through online platforms or face-to-face. You can use our integrations like Zoom or Google Meets to schedule online meetings, or create events and set up different ticket types while collecting payments online. Let your members register for these events through Raklet, and increase your alumni engagement while doing so. Streamline event management process with Raklet.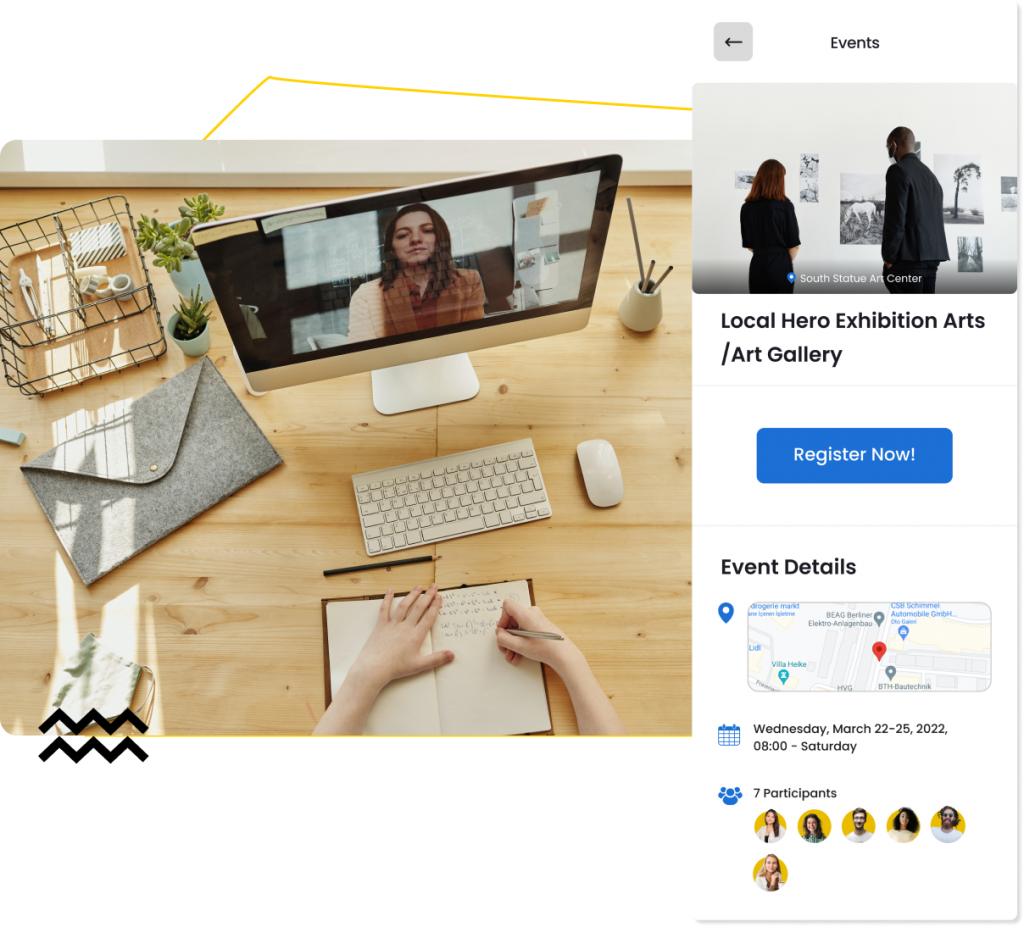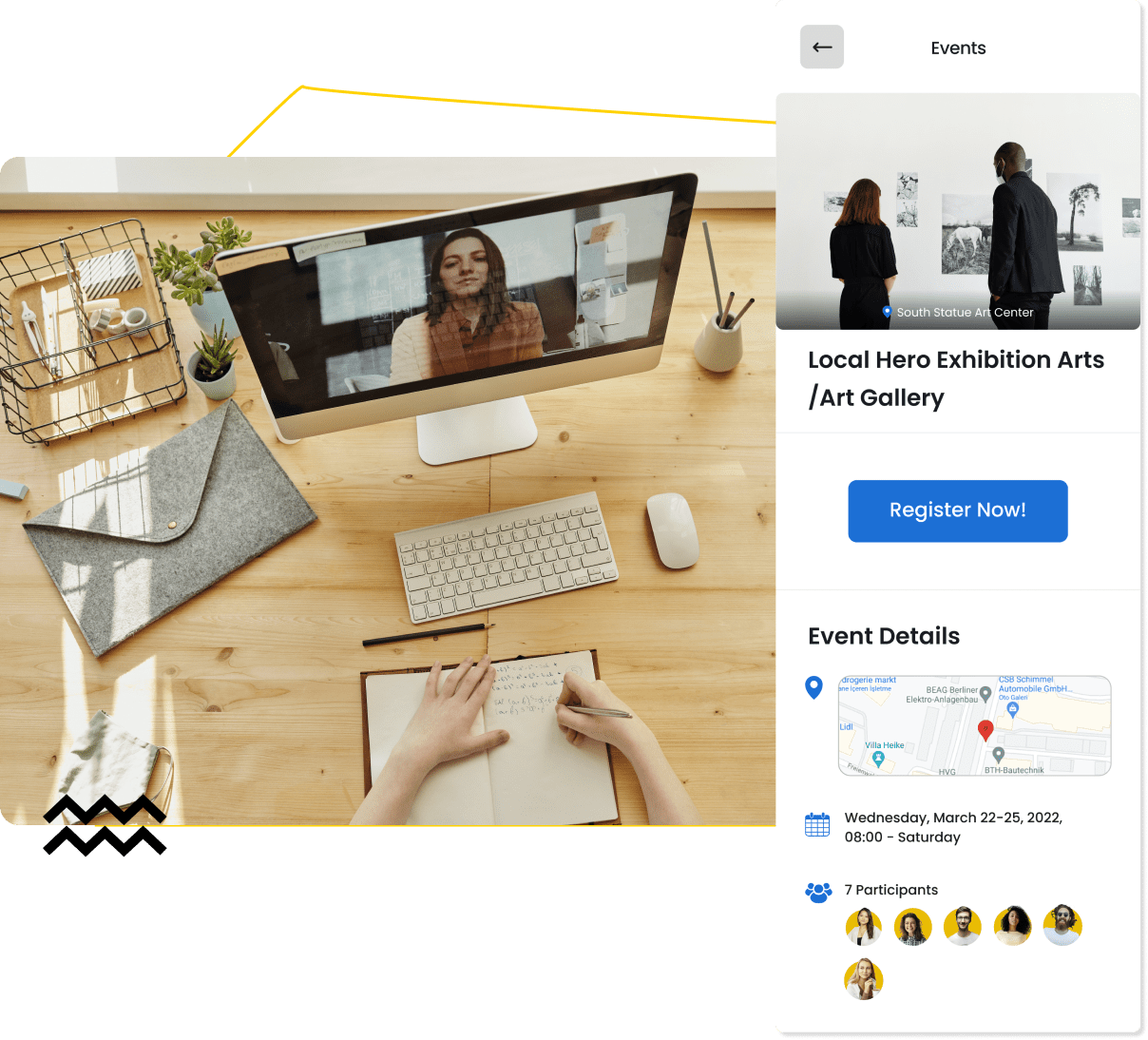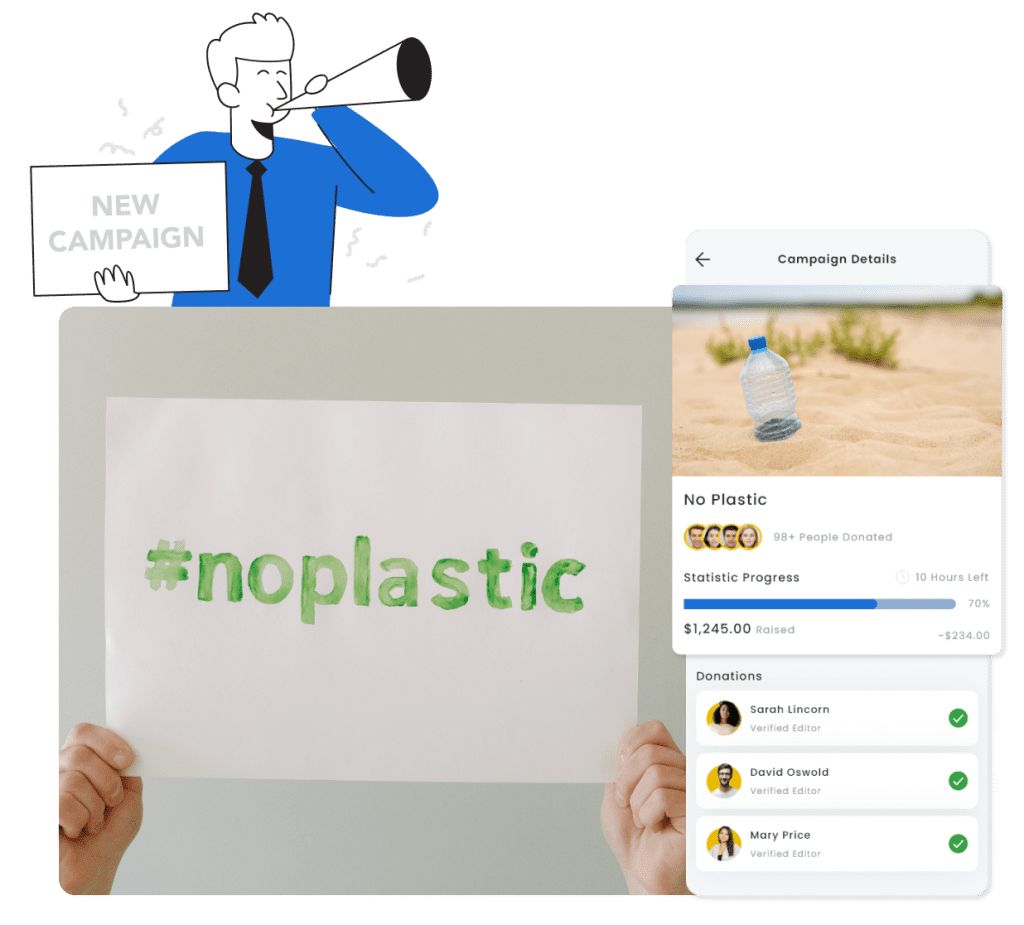 With Raklet, you can create campaigns that support what matters the most for your alumni association. Bring your alumni members all together and we'll be right beside you to support your acts. Collect donations, get in touch with new and old donors, help people and students with your alumni association with the help of us!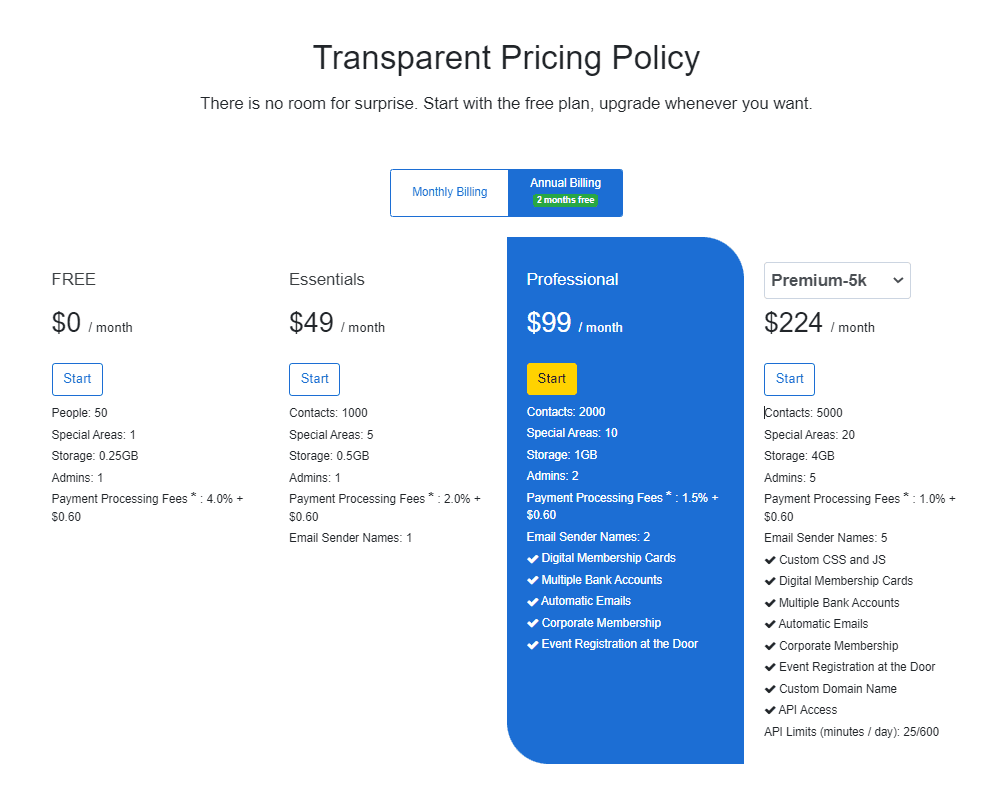 Compared to Almabase's pricing plan, Raklet provides many more features at a reasonable price range, and our pricing page is completely transparent. We also offer a forever-free plan for up to 50 members, you don't have to pay to use our platform.
To unlock even more features, we offer three different types of membership plans for you to explore; we offer free trials too! Our lowest paid plan starts at $49/month. You can check out our transparent pricing page for more details about our pricing policy.

How is Raklet better than Almabase?
You can see the comparison below:
Free or starts from $49/mo
starts from 6000/year/feature
60 days on annual billing
Detailed Analytics Reporting:
Don't listen to us, listen to what our clients say

Good membership software! I really liked the support responsiveness. They are on the ball, listen to your comments and try to integrate if the comment can bring value to their product.
Powerful event management software! Raklet's web and mobile apps makes it really easy for us. We create tickets for public and members-only, offer coupons to promote our events and check-in guests onsite.
I am satisfied. We manage the administration and communication of our associations thousands of members. Support team is really kind and help us solve problems quickly through chat or video call. We sell tickets and also crowdfund on the platform.
We publish digital cards for our members on Raklet. They can benefit from the perks simply by using mobile app or adding their cards to mobile wallets. Highly recommended.
As we were about to spend thousands to develop membership software, we discovered Raklet and saved. Raklet has a lean and well thought architecture that provides you the most important features you need for membership management. It looks familiar from day 1, easy to use without extensive training.
Looking for other club software alternatives?
Create your account.
It's free for as long as you need.
Start for free & upgrade only if you need. Card not required.