YourMembership Alternative Raklet
Are you considering YourMembership as your online platform to manage your association? Or maybe you're looking for YourMembership alternatives. If so, this article may help you to choose the better option.
Managing a membership based organization might be challenging. That's where a strong membership management software comes into play. You probably already have seen certain options. They may all look the same, but the experiences will be significantly different once you start using them on a daily basis. One of the first platforms you may have encountered is YourMembership. It's a relatively popular option. But this certainly doesn't mean that you should be going with them. YourMembership is built for small to mid-sized organizations. They may be a good choice. But it is worth checking out other platforms too. So, if you're looking for YourMembership alternatives, let's have a look at both; Raklet and YourMembership. We believe you'll have a clear understanding of both platforms.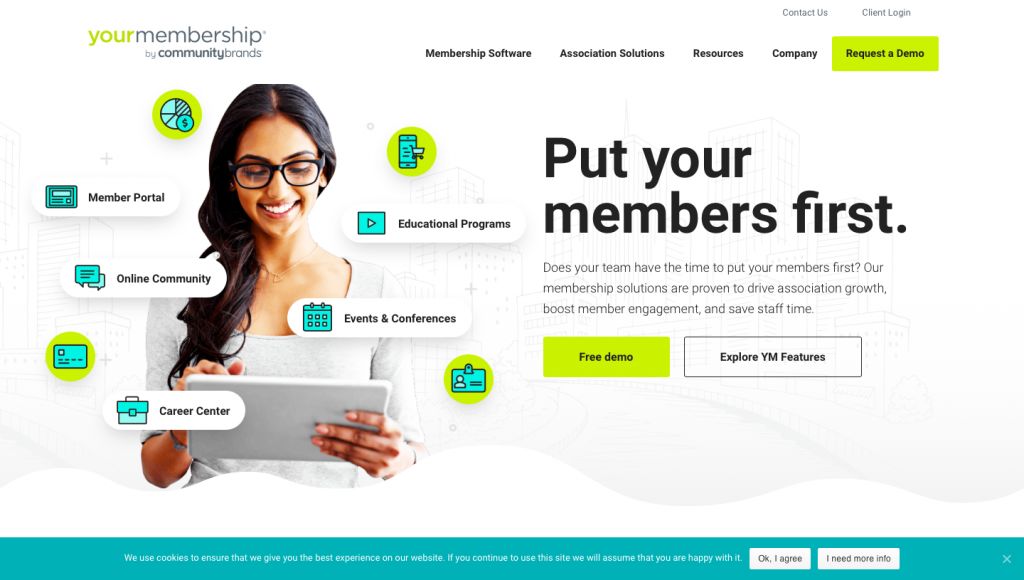 YourMembership is a membership management platform that is most suitable for small to mid-sized organizations. It has been active for more than 20 years now. Its users can manage events, collect payments and create job boards. You can also collect donations using YourMembership.
YourMembership is a cloud-based association management software that includes:
Membership management
Event management
Content management tools
Email marketing
Online community
YourMembership is a good AMS solution for small organizations. It is an all-in-one solution for membership management. They have a great range of features that would make it easier for you to run your association.
What can YourMembership do great?
Integrations through add-on
All-in-one solution for all your needs
E-commerce feature
Membership Directory
YourMembership is a great tool for member data management, engagement, and membership processing. It is also a base for your online community.
YourMembership can take care of a great deal of your work. Overall, it is a basic and successful membership management software.You can effortlessly manage your organization.
YourMembership Weaknesses
YourMembership provides the very basic needs of an association. But when it comes to being up-to-date and flexible, the platform is not the right choice.
Below, you can see their customers' complaints about the platform:
Too expensive for its abilities
Poor support
Not flexible
Weak automation capabilities
Not user-friendly
Poor CRM
Outdated design
YourMembership charges $11,300/year for basic services. This does not include any customizations or add-ons. Coming to an almost $1000/mo, customers expect more from YourMembership. It is a question if they can deliver the needed service though.
As you can see above, YourMembership customers have complaints about the product. Their ratings also show how satisfied they are. Looking for YourMembership alternatives might be a wise thing to do.
3.8 / 5 on Capterra: The biggest issue for most of their clients is poor customer service. They often say that it takes hours if not days to get a response.
3.5 / 5 on G2Crowd: Their ratings drop down even more here. Customers say that it is not user friendly, and they cannot get help from YourMembership team either.
3.8 / 5 on GetApp: You can see another prominent downside here. Not being a flexible platform, users feel like they are stuck with one for all.
Raklet is an all-in-one membership management software that enables associations to manage their members, create events and build the perfect platform for their members.
It's a new and modern option which comes with modern and dynamic design, quick and effective customer service and reasonable prices.
With Raklet, you can effortlessly operate your organization through:
Event Management
Membership Management
Job boards
Discussion boards
Easy-to-use interface
Collecting donations and payments
Private social network just for your members
Automated membership renewals
Digital membership cards
Zapier integrations with more than 3,000 apps
Branded mobile app
Also, with being a fully-remote company, Raklet has team members around the world, which allows quick customer service.
In addition, we have an in-house engineering team that can help you like an IT team. You won't have to search for contractors for customizations.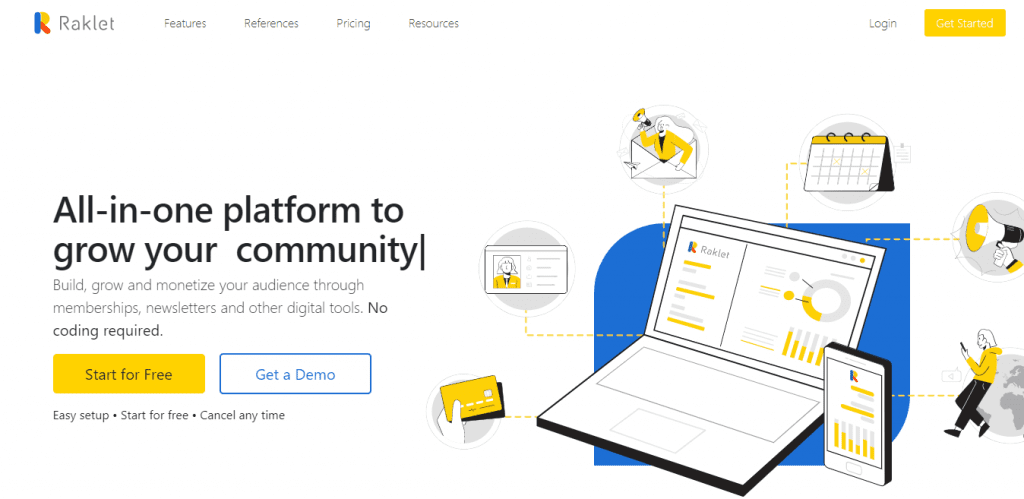 You can use Raklet for free as long as you want. Raklet has a free plan with a 50-contact limit. This free plan includes events, membership management, job boards, and more. You can use any of Raklet's offerings with the free account.
The cost of a paid plan starts at $49 per month. Our Essentials plan includes up to 1000 contacts. You'll get 0.5 GB of data, which is double the amount you'd get with the free plan. The Essentials plan also allows for 5 custom fields.
The Professional plan is $99 a month. There can be 2000 contacts, 10 custom fields, and two admins available. You'll also have digital membership cards with this plan. Besides, you can set up several bank accounts and email automation.
The Premium plan, which starts at $224 a month and includes all of the Professional features and more. With this plan, you'll have 5000 contacts. You can have up to 5 managers running your website. Additionally, Premium plans have a personalized domain, which allows you to use a domain that isn't affiliated with Raklet.
For the free plan, our transaction fees start at 4% + $0.60. The Essentials plan costs 2% + $0.60, while the Professional plan costs 1.5%+ $0.60. If you have Premium, the fee percentage will be reduced to 1%.
4.8 / 5.0 on Capterra: Raklet is the highest-rated membership management software on Capterra. The satisfaction rate of our customers prove our success.
4.8 / 5.0 on G2Crowd: Again, with 4.8 / 5, Raklet is the highest rated membership management software on GetApp. Our customers say Raklet is easy-to-use, customer service is great, and features are more than necessary.
4.7 / 5.0 on GetApp: Raklet's rating on G2Crowd is 4.7 / 5. One of our satisfied customers on G2Crows stated that Raklet allows you to manage everything related to non-profit associations.
Now that we checked both platforms, let's have a side by side comparison.
How is Raklet better than YourMembership?
You can see the comparison below:
Free or starts from $49/mo
Digital Membership Cards:
Don't listen to us, listen to what our clients say

Good membership software! I really liked the support responsiveness. They are on the ball, listen to your comments and try to integrate if the comment can bring value to their product.
Powerful event management software! Raklet's web and mobile apps makes it really easy for us. We create tickets for public and members-only, offer coupons to promote our events and check-in guests onsite.
I am satisfied. We manage the administration and communication of our associations thousands of members. Support team is really kind and help us solve problems quickly through chat or video call. We sell tickets and also crowdfund on the platform.
We publish digital cards for our members on Raklet. They can benefit from the perks simply by using mobile app or adding their cards to mobile wallets. Highly recommended.
As we were about to spend thousands to develop membership software, we discovered Raklet and saved. Raklet has a lean and well thought architecture that provides you the most important features you need for membership management. It looks familiar from day 1, easy to use without extensive training.
Looking for other membership software alternatives?
Create your account.
It's free for as long as you need.
Start for free & upgrade only if you need. Card not required.