An alumnus or alumna of a college, university, or other school is a former student who attended or graduated from the institution in some way. Alumni communities also have a very important place in people's business life after graduation. In this article, we will answer the most frequently asked questions and explain frequently used terms.
Basic Terms to Know
Graduate:
A graduate student is an individual who possesses a bachelor's degree and is seeking further study in a particular subject. Graduate-level degree programs leading to graduate degrees in a variety of subjects are available at more than 1,000 colleges and universities in the United States.
Alumni Committee/Association:
An alumni association is an association of graduates or, more broadly, of former students. It is sometimes called an alumni meeting or committee.
Alumni Network:
Every educational school has an alumni network, whether formal or informal, and they are utilized for a variety of purposes. These people can make business contacts, plan reunions, and serve as shining examples of the type of individuals produced by their university. It's quite handy for individuals who are truly interested in their old classmates' lives and want to see what they're up to.
Alumni Management Software:
Alumni management software helps institutions, often universities and colleges, to communicate with and engage through messages and events, as well as seek donations. Raklet is one of the examples and serves as an all-in-one alumni management software for your needs.
Frequently Asked Questions
What does IT mean?
Alumni is a term that means former students or graduates of a school, college, or university. The term often, but not always, refers to a student who has graduated from the school in question.
Is an alumnus only a graduate?
One can be an alumnus without graduating; the word is not identical to that word. The phrase is occasionally used to describe a former worker or member of an organization, a donor, or a convict.
What happens at the meeting?
They are gatherings of institutions' past students, and they serve as a venue where the university may be proud of its accomplished alums. The community gathers to discuss their experiences with the challenges they experienced once they left the college.
Why are the meetings are important?
These meetings strive to promote a sense of community among graduates and a connection to the institution. When they gather, it will be easier for new professionals to make connections and reconnect with old acquaintances.
What is an alumni association?
An association of graduates or, more generally, former students is known as an alumni association or alumnae association. These groups frequently plan social gatherings, produce newsletters or magazines, and generate money for the group. Many provide a range of advantages and services that support them in keeping their ties to their place of higher learning and their fellow alums. Most organizations in the US grant membership and advantages to members without requiring them to be university graduates.
What is the purpose of an alumni association?
Supporting a network of former students who will help to increase the awareness of the university is one of the key goals of the groups. These associations, like the majority of university student groups, seek to connect with like-minded people. When you attended your university as a student, you were a part of a community that provided a variety of fun benefits, including free concerts, student discounts, poetry readings, art exhibits, library access, sporting events, and a host of other activities that characterized your university as distinctive and dynamic.
How do you structure an alumni association?
The first step in starting an alumni association is to ascertain how the current one is doing. Make a workable plan for the association's operations after it is established. You may then establish a formal email address for the association and start a formal conversation regarding the club's founding. A clear definition of responsibilities and responsibility delegation must also be included in the association's organizational structure. Starting the first event comes once the club is operational.
Why do alumni donate to colleges?
Donations are crucial to a college's ability to carry out its educational goal. Such donations also indicate happiness; successful graduates are more willing to support their alma mater, which is why the average alumni giving rate is taken into account when determining the U.S. News Best Colleges rankings.
Raklet: A Great Alumni Engagement Platform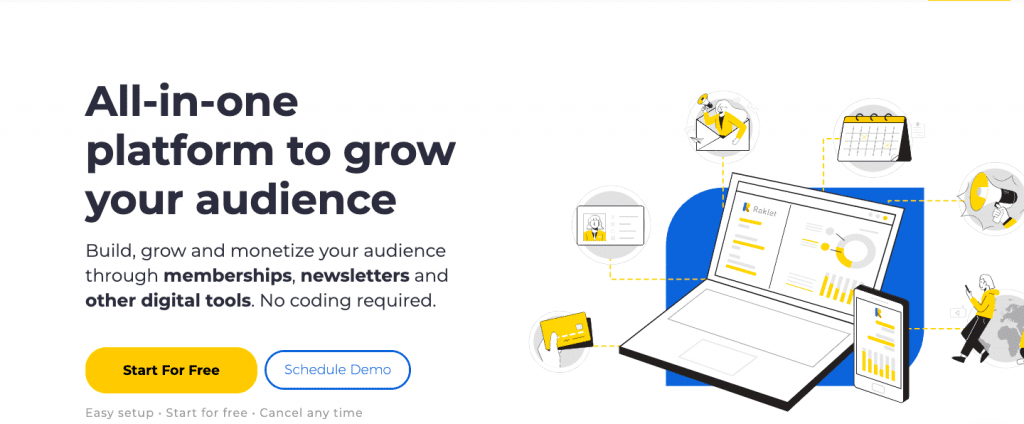 You can make an effective portal by using Raklet's platform for managing alumni associations. Simplify organizing events, activities, and reunions for your group.​​You can include your members wherever you are by creating using a branded mobile app for iOS & Android. You have the choice to plan fundraising events and gather donations. Utilize our all-in-one software to quickly and easily collect one-time and ongoing contributions from your members. Provide members with automatic updates through our email and SMS modules. Make use of our membership card function to foster a sense of community. By simply rehiring from the current alumni pool utilizing our job boards tool, you may lower the cost of talent acquisition. To boost engagement, you may also construct discussion boards. Our robust admin dashboard enables admins to easily manage all of this while keeping track of membership and payment information in real time.
You can have a look at Raklet's features in detail, and select the right ones for the needs of your alumni association. Also, you can book a free demo to learn more about our features in one-to-one calls!
If you would like to read more…: