If you need an efficient way to handle all your church management needs, then church software might be the right choice for you. Read our article and find out what church software is and why it's beneficial, and also check out our curated list of recommendations down below.
What is a Church Software?
A church management software (sometimes also known as CMS or ChMS) is software that helps you manage your religious organization or community. It will help you handle all the tedious work, and give you more time to focus on other activities. It's a great way to manage your members and volunteers, organize events, and collect donations all from one place.
What Can a Good Church Software Do?
With extensive church management software, you can do many things. Some of these are:
Storing easily filterable membership/volunteer/congregant information,
Creating and accepting applications through custom forms,
Collecting one-time or recurring membership fees,
Collecting donations from supporters,
Building and sending emails and SMS to keep your community updated,
Creating in-person or online events for your members,
Managing event attendance and ticketing,
Accessing and analyzing real-time community data,
Giving your community a place to communicate via discussion boards, forums, private messaging, etc.
Automating repetitive management tasks,
Having a branded mobile app for added accessibility.
For more detailed information about church management software features, read another one of our relevant articles: Top 5 Features to Look For in Your Church Management Software.
Why Should I Use a Church Software for My Community?
Especially after the pandemic, the importance of online communication is being rediscovered. Creating a virtual community for your members, volunteers, and church attendees can help strengthen bonds. They can access announcements and membership information whenever and wherever they want. You will also be able to store member and donation data on a secure cloud platform — say goodbye to Excel spreadsheets!
There are many possible benefits to having an online platform for your community, like the ones we stated above. Of course, you don't have to look for all of them in your software of choice. Maybe you just want to collect donations or have an online community platform. The important thing is that you decide on your preferred features, and review your options. To start off, you can look at our curated list of 10 church management software below:
The 10 Best Church Software of 2023
Church Community Builder
Realm
Chmeetings
Planning Center
SimpleChurch CRM
Servant Keeper
Church Windows
Breeze ChMS
Tithe.ly
Raklet
10. Church Community Builder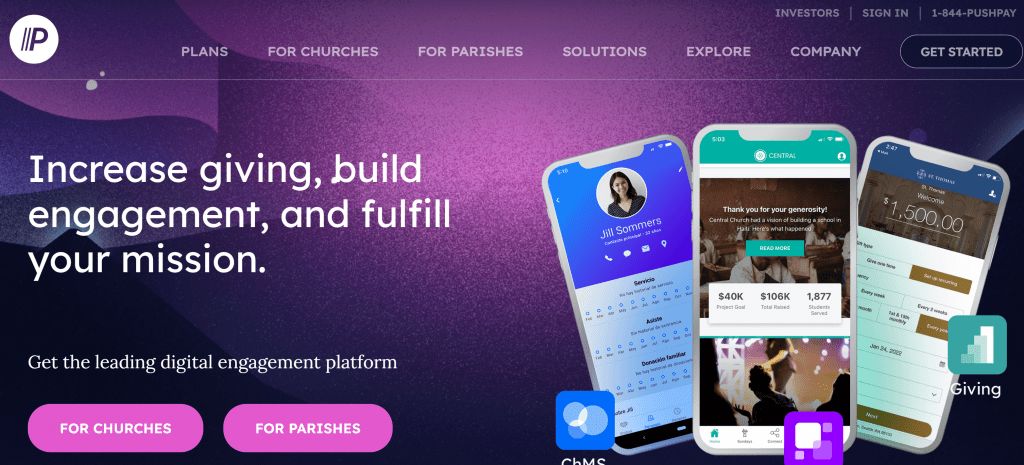 Best for: All kinds of churches mostly focused on team-based organizing and management.

Features: Event attendance tracker, individual membership profiles, check-in, online calendar, donation management, group management, follow-up streamlining…

Rating & Reviews: 4.3/5 on Capterra. The most common complaints are about the difficulty in software usage, and extracting targeted data reports.

Free plan?: They don't offer a free plan, but there's a free trial. (The trial period hasn't been specified by CCB.)

Pricing: No pricing information is given on their website. You have to personally contact CCB to find out.
9. Realm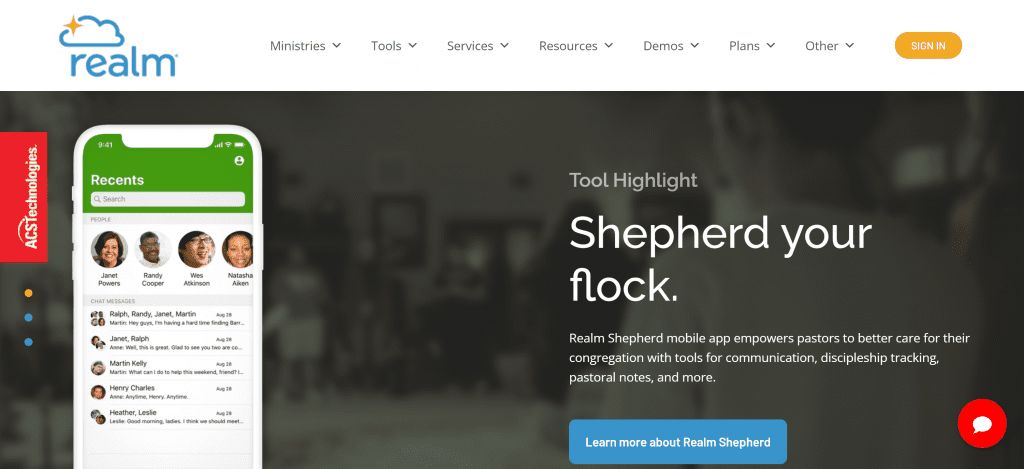 Best for: Church staff looking to manage small groups.

Features: Volunteer management, mobile app, member directory, fundraising, event management, and check-ins…

Rating & Reviews: Realm was the highest-rated church management software of 2020 on Capterra. It currently has 4.4/5 stars. The fact that it isn't user-friendly, and that it doesn't offer many customization options seem to be common complaints.

Free plan?: No free plan. Free trials haven't been specified.

Pricing: The cheapest plan is $29/month for a maximum of 50 attendees.
(Sidenote: The creators of Realm, ACS Technologies, also have another church software titled ACS OnDemand. It's very similar to Realm overall but has a few different features. You can check that platform out as well.)
8. Chmeetings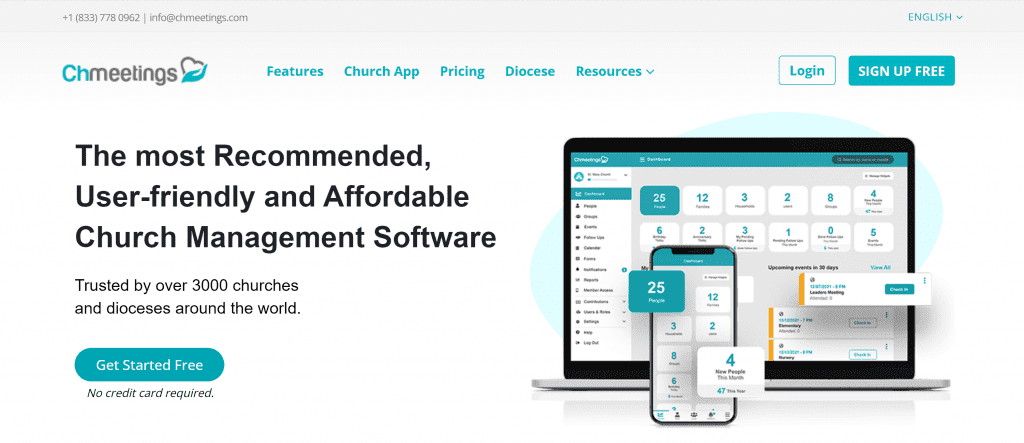 Best for: Churches of all sizes, looking for a quick and cheap solution for their basic church management needs.

Features: Email & SMS, event tracking, ticketing, membership management and grouping, data reports, donation management, custom forms, mobile app …

Rating & Reviews: With 4.9/5 on Capterra, Chmeetings has the smallest number of reviews on the list, which makes their rating somewhat unreliable in comparison. Most customers are overall very pleased with the software, but there are a few mentioned hiccups. These include a lack of flexibility, documentation, and customization.

Free plan?: There is a free plan for up to 100 members, with very limited features compared to other plans. There is also a 30-day free trial.

Pricing: The smallest paid plan is $10/month for up to 250 people. In comparison, unlimited members will cost you $40.
7. Planning Center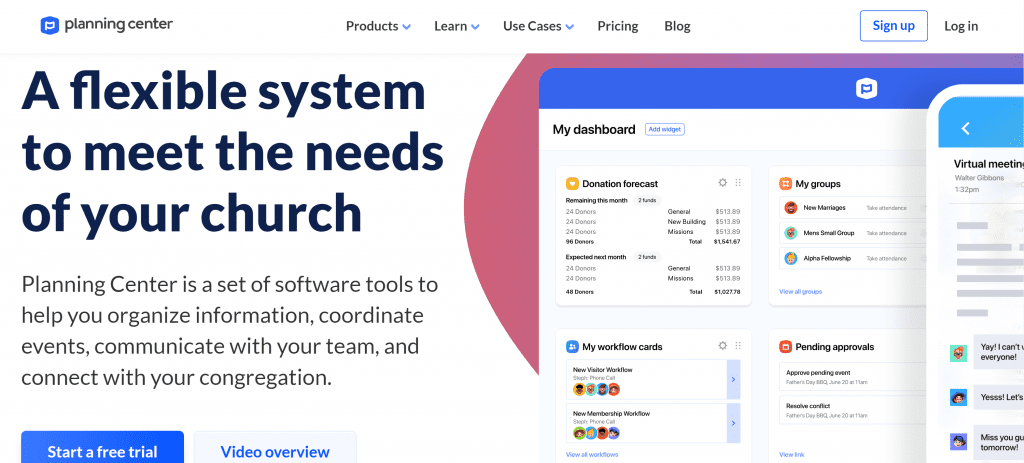 Best for: Churches of all sizes looking for customizable software, where you can choose which tools you want to use.

Features: Event scheduling calendar, service planning, donation management, CRM, custom website and app, community organization, …

Rating & Reviews: They have a 4.7/5 rating on Capterra. Though most are happy with the platform, some reviewers have complained about the hardship to use for people who aren't tech-savvy. Another common issue was the difficulty in running reports.

Free plan?: There's no free plan, but they have a 30-day free trial for their software.

Pricing: Starts at $14/month per feature, and depends on the number of people. For example, 20 event attendees + 50 daily check-ins + up to 125 group members will cost you $42/month.
6. SimpleChurch CRM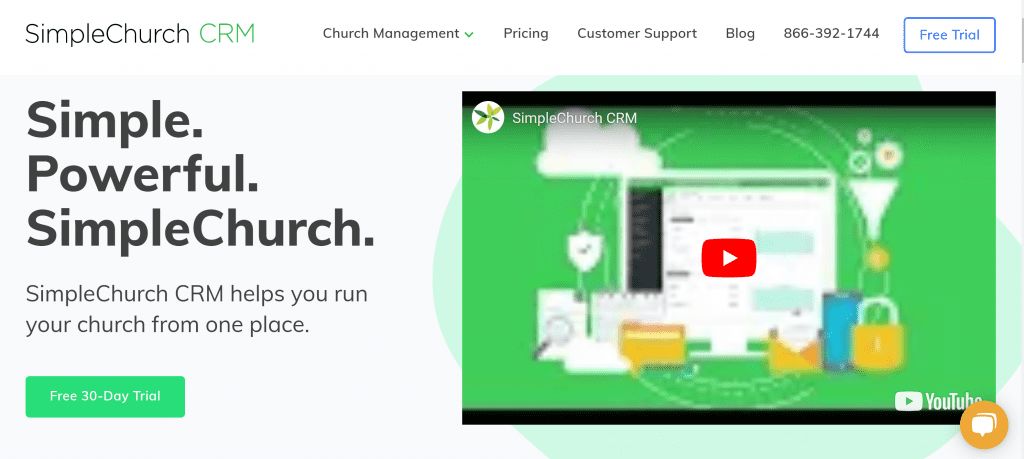 Best for: Small to medium-sized churches focused on volunteer and event management.

Features: Worship planning, donation and donor management, volunteer scheduling, CRM, background checks, event check-ins, mobile app, …

Rating & Reviews: 4.6/5 stars on Capterra. Generally, users have expressed difficulty in performing detailed database searches and using the interface.

Free plan?: There is no free plan, but as you can see from their website, they offer a 30-day trial.

Pricing: Their pricing changes depending on how many people your church has, with all features and a mobile app always included. (For comparison's sake, a 100-person church comes down to $47.70/month.)
5. Servant Keeper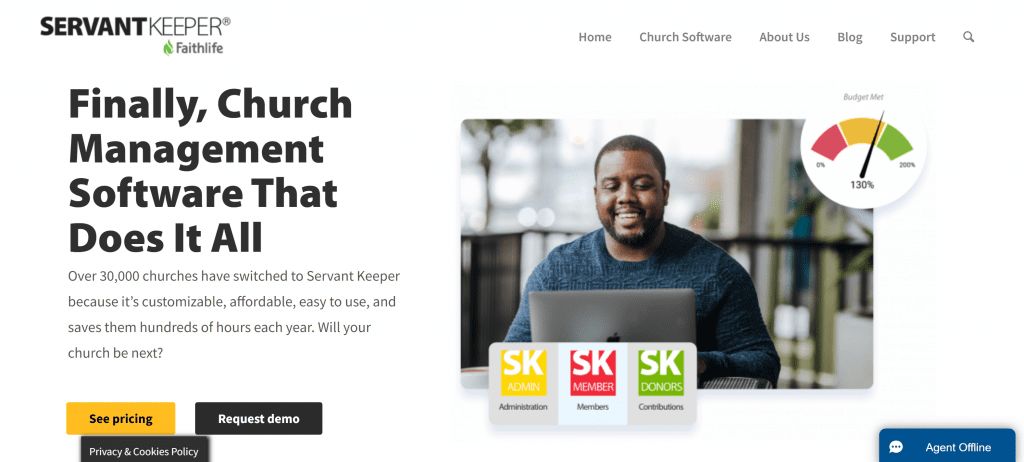 Best for: Churches that prefer one-time license fees and downloadable software.

Features: Relation-based member data collection, donor and donation tracking, mobile app, sacrament management, etc.

Rating & Reviews: With a 4.7/5 rating on Capterra and over 600 reviews in total, it's clear they're preferred by many churches. However, there are many written complaints about the impracticality of having to download the software to use it. Other complaints include their insufficient onboarding training and clunky mobile app.

Free plan?: No free plan, but they offer a free trial (period unspecified).

Pricing: The Cloud Plan costs $599 for a one-time license payment (comes down to $299 if you're a small church). The Local Plan is the same price, but it has fewer features and requests $50 per every additional computer added to the service.
4. Church Windows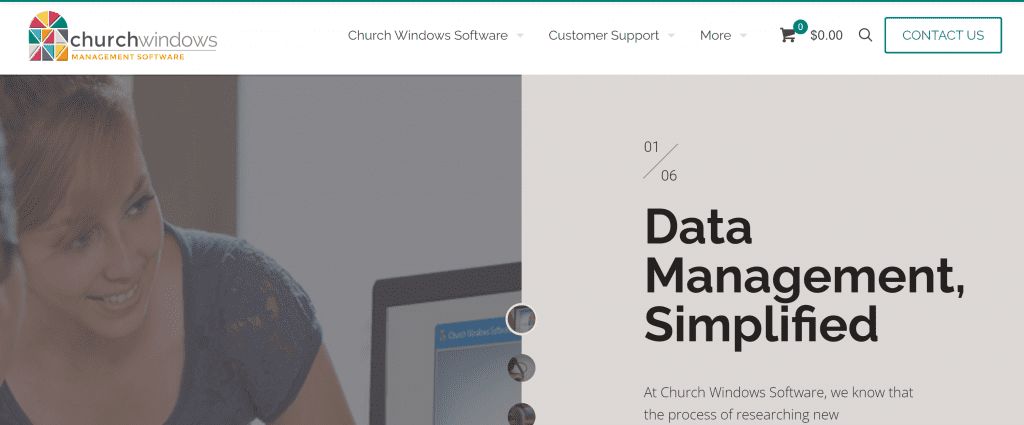 Best for: Churches looking for variety, because it has both a desktop version and a web version, as well as a version specifically for small churches.

Features: Membership database, budget and donation tracking, payroll, email campaigns, schedule and event management, …

Rating & Reviews: With 4.3/5 on Capterra, the lack of a desktop version on Mac seems to be the biggest issue among users (The desktop software is currently only offered on Windows). Other general protests are about slow customer service and insufficient training/lack of user-friendliness.

Free plan?: They have no free plan, but there is a free trial for their service. The trial period hasn't been specified on Capterra, or on their website.

Pricing: Church Windows is split into four modules: Membership/Scheduler, Donations, Accounting, and Payroll. Each module costs $379 at a flat rate. If you want all of their modules and features, it will cost you a whooping $1070 in total.
3. Breeze ChMS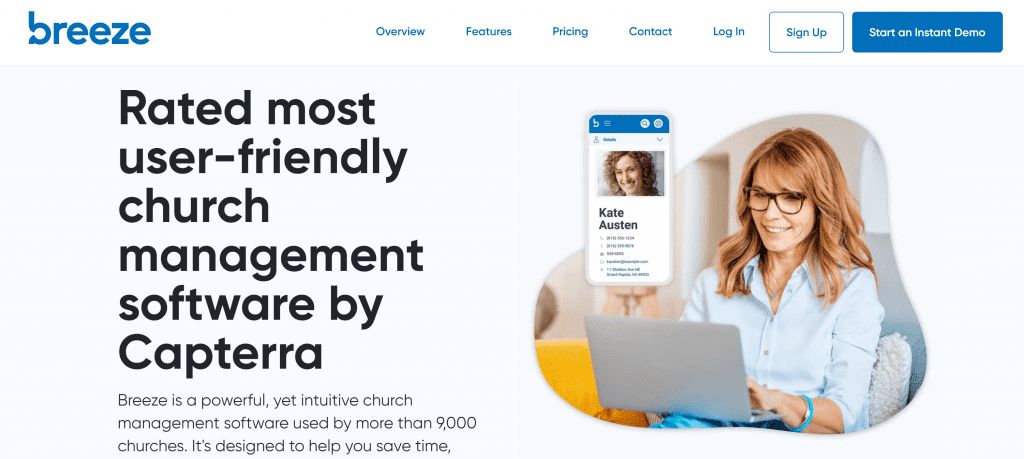 Best for: Small to medium-sized churches that are looking for ease of use and flexibility.

Features: Membership/group management, communication directory, online donation collection and tracking, events, check-ins, mobile app …

Rating & Reviews: As you can also see on their homepage, Breeze was rated the most user-friendly church management software by Capterra users with 4.9/5 stars. But this doesn't mean everyone is fully content: You can find negative reviews about lack of financial and accounting management, difficulty in data extraction, etc.

Free plan?: Although there's no free version, Breeze offers a free trial to test the software.

Pricing: The monthly flat rate is $50 for all features and unlimited users. They don't have multiple payment plans — you have to pay the full price, even if you're not using all the features.
2. Tithe.ly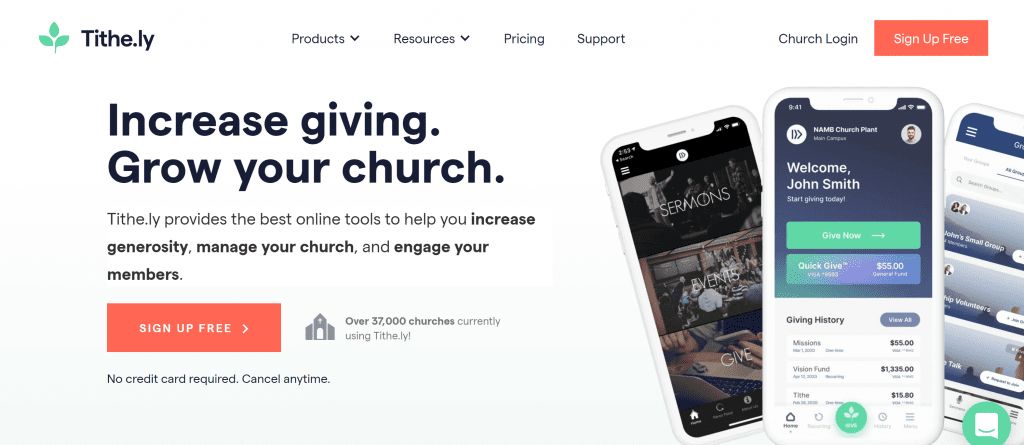 Best for: Churches of all sizes that want to only pay for the features they're using.

Features: Worship service management, mobile app, donations and events, website builder, member messaging, …

Rating & Reviews: Their ChMS, titled Elvanto, has 4.5/5 on Capterra. Many have stated that data migration is hard and that the platform is glitchy on Mac OS & iOS.

Free plan?: Available for free if you just want to collect donations. However, they have paid add-on features.

Pricing: Unlocking all applications (messaging, website, church management, etc.) costs $99 per month, as well as $149 for the setup charges.

Best for: Churches, associations, nonprofits, clubs, etc. of all sizes looking for an all-in-one platform.

Features: Member directory, membership fee and donation management, digital membership card with check-in feature, unlimited event and fundraising creation, email and SMS, discussion boards, paid newsletters, mobile app, …

Rating: With 4.8/5, Raklet has been featured for Ease of Use on Capterra in two different categories. Our user base overall is very content with the software.

Free plan?: Yes! Raklet offers a forever-free plan for up to 50 members — there is no catch. There are also free trials available for all of our paid plans.

Pricing: $49/month for the Essentials plan. For more details, see our transparent pricing page.
---
Check out more of our articles: