Your nonprofit organization could really benefit from using a donor management software, which you can use to keep your donor relationships in check. Keep reading to learn what a donor management software is, and what it can do for you, and explore our top 3 recommendations!
What is a donor management software, and why is it helpful?
A donor management software, or a donor management system, is a type of software for nonprofits that can help you store and manage donor information. Ideally, you will also be able to collect and track donations, as well as have a designated platform to help engage your online community.
Having extensive software for all of your donor management can be really helpful. Mostly, it will be convenient for you to have everything stored in one place. Not to mention that it will give your supporters an online platform to engage with your nonprofit, which will definitely increase your visibility. (Hint: If you need a designated management system for your volunteers instead of donors, you can also check out one of our other articles: Top 7 Volunteer Management Software Alternatives for your Nonprofit)
To get the most out of your nonprofit donor management software, you will need some key features. Explore these essential features in the next section:
What should you look for in a donor management software?
When choosing the right software, it's important to determine the needs of your organization first. There are a lot of things that software might be offering, but if you won't be using any of those features, then the money you spend might go to waste. Consider your needs, determine key features, and set aside a manageable amount to spend on good donor management software.
Here are some of the features that you should look for when researching options:
Key donor management features:
Comprehensive CRM: This will help you create individual profiles for your community. A CRM is vital to store, managing, and analyzing your donor information. If you've used spreadsheets to track members beforehand, you can also benefit from a platform that lets you import data into your CRM database, which will save you the hassle of adding them in one by one by hand.

Financial analysis reporting: Another important feature is a functional financial reporting tool. You should be able to track your financial information, as well as create detailed reports. Real-time donation tracking is a must for any nonprofit organization.
Strong segmentation and filtering options: Within your CRM, you should be able to filter and search through your donors according to certain criteria. This is a great way to group your donors by location, donation amount, etc.

Email marketing: One of the key parts of any donor management software is the ability to reach out to your community. You want to be able to send mass emails to all of your contacts, or to certain groups of people you decide beforehand. Personalizing these emails and keeping your community up to date will help increase your donor retention rate.

Private community platform with engagement tools: Especially if you're an organization that has donors/members around the globe, an online community platform can be very useful. Through such a platform, you can share announcements that your supporters can engage with through likes and comments. This will keep your members up to date, as well as create a more personal connection. A private messaging option would help strengthen bonds between your community as well.
Top 3 donor management software for nonprofits:
3- GiveCentral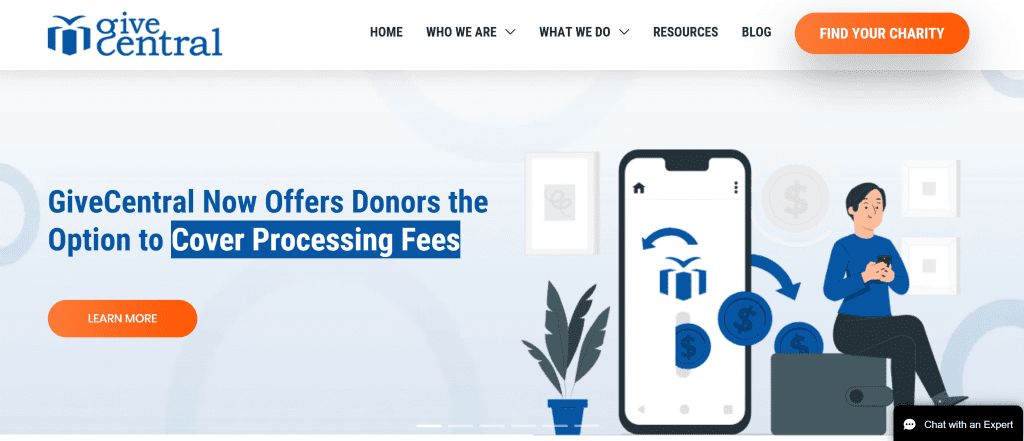 GiveCentral is a multi-platform to help small to mid-sized nonprofits with their management needs. Their board is made up of experienced technology and nonprofit consultants, who aim to provide nonprofit organizations with a useful platform. Besides distributing their software, GiveCentral also provides additional services to nonprofits in need, such as school fundraising, crowdfunding, and event support.
There are 5 different product options under the GiveCentral umbrella, which you can decide upon according to your needs. These software are:
GiveCentral Live:

A live-streaming tool with a built-in donation button, link, participants page, social sharing options, etc. It's a product specifically catered towards churches and nonprofits.

GiveCentral Community:

A donor database with fundraising and analytics reporting options.

GiveCentral Go:

This is a mobile app that helps on-the-go engagement with your nonprofit. It includes a mobile card reader, online payment options, and the ability to sign up for your platform from any device.

GiveCentral Connect:

Connect is another mobile app specifically designed for your donors. They can manage and update their information, receive push notifications, and stay connected with your organization anytime and anywhere.

GiveCentral Texting:

Text-to-Connect and Text-to-Engage are texting options to instantly make donations. It also allows you to send text messages back to increase personalized communication.
The overall platform of GiveCentral has 3/5 stars on Capterra, with only one customer review. This lack of trusted reviews makes it hard to provide current information about their software. However, there are common complaints online about their high monthly cost and difficulty of use.
Pricing: There is no transparent pricing information on GiveCentral's website or their Capterra page. You have to personally contact them with your organization details to receive a personalized quote. They also don't have a free trial, but apparently have a free version with limited features.
2- Network for Good

Network for Good is a nonprofit software that was founded in 2001. They are a Certified B Corporation, which means that they have a certification of "social and environmental performance" as a for-profit. Other certificated companies include big names such as Ben & Jerry's, Grove Collaborative Inc., Danone North America, etc.
Network for Good provides an all-in-one solution for nonprofits, and they usually cater to smaller organizations. They have tools for communication, online fundraising & fee collection, donation tracking, events, auctions, and of course, donor management. Their donor CRM has individual donor profiles with custom fields that can be updated at any time. There are also filtering and segmenting options and data importing/exporting. You can also send surveys to your contacts, which will be extremely helpful to get feedback.
Overall, their online reviews are positive. Customers are mostly content with their ease of use, as well as their ability to streamline difficult tasks. However, there are complaints posted online from their users about the high price point, lack of customization options, and some recurring bug issues.
Pricing: Starts at $100.00 per month, with a free trial. They don't have a free version.
1- Raklet

Raklet is an all-in-one membership management software that has tools designed to drive your nonprofit forward. We've been working to provide our customers with the best possible platform to help their management needs.
Raklet's extensive features have the capacity to give you a fully functional online platform. Through Raklet, you can organize events and fundraisers, create individual donor profiles, access real-time reports, track your payments, engage with emails & SMS, have a custom platform, a branded mobile app, and more — all in one place. Our powerful integrations, such as our integration with Doublethedonation, also have the ability to raise you even higher.
Raklet is one of the highest-rated platforms in its category. Our customers are very satisfied with our customer service, ease of use, and high customizability.
Pricing: Raklet offers a forever-free plan for up to 50 members. Our paid plans start from $49/month. In addition, all of them have 60-day free trials on annual billing. You can review our transparent pricing page for more details.
---
Check out other articles on our blog: