Since the pandemic has turned our lives upside down and changed everything, we have all been moving to online spaces to connect with each other and grow. One of the most popular forms of online connection has been online coaching platforms. Regardless of time and space, you can educate your audience and help them reach their goals with the right software. And if you're one of these people that want to start up your platform, monetize it, and help others, you're in the right place to start!
In this article, we have listed important things you should know about, from what an online coaching platform is, to the features and the benefits it brings to your business. Then, we move on to your options, the best online coaching platforms on the market with their pros and cons, so that you can make the right decision for you. Make sure to keep reading to learn more!
What is online coaching?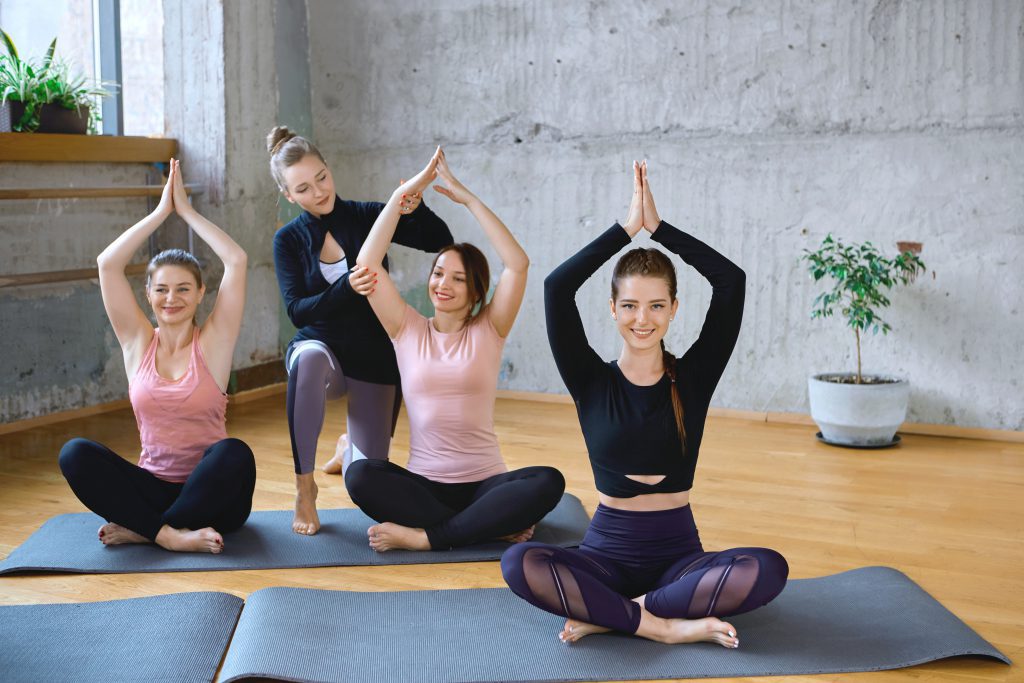 Online coaching often refers to helping and guiding someone for physical practice routines. It usually consists of fitness, yoga, cross-training, or other types of sports. It could also be nutrition coaching, as in regulating someone's diet so that they live healthier and reach their goal weight.
You can also regularly go to the gym and connect with your online coach to talk about your process. There are popular online coaching platforms out there that people join internationally, and keep in touch with their trainers online. After all, the pandemic has shown us that you don't need to be next to someone to learn from them.
While it is rarer, there are also other types of coaching, for important exams or deadlines. An academic coach will help you keep up with your goals and help you manage your limited time so that you can reach your goals.
And of course, online coaching through emails and SMS is tedious, to say the least. While you can use a lot of programs to reach out to your students, it will be difficult to keep track of different tasks, various students, incoming payments, and so on, since each would be managed from a different program. This is where online coaching platforms shine, which we will be talking about in the next paragraphs.
What is an online coaching platform? What features should you look for?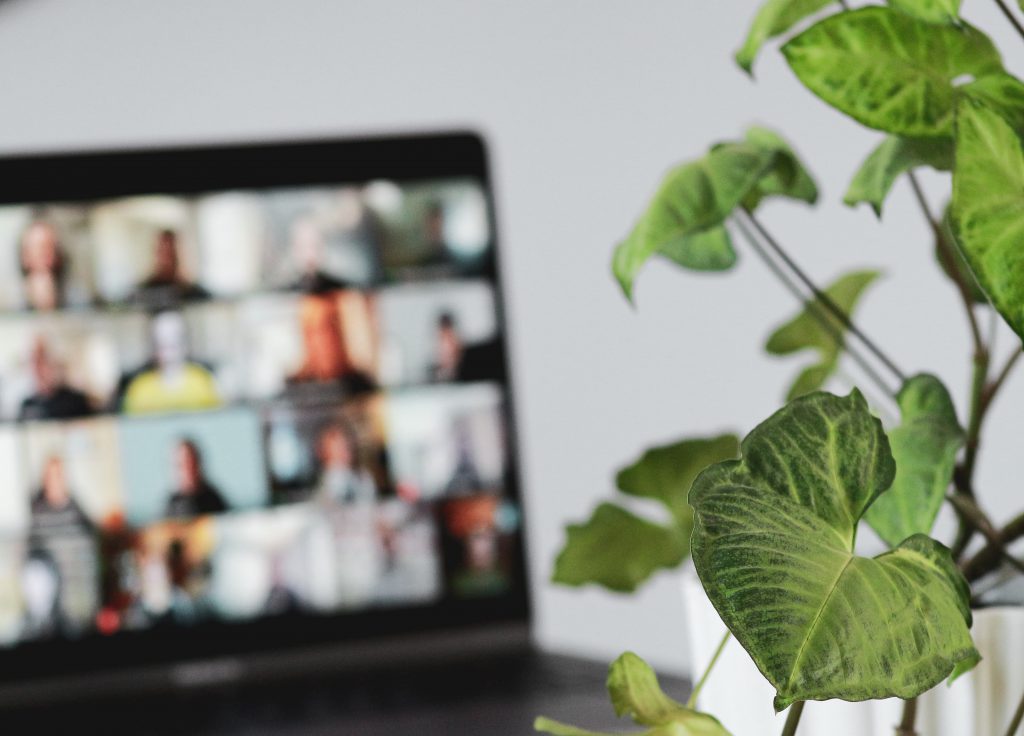 Online coaching software is basically an all-in-one platform where you can manage everything you need easily and quickly. Rather than sending emails from one software, collecting payments from another, and hosting classes from yet another platform; you can use online coaching software to take care of it all.
Here are some online coaching software features that you absolutely need to get started:
The ability to send mass emails and SMS messages
Calendar feature for scheduling, for example, Google Calendar integration
Collecting online payments, can be recurring or one-time fees
Contracts, ie. "Terms of Use" that you share upon application
Event organization, either one-on-one or for groups
Ability to host these events online, and also share other recorded or written content
Other Features That Will Help Your Journey:
Here are some other features that you might not think of at first. However, they will empower your business and help you reach your full potential:
Discussion forums so that your members can talk and connect with each other
Integration with iOS or Google Health apps
A mobile application, so that your members can reach out to you on the run
Membership tiers for seasoned members or those who try out different types of plans
The ability to create special and locked posts for different tiers
Collecting data so that you know where your customers come from and what they enjoy
Google Analytics and Google Ads integration so that you can continue growing
10 Types of Coaching Business
Instead of being general life, health, career, and financial coach, people now specialize in particular areas of online coaching business.
The following are a few of the most popular coaching model types:
Life Coaching
A life coach is a someone who physically helps you overcome any and all barriers that stand in the way of attaining your goals in life (often, even helping you identify what those goals could be!). A life coach works with you on all aspects of your life, including your profession, relationships, finances, etc., to help you find more purpose in each day. Being a life coach might be the finest thing you can do to assist the many individuals in today's world who are trying to change their lives.
Meditation Coaching
It offers a welcoming and secure place where you may practice meditation. Since most of us are not accustomed to silence and stillness, beginning a meditation practice can be difficult. Additionally, it might be frightening to practice stillness when there is so much noise around. Here's where your meditation coach comes in to provide you all the encouragement and direction you need to develop a fruitful meditation routine.
Career Coaching
This particular branch of coaching aids individuals in picking a professional path. These are skilled coaches that can help you every step of the way, from helping you locate the job you want to giving you the tools you need to ace the interview.
Relationships Coaching
The focus of this type of coaching practice is on getting to know and work with individuals. Some of the skills these coaches excel in include assisting clients in finding partners, forming new relationships, or just helping them better comprehend the people in their life.
Whether it's a sexual connection, another type of personal interaction, a family tie, or a relationship at work, a relationship coach may help you strengthen or maintain your relationships in life. It is not just applicable to romantic partnerships.
Business Coaching
A business coach helps entrepreneurs define their company's aims and objectives and helps them create realistic targets. Because it keeps the business owner responsible, business coaching is successful.
This group of trainers has everything working professionals, executives, entrepreneurs, and small business owners need. Due to the fact that the majority of these coaches have some past experience in their areas of specialization, they are more sensitive to the demands of their customers.
Debt Management Coaching
A person with knowledge of consumer law, banking, and credit is a debt management coach. They assist you in managing your debt, whether it relates to credit cards or a mortgage. On your part, they will also bargain with your creditors. They'll also advise you on which debts are the most pressing and should be paid off first. These instructors occasionally offer guidance on the best course of action to follow moving forward.
Health and fitness Coaching
These coaches take care of practically every aspect of your health and wellbeing, from helping you develop healthy habits to assisting you in reaching your physical objectives.
A fitness coach is someone who works with you to meet your objectives, no matter what they may be. Many people have a desire of improving their health and fitness, and they believe that examples of this include reducing weight and toning up. A competent coach has a wealth of experience working out, reading people's brains, and guiding people. This allows them to know what their athletes are capable of before even beginning them on a difficult exercise program.
Transformational Coaching
Life coaching and transformational coaching are both forms of coaching. A transformational coach, on the other hand, concentrates on assisting clients in altering their perspectives about themselves.
Life, career, business, leadership, and other areas may all benefit from transformational coaching. A coach's job is to aid their client in enhancing personal growth, performance, and development.
Birth Coaching
A birth coach is someone who supports a woman in achieving her objectives for the birthing process. They accomplish this by offering each woman the specific assistance she needs in terms of physical, emotional, and informational requirements. Birth specialists are aware that a mother's delivery is a significant moment in her life each time. They support women in feeling more assured about what they need and desire throughout labor and delivery.
Mental Health Coaching
This specialized group of trainers is expanding quickly due to rising mental health awareness. These coaches assist their clients in regaining, maintaining, and improving their mental health by using a variety of tools and strategies.
Your intended objective for your mental well-being is guided, empowered, and motivated by a mental health coach. They use behavioral and cognitive strategies to do this. A mental health coach may be your support system and assist you in getting outcomes that last when you have specific identified illnesses. It is crucial to have good mental health, and mental health is just the person you need for that.
7 benefits of online coaching
The benefits of online coaching are numerous. Now, let's discuss a couple of them.
Access to data and simplicity of feedback
Participants and coaches may quickly and simply record notes and feedback on a secure platform using virtual platforms. Managers and coachees can obtain individualized summaries of their development, aptitudes, dispositions, and areas for improvement. It's simpler to keep an eye on one's progress, seek out assistance, and even swap instructors if necessary.
Enhanced location convenience
Locational independence is a fantastic advantage of online tutoring. Online coaching is incredibly convenient since it allows you to participate in sessions from practically anywhere. If you have a computer or mobile device, as well as a strong, reliable internet connection, you may access your online coach. In other words, you can still receive coaching sessions practically anywhere you choose to be. This entails the convenience of being able to conduct coaching sessions either at home or at work for many people.
Accountability and encouragement
With consistent assistance, you could hold yourself more accountable and inspired than ever. Get weekly progress updates, check-in emails and texts, and other forms of communication to make sure you're on track and obtaining the outcomes you desire. Additionally, a coach is always at your side and walks every step of the route with you.
Flexible hours and schedules
You can work out whenever you want, around your schedule. Unlike in a 1-on-1 situation, you won't have to follow your coach's schedule. You may organize your training around the time that you have available each day, even if you are called in to work earlier than expected or your meeting lasts later than you had anticipated.
Saving time
You're empowering yourself in a big way toward realizing the objectives and ambitions you're working toward via your online coaching sessions by reclaiming even just one or two hours from eliminating travel. One of the few things we cannot get back is time. Which is the main motivation for most people starting coaching programs in the first place. They want to get more done in the time they have. Better outcomes are made possible by having the capacity to concentrate better, channel their energy more effectively, and use their mental resources to ever higher abilities. Coaching so makes better use of time.
Anonymity
For those who want it, online tutoring also offers the luxury of anonymity. Your online coach is aware of who you are, of course, but the best chance for success comes from being honest with coaches. The anonymity refers to whether or not anyone outside the coaching dynamic are aware that you are receiving coaching. People will take note of face-to-face coaching, when you meet your coach at their coaching office or they come to your workplace to conduct coaching sessions. The majority of people won't be concerned. For other coaching clients, though, it's simply the knowing that someone else witnessed them seeking coaching or meeting with a coach. Something that can cause worry to spiral out of control and make people feel bad.
Feeling of security
Gaining access to the advantages of online coaching that make such liberty possible requires first being able to get over fear and safety-related worries. It is so wonderful that you may interact with your online coach while remaining in a setting where you feel secure, enabling you to get empowering coaching. One of the advantages of online coaching that some people will experience more strongly than others is an empowered sense of environmental safety. However, it may greatly empower coaching clients who require it.
Top 5 online coaching platforms
These are some features we recommend that you look out for when choosing the perfect software. Now, you might ask: what is the best software, then? What do people prefer? And no need to look further, because we have prepared that list for you as well! In the following lines, you will find the 5 best online coaching platforms, from 5th to 1st, as well as their pros and cons. Make sure to keep reading!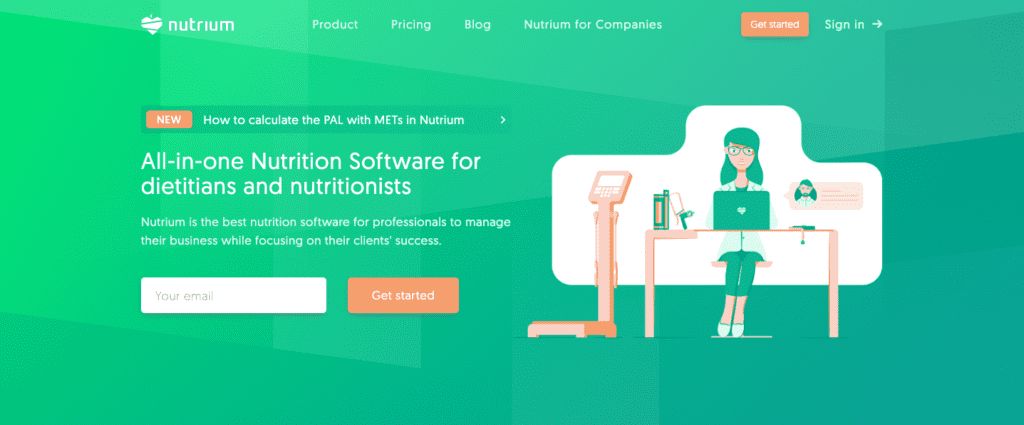 Let's talk about Nutrium: a platform specifically created for nutrition coaching.
Undoubtedly, this is a great solution if you'd like to run a nutrition practice online. Their features are designed to keep track of each of your clients, their process, and what they are eating every day.
Their features include a direct messaging feature, the ability to keep track of appointments via a calendar, and more technical features. There are other features that are about specific meal planning and "anthropometry", which is your physical measures.
Unfortunately, they do not have a free plan and their cheapest plan starts at $35.5 per month.

They have 4.2 stars on Capterra, which shows an overall satisfied customer base.
The negative reviews map out their cons, and one of them is their lack of accessibility when it comes to other languages. They only offer five languages, which might be restrictive for international clients.
Users have also complained about the difficulty of accessing patient information, and that the platform doesn't make it easy to talk to patients about certain diets.
Nutrium also expectedly falls short when you want to try any other type of coachings, such as fitness and yoga.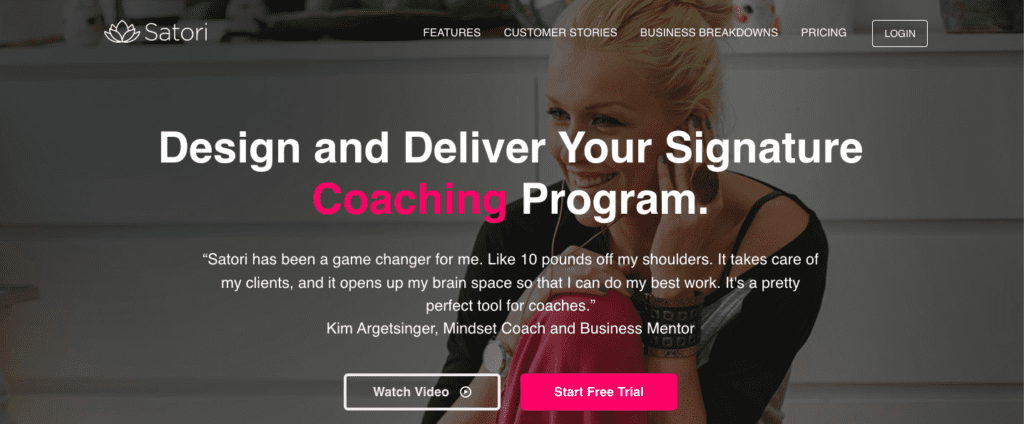 Satori is an all-in-one software that's built for online coaching. One of their benefits is undoubtedly the ability to create different types of coaching programs and bundle them into different groups to market them better.
They also have important features such as branded client platforms, mass messaging systems, and online fee management. As we have said before, it is important that you are able to collect money from the very same platform you use, which you can do so with Satori.
However, they do not have a free plan and their cheapest plan starts at $39 per month.

When it comes to their reviews, they have received 4.5 stars on Capterra, which sounds great.
It's easy to find the negative sides of their platform from their negative reviews. The first one is that the platform is not easy to use and that it will take time to get used to it. The users complain that it is not intuitive enough.
Another vital con is that there is no Zoom integration, which makes things especially challenging as you have to navigate between platforms daily to connect with your clients.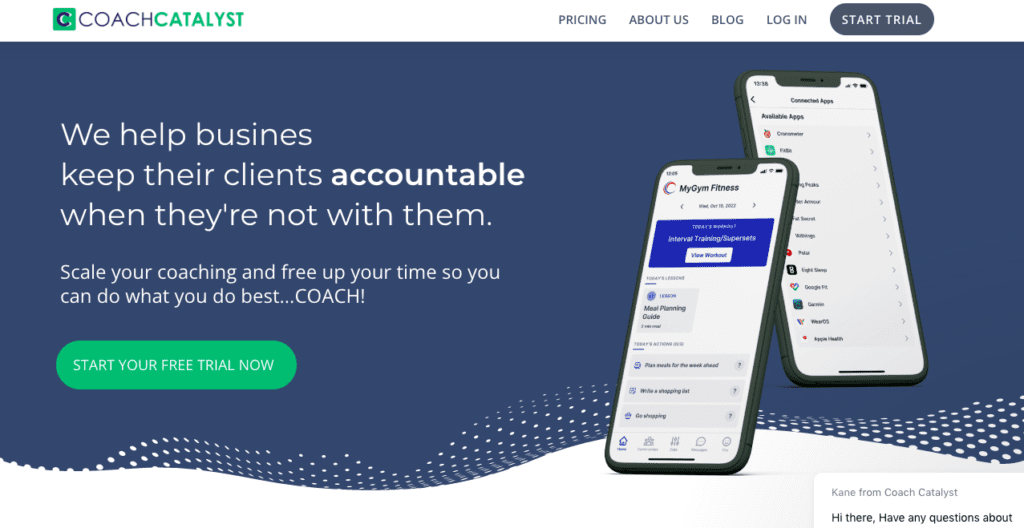 Coach Catalyst offers solutions for a variety of online coaching types. As you can see from their dynamic web page, they aim to help nutrition coaches, gym owners, personal trainers, and health coaches.
Their features focus on connecting you with your members and keeping track of all client processes from one platform. As such, one of their most important features is their client results. With different data tables, you will visually see how a client is faring, and be able to interfere and talk to them accordingly.
They also offer features such as sharing different types of content easily, workout builders, as well as platform customization according to your brand values.
Once again, they do not offer a free plan, and their cheapest option starts at $39 per month.

They have 5.0 stars on Capterra, which is a stellar result. However, it shouldn't go without saying that this is out of 20~ reviews, which is not a lot.
When it comes to their cons, users have complained about their communication features.
As we have said before, if your clients can keep in touch with each other and share their own journeys, this will undoubtedly help your business. Users have found Couch Catalyst lacking on this front, as they do not have discussion forums.
They also found it difficult to use their messaging feature in general, and difficult to integrate into their existing practices.
TrueCoach is designed for personal trainers who want to coach online.
While it's restrictive for other types of coaching, their specific features for personal training make TrueCoach a good option. One of their most important features is their workout builder. You can design and deliver personalized workout routines to your clients according to their wishes. Next to workouts, you can also track their nutrition intake and assign goals.
They also offer a video exercise library, which is a great asset as clients can look back at your older lessons and learn from them at the same time.
Moreover, they also offer vital features such as direct messaging to keep in touch with your clients.

TrueCoach has a 4.7 rating on Capterra. While it might seem that TrueCoach has lower ratings than Coach Catalyst, it must be known that this is out of 352 reviews, while other platforms had 30 reviews maximum. This number shows that the rating is reliable, as Capterra has also put them down as a Top Performer of 2021.
When we switch to their cons, we see that some users have found the platform difficult to use. They have said it is "clunky" and not very intuitive.
There is also no progression feature available, which makes it difficult to look back and see how your client has been doing. Clients also have to manually enter step data, which is difficult in the long run.
1. Raklet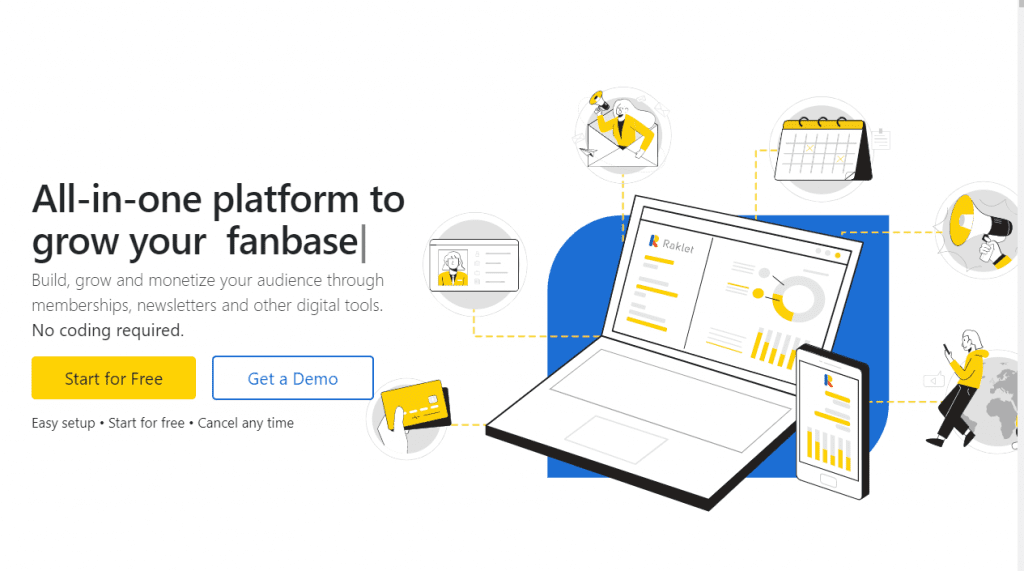 Let's talk about Raklet! While Raklet offers a variety of solutions for many different organizations, you can easily launch your online coaching business with Raklet.
As we have talked about in an early section, Raklet offers many important features that are both needed as well as beneficial for your business to grow.
Raklet Features:
You can send out mass emails, SMS messages, and use our discussion platforms. This way, not only can you directly communicate with your clients, but they can also share their journey with each other.
When it comes to scheduling, we offer a Google Calendar integration through Zapier, so that you and your clients don't need to go back and forth between emails to figure out when you have scheduled your next class.
For monetizing your platform, you can collect payments directly from your Raklet platform. These can be either memberships or one-time fees. There is also the ability to use membership tiers and unlock specific content depending on these tiers.
When it comes to event organization, Raklet also shines in between its competitors. We offer the ability to host online and physical events and help you keep track of them easily. When it comes to online lessons, you can both use a Zapier Google Meets integration or a Zoom integration to connect with your clients.
Your clients can also use our mobile application on the go so that they don't lose time worrying about switching to their computers. If you're passionate about having your own application, we can also do that and in a few weeks, you can launch your own app on Apple Store and Google Play Store
For more Raklet features, check out our features page!
Raklet Pricing and Reviews
Different from its competitors, Raklet offers a completely free plan! There is no undertaking: you can use Raklet free, forever. You can learn all about our plans right here.
As you can see, Raklet has received great reviews from all around the world. We are passionate about helping organizations grow and reach their full potential! Accordingly, we also update our platform regularly to keep up with the latest requests from our clients.
Launch your free online coaching platform today, and if you have any questions at all, you can schedule a demo. We would love to answer any questions you might have and learn more about your business!
If you'd like to learn more about club membership platforms, make sure to check out these articles below: