Community engagement aims to improve community participation in order to create long-term and sustainable outcomes, processes, connections, discourse, decision-making, or execution. It is very important for the development of your organization. In this article, we explained the 10 best community engagement strategies for you.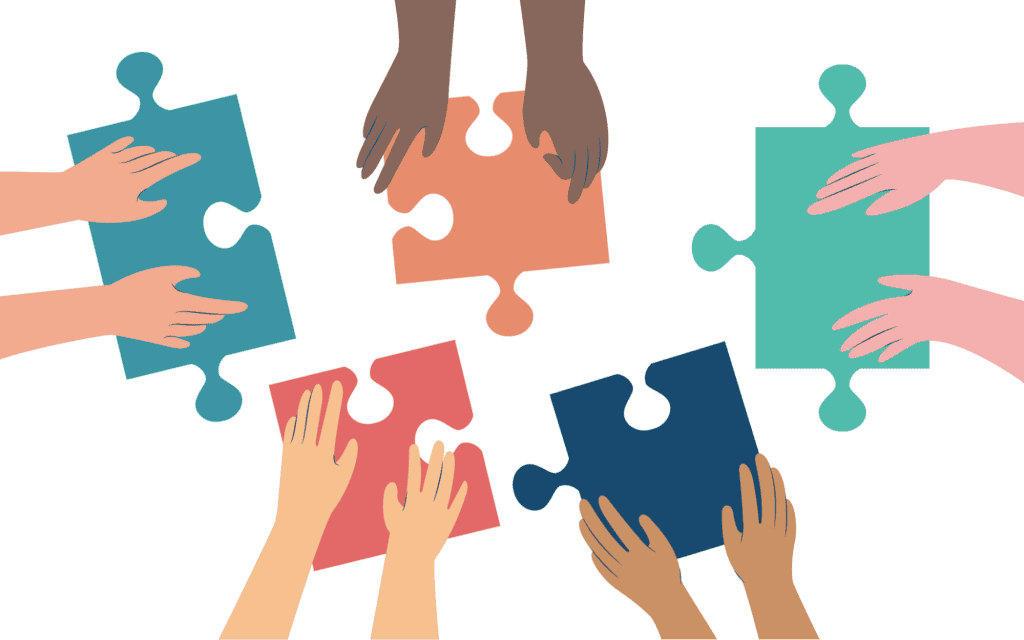 What is community engagement?
Community engagement is involvement and participation in an organization that serves the community's well-being. It is a deliberate process with the particular goal of engaging with recognized groups of people to identify and address issues affecting their well-being, whether they are related by geographic location, special interest, or affiliation.
To achieve success, community engagement employs a variety of strategies and tactics. Additionally, it emphasizes the need of building and enhances trust as a fundamental component of long-term, sustainable involvement, and efficient government.
Why is community engagement important?
In order for companies and communities to make decisions to build social capital, community participation is essentially an element of discourse. For this communication to continue to be healthy and to maintain social harmony, a decent community is crucial.
3 Benefits of community engagement:
Access and community empowerment are guaranteed via community engagement.
Therefore, community engagement makes sure that people of the community have access to important social settings and activities, believe they can make a significant contribution to those activities, and develop functional skills that allow them to participate completely.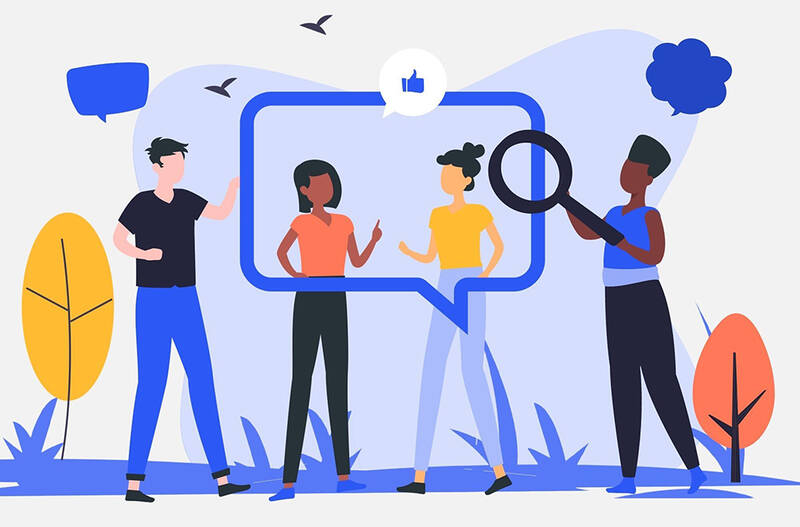 If you involve your community in the project early on, you will see better results.
Consider this: You can never know all that your community knows. There will always be concepts, problems, worries, historical details, and backgrounds outside of your project that you are not fully aware of.
Your organization's performance will be more well-liked by your community.
It shouldn't be a surprise that a community would be satisfied with an organization if they were informed about how the organization conducted its business and had opportunities to participate in the development of policies.
10 Best community engagement strategies
Now that we understood what is community engagement and why it is so important, continue reading if you want assistance with community engagement ideas and developing a community engagement plan. Ten incredibly powerful community engagement strategies will be covered, along with all the fundamentals.
Construct an environment for your community.
An essential thing to strive for when it comes to community engagement best practices is a safe, welcoming, and accessible environment for all of your community members. This needs to be your first priority, so keep it in mind while you develop your strategy for community participation.
Create a welcoming atmosphere for new members.
Setting up an automatic message that uses their names, refers them to the community guidelines, and perhaps even asks them to publish a brief bio in their member profile or on a discussion board can go a long way toward giving your members a warm welcome. Additionally, you may include a part called "Introduce Yourself" where all of your users can answer the same questions before leaving comments on each other's articles.
Create a feeling of purpose for your community.
Setting specific goals for your community is a smart move when building a plan for community participation. To offer your community direction and purpose, it is preferable to do this as soon as feasible.
Encourage engagement across different channels.
Creating an active community in your group is simply one aspect of community involvement. All of your marketing platforms should be influenced by your community engagement plan since individuals rarely interact on a single platform. In order to cross-promote, look for recurring themes that you may use for all of your marketing platforms.
Reward commitment in the community.
Rewarding active members and motivating other members to engage more is one of the finest strategies for increasing community engagement. Give members who are very helpful, considerate, or informed a public shoutout; this personal touch may make your members feel valued.
Publish member-only content.
Reposting member material in your community group is one method to make your members feel special. This is particularly excellent for sharing member victories and toasting achievements. Share this in the group whenever a member of your community mentions something amazing that has happened to them, especially if it has to do with your products.
Include downloadable content.
To instantly boost community engagement, provide members of your community access to exclusive tools and material. Resources are a terrific way to provide people with concrete, practical example of the importance of belonging to your community. These resources may include worksheets, templates, checklists, and more!
Find collaborations and promote your community.
Find relevant companies to collaborate with if you want to create a buzz in your community. Through partnerships, you have the opportunity to reach a new audience and expand your community.
Schedule live events.
Participating in community events is one of the finest ways to encourage engagement. You have access to many tools, even in an online group. Think of hosting a Zoom meeting or happy hour so that participants may mingle informally.
Here are some online and offline event ideas that will help you to increase community engagement:
Create a festival of international cuisine.
By planning a cultural cuisine fair, you can honor many cultures and histories. Encourage nearby eateries to join, advertise their establishments, and talk about how culture affects their cuisine. Create an inclusive and diverse community so that everyone feels more appreciated and welcomed.
Organize or join a marathon with your community.
There are several reasons why local marathons are fantastic.
In addition to promoting local public health, it provides a chance to explore new regions of the community.
A community marathon or 5K can be improved by adding a charitable component to it. Join forces with a neighborhood nonprofit organization and donate the earnings from the race.
Host a movie night at the office or movie theater.
Watching movies with your community can be a very engaging and fun activity. You can go to the cinema together while watching a popular movie of recent times, or you can bring your cinema pleasure to the office with just the projection and screen.
Organize training sessions for the community and skill development.
Investing in the people is a crucial component of creating a successful community. As part of your community's goal, promote wellness and personal development. Provide residents with useful classes, like Excel instruction. The community will get stronger as people start to develop their abilities and discover new hobbies.
Find a community platform for your needs.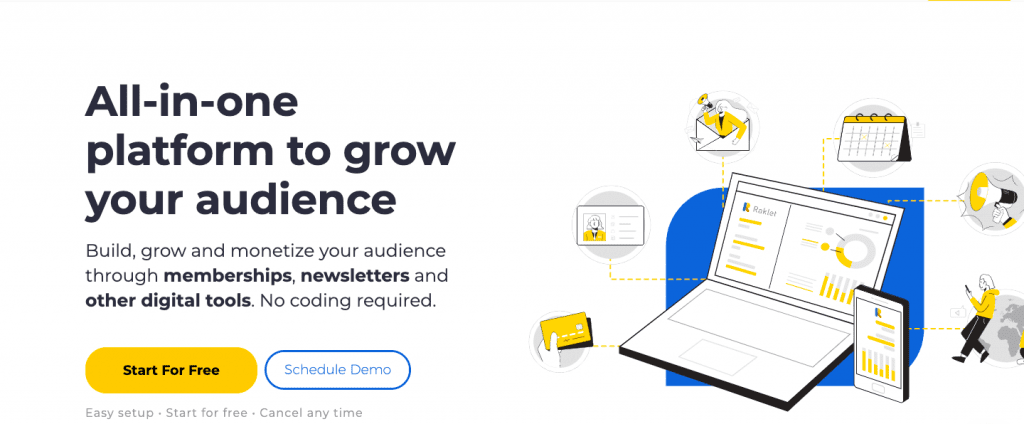 Through memberships, newsletters, and a long list of other digital tools of a strong community platform, you can create, expand, and monetize your community. You may interact meaningfully with your community online thanks to Raklet, an all-in-one community software.
You can effortlessly manage your community memberships with the help of our robust CRM. With just a few clicks, you can quickly collect money, make membership application forms that are customizable, manage all member information, and export it all. Additionally, you may utilize our message boards and private chat features to facilitate communication within your community. To interact with your members, send mass emails, SMS texts, and automated newsletters. Moreover, you may plan occasions and take donations or ticket prices.
We created Raklet to expedite your repetitious labor and save you a ton of time by incorporating all the tools required to assist you in managing your community. You can review Raklet's features to determine whether they suit your demands and objectives. You may also schedule a free demo to speak with a representative one-on-one to learn more about our features!
If you liked this article, check out other related articles from our blog: