Corporate alumni software is a bridge that connects the corporate as well as their alumni. An alumni platform provides a wide range of features such as event management, targeted communications, and is ultimately a powerful tool to create life-long relationships for the corporate to manage their alumni software effectively.
Having a positive relationship with your alumni can pave the way for new opportunities for the organization. A customized alumni engagement platform empowers your organization to engage with your alumni as well as helps them stay connected.
Important reasons to indulge in a corporate alumni platform for your organization
A good corporate alumni software makes sure you have the right tools at your disposal to unleash the power of your network. It empowers you to stay connected with your past champions while you create new ones for your organization.
Reduce talent acquisition cost for your company
This platform will help organizations rehire alumni and reduce talent acquisition costs. A good rapport with your alumni makes sure they stay your life long brand ambassadors. It foster's a healthy relationship between your alumni and the company.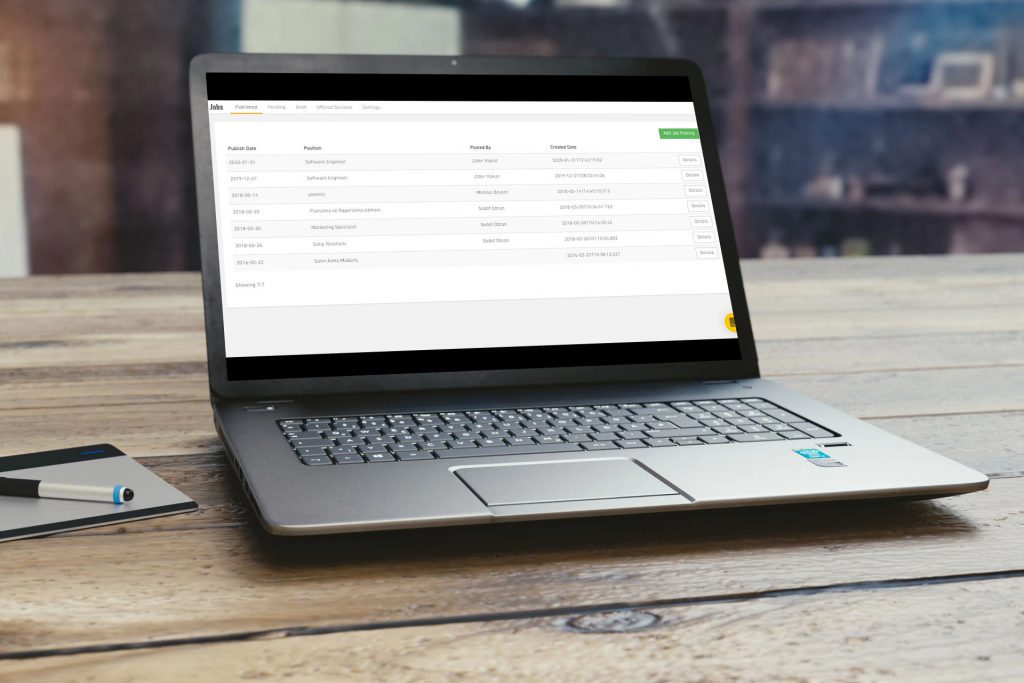 Stay connected with your alumni
As a company, you now have access to knowledge from mentors or past employees through this software. In addition to this, a company can build and maintain corporate social responsibility programs through alumni participation. They can also stay in touch with past colleagues and create a network of contacts through instant messaging.,
A corporate alumni software not only strengthens the employer brand image within its employees but also throughout the industry.
Read how Raklet's Alumni Portal helped Koç University bring their alumni together.
What to look for in a good alumni software:
Great user experience: A good corporate alumni software must be really easy to set-up. It should also be simple to use and be able to drive engagement. Must offer great user experience to both the company and the alumni.
Modern tools to engage with alumni: Setting up targeted communication, planning events, collecting donations as well as managing your alumni database are few of the features to look into while deciding on an alumni software for your company.
Reach more to know how to create a donation page in your Raklet account for easy fundraising options.
Drive positive engagement with their alumni: Every company needs to drive positive engagement with its alumni. This is possible only if the software puts the alumni first. A great experience makes sure that alumni are benefitted and in turn drive a positive impact within the organization.
Make sure to avoid pitfalls before launching a corporate alumni software for the organization
Make sure the alumni have a great user experience while using the software. Essential to have a user-friendly platform. It is vital in helping increase conversions for your business.
Use relevant and personalized content for the alumni. Make sure the content is of relevance to the alumni.
It is important to showcase the benefits of being a part of the alumni network for alumni. Outline the benefits of the corporate alumni software to past employees as well.
Don't overuse features that do not add value to your organization or the alumni.
Raklet: The corporate alumni software to empowers your alumni organization
It is very easy to launch customized alumni software with Raklet's alumni engagement platform. Trusted by many companies all over the world, this platform makes sure your alumni are engaged and connected using this platform.
Customized membership forms
Our corporate alumni engagement platform is the right mix of technology, features, and support to help you build a lifelong relationship with your alumni. You can send messages to your audience with targeted content that adds value.
In addition to this, you can also collect vital alumni information using customized alumni membership forms. You can view real-time reports of member data as well as manage your member database easily.
Check out how to set up custom membership plans using our corporate alumni software.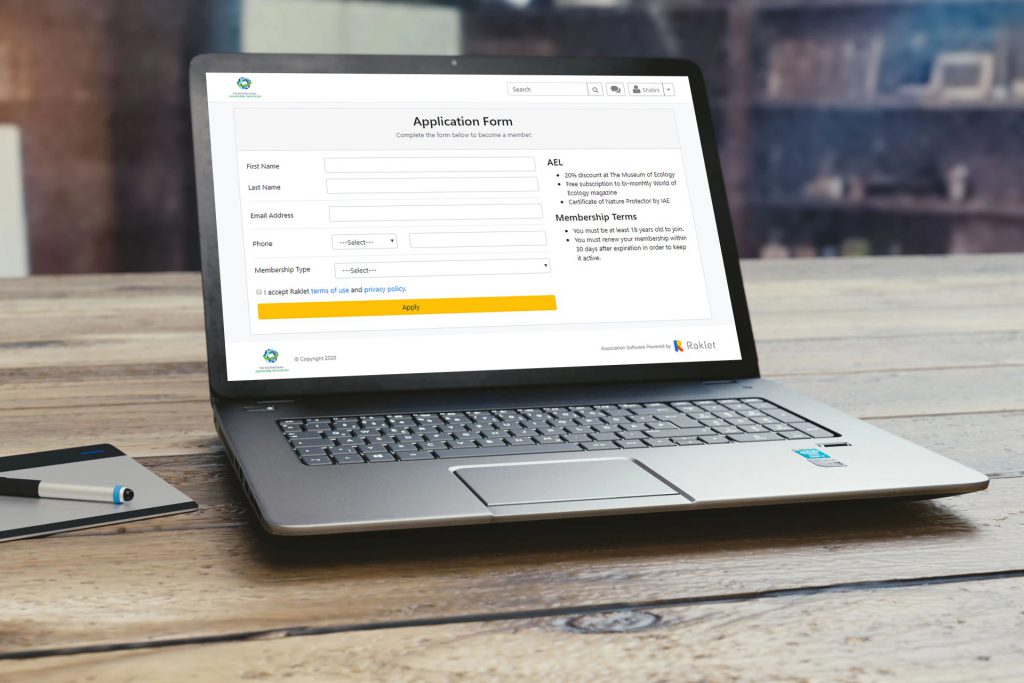 Rehiring your best alumni talent is easy with job boards. Post the current opening on the job boards. Using a single sign-on, log in easily to your corporate alumni engagement software.
Event management module
In addition to this, you can also customize your platform to represent your brand. Manage, plan, and set up successful events and fundraising campaigns.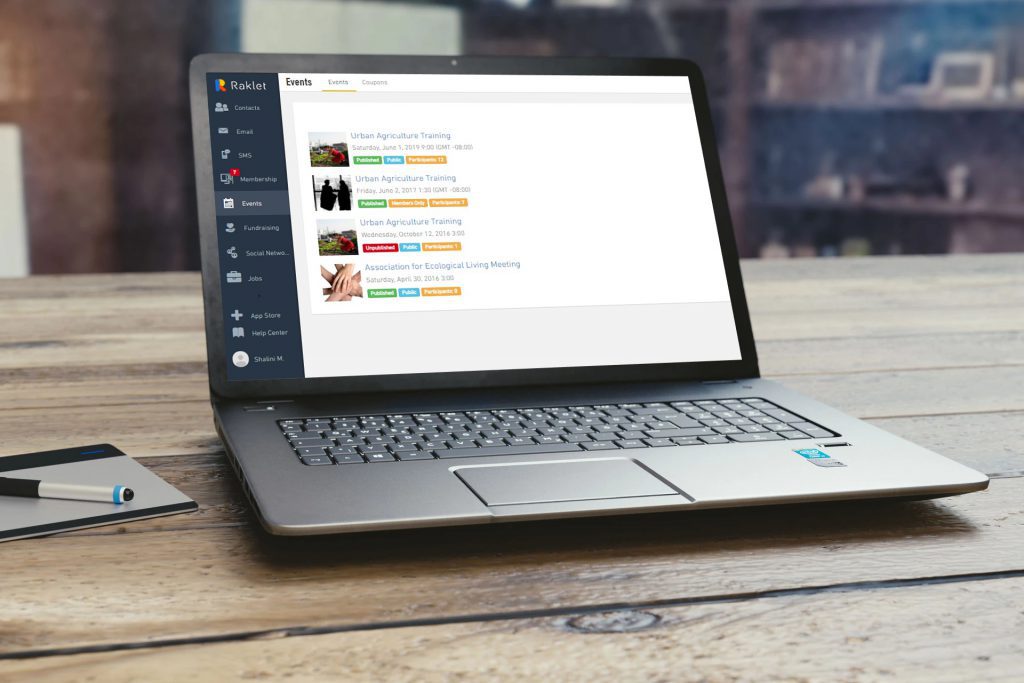 Mobile applications to manage your member engagement
Our corporate alumni membership platform offers mobile applications for both Android/ iPhone. Both the admins as well as the members can use the mobile app. Similarly, customized mobile applications can also be created to match your company's brand.
Seamlessly integrate our corporate alumni software within your website
With all the built-in benefits like a job board, alumni directory, announcements Raklet is the best corporate alumni software for your organization. This secure and reliable platform integrates seamlessly with your website.
We have been associated with a lot of companies for their alumni engagement needs. Are you looking out for a specially designed platform to engage your current as well as past employees? Schedule a demo to understand how Raklet's alumni platform can help your organization.
If you'd like to read more about alumni association management, check out these articles below: