If you're looking for a customizable CRM solution, you've come to the right place. AMORC Austral-asia, a mystic non-religious order, chose to work with Raklet as their preferred platform. Read our case study to explore who they are, what they were searching for, as well as which Raklet features they're using.
What is "AMORC"?
AMORC (The Ancient and Mystical Order Rosæ Crucis) is the largest Rosicrucian order in the world. In their own words, they are a "philosophical, initiatory and traditional, non-religious and apolitical global movement" that is open to everyone, regardless of race, gender, religion, or social position.
AMORC's teachings of Rosicrucianism date back to Ancient Egyptian schools, to around 1500 BCE. Their main areas of focus include mysticism, metaphysics, as well as human existence and consciousness.
Currently, AMORC has 250,000+ members all around the world in total. The subdivision that chose to work with Raklet is called AMORC Austral-asia. It operates in Oceania (Australia & New Zealand) and Asia. Their wide reach in Asia includes countries such as China, Hong Kong, Malaysia, Bangladesh, and more.
What did AMORC Austral-asia need?
While looking for a membership management software, AMORC especially needed features such as:
A customizable CRM platform with visual flexibility,
Changeable custom domain/URL for their organization,
A platform where members can easily access announcements and news,
The ability to separate public and members-only content,
Easy membership applications and fee collection through a custom form,
Quick links to their external website and resources,
Adding custom pages to their platform,
Hosting contact information for member groups based on location.
Ultimately, they chose Raklet as a solution for all of these needs. Which brings us to our next point…
Why did AMORC choose Raklet?
There are a few key reasons why AMORC Austral-asia chose Raklet as their membership platform. Let's explore some of them together:
1- Personalized look through a customizable CRM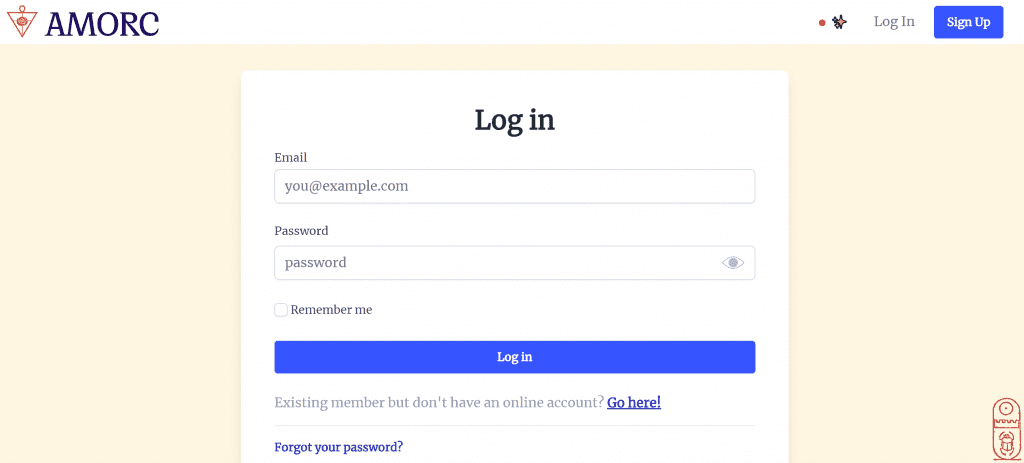 Using our tools, AMORC Austral-asia decided to update their background, add their own custom logo, as well as change the font colors and sizes. With these small changes, their platform now looks very custom and unique. They've also added a custom domain to their platform to make it more personalized, and in line with their website's branding.
Our software offers a wide range of customization options to its users. Creating your customizable CRM platform takes only a few clicks. With Raklet, you can also have every tool you need to make your platform your own.
2- Membership form with custom fields
As you can see, Raklet's customization options don't just stop at visual changes. You can also create a custom membership form, and collect all the relevant information.
AMORC's membership form includes some basic fields like name, birth date, country, etc. In addition to those, they've added pre-sign up information and a table showcasing different membership plans and fees. Inside the form, there are some open-ended questions about why they want to become a member, phone and address information fields, and a final checkbox that says "I accept AMORC's terms of use".
These custom fields and added texts allow AMORC to gather all the information they need from their applicants, analyze their answers, and accept applications. Afterwards, they can start collecting one-time or recurring membership fee payments directly from their platform, thanks to our powerful Stripe integration.
Answers to the questions on the membership form also get stored in the members' individual membership profiles. These can be updated whenever and wherever by site admins, or by the members themselves. As a result, member profiles are filterable and easily accessible with Raklet.
3- Exclusive membership platform
Raklet's customizable CRM platform allows users to share both members-only and public posts. With Raklet, AMORC Austral-asia can share exclusive announcements with their members. They can also choose to publish these posts to everyone that clicks on their link, regardless if they're a member or not. This way, you can both create exclusive content for your members, but also advertise your public events or news to increase participation and engagement.
Another related feature that made Raklet favorable to AMORC is our custom sidebar navigation with links. On their sidebar, they've included both external and internal links, and these links can lead to member-exclusive or public pages. It's a great tool to share your content and resources with your community, or with potential members looking to get more information.
4- Custom pages for group management
After our team's easy approval process, you can add any custom pages to your platform. These can have targeted content, be personalized in look and feel, and also be integrated into your other pages.
AMORC chose to create an individual page for their member groups. This page includes in-page hyperlinks, and AMORC groups categorized by region. It's a collective resource for members to find contact information and addresses, so that they can join exclusive membership meetups.
5- WordPress integration
It is really easy to integrate Raklet with your website. All you need to do is add a button to your webpage that leads to your member platform, and there you have it!
As an organization with a pre-existing website, AMORC Austral-asia did just that.
You can see that the "Join" button on their official website directly leads to their custom membership application form on Raklet. This provides potential members with a quick access point, and eases their application process. 
What else can you do with Raklet?
Now that you've seen an example, it's time to explore what else Raklet can do for you.
Of course, these are not the only qualities that make Raklet the best software for your needs. Our all-in-one customizable CRM platform includes many more things that can easily help you. You can check out our extensive list of features to follow in the lead of AMORC. Or, you can schedule a demo with our team to learn more about us before you make a decision. 
You can read other related articles from our blog: