What is Stripe?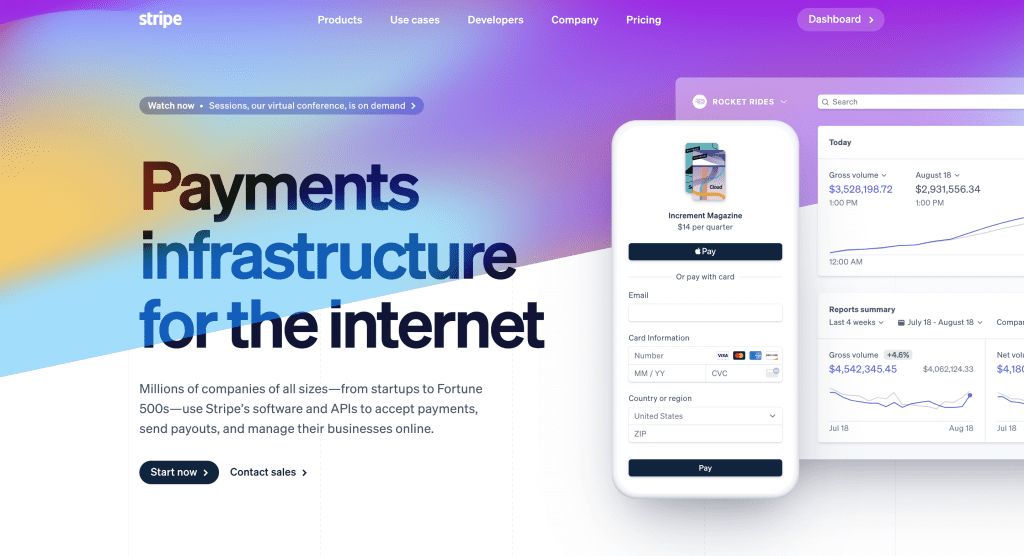 To answer "How does Stripe work?" we must ask "What is Stripe?"
Stripe is a payment gateway and payment processor rolled into one. It is often used by eCommerce companies to receive payments, but it can also be used in physical stores. If you're on the customer side of this interaction, it's likely that you have paid for a business across Stripe before.
Big companies such as Shopify, Wayfair, Google, Amazon, Slack, Kickstarter, Lyft and so many more others use Stripe to receive payments from their customers. There are a plethora of reasons why Stripe is so popular, and we will sum them up in the following lines.
User-Friendliness
The answer to "How does Stripe work?" begins with the sign up process. It is very easy to make a Stripe account! It only takes a few steps where you enter your email, full name, country and create your password. For the first log-in, you will need to confirm your email address to access your new account.
After that, for a merchant account, it will ask you to enter the following business details to confirm it's you:
Credit card statement
Bank information
Business information
Fulfillment information
Two-step authentication
It does not require a strict underwriting process, which means that you can get started with your sales account without waiting for a long time. With Stripe, you can accept payments from all around the world, which we will be talking about next.
Payments: How Does Stripe Work?
Once you have your Stripe merchant account approved, you can use Stripe for your business! Without paying an additional price, they offer the following features:
Checkout support for online store and mobile store
A checkout form you can embed into your website without coding, or you can use their plug and play solutions to create one or you can build a custom form from scratch
Including localized methods or ACH, credit card support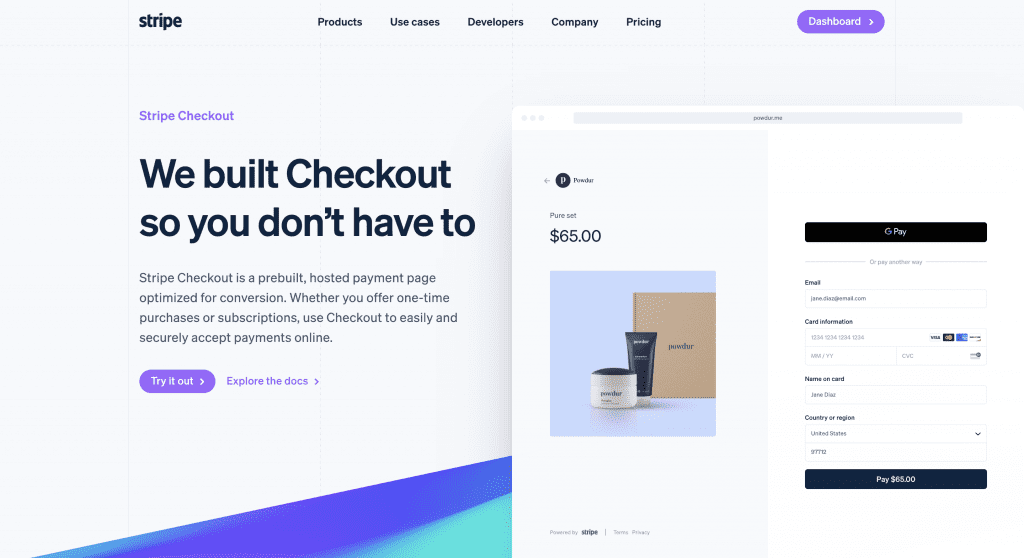 Once you have set up your checkout form on your own website, your customers can pay without being redirected to another website. They will need to enter their credit card information and billing information like any other website. These include: their email address, card number, card expiration date, CVV number, billing address / zip code.
You can use Stripe not only for online transactions, but for in-store purchases as well. There are two types of card readers available in the US: $59 for BBPOS Chipper™ 2X BT and $299 for Verifone® P400 Card Reader.

Let's go back to transactions and how much it costs to use Stripe. After all, a burning question that comes with "How does Stripe work?" is undeniably, "How much does it cost?"

Stripe Fees: How Much Does Stripe Cost?
As you can see on their website, the general fee for online transactions is 2.9% + $0.30. If you're a nonprofit, it's 2.2% + $0.30.
Further fees can be listed as follows:
Point of sale transactions cost 2.7% + $0.05 per swipe. For international payments, there is an added 1% and another 1% for currency conversion.
International Transactions cost 1% more for international cards, and another 1% if currency conversion occurs.
ACH Transactions cost 0.8%, but no more than $5.
Invoices are free.
If you're looking for extra features, you might need to pay a little bit more as well. For more features besides the free ones above, you can check out our handy list from another article:
Atlas: This plan is for start-ups, those who want to form a new company. Atlas rids you of lengthy paperwork, legal complexity, and numerous fees; you can register as an LLC and open a U.S. bank account for a one-time fee of $500.
Billing: This includes Stripe's recurring billing, subscription and invoicing features.
Issuing: For making physical and virtual cards for your business.
Radar: A feature that protects your business against fraudulent behavior.
Sigma: It offers SQL-based revenue reporting, beginning at $0.02 per charge that drops down with the amount of your costs.
If you need to use a bit of everything, contacting Stripe Sales might be a good idea! Since every business has different needs, they offer a great variety of options accordingly.
It should also be noted that your very first payment might take 7-10 days to get to you so that they can verify it's you and that your information is accurate. After that, there will be a payout schedule depending on your country. It's once every 2 days for the US, and different for other countries. However, this is flexible and can be changed as well!
Internationality
They accept: ACH, Bancontact, Direct Debit, EPS, Giropay, Klarna, Multibanco, P24 SEPA, SOFORT, iDEAL.
When it comes to credit cards, they also allow many popular brands such as: American Express, China UnionPay (CUP), Discover & Diners, Japan Credit Bureau (JCB), Mastercard Visa and more. For more details, check out their limitations below:

Customization Options
If there is one thing Stripe is known for, it's their customization options and plethora of features.
Let's begin with talking about something we have already mentioned, customizing your checkout pages:
They offer the following features: automatic real-time validation, dynamic localization, clear formatting & masking, apple pay & payment requests, constant autofill and high responsiveness.
Rather than creating these pages from scratch, you can use their Elements feature to plug and play. This means that you can pick what you like from their features and use it accordingly to create something unique.

For other customizations, Stripe offers a great deal of resources for developers, which you can find here. These client libraries are as follows:
Their APIs are organized around REST, which uses API keys for a great variety of actions. This provides a lot of customization options, which is another reason why so many people use Stripe. The Stripe API you use differs for every account as they release new versions and tailor functionality. You do not need to worry about security issues.
Customer Support
Now that we know about Stripe's user-friendliness, payment plans, pricing, internationality and customization options, it comes to this: how's their customer service? Can you reach them easily? Do they offer help 24/7? You will be trusting them with your hard-earned money, so it is understandable to have reservations about it.
However, do not fret! Stripe offers 24/7 life support, as well as the following forms of customer service:
Community Forum
Developer Documentation
Email Support
Freenode-Based Chat Support (#stripe)
Knowledgebase
Phone Support
Social Media
This means that you do not need to worry if you can reach someone from Stripe when something goes wrong. They will be there for you 24/7 to guide you along the way.
Our Thoughts as Raklet

Now that you know more about Stripe, what do you think? Did we answer "How does Stripe work"? Is there anything that you're particularly interested in? Or do you have more questions that you'd like to ask us? Feel free to leave them below if you have any!
As Raklet, we use Stripe for payments, because they offer seamless transactions, short remittance times and a lot of customization options.
If you're considering making a Stripe business account, why don't you check Raklet out as well? Raklet is a modern cloud platform that provides plug and play solutions for contacts, messages, payments and more.
If you have any questions in your mind or would like to learn more about Raklet, you can also schedule a demo! We would love to explain more about our partnership with Stripe, our platform and what we do to help businesses and communities all around the world.
Here are some articles that might be of interest to you when learning about Stripe and other payment gateways: