Membership subscriptions are beneficial for both restaurants and customers. Find out how membership subscriptions are helping restaurants survive, especially during pandemic days!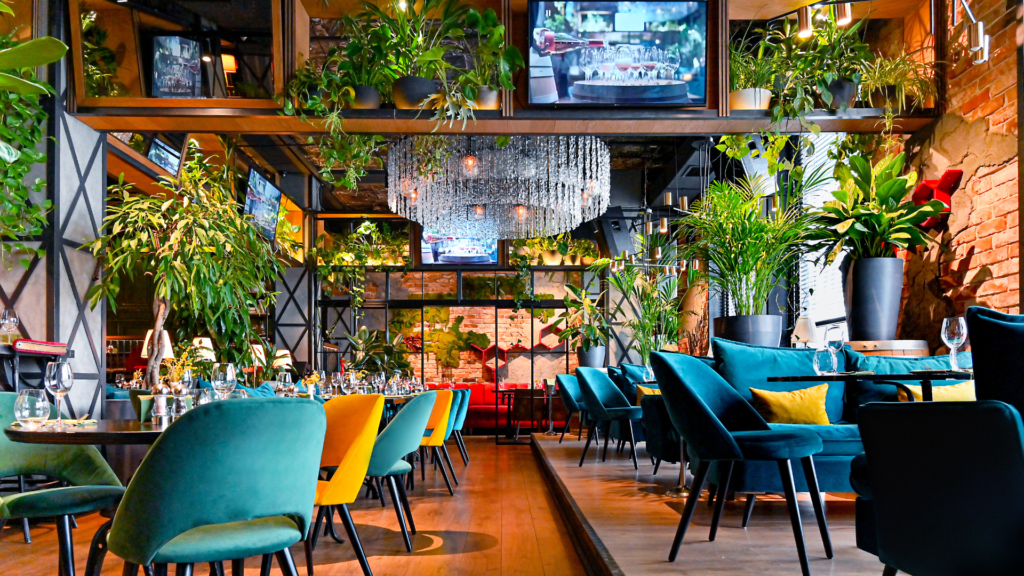 Today, many restaurants are faced with the danger of loss or even closing due to various reasons, particularly the pandemic. The restrictions on physical dining have forced many restaurants to close their doors. However, membership subscriptions have proven to be the lifeline they need to stay in business. Find out what they are, how Whiskey Bravo's uses them, and how they can help you.
In 2020, lockdowns and restrictions meant many restaurants, coffee shops, and other food service businesses had to close their doors to customers and diners. This resulted in less income and the potential closing of the restaurant. Even though government-issued stimulus checks helped a little, the threat of layoffs and a complete shutdown was still very real.
During that time, many restaurants tried different strategies to keep afloat. For example, some restaurants converted to grocery stores, stocking up on essential supplies. Others switched to a completely online food ordering system for delivery and takeout.
In addition to these solutions, one of the most successful options was selling membership subscriptions. In 2022, for example, an article on Grubstreet featured Panera, which offered unlimited coffee for a subscription fee of $8.99 per month.
If you want to know how to manage this yourself, first, let's talk about membership subscriptions and how they work. Next, we'll look at how Whiskey Bravo's uses membership subscriptions for its restaurant.
How membership subscriptions work
A membership subscription is a business model where a member pays a business to provide a specific service for a predetermined period, usually a month or a week.
This business model is not a new one. Cable TV, online stores, and recently, streaming services like Netflix and Hulu run subscription services -sometimes even exclusively.
Since the pandemic hit, indoor dining has been restricted. This means having membership subscriptions for restaurants and coffee shops is still a life-saving strategy to keep the business running. Restaurants and coffee shops can offer membership subscriptions to their customers. They pay a monthly or weekly subscription to receive food from their favorite restaurants. This is a solution that works for both parties.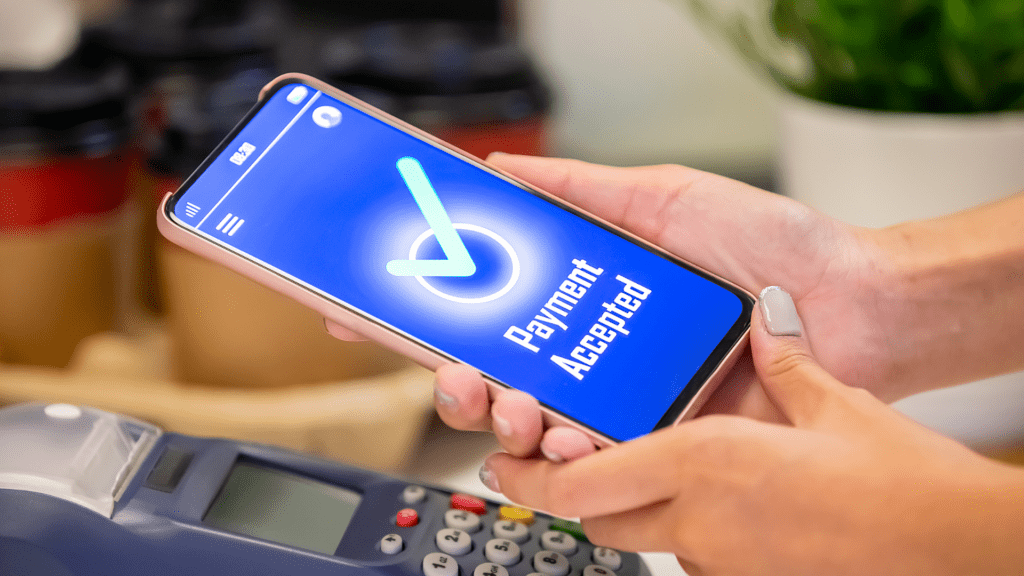 How restaurant membership subscriptions help customers
For the customer, a membership subscription provides extra ease at a lower cost. It's especially preferred for frequent customers and regulars: They get meals at lower prices as they are buying in bulk. Better yet, they don't have to repeat the buying process multiple times. It's almost magical in its simplicity. Customers get a monthly or weekly subscription, and the restaurant delivers meals or drinks to their doorstep like clockwork. This means that they never run out of the product.
Most membership subscriptions also come with discounts, so customers can save money and keep their expenses within their budget. Food subscription boxes have used this model to bring a different approach to home cooking. They combine curated recipes and exotic ingredients and also give you the option of flexibility since you can prepare them yourself.
How membership subscriptions help restaurant owners
As mentioned earlier, the most noticeable benefit of restaurant membership subscriptions is how they provide owners with a predictable income stream when indoor dining is restricted. With a membership platform like Raklet's, restaurants can save customer cards on file, charge membership fees automatically, track one-off or monthly payments, and create a cashless experience.
Another added advantage is that they help with customer retention. Once a customer orders from them, the likelihood of them ordering again is relatively high, especially with a subscription. A major reason for this is that the process is automated with an added discount. For one-time orders, there are usually more variables involved in the process. Those variables are multiplied if the customer has to repeat the process whenever they want to order. Instead, with a regular subscription, the restaurant can bundle a couple of best-selling meals together and eliminate such randomness. This makes the whole ordering process easier and is likely to keep the subscription running.
Integrating a social aspect to their membership subscription plan is also an option: This way, restaurants can offer their customers the ability to meet and connect with other subscribing members. In these physical isolation times, a digital community built around the restaurant can help retain existing customers and even attract new ones.
You can get more information about how membership platforms help to build social interactions among members as well.
How Whiskey Bravo's implemented a membership subscription system for their business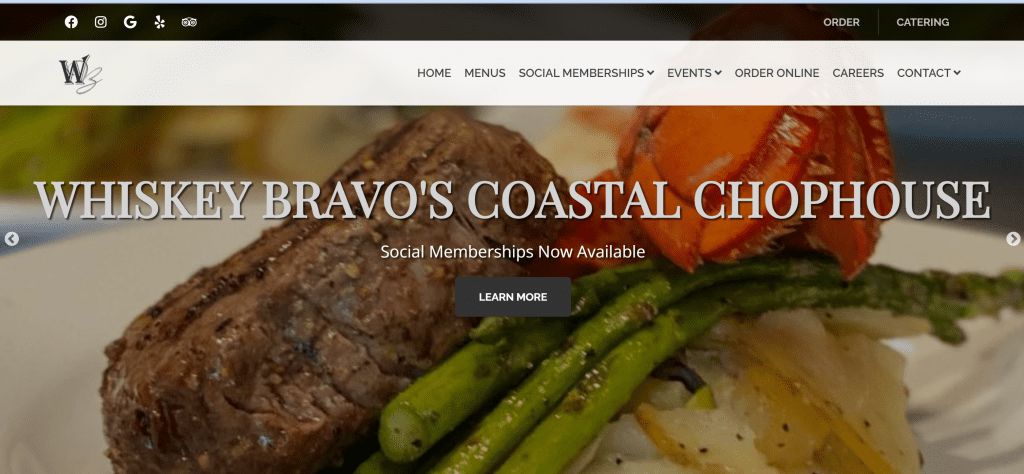 Whiskey Bravo's Coastal Chop House is a high-end restaurant at the Star Hill Country Club in North Carolina. They offer a wide variety of food on their breakfast and lunch menus. They also have halls that the public can rent for events.
Most customers had to stay home during the pandemic, which meant no indoor dining or events. This was a huge challenge for Whiskey Bravo's, as its business model is centered around indoor dining and venues for private parties and events. This could have proved lethal for Whiskey Bravo's, but they survived because they could build a social membership platform to connect with their customers. It meant that they could offer membership subscriptions, which kept revenue flowing and their customers engaged.
Whiskey Bravo's social membership subscription plan allows members to join their social network. The membership costs $588 yearly (or $49/month), and with a rapidly growing subscriber base, the restaurant is assured of a steady, predictable stream of income.
Join Whiskey Bravo's social network here!
Whiskey Bravo's & Raklet: Your Own Customizable Membership Platform
The reason why Whiskey Bravo's chose Raklet as their partner to build their membership platform is that Raklet meets all their criteria. They needed a platform allowing members to register and pay their subscription fees while also allowing them to talk to each other within the network.
With Whiskey Bravo's social membership subscription, members can:
Access the premium lounge at Whiskey Bravo and all related social events and activities,
Create and maintain a personal account with Whiskey Bravo's Coastal Chophouse,
Connect with other members of the network and send them messages,
Set up automatic payments for their subscriptions,
Browse through member-only job listings and more!
Events are some of the biggest attractions on Whiskey Bravo's social membership portal. Members can see upcoming events on their profiles. Those with subscriptions can then access the event with their digital membership cards.
Raklet's membership management platform was perfect for Whiskey Bravo's because it had all the functionalities they needed in one place.
Find out how Raklet can help your restaurant get started with membership subscriptions.
Start membership subscriptions for your restaurant with Raklet
You can check out our list of extensive features to see what we offer to restaurants.
Raklet's membership management platform is perfect for your restaurant, coffee shop, and food service business. It comes custom-built with all the features you need to start and grow your membership community.
Take a look at what you can do with Raklet's membership management platform:
1. Collect automatic subscriptions for your restaurant
If you're looking to start membership subscriptions for your restaurant, Raklet is the perfect partner you need. You can set up different membership tiers, and collect subscriptions automatically, so your customers never miss another payment.
You can also schedule emails to be sent when renewal dates are coming up or freeze membership in case of unsettled plans. All of these and more are done automatically. Collecting membership dues has never been easier!
2. Build your community with digital membership cards
Digital membership cards give members a sense of belonging in your community and also confirm their identity. With Raklet's membership management platform, you can generate personalized membership cards, which can be used to sign in for events.
3. Membership subscription integration with POS systems for a seamless customer experience
Raklet integrates easily with Square, Clover, and other POS systems, allowing you to collect and manage payments easily. You can also securely accept credit cards on your membership platform. This will make collecting and tracking membership payments a lot easier.
Learn more about Payouts by Raklet.
4. Allow members to connect with each other
Finding others who share your enthusiasm for a certain restaurant is a wonderful experience. You can now extend that feeling to your customers by allowing them to talk to each other. As subscribing members of your restaurant community, they can connect and have meaningful conversations with each other.
Now, it's your turn!

Raklet's all-in-one solution for restaurants keeps revenue flowing in with membership subscriptions. You can get started with a free plan today to test out the features. Upgrade to a paid plan from $49/month. For non-profits, you can enjoy a 50% discount as well.
If you'd like to learn more about membership management, check out these articles below: