The International Water Resources Association (IWRA) chose Raklet's membership management software for nonprofits. With a robust all-in-one nonprofit membership management platform; it is easy to manage members, reduce paperwork, and automate administrative tasks.
With Raklet, nonprofits can access their member data online and change it accordingly. They can improve member collaboration and provide new job opportunities with job boards. Furthermore, with great nonprofit software, members stay connected with each other easily using private messages.
What DOES OUR Client THINK About Our Nonprofit Membership Management Software?
"We were looking for an "off the shelf" software package that would continue to grow and adapt over time, offering more services and a more professional feel than the old bespoke membership system we had. It has transformed the member experience. Raklet has listened to our needs and tried to accommodate them. As a small NGO, our resources are limited, so this works very well for us."
Eric Callum, Executive Director, IWRA
Why Was IWRA Looking for Membership Management Software for Nonprofits?
IWRA is a nonprofit organization, and its members consist of international disciplinary experts. They work towards a common mission of sustainable water resource management.
The IWRA is a growing organization with 925 members from various institutions. However, they wanted easy-to-setup membership database software that would help them, group members, into various membership tiers. So, custom forms were needed to determine the membership type for their members.
If you're curious about setting up membership plans for your nonprofit, check out this article to see how to do so with Raklet.
The members of the association also needed access to view the various journals created by the IWRA. So, they were looking for software that could help them with membership management as well as journal integration.
Unlock New and Powerful Tools to Manage Your Members
Raklet offers an all-in-one solution for nonprofits, associations, clubs, and communities. In other words, their membership management software for nonprofits is trusted by many organizations. In addition to this, it is easy to set up and can be customized.
Highly customizable: You can meet your organizational needs easily. For instance, Raklet's membership management software helps you with various administrative tasks, such as online membership onboarding and automated payments.
Power your community with job boards: You can post job openings within your community, or state that you're open to work. Additionally, Raklet offers reports with deep insights.
Social networking for members: Your members can now message each other with Raklet's social network. The member management software also provides the latest updates to its members.
Improve Membership Collaboration and Automate Administrative Tasks for Your Nonprofit
IWRA manages its membership process with custom membership forms specially designed for its members. These online membership forms help members of the community collaborate much better.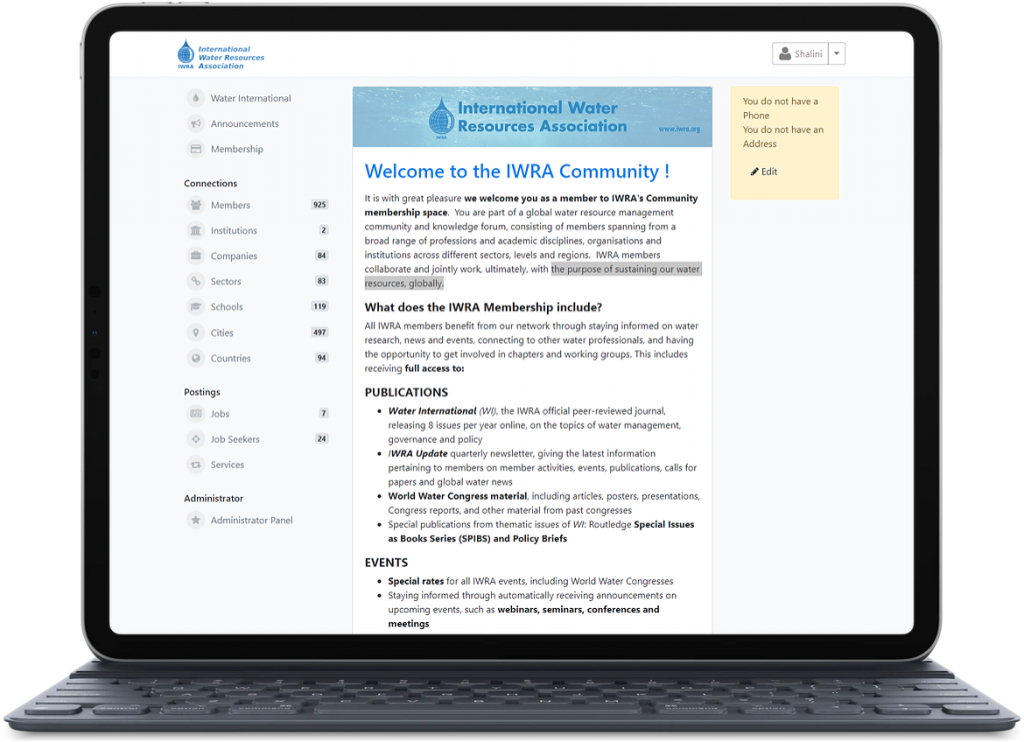 Customized Membership Application Form
Customized membership forms have custom fields to select the type of membership for each member. The members can also opt for either a one-year membership or a three-year membership. The membership fee is calculated based on the selection of the custom fields.
Custom Membership form for their members
Exclusive Journal integration
IWRA also uses Journal integration as part of its membership software. The members are able to view journals easily and learn more about the organization's past. Through this integration, members have access to articles, blogs, quarterly newsletters, and eight peer-reviewed journals.
Creating New Opportunities Using Job Boards for Members
IWRA uses the job board module, where members can see current job openings posted by the IWRA. As such, members are able to apply to these job listings. They can also filter the job posting based on filters present in the module.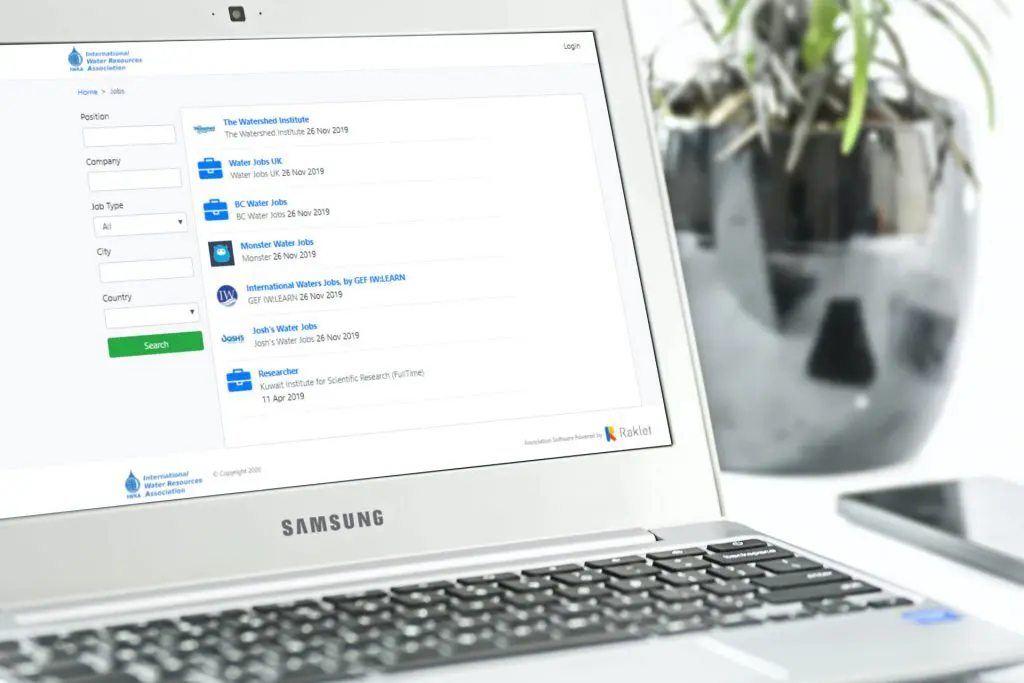 Job boards for their members with various job listings
The members are also able to send messages to other members. This is possible through Raklet's social networking features. Similarly, all members are able to post their activities on the IWRA newsletter as well as the website.
Best Membership Management Software for Nonprofit Organizations
The IWRA works towards the common purpose of creating and protecting sustainable water resources all around the world. Raklet's proud to be helping such an organization to achieve its goals. Our nonprofit member management software is taking the burden of administrative work from their shoulders so that they can focus on achieving their goals and helping the world.
Raklet is a great fit for nonprofits of all goals and sizes. We pride on our ability to simplify membership management processes, and will further help you reach your fundraising goals with our great variety of features. Save time, increase revenue, as well as provide a great membership service for your organization!
Are you also looking out to streamline your membership processes for your nonprofit organization? Check out Raklet's membership management software for nonprofits and create your free account today.