As one of the largest corporate membership organizations in the United States and serving more than 500 corporate members from around the globe, Boston College Center for Corporate Citizenship wanted to create an online member community. Therefore, BCCCC chose to use Raklet's member community software to have a safe space for their professional members across the globe to exchange ideas, ask questions, and network!
Boston College Center for Corporate Citizenship and Their Needs
Boston College Center for Corporate Citizenship has been helping organizations align corporate citizenship objectives and business goals to create a more sustainable and prosperous future for all since 1985. The organization combines the most valuable aspects of a professional network and the resources of a leading academic institution for 500+ member companies each year.
BCCCC's member network consists of thousands of CSR professionals, making them the largest member services organization dedicated to CSR and sustainability professionals. The members have exclusive access to the robust and growing resource library, networking events, and account management services.
However, managing such a high number of companies making up a large member community all around the world is not easy without the help of successful management software. Consequently, BCCCC needed an online platform with member-exclusive options to reach the networking discussions, event registrations, members' information, and many more.
How Did Raklet Help BCCCC in Community Management?
1. Exclusive Content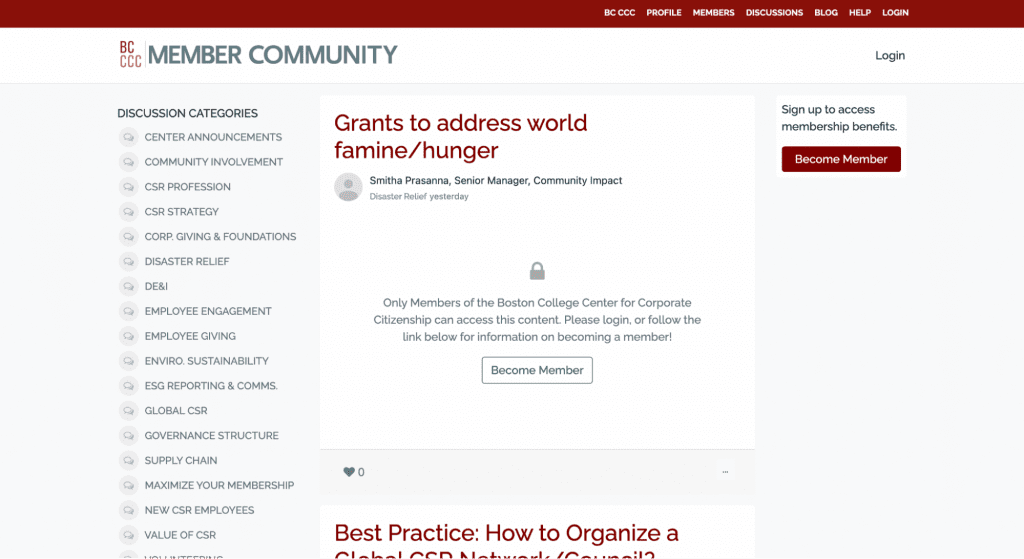 BCCCC's blog posts and news are open to the public, however, they wanted to have a private online community platform to have the members' information, announcement, and discussion boards as exclusive content to their members.
Thus, BCCCC created a Raklet website with a custom domain: https://www.bccorporatecitizenmembers.org/. The website requires a membership login right away to reach the exclusive content. Their logo and brand colors are used throughout the website design to emphasize the community and exclusivity. Having member-exclusive content also encourages signing up as members and joining the community.
2. Private Social Network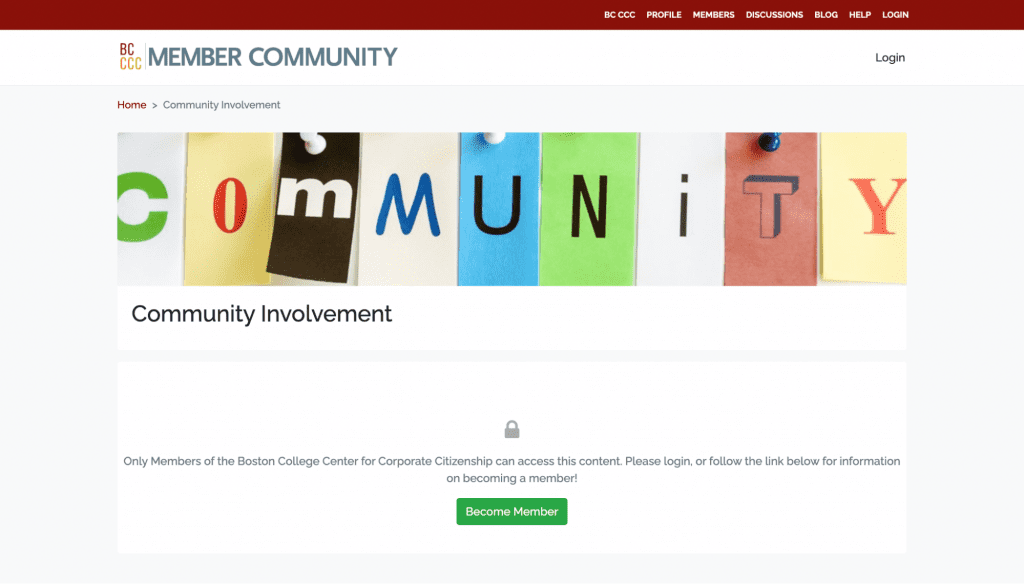 BCCCC aimed to provide a private platform for its members to network. Thus, using Raklet's member community software, they let their members create their own member profiles with customizable fields such as company name, industry sector, corporate citizenship experience, interests, and many more. Additionally, they can include contact information on their profiles, and change the visibility of their information to others.
On the private platform, BCCCC members can check each other's custom member profiles and find other members with similar experiences and interests. They are also able to send each other private messages. They can change their settings to allow or prevent direct private messages, SMS, and emails.
3. Discussion Boards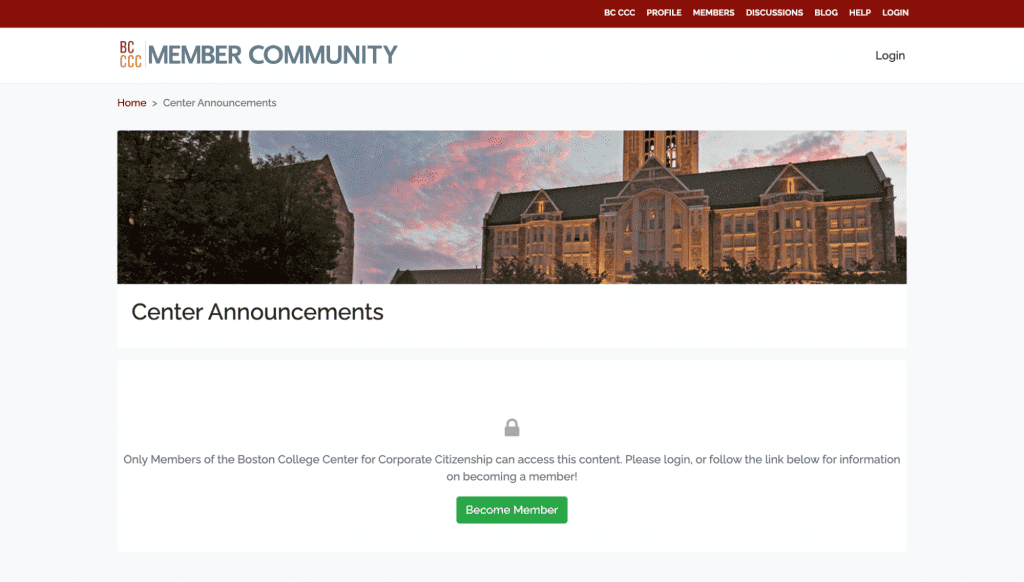 BCCCC wanted to give its members a safe and private platform to discuss important issues regarding their community's interests and goals such as sustainability, employee engagement, global CSR, supply chain, and many more. Under these different discussion categories, members can create their own posts, and like and comment on each other's posts. Moreover, they can choose to subscribe to specific discussion boards and get weekly or daily notifications for new activities.
"Center Announcements" discussion board is specifically reserved for BCCCC's announcements to their members. This allows for a unique space to share updates from BCCCC on programming, events, and other happenings important to the community. An announcement board is beneficial and crucial for such a large global community to inform all its members effectively.
Create an Online Members Platform Using Raklet as a MEMBER COMMUNITY Software
Boston College Center for Corporate Citizenship is only one of the successful organizations that chose to work with Raklet for their needs. If you are also looking for a comprehensive solution that can provide your community with an online member-exclusive platform, you can check out Raklet's community management software and its extensive features!
You can schedule a free demo with us to learn the platform features in detail. Then, you can start out with our free plan for up to 50 members for as long as you would like, or continue with our other plans allowing for more than 50 members and more features.

If you would like to learn more about the other organizations using Raklet software, you can check out other case studies from our website: