Last Updated: October 23, 2023
Have you ever wondered what it takes to unlock a world of exclusive benefits, unparalleled access, and a community of like-minded individuals? 🤔
Imagine being part of a select community that shares your passions and interests, where you can enjoy unique experiences and opportunities that others can only dream of.
Welcome to the exciting world of the membership management and model, where your journey to extraordinary possibilities begins.
📚 Why You Should Read This? 📚
Curious about what successful membership model is? We'll decode their secrets, explaining how and why they're used, so you can make the most of them.
We are ready to expose you to everything you wonder about membership related model, please keep scrolling!
🔑 Key Points We'll Explore:
What is a membership model?
Why Adopt a Membership Model?
What Should You Have a Membership Model?
Types of membership models
How Does a Membership Model Create an Impact on Members?
8 Benefits of Using a membership model
The Biggest Disadvantage of Membership Model
How to Create Your Membership Model in 5 Easy Steps
What is a Membership Model?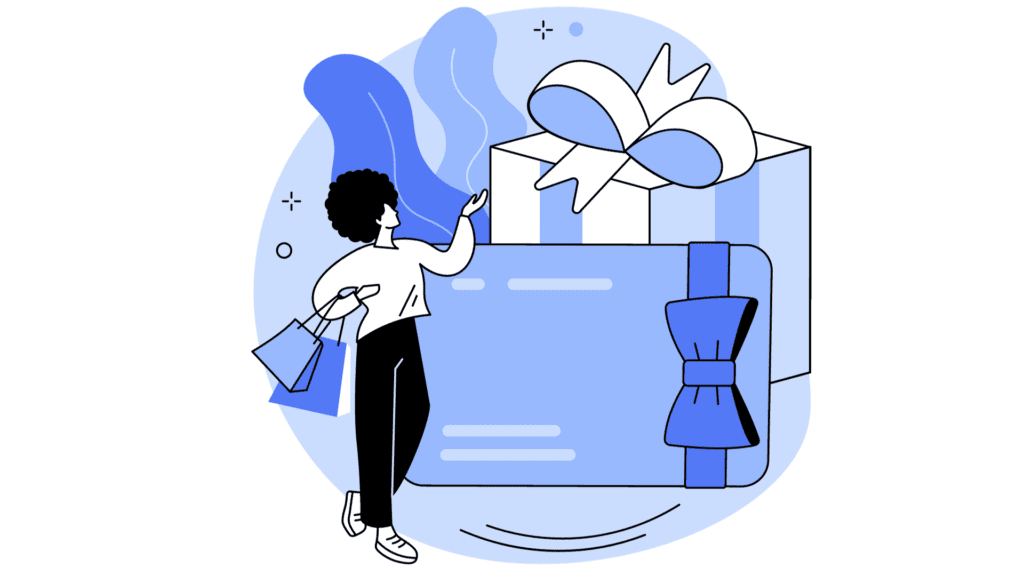 An organizational membership model is a way to run a business that depends on a membership fee for entry to a product, service, or community on a regular basis.
By giving people exclusive access to goods, services, or communities, businesses can make sure they will make money from membership fees.
To use membership models successfully, organizations need to plan out how the different tiers and levels of membership, income streams, membership pricing strategy, marketing activities, events, and conferences will be set up. 
Software like Raklet, which helps manage memberships, can help groups streamline their membership model and make it easier for members to use.
Many organizations can use a membership management and membership pricing strategy to cultivate committed community members and generate revenue. Such as:
Sports Clubs
Professional Associations
Organizations
Nonprofits
Businesses
Why Adopt a Membership Model?
Numerous benefits exist for companies and organizations that use a membership plan, which is why more and more of them are choosing this method.
Here are some strong reasons to think about it:
Predictable Revenue Stream: Membership fees, which are usually taken on a regular basis, give you a steady and reliable way to make money. Businesses can better plan for the future and deal with economic uncertainty when things are stable.
Customer Loyalty: Memberships make customers feel like they belong and make them loyal. People who feel like they are part of a small group are more likely to stay with the organization and keep supporting it.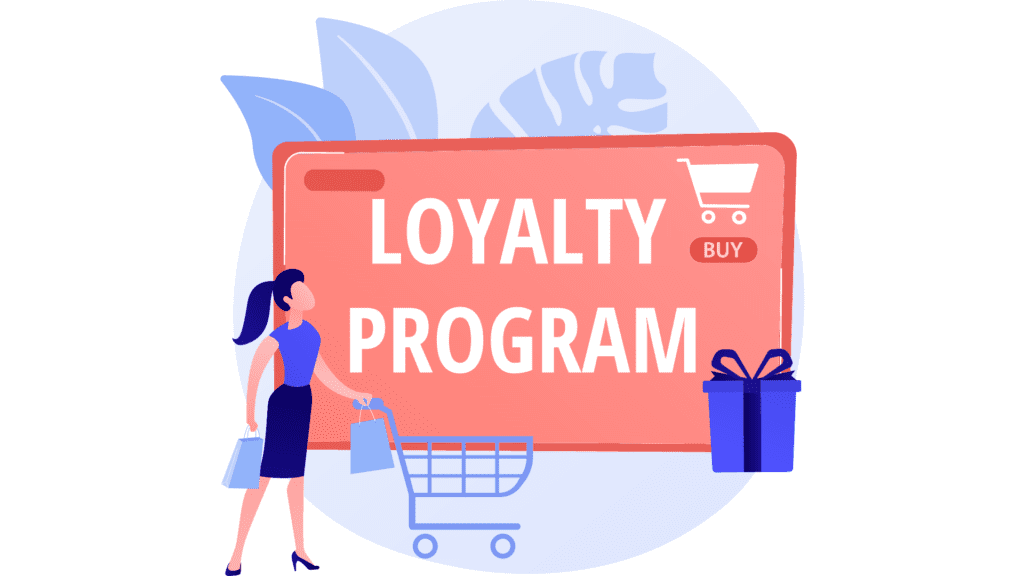 Enhanced Customer Engagement: Memberships open up chances for greater engagement. Businesses can talk to their members more often, get useful feedback, and give each member a more unique experience, which makes the relationship stronger.
Customization and Personalization: Products, services, and events can be made to fit the likes of each individual user through membership models. Customization at this level can make the customer experience much better.
Community Building: Membership programs often bring people together who share a common interest or drive, creating a community. This feeling of community can help people remember your brand and spread the word about it.
Access to Exclusive Benefits: Members often get deals, special perks, or access to material or events that only members can see. This makes things better and encourages people to join and stay.
Data and Insights: Membership plans can give you useful information about how and what customers like. This information can help with making strategic choices, making goods or services better, and marketing to the right people.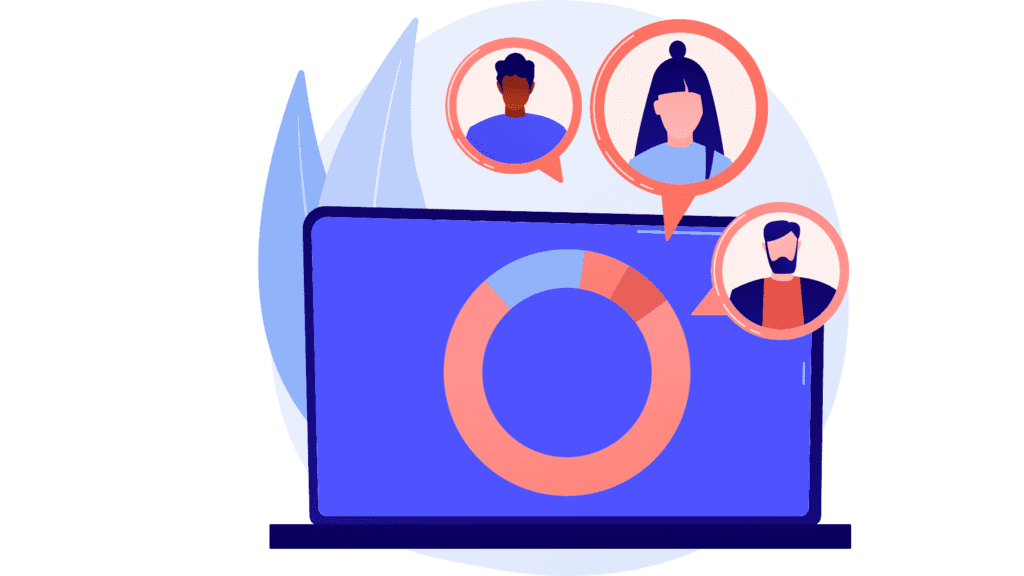 What Should You Have a Membership Model?
If your business or group can regularly give members something of value that no one else does, you should have a membership plan. This number can look like a lot of different things, like
Access to exclusive content, such as articles, videos, or podcasts
Discounts on products or services
Opportunities for networking and collaboration
Access to a private community or forum
Support from experts in your field
You can make regular income, build a loyal customer base, and make people feel like they are part of a group around your brand by using membership models.
Here are some ideas for making a membership model that works: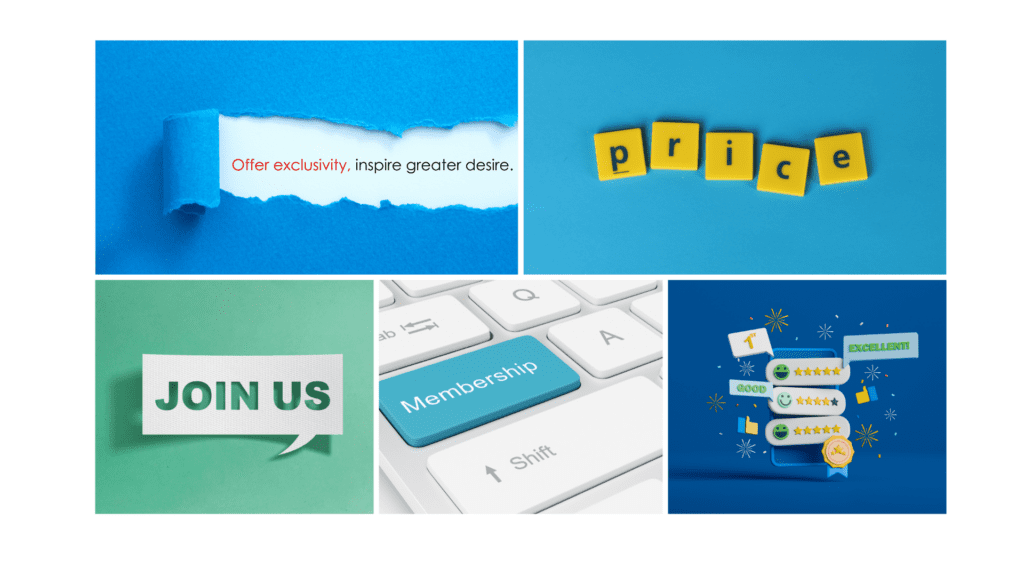 Offer Exclusive Value: Why is your participation worth the money? Why should people become members when they can join somewhere else?
Set the Right Price: Think about what you're giving and how much it costs to give users that value. You should choose a price that works for both you and your users.
Make it Easy to Join and Cancel: The process of becoming a member should be easy and clear. It should also be easy for members to end their membership at any time.
Provide Excellent Customer Service: Your group's members should feel cared for and appreciated. Pay attention to what they want and what they ask.
Types of Membership Models
There are many different membership types to choose from when making a new membership model.
Membership models can be changed to fit your organization's wants and goals, and they can help you set up a steady stream of income.
Donor or Sponsor Membership
Donor or sponsor memberships are for people or organizations that want to financially support the organization.
Donors and sponsors are thanked not for the typical benefits of membership but for higher positions inside the organization and access to unique opportunities to participate.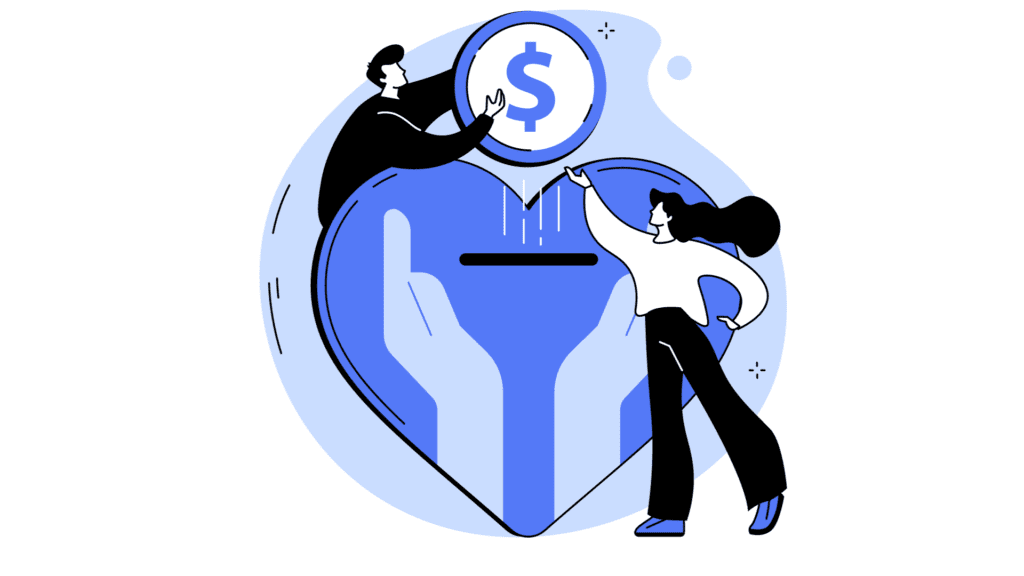 Free Membership
In this model, anyone can become a new member of the group for no membership fee. You don't have to pay anything like a monthly fee.
Free membership is often used to get a lot of people to join a club or group. Even though basic membership is free, organizations may charge for upgrades or extra features to make money.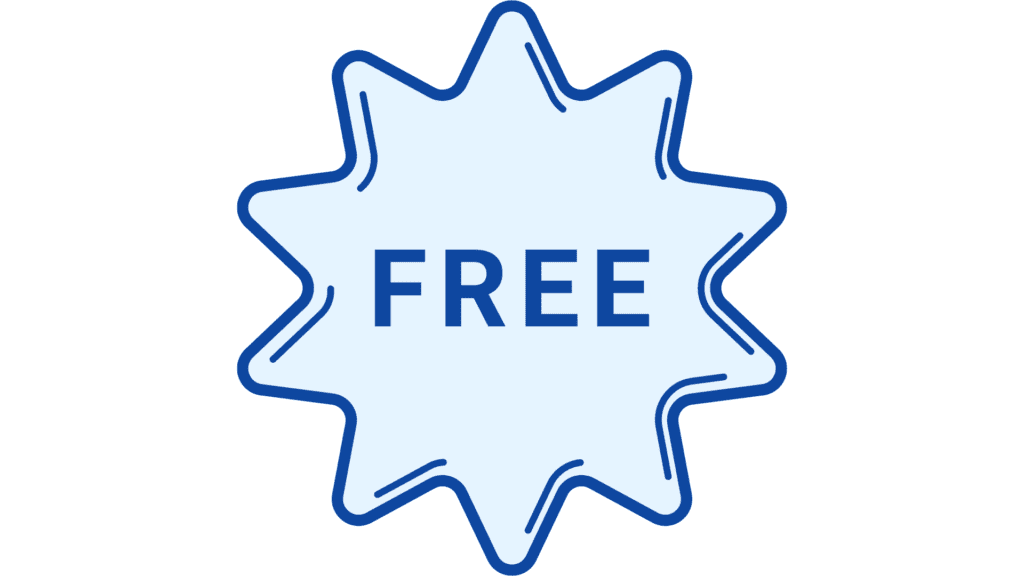 Paid Membership
People who want to join a paid membership business plan have to pay a membership fee or a subscription. The member pricing can be paid once, on a monthly fee or yearly fee basis, or for a set amount of time.
Paid memberships usually come with more perks, special access to resources, discounts, or higher-quality services to make up for the cost.
Lifetime Membership
With a lifetime membership plan, you pay member prices once and are a member for one time payment, for life.
People pay a higher membership fee upfront, which gives them access to the organization's services, products, and tools for the rest of their lives.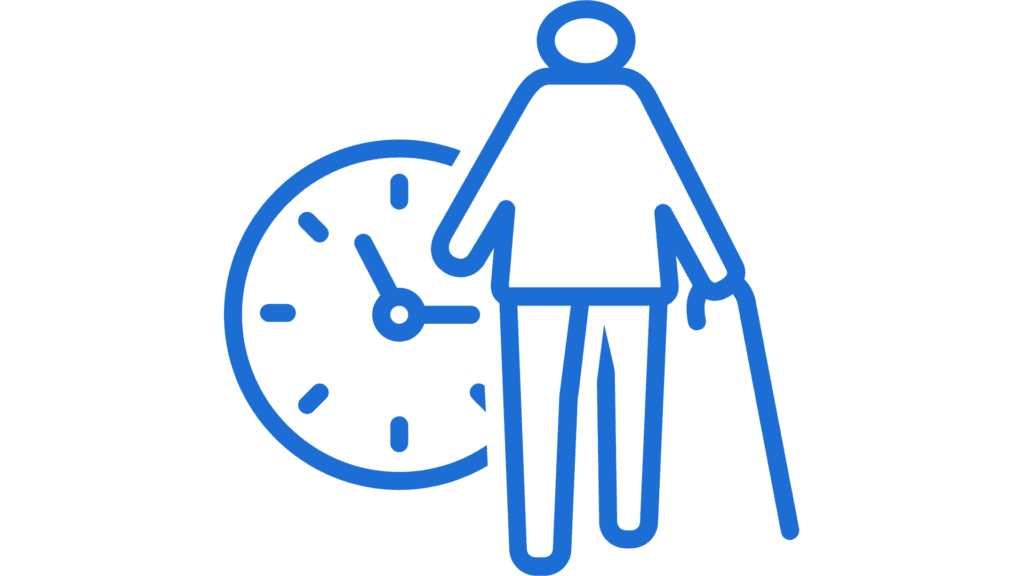 How Does a Membership Model Create an Impact on Members?
A membership model can have a big effect on its members by making them feel like they belong, are special, and have worth.
By bringing together people with similar hobbies or goals, a membership program can help its members feel like they are part of a community and get help from each other.
This can make people more interested in and involved in the program, as well as improve member loyalty and happiness.
Also,
An efficient membership program can give its members access to services and perks they might not have otherwise.
This can include exclusive services, access to events and chances to network, and personalized support and resources.
By offering these member benefits in the right membership model, a membership program can give its members a sense of value, which can help keep them involved and interested over time.
8 Benefits of Using a Membership Model
If you still don't know how to create a pricing model and membership tiers, it can help businesses and groups in a lot of different ways.
Here are 8 benefits of using a membership model:
Predictable Ways to Make Money
With a membership plan, businesses can count on recurring revenue because members pay them regularly and over and over again. This ensures that businesses can count on a steady income and helps them plan for the future.
More Member Loyalty and Interest
Membership programs make members feel more invested in the business and its goods or services. This can make customers more engaged and loyal, since they are more likely to keep using the goods or services they signed up for..
Chances for Up-selling and Cross-Selling
Businesses can make changes to their offers access upsell and cross-sell by offering various types of membership with different benefits. Members might be ready for member pricing for extra benefits, discounts or services, which is something businesses can use to make more money.
Better Member Data
Businesses can get useful customer data and insights from membership programs. By keeping track of how members act and what they like, for example, businesses can learn more about their customers and make their goods and marketing strategies fit their needs.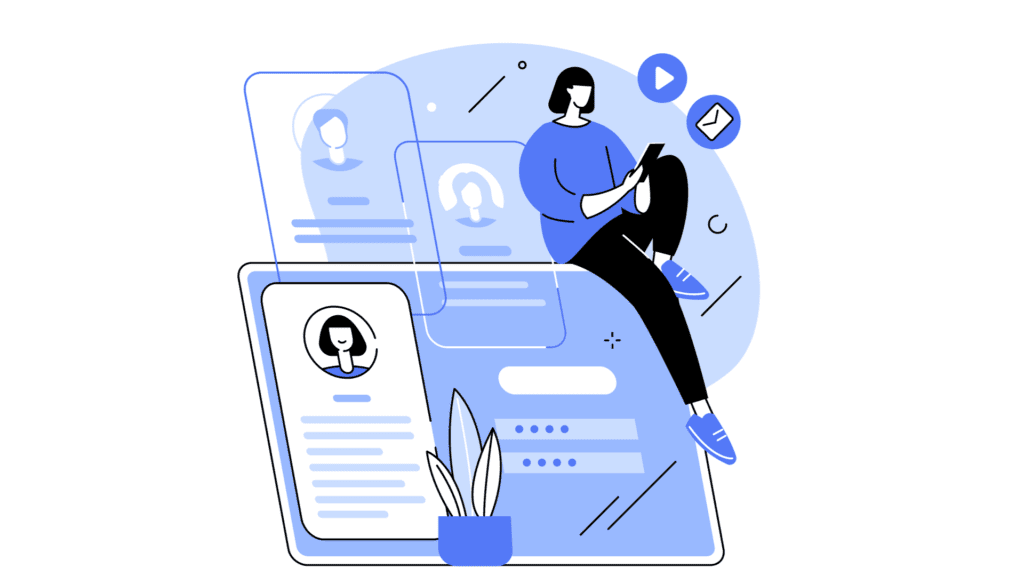 More Ways to Customize Marketing and Products
More ways to customize marketing and products more members: When businesses have access to more member data and insights, they can make marketing efforts and products that are more tailored to each customer. This can make members feel like their needs and wants are being met, which can make them happier and more loyal.
Ability to Create a Community
Membership programs can help users feel like they belong and are part of a group. By giving members special perks and access to a group of people with similar interests, businesses can give members a sense of belonging and make them feel more connected to the brand.
Increased Opportunities for Feedback
Membership programs give members a place to talk about the goods or services they pay for and give feedback on them. This can help organizations figure out where they need to make changes and make changes that meet the wants of their members.
Improved Member Retention and Reduced Churn Rates
Membership programs can improve current member retention. By creating a community and giving members special benefits, businesses can get people to use their products or content for a long time. This improves retention and lowers the number of people who stop using the business's goods or services.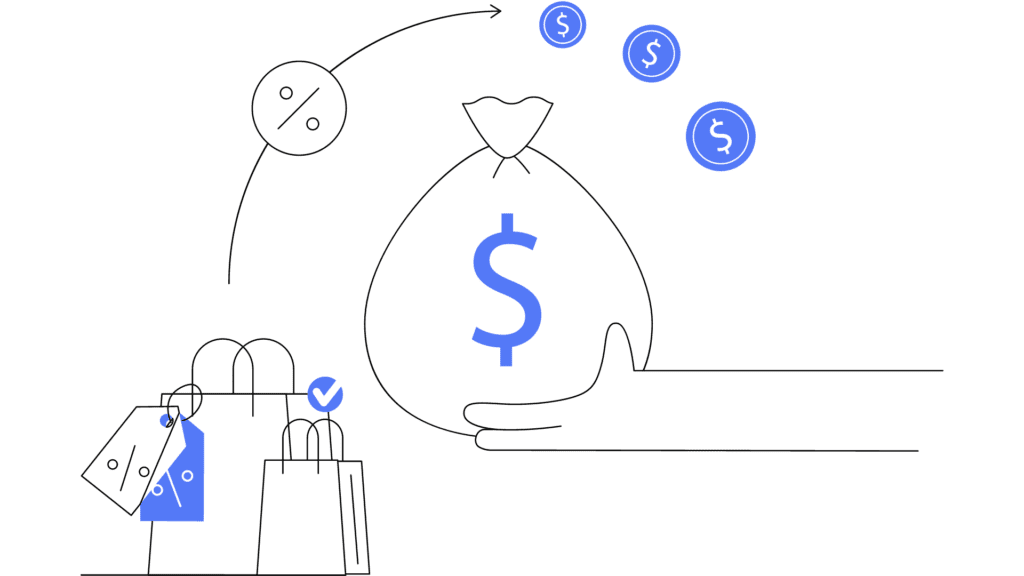 The Biggest Disadvantage of Membership Model
One of the worst things about a membership plan is that customers churn. Churn is the number of times that a customer cancels their service.
High churn can be very bad for membership businesses because it can cause them to lose money and become less profitable.
Several things can cause customers to leave, including
Lack of Value: If a person doesn't think they are getting enough value from their membership, they can end it. There are several possible reasons for this, such as the benefits of participation not living up to their hopes, the product or service not being good enough, or the product or service becoming old or useless.
Competition: If a person finds a better deal from another company, they can cancel their contract. Especially if the other company sells the same thing for less money, this is likely to happen.
Financial Constraints: Members can end their membership if they can't pay for it anymore. This could be for a number of reasons, like losing their job, having their income drop, or having to pay for things they didn't plan.
Change in Needs: Should a member's wants change, they can drop their contract. People who belong to a gym may cancel their contract if they move and can't find another gym close.
How to Create Your Membership Model in 5 Easy Steps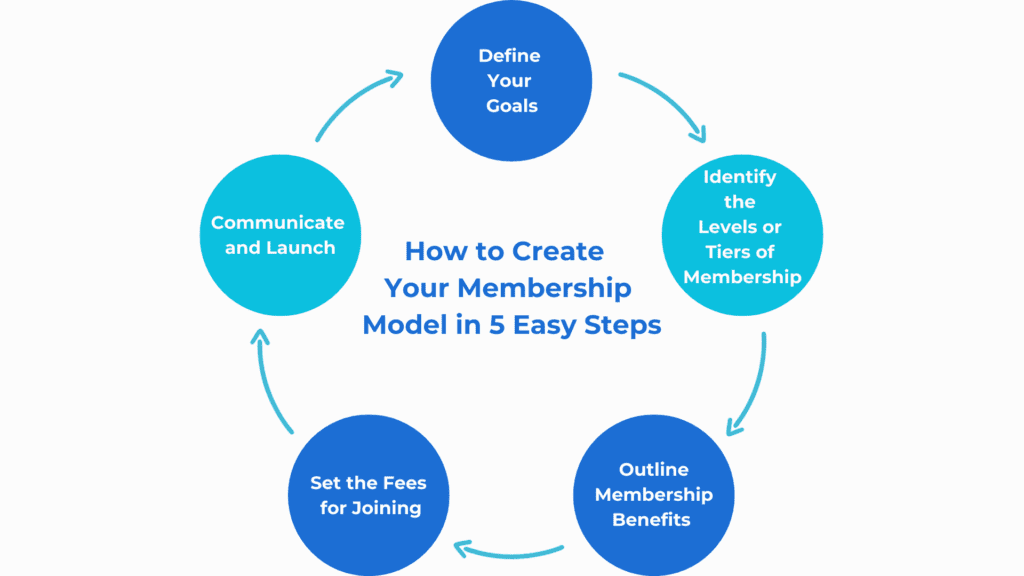 Define Your Goals
Figure out what you want your membership program to do. Think about what you want to do, membership prices, build a community, offer member exclusive networking opportunities and benefits, or provide educational tools like online courses or membership site. Figure out who you want to reach and what you want to give them through participation.
Identify the Levels or Tiers of Membership
Figure out how many different types of memberships you want to serve. You might want to offer members different options with different membership levels with different models, prices and benefits to meet different needs and membership fees like exclusive online courses or membership site. Each level should have its own special value proposition to encourage members to move up.
Outline Membership Benefits
Make it clear what each types of membership gets you. Think about what you can offer your members in terms of features, services, or other resources such, online courses or events. This could mean getting access to exclusive services, events, chances to meet new members, educational materials, or personal help. Make sure that the perks match your goals and what the members expect.
Set the Fees for Joining
Figure out how much each type of membership and levels of participation will cost. Think about things like how much the benefits are worth, how much your competitors are charging, and the financial goals of each member joins your company. Pricing should be affordable and appealing to people who might join, while also paying membership fee and making money.
Communicate and Launch
Come up with a plan for how to get the word out about your membership program. Make messages that are compelling and show the worth and benefits of participating. Use different ways to reach your target groups, such as membership site, social media, email newsletters, and in-person events. Plan a launch party or campaign to get people excited and get them to sign up early. Plus let them know on membership site it's going to be more special for your current members and new members.
Last Words on Membership Model
It's time to part.
We're just kidding 😂, but we are happy to say that you have come to the end of this post.
We hope you found every detail you were looking for.
Let's see what we talked about briefly, shall we? ✨
In conclusion, the membership model is a versatile approach that offers predictable revenue and fosters loyalty, but it also presents the challenge of minimizing churn and ensuring inclusivity.
Whether you're a business, nonprofit, club, or organization, embracing this model involves understanding your audience, delivering exceptional value, and implementing effective communication and marketing strategies.
It's not just about access; it's about creating a sense of belonging, providing unique benefits, and making a lasting impact on your members.
Your path to extraordinary possibilities begins with a well-structured membership model, driven by a passion for serving your audience and achieving your goals.
FAQs about Membership Model
1-What is a membership model?
A structured method in which people pay a fee to regularly have exclusive access to goods, services, or groups is called a membership model.
2-Why should my business or organization adopt a membership model?
Using a membership model can give you a steady flow of income, keep your customers coming back, and give them more ways to get involved and have a more personalized experience.
3-What types of organizations can benefit from a membership model?
Businesses, nonprofits, clubs, and associations are just a few of the groups that can use a membership model to build a community, keep people interested, and make money.
4-How can I minimize churn in a membership program?
To keep members from leaving, make sure you consistently provide value, respond to member feedback, and stay in touch with them to make sure they continue to see the benefits of their membership.
5-What are the common benefits of a membership model?
Membership models offer steady income, higher customer trust and involvement, customization options, special access to services, and useful information about what customers want.