Mobile membership apps– have you been wondering if it is the right time to introduce them to your community? The time has not been better! With the rise of digital technology, many organizations are moving to the mobile technology market. Though people still use traditional online channels; nothing is as empowering as mobile applications.
What is a mobile membership app?
Most organizations have mobile membership software for their nonprofits as well as associations. However, with people always on the move, mobile membership apps are growing in popularity.
These apps can be easily accessed from the user's mobile phone. Now administrators don't have to wait to accept members or schedule an event. Members can also actively participate in their organization's activities by signing into their mobile accounts.
Mobile apps are usually designed to run on many devices such as smartphones, tablets, and other mobile devices.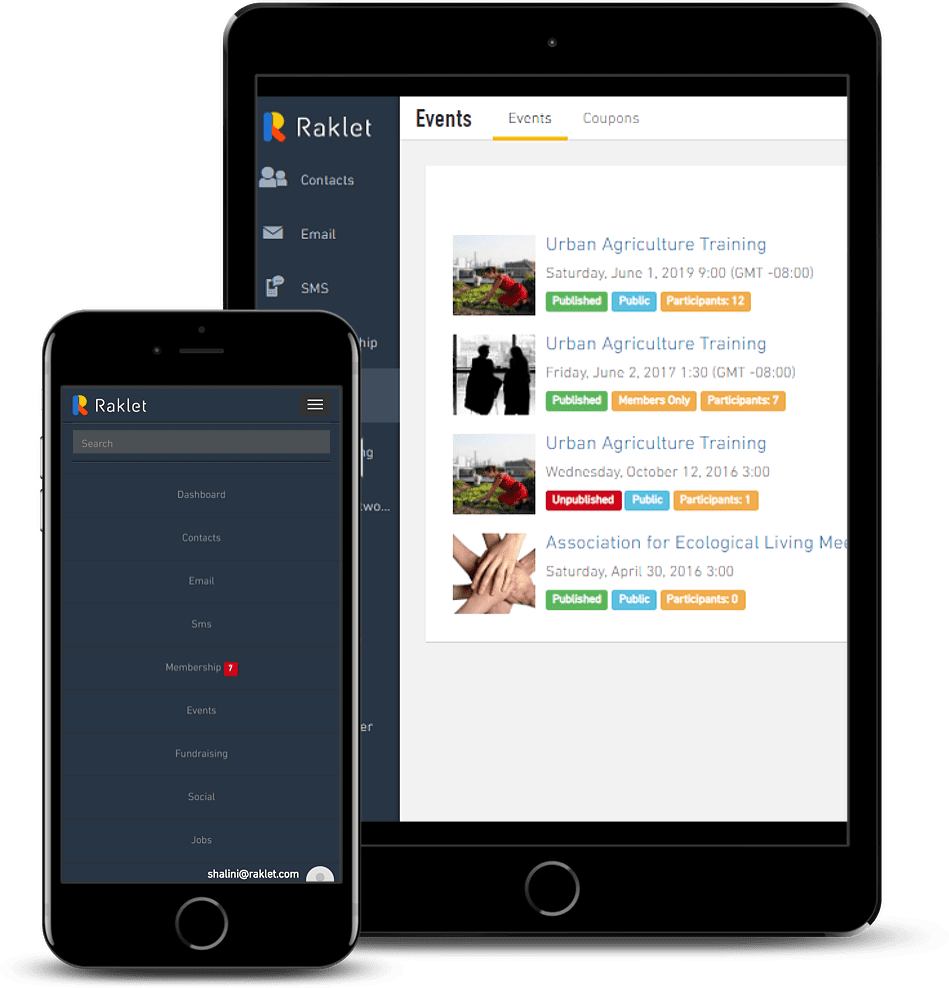 In addition to this, mobile apps are usually updated with the latest information from your mobile membership software. With push notifications, all the members are updated with the latest text-based alerts on their mobile phones.
You can see how Raklet's membership management software introduced the mobile membership application in both iOS and Android versions.
Points to ponder when selecting a good mobile membership application for your organization.
Selecting a good mobile membership application for your organization is the key starting point. Not every mobile membership app will work for you perfectly, so you should consider some essential points before choosing the suitable one. Let's take a look at some of these points:
1. Active and engaged members
Having a mobile membership application helps your member gain active interest in your organization. With an up to date information right at their fingertips; members tend to feel valued and appreciated.
Mobile applications are versatile and help the organization grow over a period of time. Focus on the areas of interest of your members.
2. Catering to the younger generation
Organizations are looking out for strong programs to engage with their younger members. The younger generation is believed to bring more ideas to the table.
With the membership app on their phone; they become an integral part of the community. Using a mobile application makes it incredibly easy to access membership software.
3. Stay up to date with events and community news
Mobile applications enable members to stay in touch with their organization's latest updates. They find it much easier to stay in touch with their community than logging in through their laptop or desktop.
These mobile apps are very helpful to simplify communication between members and the community. In addition, these apps help you create more awareness about your organization among non-members.
4. User-friendly application
A good mobile application is highly user-friendly. So, these mobile applications must be sure of the features, the navigation, as well as the flow of the software, are well correct and easy for the community. Therefore, these apps are readily accepted by the members and are used by many.
5. Cost of the mobile application
Consider the cost to design a mobile membership app beforehand. There are many apps that have different costs attached to them. Creating a mobile application involves creating or redesigning your application and launching it on various app stores.
In addition to this, you also have to educate your customers to download the app from the app store. So make sure you consider long-term costs before you decide on the app that's right for your organization.
6. Multi-platform compatibility
So, once your app is developed and ready to be downloaded by your members; you have to determine if your mobile application is compatible with multiple platforms.
Do you want your mobile application to be compatible with an iPhone, Blackberry, WebOS, Android, or Microsoft Windows Phone? This determines if you need to create a mobile application for every platform.
Therefore, make sure you have enough budget, manpower, and time to create and publish your mobile app across various app stores. However, some app development programs allow you to publish a mobile app across different platforms easily.
7. Good integration with your membership database
A key aspect of any mobile membership app is the ability to integrate the app with your membership database. If the app is unable to integrate with your database, it doesn't serve the purpose of keeping your members engaged and involved with your community.
Awesome benefits of using a mobile application for member management
There are so many benefits to building your own mobile membership application! Let's see some of these in detail:
1. Easier data management
Having your own mobile membership app rather than using a common social media platform such as Facebook gives you so much more control over your member data. The whole data management process will be much easier since you will have access to all types of data your members allow. You can easily implement CRM services and make the best use of your member data.
2. All-in-one solution for members
Delivering everything your members need from announcements to discussion boards all in one place is the perfect solution! A mobile membership app combines all the features your membership includes so that members can get the best experience effortlessly.
3. Improved member experience
Driving from the previous point, your members will be much more satisfied with their experience while using a mobile membership application. They can access everything they need whenever and wherever they want. You can improve this experience even more for them by providing exclusive offers to mobile membership app users.
4. A private platform
Rather than making use of traditional social media platforms, you will provide an exclusive place for your members to engage and connect with each other. You can create a private social network and discussion boards where your members can freely communicate and express their opinions.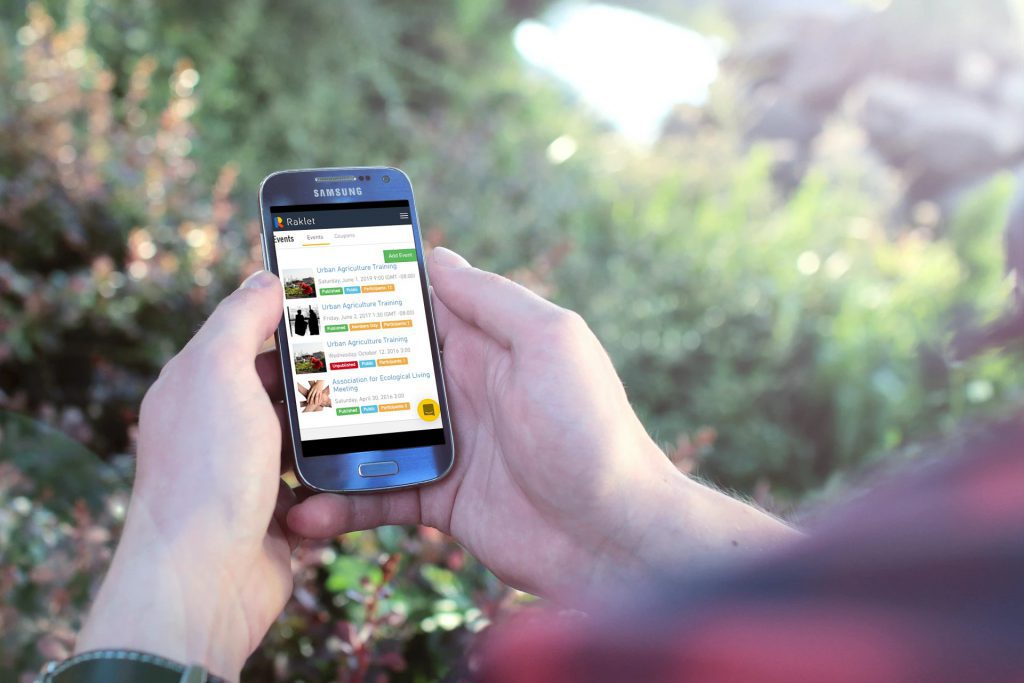 Raklet: Membership app to connect with your members- anywhere and anytime
All the features of Raklet's membership management system can now be found and enjoyed on mobile apps as well. As a member, you can connect with other members.
You can use your digital membership cards and avail of their perks, all from Raklet's mobile membership app. Job boards offer new opportunities. It is also very easy to donate online for fundraising activities.
Member view of digital membership cards on mobile membership app
If you are an admin, you can manage your membership software from the comfort of your mobile phone. Now you can organize and manage your members easily. Stay connected with your members through SMS as well as emails.
At Raklet, we understand that it is very important for your members to stay connected with your community. In order to accommodate this specific need, Raklet membership management software has introduced its mobile application on both the iOS and Android platforms.
Now, all you need to do is download the app from the Google Play Store or the App Store and you are ready to get started.
In addition to this, we also offer customizations to your mobile applications to suit your community's brand. You can download the customized apps from either the Google Play Store or the App Store for your members.
Now, it's your turn!
So, what are you waiting for? If you are planning to create a mobile application for your community; check out Raklet's mobile membership app. It is easy to sign up. Launch your free membership platform now!
If you'd like to learn more about membership management, check out these articles below: