Finding the best software for your climbing alliance can be difficult. You need an extensive platform to manage your existing memberships, add new ones, create and host climbing events, and more. Luckily, Raklet's climbing membership software can help you with all of these things. Read further to find out how SUCA uses Raklet as their climbing membership software, and how we have helped them improve their management process.
What is SUCA?

SUCA is an acronym that stands for "Southern Utah Climbing Alliance". As the name suggests, they are a localized climbers alliance. Their main area of operation is in Southwestern Utah, Southeastern Nevada, and Northwestern Arizona.
In their own words, SUCA's vision is "that climbers will continue to have access to well maintained, long-lasting climbing areas". To do this, they do work in many different ways. These include efforts to ensure access to local land, replace old safety gears and hardware, and preserve sensitive terrain (especially crags). They also regularly organize climbing-related events and meetups, for which they also work with federal land management, local agencies, and private landowners.
What did SUCA need?
As they are a government-recognized organization, SUCA already has an official website that they use to spread their mission. However, they still needed a platform to do more for their community, like doing their membership management and having a members-only platform to share announcements. An extensive climbing membership software was essential to all of these from one place. Luckily, they found Raklet! 
How did Raklet's climbing membership software help SUCA?
Let's take a look at some of the main features of Raklet, and see why SUCA made the decision that they did:
1- A customizable membership platform
The platform you create through Raklet's all-in-one software is highly customizable. You can create new custom pages, add the pre-existing ones we provide, and even link to external ones. Everything you need to personalize your platform is right at your fingertips.
As visible on the screenshot above, SUCA's page is very clean and simple. They've opted to add their logo, but haven't changed the visual aspects other than that. If you want to see a case study about a fully customized Raklet platform, check out AMORC's custom CRM.
With Raklet, SUCA can share public or private announcements to their board whenever they want to inform their community about something. You can also see that SUCA features direct links to many of their pages on their customizable sidebar; such as Events, Members, Donations, and even Messages. The sidebar navigation is a great way to provide easy access to members. This way, members can access announcements, upcoming events, as well as their own and others' membership profiles — all from one place.
2- Custom membership application form
Having a membership application form with custom informational fields is essential to collect any type of information you need. With their climbing membership software created through Raklet, SUCA has done just that.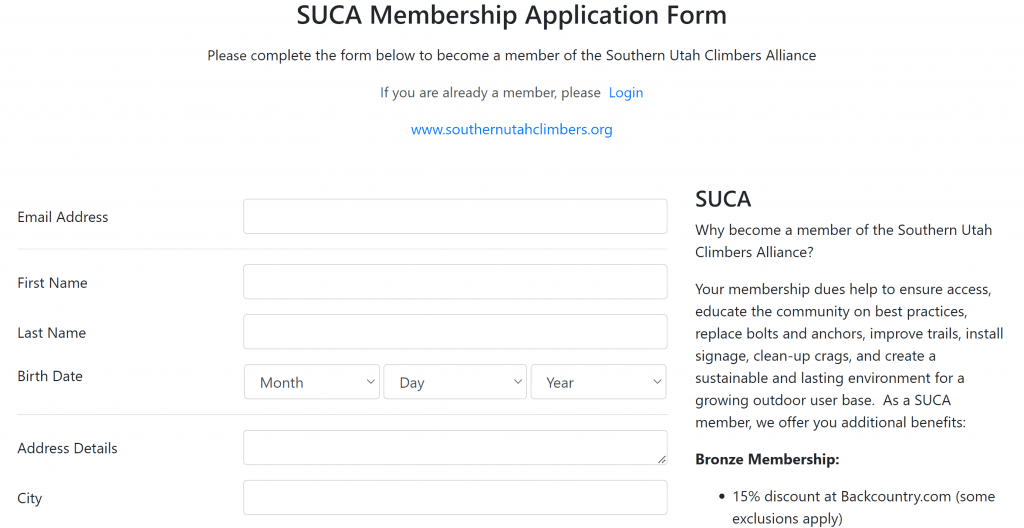 The Southern Utah Climbers Alliance collects very basic information for their membership, such as name, birthday, and address. Since they're a local organization, they also chose to have detailed queries about their applicants' place of residence. This is very easy to do with the custom membership application form that they've created.
After manually or automatically accepting these applications, all of the filled-out information will be transferred to the member's individual member profile. These can be updated and changed by organizers or the members themselves whenever and wherever they want. In addition, one-time or recurring membership fee collection is also possible through your Raklet platform.  
At the very end of the form, you can also see that there is a slider that lets you select a membership type. This is another great feature of Raklet: You can create and manage different tiers of membership plans with different access points and perks. SUCA's application form features a list of these different plans and each of their benefits on the side, so applicants can easily read and make their choice.
3- Website integration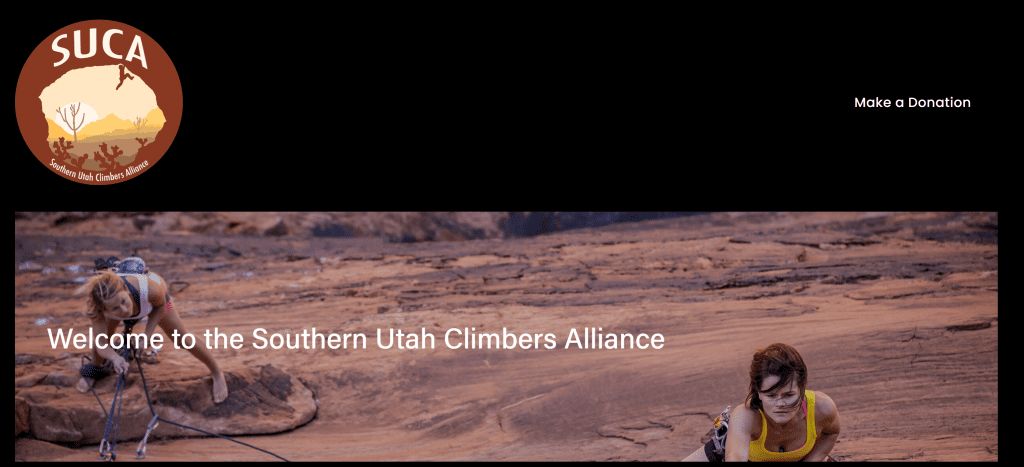 A great way to increase visibility and connect your websites is through a custom website integration. As you can see on the GIF we created above, the "Become a Member" button on SUCA's website leads to their custom Raklet application form. This way, onlookers and potential future members can apply after just one click and become part of their climbing community. 
4- Event organization & management tools
SUCA also uses Raklet to organize events, promote them, and track attendance. Event management is problem-free and simple through our platform.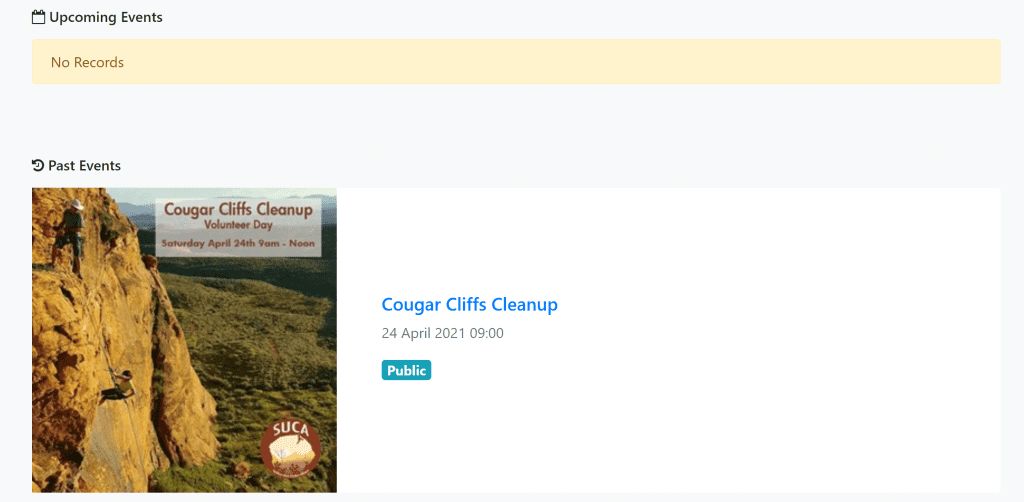 On our easy-to-use event navigation page, members can see a list of all available events, and choose which ones they would like to attend. In SUCA's case, as you can see above, they hosted two events through Raklet that they wanted to share with their members. They also opted to make them public instead of members-only to increase their visibility and attendance rates.
With Raklet, all of your events will have individual pages that you can organize and customize however you want. You can make them free, or create tiered tickets for them and easily collect payments online.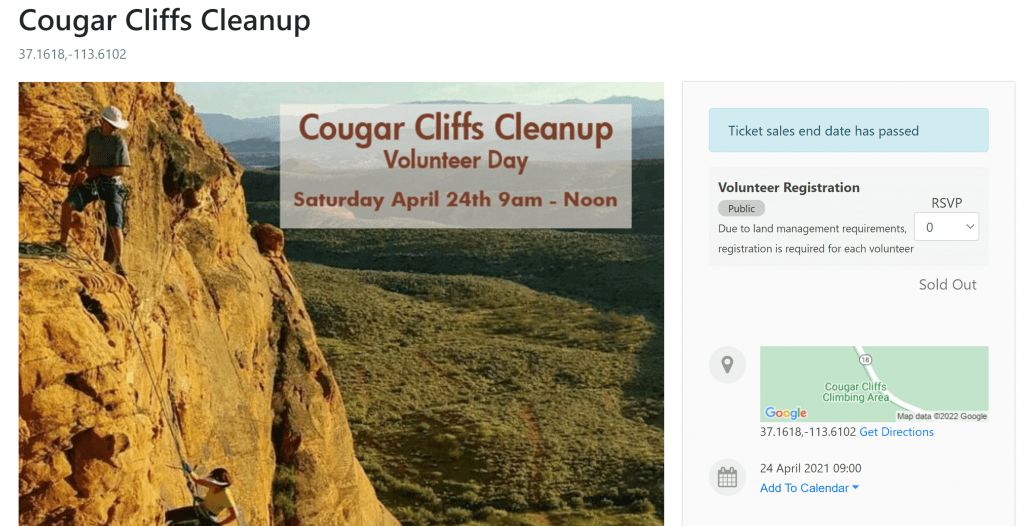 For their Cougar Cliffs Cleanup volunteer event, SUCA opted to create an RSVP option for their volunteers. On the customizable event page, they added a relevant picture with their logo, a brief explanation about the event, its date & time, and a small Google Maps integration to show where the event will take place. The flexibility and customizability of Raklet help them organize and promote the perfect events for their needs.  
5- Fundraising
Similar to the previous feature, you can also create fundraising events on Raklet. These will also have personalizable individual pages, with their own fundraising thermometers attached. You can arrange them to be for specific occasions, or in SUCA's case, as a general fundraising method for your organization. Through these fundraiser pages, your supporters can easily access your campaign, see your goal and your progress, and donate however much they want. With the right marketing tools, this feature can be a great addition to your community.
…and more!
Of course, that's not all that we offer. Check out our website, examine our list of extensive features, or schedule a demo for more information. 
More case studies: