Communities are more important than ever, as they provide brand loyalty and a way to increase engagement with customers. Knowing all of this, Timothy Oulton decided to create a community and use club management software. As a solution, Raklet took the stage and helped Timothy Oulton create an on-brand, well-presented, functional platform to direct their customers to.
Timothy Oulton and Their Needs
Timothy Oulton is a British furniture brand that focuses on the recreation of antique pieces from a modern viewpoint. They have customers from all around the world and they set up different events to increase the satisfaction of their customers. However, it is not easy to organize such events and sell tickets in a digital environment. And it is not easy to maintain the appropriate brand tone without professional support for club management.
Therefore, they wanted a proper system for club management where they can invite owners, send reminders, track attendance and do some post-event recaps with images or highlights. They also needed support to set up and customize the platform that enables them to sustain their brand tone.
How Did Raklet Help Timothy Oulton in Club Management?
1. Customized Page for Their Brand Tone
Timothy Oulton started out by creating a Raklet site with a custom domain. Throughout the entire site design, they use specific fonts and dark themes reflecting Timothy Oulton's corporate identity. Thus, the brand tone is continued on their Raklet page. Raklet provided a header and a footer that include their social media icons. The social media icons added to their header and footer directed their customers to Timothy Oulton's social media accounts. This made the page not only stylish but also functional.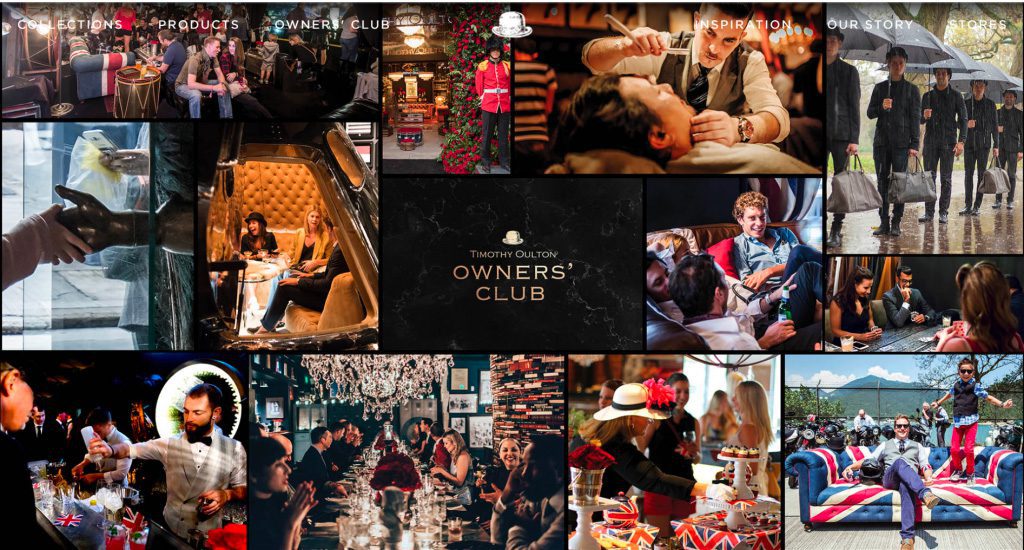 2. Easier Event & Club Management
Timothy Oulton wanted to work with Raklet because they wanted event management in a simple, all-in-one platform.


First, they directed their customers to open a Raklet member account. When they opened the account, Timothy Oulton greeted them with a customized membership form. Then, data was created with the information of the members, so it became much easier to announce the events. In a nutshell, they systematized their events by using Raklet as their club management software.
Now, all members who have an account can see an event post on the Raklet page and quickly register. Timothy Oulton can also sell event tickets for a fee, thanks to our Stripe integration.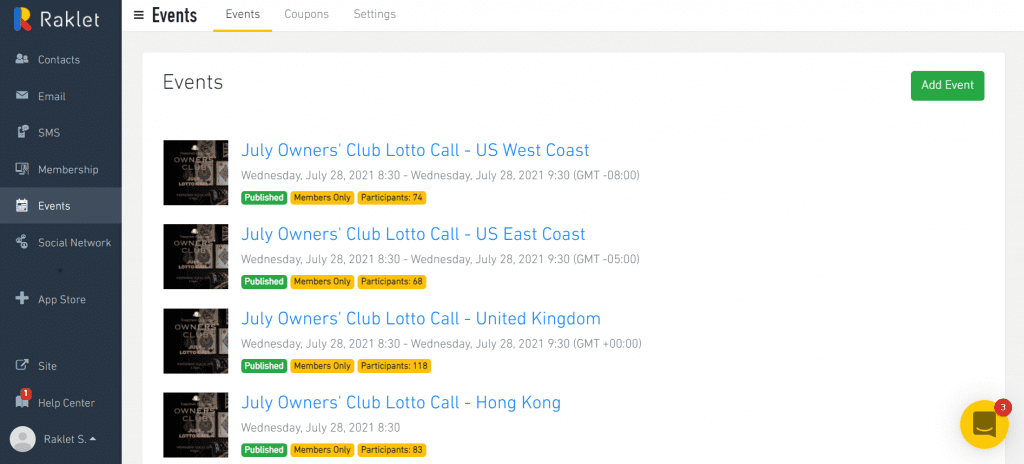 Also, with the Zoom integration that we provided, Timothy Oulton can track the attendees and hence create a segment to send a "thank you for joining the event" email post-event. In short, Raklet's automated processes made their work much more manageable, rather than doing all of it manually.
3. Effective Communication with Members
Raklet helped Timothy Oulton divide their members into various segments, and send automatic emails to those segments.
Timothy Oulton now successfully manages this process by sending different content emails to different member groups.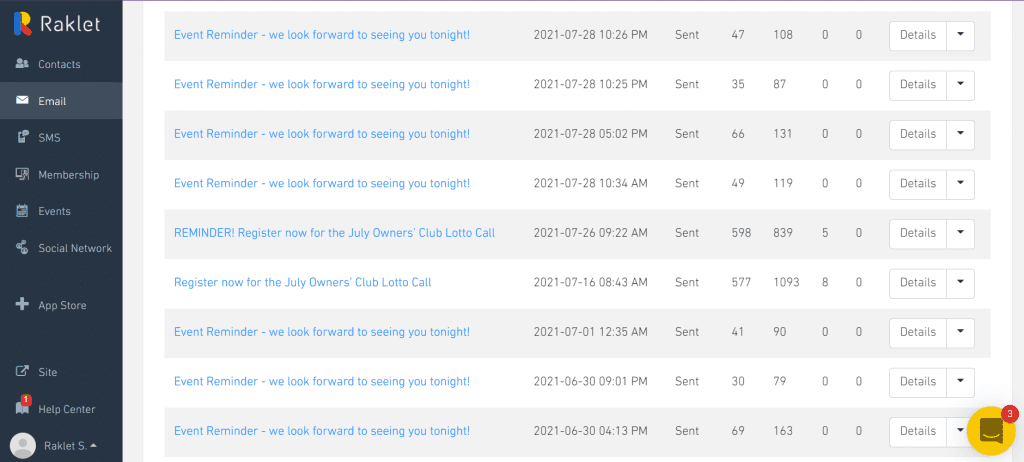 How About the Results?
Timothy Oulton has created a successful owners club with Raklet's professional support.
On this members-only platform, they organize Monthly Lotto Events and offer their customers the chance to meet founder Timothy Oulton in person. This beautiful event, which enables them to increase engagement with customers, is organized in a professional way with the features offered by Raklet such as Zoom integration, ticket sales, and automatic reminder emails.

Also, Timothy Oulton offers special previews of new products and access to unique limited editions exclusively to Owners' Club members. Additionally, they present regular email updates with the latest news and first-priority invitations to the events for their members. With these advantages, Timothy Oulton has a membership community for the owners.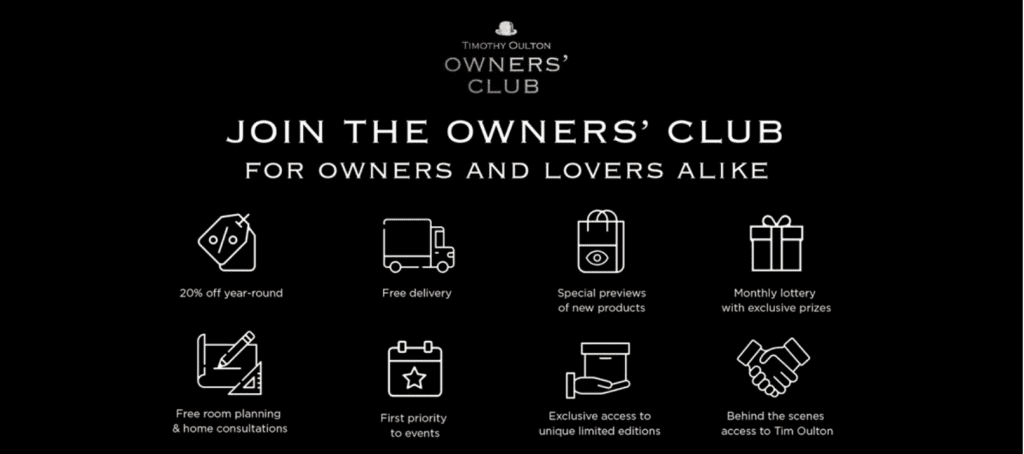 Create a Members-Only Platform Using Raklet as a Club Management Software
If this story of Timothy Oulton has inspired you, what you need to do is very simple. To use Raklet as club management software, try our free version to get started. It supports up to 50 members and you can use it as long as you want. Start collecting new applications and payments while experiencing Raklet's features by yourself. If you want, you can schedule a free demo here so that we can introduce the platform to you in more detail. You will discover the secret of Timothy Oulton's success.
Other case studies that might interest you:
– See How Palliative Care Queensland Uses Raklet

– Share Architects Use Raklet to Build a Membership Community

– The Best Beach Club Membership Software for Faster Member Check-in Process