What is a Volunteer Management Software?
Volunteers are crucial to nonprofits and organizations. Thus, it requires good management to track your volunteers, recruitment, and communication. These tasks can be overwhelming when you are fully focused on your cause. An online volunteer management system can automate these time-consuming tasks for you.
In this article, we present the basics of the volunteer management system and the top 7 nonprofit volunteer management software. Let's dive in!
What is a Volunteer Management Software?
A volunteer management software, or a volunteer management system, is usually a comprehensive online platform that helps nonprofits manage their volunteers. An ideal software alternative will provide solutions for volunteer recruitment, trackable databases, time scheduling, reports, and more. This way, you can effortlessly automate important tasks.
There are so many volunteer management software options out there. But, why should you choose one to use? Let's see why you need to use a volunteer management system.
Why Does Your Nonprofit Need Volunteer Management Software?
As stated above, there are many ways that good volunteer management software can aid your nonprofit. Keep in mind that software that has the highest number of features isn't necessarily the best one if you won't be using those features at all. The first (and perhaps the most important) step is to determine which features your nonprofit would require the most, and do your research to find the best software for those needs.
To give you an overall idea, here are some of the ways that an online volunteer management platform can help you:
A comprehensive CRM that holds all relevant personal information about your volunteers (like name, photo, address, past volunteering and work experience, etc.),
Between volunteers or volunteer-to-manager communication tools, such as private messaging or discussion boards,
Customizable membership forms to collect information about volunteer applicants, and to help automate your recruitment efforts,
Event creation and management options that let you track which volunteer members will be attending/working,
A handy time scheduling tool to arrange and record when your volunteers will be available/working,
An easily updatable calendar that shows everyone's work hours,
Exportable database reports about members, events, donors, etc.,
Similarly, the ability to filter, sort, and segment your data,
A mobile app that enables volunteers to stay engaged and access relevant information on the go (ideally, it should also feature an easy check-in option for your nonprofit events).
Top 7 Nonprofit Volunteer Management Software:
Here, we listed the top 7 nonprofit volunteer management software for your organization.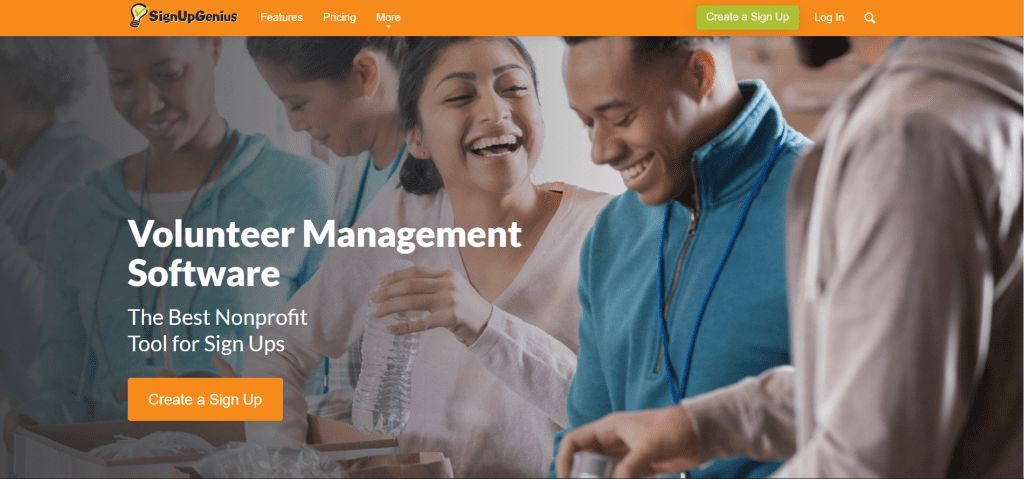 What is it?: A volunteer management software by Lumaverse Technologies. It was founded in 2008.
Best for: Nonprofits, schools, sports, faith groups, colleges, businesses, and organizations.
Key features: Group messaging, sign-up without an account, payment and donation tracker, and more.
Free trial/plan?: They offer a free plan and a free trial.
Pricing: Free plan covers several covers but if you want additional administrations, custom themes, and ad-free sign-ups you need to upgrade to premium plans. Their premium plans are Silver ($8,99/mo), Gold,($22,49/mo), and Platinum ($44,99/mo). For Enterprise pricing, you need to contact sales.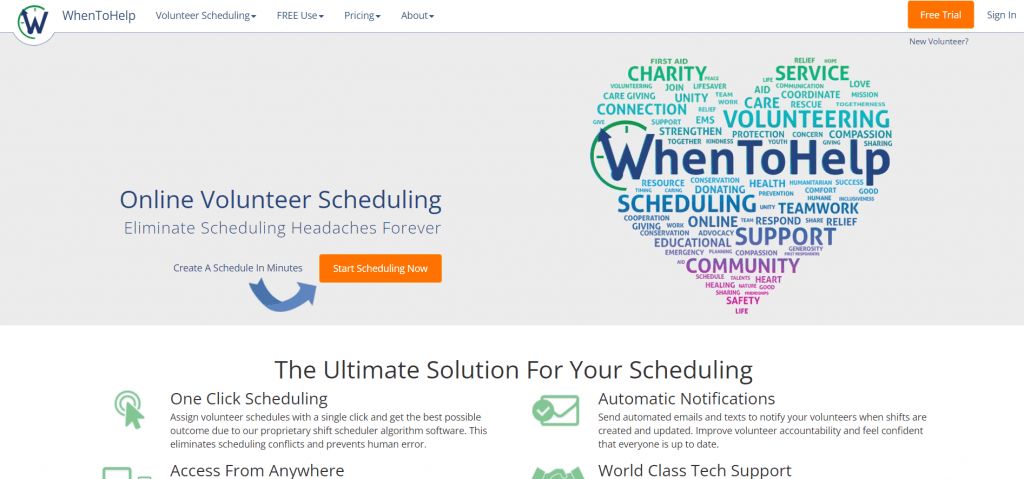 What is it?: A simple and intuitive online volunteer scheduling platform.
Best for: Any type of organization that's looking for a quick fix to their scheduling needs.
Key features: Shift reminder notifications, drag-and-drop interface, mobile app & calendar app sync, AutoFill for optimal scheduling assistance.
Free trial/plan?: They offer a free plan exclusively for charities, but not otherwise. There isn't a free trial available.
Pricing: As a fairly straightforward software, their monthly flat rate starts at $15.00 for up to 10 volunteers and goes up based on the number. For example, 60-100 volunteers will cost about $72/mo. There is a calculator on their pricing page if you have more than 200 members. For example, if you have 250 members, the price is $135/mo.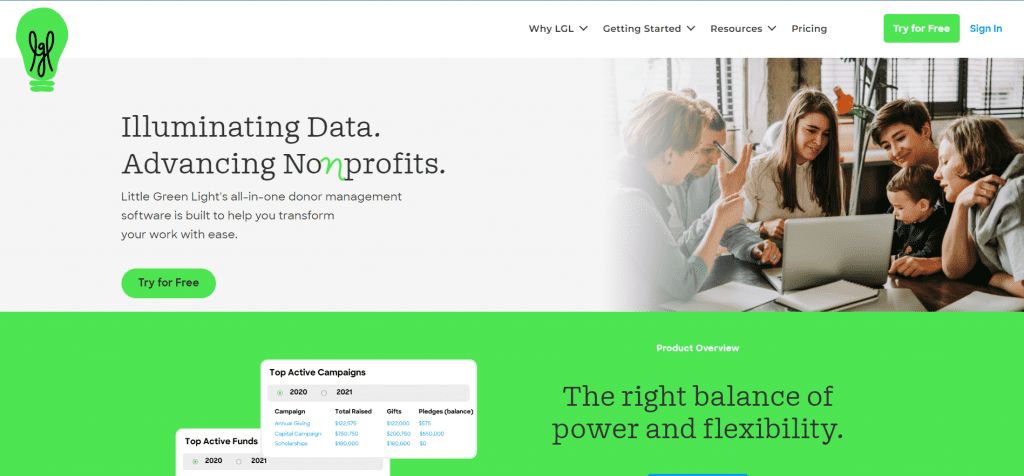 What is it?: An all-in-one donor management software that was founded in 2007.
Best for: Small and mid-size nonprofits and organizations.
Key features: Customizable dashboard, contact management, acknowledgments and receipts, donor/fundraising management.
Free trial/plan?: They offer a free trial for 30 days. There is no free plan though.
Pricing: Their pricing model is based on the number of constituents, and starts at $45/mo for up to 2500 constituents. For up to 30000 constituents, it is $105/mo. If the constituent number is over 50000, you pay $15 for each additional 10k tier.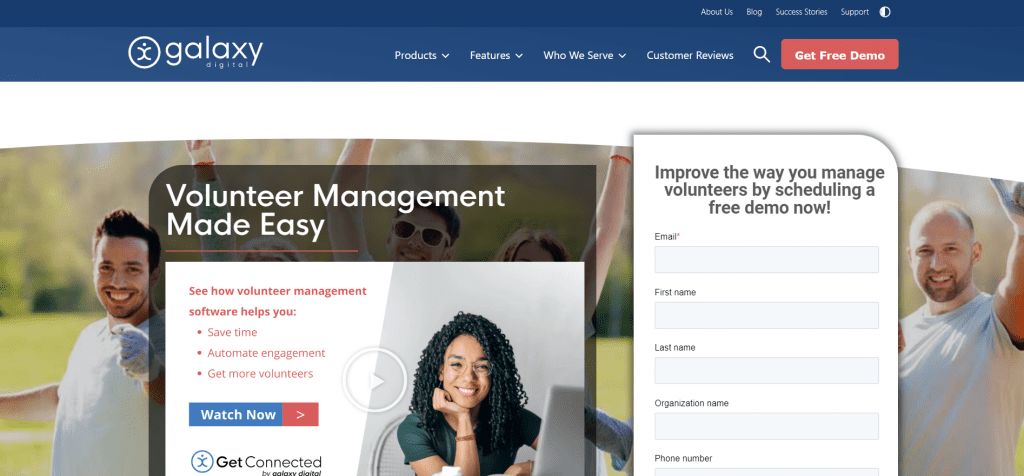 What is it?: An extensive volunteer management, engagement, and reporting software.
Best for: Nonprofits, churches, hospitals, schools, etc. of all sizes that need to manage all their volunteer-related businesses.
Key features: Hour scheduling & management, volunteer info collection, skill-based filtering options, social media integration, mobile app, and volunteer appreciation tools.
Free trial/plan?: There isn't a free trial or a free plan available for Get Connected.
Pricing: Currently, Get Connected requires you to request a personal demo to learn more about their software and get a price quote. However, the software is listed on Capterra as having a flat rate of $199.00 per month. This makes it the most expensive option on our list.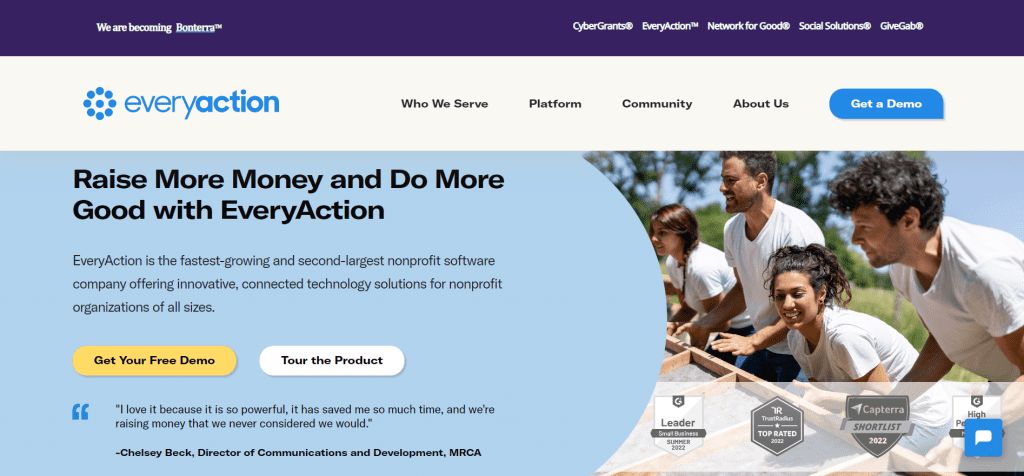 What is it?: A nonprofit software that offers innovative, connected technology solutions for nonprofit organizations of all sizes.
Best for: Nonprofit organizations of all sizes including labor unions, social justice and advocacy, healthcare, and human services.
Key features: Predictive analytics, fundraising optimization, mobile messaging, marketing automation, event, and volunteer management.
Free trial/plan?: According to its Capterra page, they do not offer a free plan or free trial.
Pricing: Unfortunately, they do not have pricing information on their website but according to its Capterra page, paid plans start at $109/mo.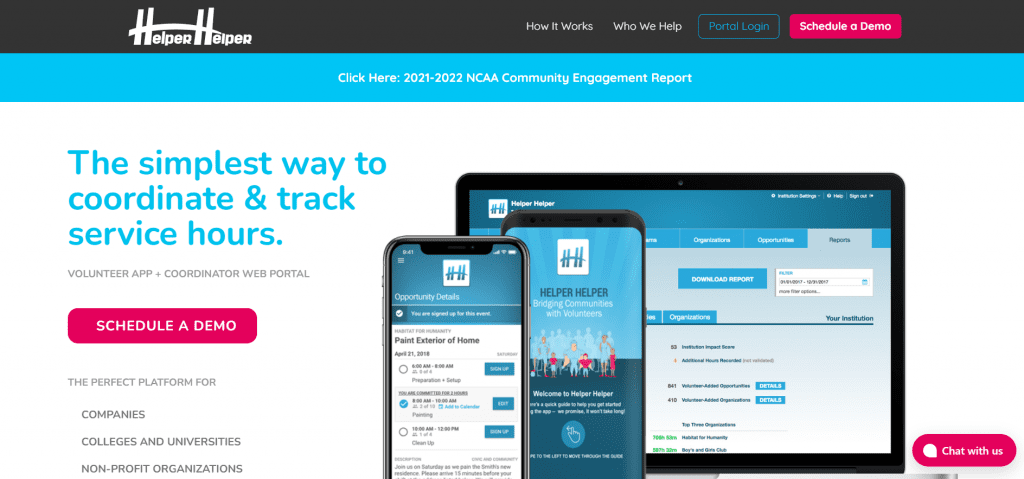 What is it?: A service hour tracking and coordination software & mobile app.
Best for: Nonprofits, companies, fraternities, and high schools of any size.
Key features: Easy report creation and exports, automated reminders, public sign-up listing for more recruitment options, mobile app.
Free trial/plan?: They have a free trial (unspecified duration), but there is no free plan available.
Pricing: Like most of the other alternatives on the list, Helper Helper doesn't have transparent pricing information on its website. They ask you to schedule a demo for more information. On their Capterra page, they listed the pricing themselves as being $500.00 per feature, per year.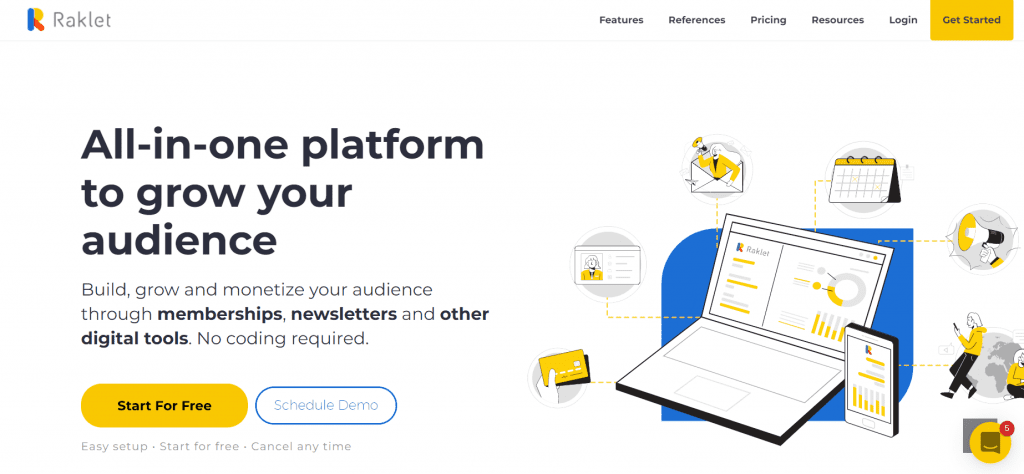 What is it?: An all-in-one membership, organization, volunteer, and event management software.
Best for: Nonprofits, associations, chambers of commerce, clubs, alumni associations, and more. We have a wide range of customers that use Raklet in many different ways.
Key features: Extensive CRM for individual volunteer profiles, fully customizable application forms, email & SMS, personalized newsletters, scannable digital membership cards for check-in, mobile app, event & fundraiser creation tools. Check out more of our extensive features by visiting the website.
Free trial/plan?: Yes! We offer a 14-day free trial that you can cancel whenever you want. There is also a forever-free plan for up to 50 members, with no credit card information required.
Pricing: Our pricing and quotes are completely transparent. In addition to our forever-free plan, we have three paid plans: Essentials, Professional, and Premium. The Essentials plan costs $49/month for up to 1000 contacts. Check out our pricing page for more information.
---
Check out other related articles from our blog: