Building a membership website is a fantastic strategy to increase revenue and member loyalty.
This article is for you if you want to build a website that gives users access to a community and special benefits. The best five membership website builders are included below with their reviews and pricing information!
What Is a Membership Website?
A membership website is a private area where members may interact and benefit.
Nonprofits, associations, clubs, and companies with membership models use these websites. This frequently includes membership fees. Additionally, it offers business owners the exciting chance to create a company based on a mission or concept. The possibilities for membership websites are actually endless, ranging from retail membership websites providing access to exclusive bargains to community membership websites serving as the hubs for online communities where the relationships that participants form with one another create value.
After signing up for a membership site, users may access special content by entering their login information. This member-only content will include:
Online webinars,
Newsletters,
Videos,
Templates,
Podcasts,
And more!
3 Benefits of Using a Membership Website
Members can access materials that are otherwise inaccessible, network with like-minded professionals, and learn new things on membership websites. And you may offer all of these benefits to your own customers. Here are 3 membership website benefits:‍ ‍
Increases customer retention and loyalty.
With time, loyalty and trust are developed through effective member management. Customer loyalty must be earned through good strategies and management tools. Giving your audience a place to gather is one of the biggest membership site advantages. You provide them access to exclusive content and benefits. And that's the foundation for a loyal consumer.
The community can operate without your assistance.
The best membership websites include built-in community features that enable member interaction. These are private groups for individuals with similar interests and objectives. Communities require some time and effort to establish, but they ultimately pass a point where they can support themselves. You don't need to participate in every post or remark as the quantity and quality of members increase since people will start to help one another with their issues. With the help of a membership website that provides community management features, you can save time and money.
You'll create a reliable source of income.
When you offer one-off products or services, your income stream is far less stable and reliable than it is with membership sites. They assist you in navigating the ups and downs that come with working for yourself. There is no better feeling than a source of consistent income. It really is among the top advantages of creating a membership website.
5 Best Membership Website Builders in 2023
Here are our top picks for membership website builders in 2023. This list includes information on the pricing, reviews, and feature details.
5) Memberclicks- Membership management that's easy to use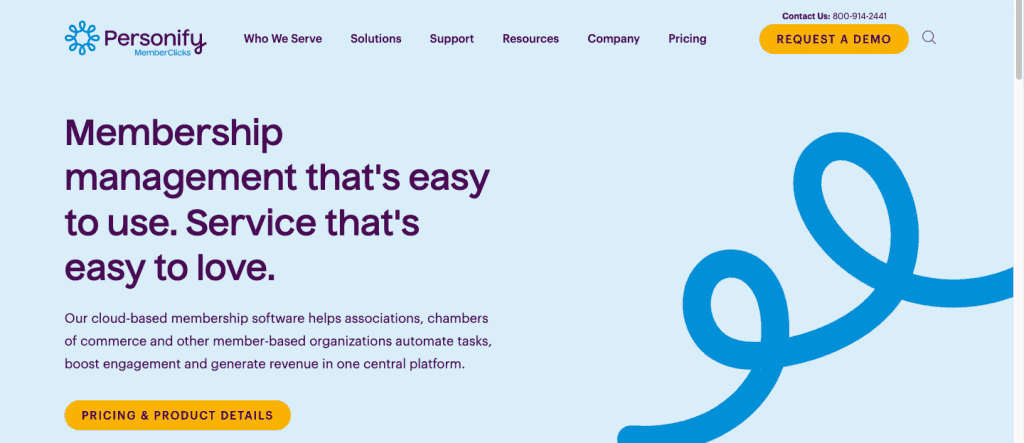 Memberclicks is best for developing associations and chambers. It is also a brilliant option for groups or chambers that must retain all of their information, correspondence, management, and marketing in one area. MemberClicks may assist with membership and event administration in addition to building membership websites.
Features: Actually, MemberClicks is a collection of different goal-based software that you may package and buy in accordance with your requirements. These software programs offer services for membership management, online communities, job boards, online education, events, and content. You may get tools and services from the MemberClicks platform to help you with all of these tasks.
Pricing: The MemberClicks website doesn't offer transparent pricing information for their individual software, or their bundles. You have to provide your organization's information and get in touch with them personally to learn about their prices. However, on their Capterra page, it's reported as starting from $238/month, with no free trials. The price also reportedly varies depending on how many members you add to your system.
Reviews: MemberClicks has 4.4 stars out of 5 on Capterra. Many reviewers seem to be generally content with the platform, mostly due to their helpful customer service. However, there are also some repeating complaints about the difficulty of use, formatting issues, and bugs.
You can read our article that compares Memberclicks Alternatives.
4) GlueUp- ​​Advanced features concerning member-to-member communication

GlueUp is a cloud-based engagement management platform. It's an all-in-one solution for your organization. GlueUp provides its customers with CRM, event management, membership management, email marketing, project management, training management, and surveys.
It includes branded event websites, webinars, and email campaigns for organizations.
Features: Organizations can engage with their audience via 1 on 1 call and event rooms It can also provide you with event management, payment collection, email marketing, social media, and 3rd party integrations.
Pricing: First of all, they do not offer you a free plan. They do have free trials, but you have to choose a paid plan. The pricing is usually $6000/year for Glue Up. However, you may need to pay much more to get your platform up and running.
Reviews: Glue Up stands at 4.5 / 5 on Capterra. The customers generally state that they like the product overall, but it has lots of annoying bugs. Also users complain that it has flexibility issues.
3) HiveBrite – All-in-one solution for groups and moderation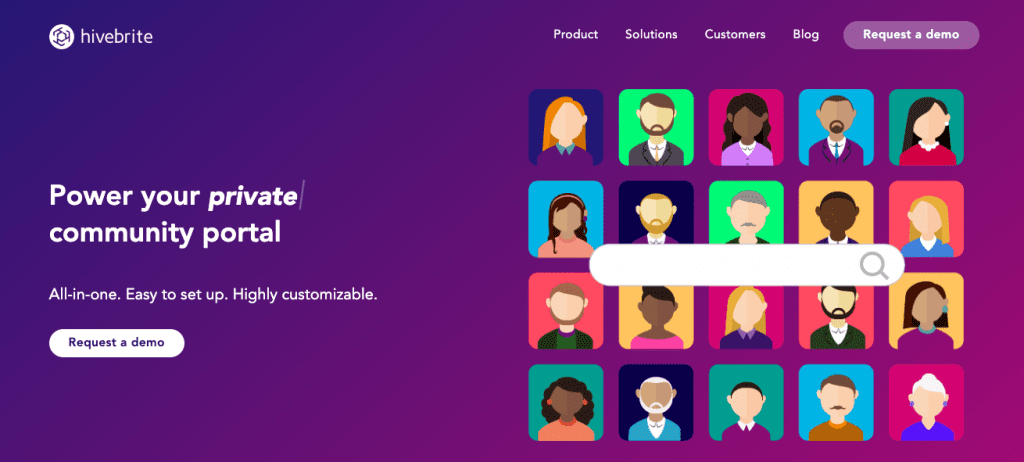 Hivebrite is a community management solution used by different organizations; alumni, corporates, associations, and more. The platform enables its clients to build brand engagement and networking.
Features: Hivebrite clients have full control over their platform as they can customize their page, set user permissions, control visibility settings of the contents, and organize their users.
Pricing: Hivebrite's pricing starts from $6000/year. If you are a small business or non-profit, this might be too much to pay every year. They don't have a clear pricing sheet on their website. This might also be confusing. Also, Hivebrite doesn't have a free plan. So, even if you don't need all the features, you need to pay $500/mo, which is a lot.
Reviews: Hivebrite reviews are one of the best on Capterra. With 4.5 / 5, Hivebrite seems to deliver its users' needs overall. They say the customer service is great, and the support team is as responsive as they can. But Hivebrite pricing is among the highest, which will be pointed out previously.
2) WildApricot- MEMBERSHIP WEBSITE BUILDER FOR nonprofits and organizations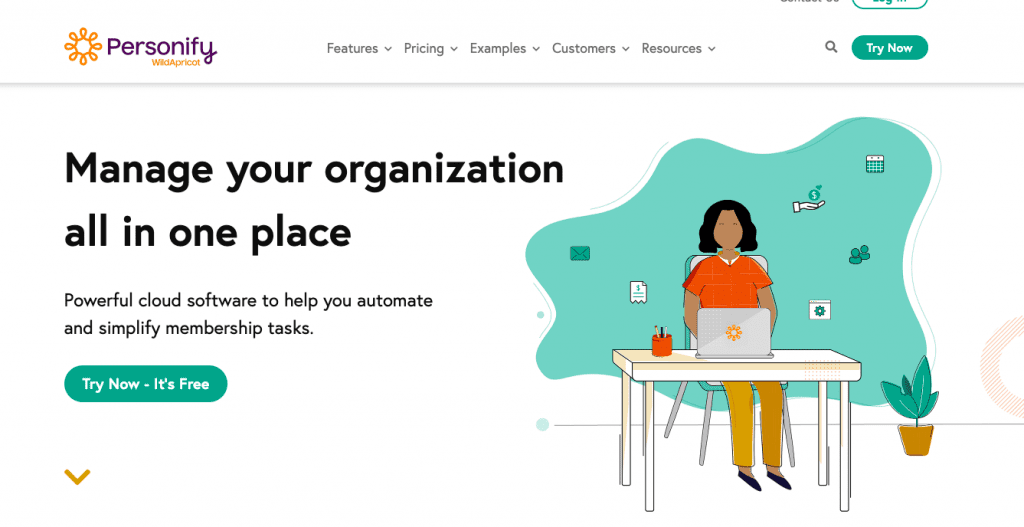 Wild Apricot helps membership-based non-profits and organizations expand by providing services. It's a cloud-based website builder that allows businesses to keep track of their members. Wild Apricot is one of the most popular membership management software out there. They are used by more than 20,000 organizations.
Features: Wild Apricot stores your membership information. You can create up-to-date member directories to help your members connect with each other. It also enables you to send emails and newsletters to your members.
Pricing: Wild Apricot has a free plan. You can have 50 contacts with it. But you won't have access to online payments, the online store, and the Wild Apricot mobile app. Paid plans start at $40/mo. 'Personal' plan allows you to have up to 100 contacts. If your organization has more than 500 members, you need to go with the Wild Apricot Professional plan. It costs $160/mo and you can have 2000 contacts. The pricing goes up as your contact number increases. If you want to have 15,000 contacts, the monthly cost is $350/mo.
Reviews: They have a rating of 4.5 / 5 stars on Capterra. Here, customers say that Wild Apricot is overall a good product, but there are some complaints. The main concern is that it is not user-friendly. Customers are unhappy that phone support dropped, and they can't get quick responses.
1) Raklet – All-in-one platform to grow your audience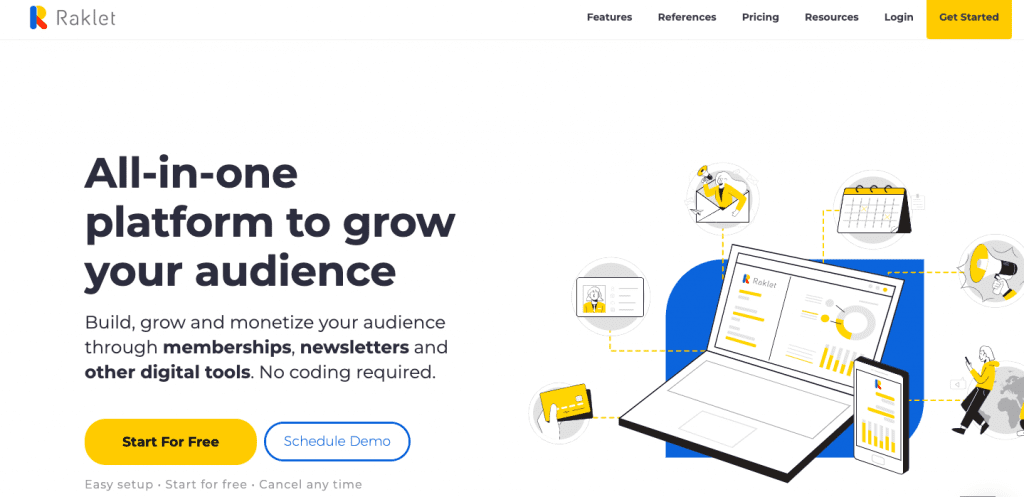 If you work with an effective membership management software like Raklet, it will be easier to follow these steps and you will be able to get your work done in a much shorter time.
Features: Raklet provides a powerful CRM to make your membership management procedures more efficient. You can use Raklet to obtain real-time updates from your members and let them import and update their data. Additionally, each member will receive a digital membership card that can be used to check them in for events or community gatherings and help them feel unique and like a part of the organization. To simplify your events and promote upcoming ones, you may send your members bulk emails and SMS messages.
Pricing: Raklet has a forever-free plan in which you can use up to 50 members. Our paid plans start from $49/mo and go up to $224/mo depending on your needs. Our Premium plans also allow you to have your own custom domain for increased brand awareness. All of our integrations are included in the Premium plans, and there are no additional fees for them.
Reviews: Our Capterra rating is 4.8 out of 5. Customers at Raklet shared their insights with us that make it easier for them to handle their membership-based organization. Our in-house engineering team allows us to solve any customer problem regarding the platform. Also, Raklet is the top-rated membership management program on GetApp, with a rating of 4.8 out of 5. Raklet is easy to use, has excellent customer service, and has more features than are needed, according to our customers.
Want to learn more about Raklet? Schedule your demo today!
Also, you can check out more articles on our blog about building and improving membership sites: