Nowadays, everyone is using different digital solutions to manage their business, organization, community platform, or even personal website. While doing so, there will be a lot of work that will tire you out while trying to complete them one by one. With Integromat, say goodbye to manual repetitive tasks, and say hello to automations.
What is Make?
Make (formerly Integromat) is an online platform that allows you to create automated workflows. Thanks to their effortless software, they work with many reputable organizations like Airbnb, Spotify, Adidas, and more. Using Integromat, you can connect any app or API (application programming interface) together. Visualize and create any workflow you need in minutes with an easy-to-use drag-and-drop interface.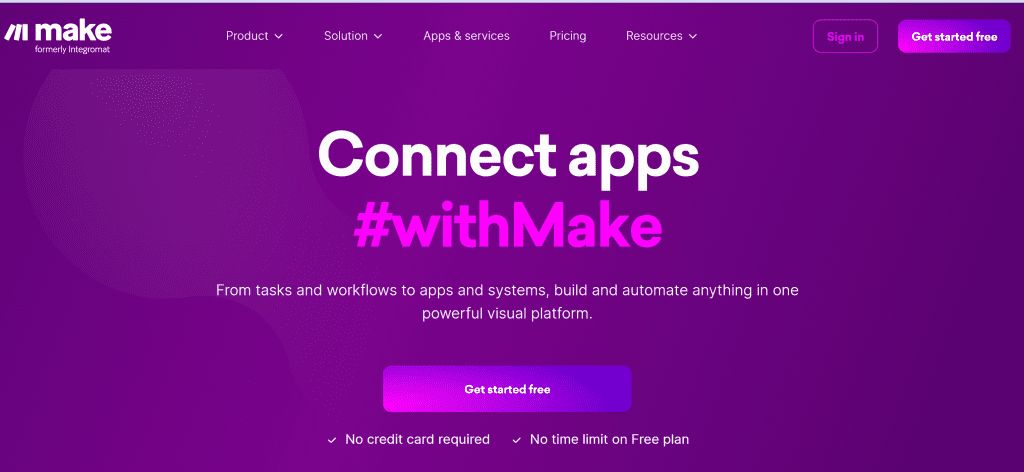 You don't have to have any knowledge of coding, or pay any fee to use the Integromat platform. You just simply add and connect any app (this is called creating "Scenarios"), and let Integromat do the work for you. It's really that simple!
What can I do with Make?
Seeing a written explanation might not have been enough to understand how Integromat works. Instead, let's look at some examples of how you can use Integromat's workflow automations for your benefit. Some of these are:
Post your Telegram messages on your Discord channel,
Add incoming email information into a spreadsheet,
Create subscribers on Mailchimp from form responders,
Save all email attachments to your Google Drive,
Create individual Trello cards from added rows on Google Sheets,
Add incoming Shopify orders into a spreadsheet,
Get personal Trello notifications directly on Telegram,
…and many more. These are just some of the freely available templates on their website with simple Scenarios. You have the ability to customize and complexify them, or create new ones from scratch — however you want.
Make vs. Zapier
Make and Zapier are both similar tools that let you create automated tasks and save time and effort while running your organization. If you're trying to decide between the two of them, let's take a look at both of their strengths individually:
MAKE FEATURES:
(+): Easy to use drag-and-drop builder
(+): Rich library, a large number of app & software integrations
(+): Scheduling capabilities
(+): Consistent automations with minimum errors
(+): Ability to use pre-made handy templates, as well as to create your own automations
(+): Cheaper compared to Zapier
ZAPIER FEATURES:
(+): Clear interface with simple guidelines, but might be difficult to set up in some cases
(+): More integrations compared to Integromat
(+): Vast customization options
(+): Consistent automations with minimum errors
(+): No visual display of the Zaps
How to use Make to create automations
Creating automated actions with Integromat is pretty easy thanks to their powerful visualization tool. The example Scenario above is a pretty complex one, but yours doesn't have to be: You can make them as detailed or simple as you need.
Using Make effectively takes only 3 easy steps. Let's look at them together:
1- Create a MAKE account.
The first step, obviously, is to create your free Make account. This will allow you to create Scenarios to automate your tasks with any of their supported apps.
You can easily sign up on their website. No credit card information is required.
2- Create your first Scenario from scratch, or use a Template.
After successfully creating your account, you can start exploring their platform.
Make has a handy sidebar on the left that allows you to manage everything. If you want to create your first automation, you can easily click on "Scenarios" and start your journey!
You can choose actions out of all the apps or software that Integromat works with. There are tons of actions you can implement and customize according to the needs of your business.
Stuck on where to start? Looking for something more specific? If so, another option is to click on "Templates" from the same left-hand sidebar. There are hundreds of readily created templates like the ones we exemplified above. Depending on the apps that you're using, you can choose one of them and run them however you like. These templates are also fully customizable, so it's not much different from creating Scenarios — you only have something to start from.
(Hint: After clicking on "Templates", you will come across the most used templates on the Integromat platform. If you're looking for options they have regarding a specific app, click "Filter" on the top left corner of your screen. This will give you the option to pick from their supported apps, and see which templates include their actions.
3- Connect your accounts.
Now that you've selected your app or template, your automation screen will pop up.
This is because you haven't connected any of the apps in your automation to your Integromat platform yet. On the right of the first row titled "Connection", you will find a button called "Add". This will let you enter the account login information you use with that platform.
And with that, your connection is ready! You can customize information related to your automated tasks after that, and simply click "Run" to start your Scenario. You can also arrange them to run once, or on a specific schedule starting from that day.
They also have very handy tutorials and courses, which can help you make the best of their platform and create more complex automations.
Make and Raklet: Powerful automations for your membership platform
Our software Raklet is an all-in-one solution for memberships, events, payments, and more. Thanks to our third-party integration with Integromat, you can automate many different types of actions and use our pre-made Raklet templates to save time and effort. This way, you can focus on empowering your organization or business without having to spend time on repetitive manual tasks.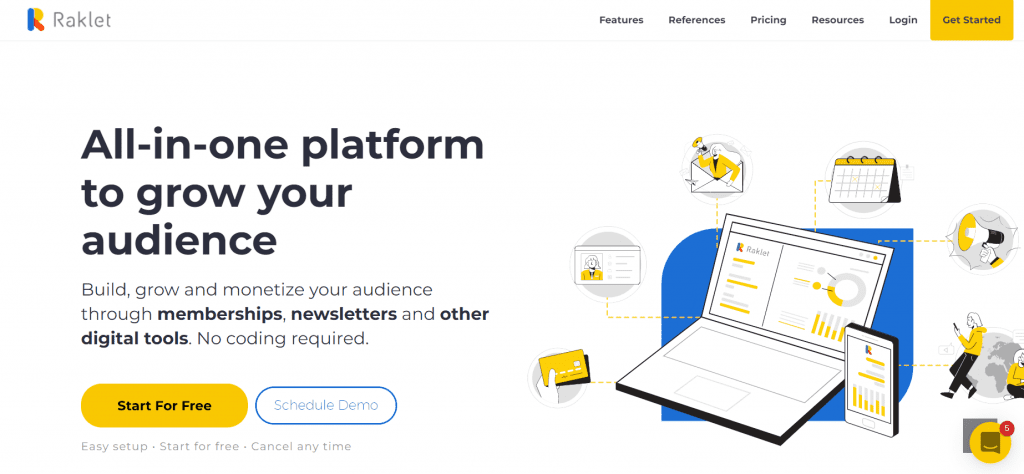 ---
Related articles on our blog: