Membership management software is an online platform that offers features to simplify member management tasks. If you have an association, charity, or a community, it is a good idea to use one of these software to automate time-consuming tasks. In this article, you will find all the necessary information about membership management software and the best ones in the UK this year.
What is membership management software?
A membership management software is an online platform that offers tools to help you with administrative tasks in membership management. It is designed to help you connect and interact with your members, gather and analyze information, process payments, and more. The features and services that the software provides vary according to the needs and type of the organization.
If you have a community or are an organization, nonprofit, or business, an online membership management system will probably help you a lot. You might be looking for a local product from the UK to ease the payment process and avoid currency transactions. Thankfully, there are so many global options available that offer useful integrations and features that could provide what you need and more.
In this article, we listed the best UK-based membership management software and evaluated them in detail for you. We also offered the best alternative, Raklet, and compared it with our UK competitors so that you can decide if Raklet has everything you need.
Best Membership Management Software of the UK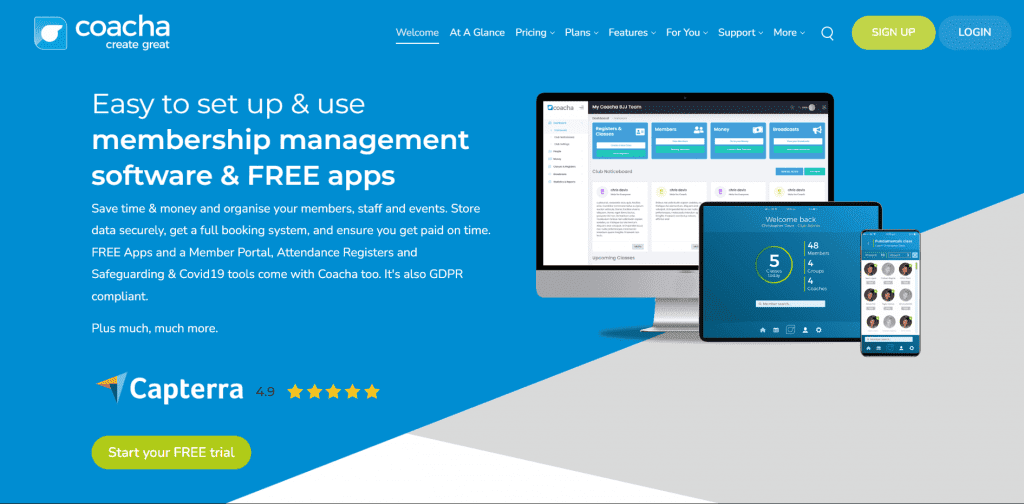 Founded in 2015 in the UK, Coacha is a cloud-based software company with a size of 2-10 employees that offers solutions for club and membership management. Coacha is widely preferred by social clubs, sports clubs, and membership-based organizations.
Features: Coacha offers a secured database, events, and class registration, attendance tracking, scheduling, booking, email broadcast system, SMS announcements, dashboards, reports, and invoices. Moreover, they also offer Covid-19 tools like booking in advance, virtual classes, and self-reporting of Covid-19.
Price: Coacha offers different pricing plans for customers in different countries, and has Lite, Premium, and Custom plans. The countries are listed as the UK, US, Canada, Australia, EU, and New Zealand. For instance, Coacha Premium is £36/mo for UK customers, and €45 for EU customers. They also offer a free for life plan for functional features and a limited number of members. Moreover, if you are a registered charity or ICI, they offer you a discount. There is a 14-day free trial as well.
Capterra Rate: 4.9/5. Users are satisfied with the features of Coacha and club management tools. Still, there are some complaints about limited customization.
Pros:
New features are added and updated constantly
Ease of use and clean-looking interface
Responsive customer service
Cons:
Need more tutorial videos for a better user guide for the system
Customization options should be improved
The android app is hard to navigate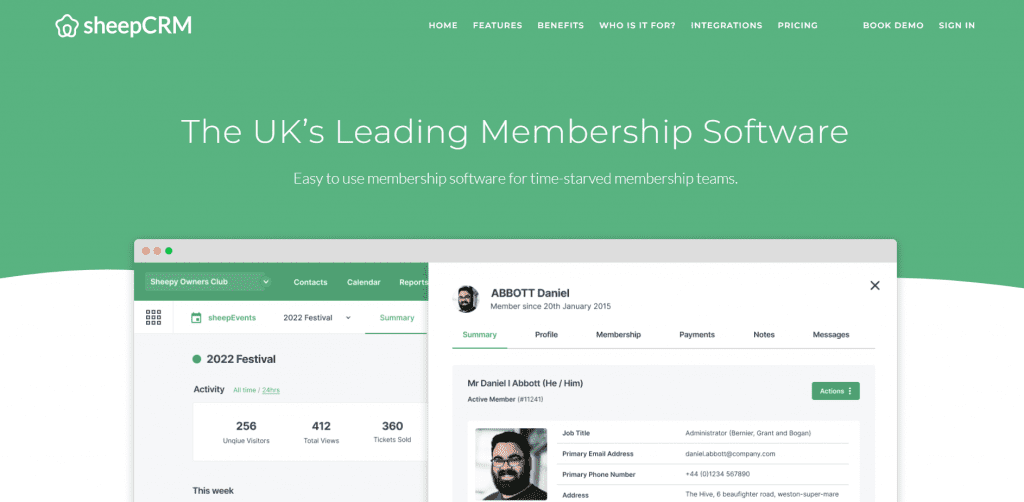 This software is a UK-based membership management software that helps organizations to save time, and increase their growth and income. SheepCRM is for clubs, associations, charities, and nonprofits that need to manage their members. They provide a CRM database built explicitly for this purpose. It was founded in 2011 to help out a charity in their cause.
Features: It offers tools like CRM for better member management, payment processing, event management, ticketing, attendance tracking, registration, reports and analytics, and 10 integrations including Email, Survey Monkey, and Stripe.
Price: It has 3 different pricing options, Simple, Advanced, and Professional. Prices are £99/mo, £299/mo, and £499/mo respectively. Features and the number of contacts vary in different plans. They offer a free trial but no free plan.
Capterra Rate: 4.4/5. Users are satisfied with the easy-to-use interface but there are also complaints about database and reporting.
Pros:
Responsive and quick customer service
The booking system is useful
The intuitiveness of the system is quite good
Cons:
The user profiles section is not user-friendly
Some of the functions' updates take too much time
The database can be hard to navigate sometimes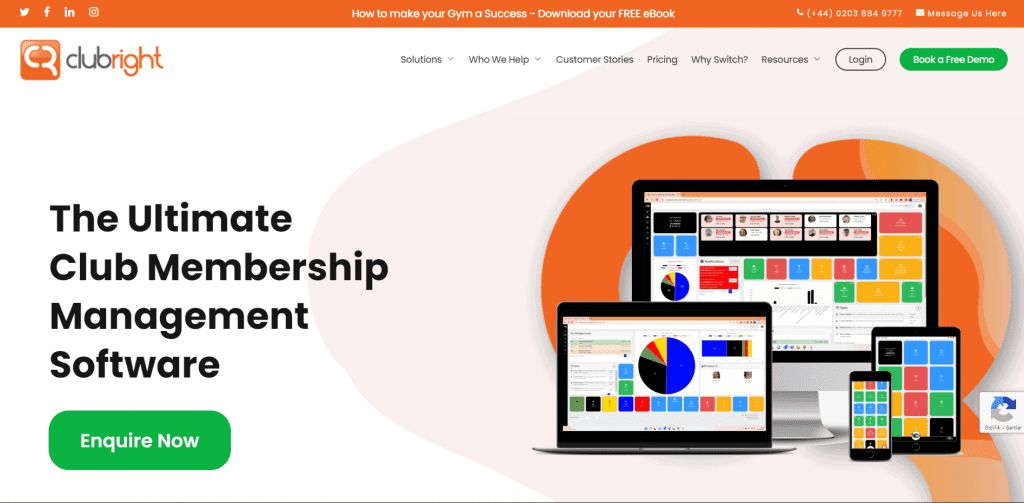 Clubright was founded in 2017 by gym owners and is a gym software that is designed to run a business in the health & fitness industry easily. Their solution is best for gyms, health clubs, personal trainers, yoga & pilates studios, dance schools, and more.
Features: They offer features tailored to the business type. Features include payment processing, eCommerce, emails, customer profile pages, attendance tracking, dashboards, detailed reporting, a mobile app, and more.
Price: Clubright now offers two different pricing plans and they are working on a third pricing plan, which is Combine Plan. In Core Plan, which is £69/mo, you will have all the essentials but some advanced features like a trainer app, customizable business dashboard, payroll report, Google Analytics or push notifications are omitted. Complete Plan is £119/mo and has everything in the Core plan and more.
Capterra Rate: 4.9/5. Clubright received great reviews from its users. Let's see what their customers think of it:
Pros:
User-friendly, clean, and easy-to-navigate interface
Simple booking system with scanning member codes for check-ins
The reporting feature is very useful in analyzing and has lots of options
Cons:
The system can get buggy in booking sometimes
When memberships are set up incorrectly, it is hard to rectify
The mobile app can be sometimes glitchy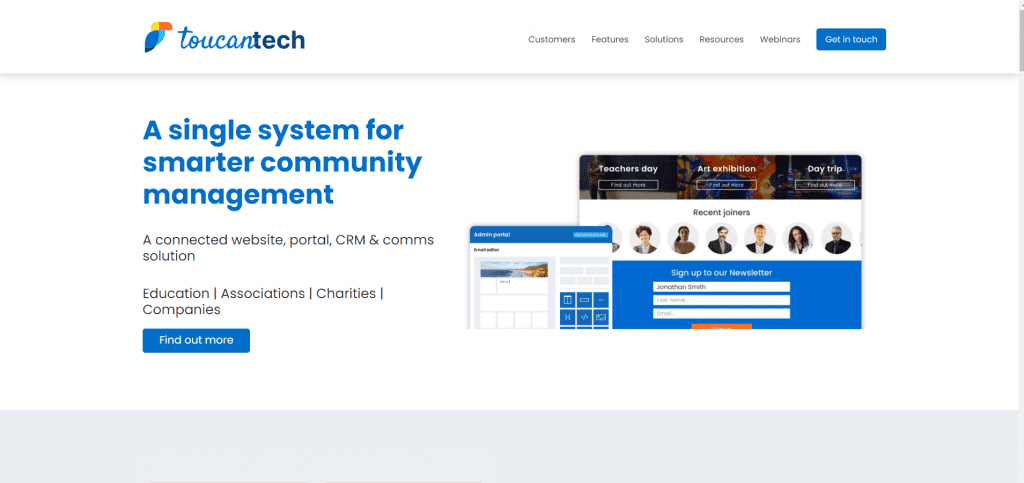 ToucanTech is a community software for schools, institutes, and companies and was founded in 2014 in London. They offer features for better community management and engagement. They are mostly preferred by educational institutions, associations, charities, and companies.
Features: Toucantech offers features for community management including a customizable database, payment processing, event management, CRM, directory, activity tracking, group messaging, emails, letters, dashboards, mentor matching, job boards, career forums, fundraising tools, including a mobile app.
Price: They do not have a pricing list on their website. There is a free trial but for further information, you need to contact Toucantech.
Capterra Rate: 4.9/5. Toucantech received an overall great rating.
Pros:
Intuitive and user-friendly interface
Helpful and responsive customer service
Functional and practical features and integrations
Cons:
It can be time-consuming to fully learn how to use the features sometimes
Sometimes filtering can be hard to use and requires support
CRM features require improvements and updates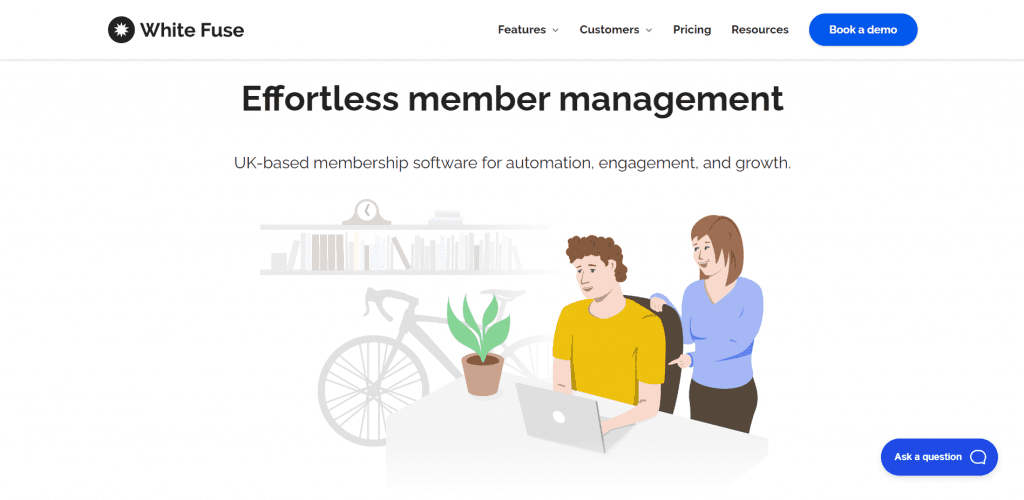 White Fuse is a UK-based association management software that was founded in 2008. The software is used by professional associations, societies, social and sports clubs, voluntary organizations, not-for-profits, and businesses. It combines member websites, events, directories, and email tools in one simple platform.
Features: Directory management, payment automation, in-app reporting, creating members portal, building websites, event management, booking, scheduling, attendance tracking, email broadcast, discussion boards, and database management.
Price: Their pricing plans are based on the number of contacts per month. For instance, for 250 contacts, it costs £47/mo, and £259/mo for 10,000 contacts. They also collect card transactions incurring a 1% fee plus Stripe fees. In addition, they also collect setup fees. For configuration, they collect £500, for contact import £0.50 per contact, and for website build £1500.
Capterra Rate: 4.9/5. White Fuse received overall great points as well.
Pros:
Intuitive and easy-to-navigate system
Responsive customer service
The broadcast emailing system is a great plus
Cons:
Occasionally features can be clunky in functionality
Features need to be improved and facilitated
Flexibility should be improved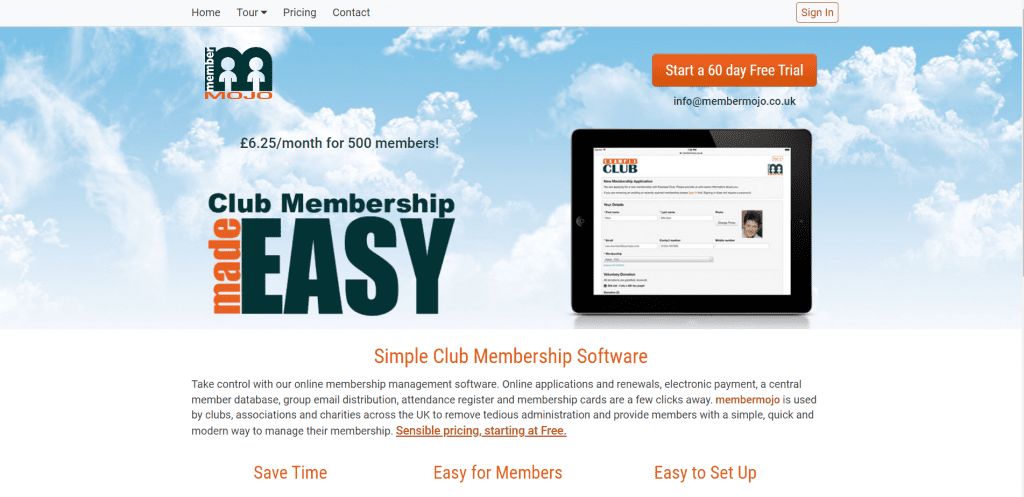 Membermojo is an online club membership software that was founded in 2013. They offer features for better club management and memberships. It is highly preferred by sports clubs, youth clubs, small charities, special interest groups, and local communities.
Features: Online applications and renewals, electronic payment, a central member database, group email distribution, attendance register, membership cards, member directory, and membership website.
Price: Membermojo offers a 60-day of free trial and a free plan for up to 50 members. Their pricing plan is based on the number of members. For instance, for 500 members the annual fee is £75 and for 10000 members the annual fee is £550. There is no Membermojo transaction fee. Plastic membership cards are add-ons and they collect a delivery fee per card, which you can read in detail on their website.
Capterra Rate: 4.8/5. Reviews of Membermojo users are overall great. Membermojo has only 6 reviews on Capterra, which might make it hard to correctly evaluate the software.
Pros:
Cons:
The database could be simpler in some cases
Best Alternative: Raklet Membership Management Software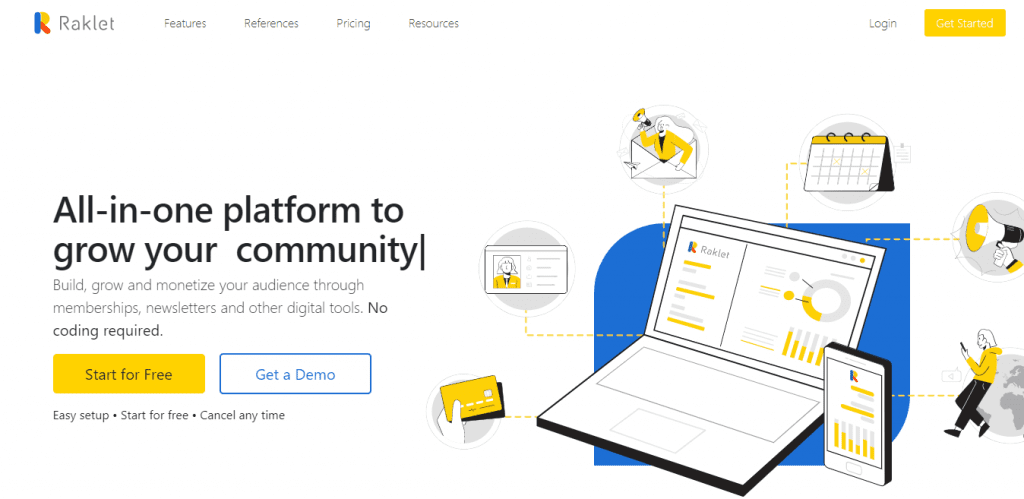 Raklet is an all-in-one solution that helps you manage your members in a meaningful and efficient way. Raklet's extensive features allow you to organize and manage your members, income, and events from a single platform. Our membership software is easy to set up, intuitive, and provides a comprehensive set of membership tools.
You can track all membership information through our powerful CRM. Help your community thrive with extensive membership profiles and digital member cards. Create customizable membership forms and accept online applications either automatically or manually. Create different tiered membership plans and easily collect one-time or annual membership fees. Follow and analyze real-time member data and store them in our secured database.
Our cloud-based membership system will also help your member retention and acquisition processes. Build a platform to increase member engagement with our private messaging feature, as well as our discussion boards. Reinforce this with your branded member app and keep your members updated with push notifications. You can also create member-only events, sell tickets, and accept donations with a few simple steps.
What's more, our payment processing will not be a headache with our payment integrations like Stripe, PayPal, and more. Our 4000+ integrations and extensive customizations will provide everything you need.
Pricing Plan and Reviews
We have a simple and transparent pricing plan. You can have a forever-free plan for up to 50 members. Or you can opt for the best option according to your needs from the Essentials, Professional or Premium plans. Our paid plans start at $49/mo. We also offer a free trial so that you can try it out first.

Moreover, Raklet received 4.8/5 stars in Capterra, which makes it one of the highest-rated membership management software among its competitors. Our clients are satisfied with our extensive and versatile features, integrations, user-friendly interface, and extensive customization options.
You can also go through GetApp, G2, and SourceForge to see what our customers will tell you!
You can schedule your demo and talk to one of our specialists to get to know Raklet better!
If you enjoyed this article, don't forget to check out other articles from our blog: