Managing your customers is the most important aspect of any business and good CRM software is an essential element of any business. A good relationship with your members paves the way to growing your organization. Read our post for 3 CRM software examples that can help you grow your business.
CRM software is quite helpful to manage all your current and potential customers through a managed system. Make a note of their contact information, social media accounts, and personal information all under a single platform. In addition to this, track payments, and donations as well as set up automated payments easily for each member.
CRM for small business
Every small business needs a good CRM system to build better relationships with its customers. It helps you organize interactions with your members and prospects. In addition to this, a good CRM system centralizes all the data so that your team can jump into action.
All relationships that your customer has with your business can be captured. Above all, this platform is suitable for all organizations big and small. Using good CRM tools will greatly benefit both your business and your customers. Boost efficiency and increase customer satisfaction rate over a period of time.
Benefits of a good CRM system for your business
Streamline sales process
With a good CRM system, it is easy to streamline your sales processes. You can now acquire leads and convert them to customers; thereby increasing growth opportunities for your organization. Increase the efficiency of customer management within your organization.
In addition to this, a CRM system helps your team stay organized and work together as a single unit. Now, it is easy to allocate different customer-related tasks to different members of your team without any confusion. With a clear goal and task in hand, every sales opportunity can be optimized.
Learn how Raklet's CRM helped import corporate members into your account easily.
Centralized customer information
All customer data can be maintained on a single platform. Any changes in the member information can also be updated in the CRM software. All information such as customer data, contact information, social media accounts, and payments can be accessed from the CRM.
Save time and effort for your team by having all the customer details in a single place. All these data are stored digitally on the cloud; so now it is easier to access them from anywhere in the world. Your data is safe and secure. There is a minimal chance of your data being lost.
Read more to know how Raklet's membership management platform and CRM helped Lingua-Parc connects with its language exchange enthusiasts.
Follow your customer journey
The CRM system helps you keep track of your customer's journey. Help your sales team follow up on potential leads rather than doing unnecessary paperwork. After signing up with a potential customer, all their information is stored in the system. Therefore, it enables the other teams to access customer information.
You can monitor your customer's involvement with the organization and its activities. This helps you understand their likes and helps you create new opportunities by cross-selling. Being proactive and keeping in touch with your customers at regular intervals help you build a great relationships and retain customers in the long run.
Let's explore the 3 free CRM software examples that we have compiled for you below:
Top 3 free CRM software examples for your business
1: Raklet's free CRM Software
Our cloud-based membership management software has everything you need in CRM software. Its CRM tools are robust and highly useful for every business. Raklet's free CRM is easy to use and has many vital features. You can use CRM for lead generation as well as for workflow automation. Organize all your customer information as well as daily tasks in a single platform.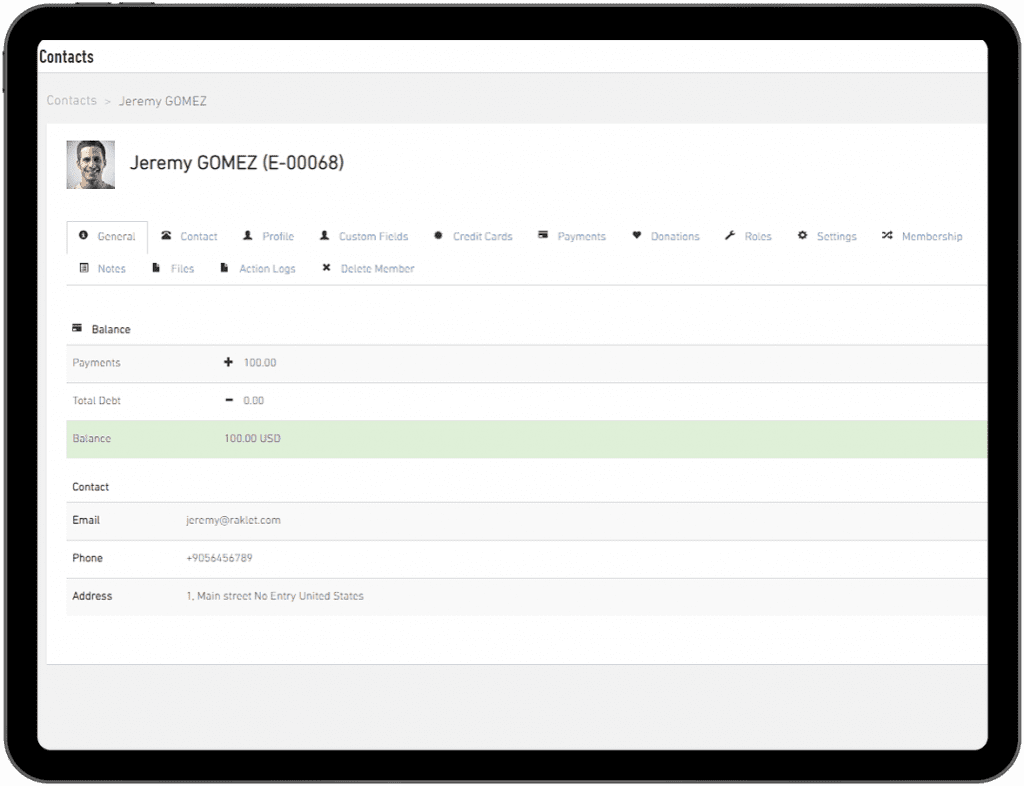 Easily accessible member database
The Member database is easily accessible. Your members can log in and update their information easily. You can also import your contacts from excel files and keep your data updated.
Check out our tips for a successful data import to add your contacts.
Automated payments and renewals
Automated and easy membership renewals are possible. The members are notified when their renewals are due. They can even opt for automated payments by entering their credit card details. All the online payments are carried out on a secure platform.
Deep insights and custom reports
There is also an option to add notes for each member. Go ahead and update it with conversations to remember who your members are. In addition to this, there is a timeline for each member as they interact with your organization. Click on the member names to see their engagement, website activity, and much more.
Great integration with other tools
Raklet's CRM has awesome integration with other tools that you might need as a part of performing your daily tasks such as sending your emails and text messages. You can draft your emails and send them over to your members within a few seconds.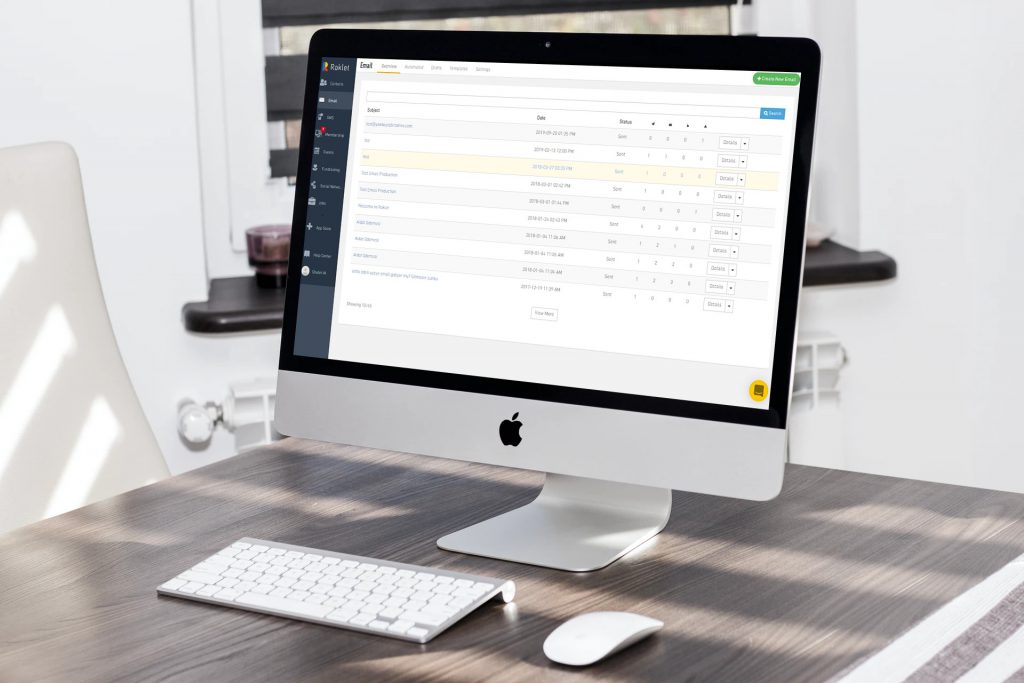 Customizations to include new features
It is a very intuitive CRM that can be set up in a few minutes and does not require any special training for the user. However, our platform does not offer any eCommerce integration but customizations are possible at a very reasonable price. 
Cost-effective CRM system for your organization
In addition to this, members can use a free account for as long as they like. Add 50 contacts and send 1250 emails at absolutely no charge. To use more advanced features, check out their pricing plans to select the best plan for your community.
2: Keap CRM
Another CRM that many organizations use is Keap CRM. This is strong management software. It has a built-in robust marketing and sales tool. It is also possible to integrate it with third-party applications such as Quickbooks but requires some work and time.
Built-in eCommerce integration
Keap, unlike many of its counterparts, has a built-in eCommerce integration. It is a great choice for people who manage eCommerce stores as this CRM can take data from your website and store it in their contact information.
Easily accessible member data
All member data can be stored in a single platform and it is easily accessible to the team. Custom data fields are also available to update customer information. Collect deep insights about your members with times and reports.
Extensive training is required to set up the CRM
However, Keap is not the right solution for you if you are looking for a lightweight CRM solution that can be set up easily. It requires training for the new users and setting it up also takes time. In addition to this, it is quite costly and not suitable for a small-time business owner.
Expensive CRM system
Keap offers a 14 days free trial for all its customers. After the trial, they can purchase the CRM solution for 79$ per month which includes 500 contacts and one admin. Additionally, they charge 99$ for expert coaching to know how to use their software.
3: Salesforce CRM
Another top contender is the Salesforce CRM for business. This is a fully established platform that has many features. It has been in the industry for a long time and has been considered one of the best SaaS platforms. Small business owners can start off with enterprise software and slowly upgrade as they grow.
Customizable dashboard for your business
This intuitive dashboard is a great way to see all the important metrics for your business. Your dashboards include summaries of sales numbers and customer data. In addition to this, these dashboards can be customized according to each team. This helps them view metrics that are important to them.
Deep insights and reports
With this powerful and scalable CRM, you can have a look at all the deep insights derived from your business operations easily. They also have a variety of products that can be included to boost sales and productivity for your organization.
Takes time to figure out the best solution for your business
Like many other CRM, Salesforce offers multiple features and products. So if you are a small business owner, finding out the best solution within your budget is not easy. You will surely need the help of a sales representative before you decide on the right service and product. Setting up this CRM is time-consuming.
Steep pricing
Above all, Salesforce only offers a 30-day free trial and a fee of 25$ per user if you start off with the essential plan. If you need to customize your Salesforce CRM, the development will be an additional cost and you will need to hire developers to do this.
Why choose Raklet's free CRM over others?
If you are a first-time business owner or probably looking out for a great CRM solution at an affordable price, Raklet's CRM solution is the one for you. Set up your CRM platform in a few seconds. You do not need any training. Cost-effective customization is available to reflect your branding.
It is important to look for custom automation and integration when choosing the right CRM for your business. With the right tools, you can boost productivity and help your business grow at the same time. Store the right information and track customer communication effectively.
Many businesses trust Raklet's CRM for enhanced customer relationships. Launch your free membership platform and upgrade as you grow.
If you'd like to learn more about membership management, check out these articles below: