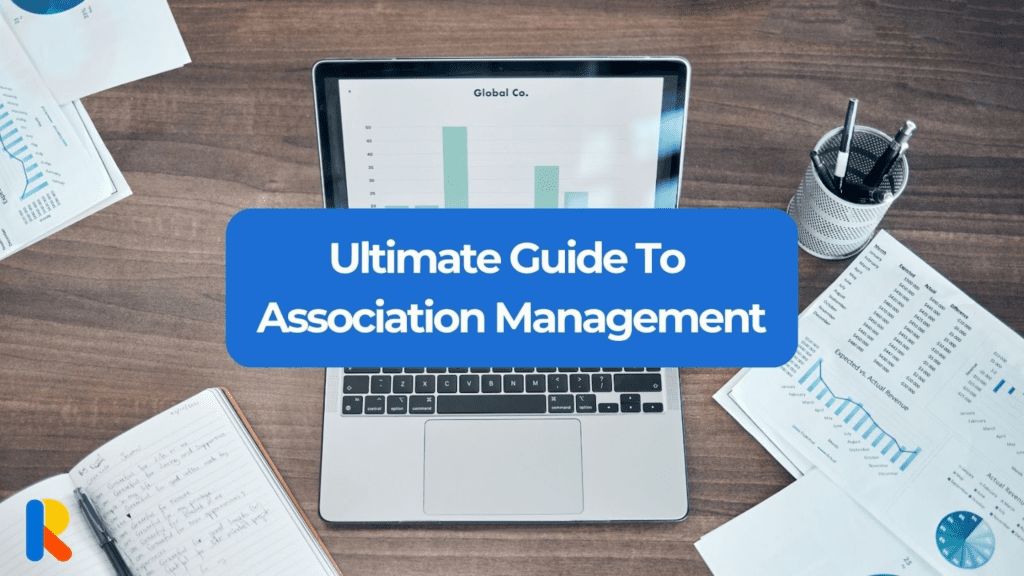 Running an association management company can be extremely demanding and exhausting from time to time. It sometimes might look like it's all on your shoulders to thrive in your organization (though it is not). In those times, remember that you can always lessen your burden as a manager if you choose to trust technology and use association management software (AMS).
In this blog article, we'll give insight into everything you need to know about association management systems from what is association management and the features of AMS to which software to use, and much more!
Page Contents:
What Is Association Management?
What Is Community Association Management?
Why Is Association Management Important?
Why Should You Use Association Management Software?
What Kind Of Association Management System Is Right For You?
What Are The Top 5 Benefits Of An Association Management System?
How To Choose An Association Management Software?
How Much Does Association Management System Cost?
Features To Look For In Association Management Software
Raklet: The All-In-One Association Management Software
What Is Association Management?
Let's start by explaining what association management actually is. Association management refers to managing organizations that serve a common purpose, such as a trade association, professional society, or non-profit organization. Association management systems are designed to help organizations run smoothly and achieve their goals as well as help them with other administrative tasks such as gathering member information, planning events, and keeping in touch with members.
What Is Community Association Management?
Community association management refers to the professional management services provided to communities such as homeowner associations and cooperatives. These management services are usually used for day-to-day operations and maintenance of the community, such as financial management, property maintenance, and communication with residents.
Why Is Association Management Important?
Association management is important for any kind of organization that wants to achieve its goals successfully. Here are some of the reasons why it is important:
Efficient Operations: Associations provide a structured approach to managing their resources, ensuring that all tasks are handled efficiently.
Strategic Planning: Associations help members develop long-term plans and strategic goals, which are crucial for maintaining relevance and sustainability.
Networking Opportunities: Associations offer their members various opportunities to network with like-minded people and help them build relationships.
Training: Associations offer their members professional training to help them stay up-to-date in the industry.
In short, association management plays a vital role in supporting members and providing resources they need to succeed, both individually and collectively.
Why Should You Use Association Management Software?
A community association manager typically handles a wide range of tasks, including financial management, membership registration, event planning, marketing and so on. They work closely with volunteers, staff, and external partners to ensure that the organization operates successfully. On the other side, they also want to make sure that their members receive the support they need to thrive in their own fields.
This being the case, they naturally need assistance to handle all these administrative tasks. Here are some reasons to use association management software as a manager:
Customer relationship management
Membership and community management
Event management
Online course management
eCommerce
Whether you run a professional or non-profit organization, you can benefit from AMS in various fields. And that makes it even more appealing!
Marketing
Marketing is an essential tool to attract potential members into your organization and encourage existing members to participate more in your events. Automated emails are the best medium for marketing your organization's events and programs.
Communication
Along with the automated emails mentioned above, association members can communicate with each other or the association manager thanks to AMS. To benefit from this communication feature in the best way, you should choose an AMS that comes with a mobile app.
Events
Planning and joining events are now much easier thanks to AMS! Because your members don't have to re-enter their information again when they want to register for an event. Members' information already exists in the AMS.
Accounting And Finance
Association accounting may be the most boring yet important task for association executives. AMS provides you with a detailed financial report each time your members pay their membership fees, buy tickets or shop in your organization's e-store. It's crucial because members make money transactions and you're somehow responsible for their personal card information and data security.
Regardless of your organization's size and member number, it's a fact that association management software can save you a lot of time and effort in all ways while managing your organization.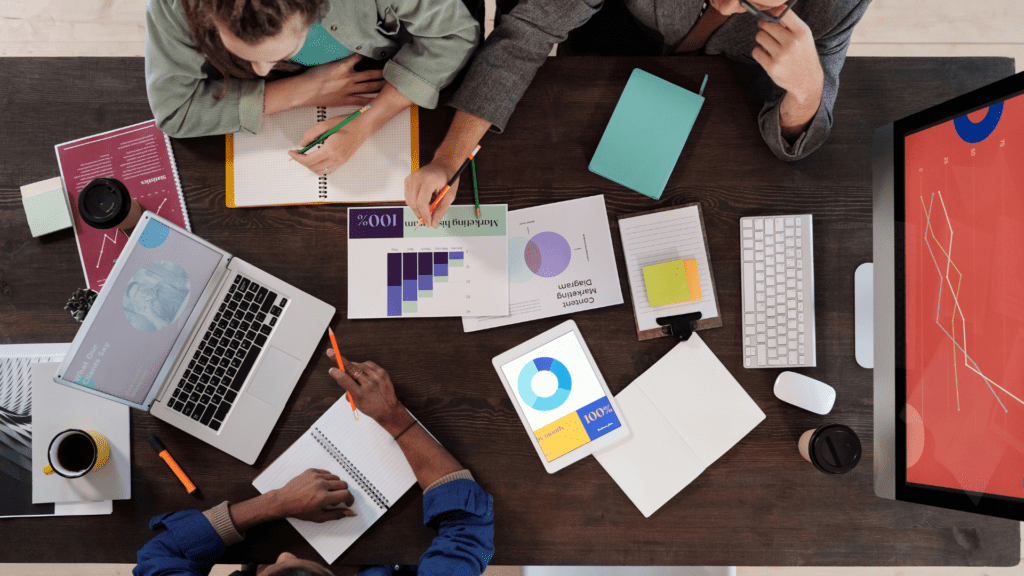 What Kind Of Association Management System Is Right For You?
There are hundreds of association management systems on the market but which one is the best for you and your organization? They all serve different purposes but you can at least have a rough idea about which will work for your association. Here are the common types of AMS available on the market:
Cloud-Based AMS
Cloud-based AMS is hosted on a remote server and can be accessed from anywhere with an internet connection. It is preferred for its flexibility and convenience, as well as automatic updates and backups.
On-Premise AMS
On-premise AMS is installed on your organization's own server and can only be managed internally. It offers more control over data and security but requires high maintenance and IT resources.
Hybrid AMS
Hybrid AMS is a combination of cloud-based and on-premise systems. This type of AMS offers the flexibility of cloud-based systems while keeping some data and processes on-premise.
Open-Source AMS
Open-source AMS is free software that you can customize and develop your own systems. It requires technical expertise but offers unlimited customization options and cost savings.
Industry-Specific AMS
Some AMS providers specialize in serving specific industries, such as education, healthcare, and nonprofits. These types of platforms offer features and integrations that are tailored to the special needs of those industries.
All-In-One AMS
All-in-one AMS platforms offer a complete suite of online tools and features for managers. Some of the tools include membership, event and project management, fundraising, and communication. These systems are ideal for associations that need comprehensive solutions without having to integrate multiple platforms.
What Are The Top 5 Benefits Of An Association Management System?
Alright, I hear you asking "cool, but what are the true benefits of AMS for an executive director?" Then let's get to the point! Here are the top five benefits of AMS:
All member data, such as their registration details, payment information, and email, is stored securely in a database using cloud technology.
You can use AMS to automate your administrative tasks, so that you can focus on your real purpose. You can access your email chains with just one click. There are no unstructured spreadsheets anymore; they turned into classified lists. Plus, membership renewal reminders are now automatic. You don't have to do all these manually!
You can build web pages for events or blog articles for your members. All you have to do is drag and drop some lines on the page.
You can create customizable membership and event registration forms online.
AMS software can make your communication with members easier. This way, you can keep in touch with association members and inform them about upcoming events, news, and other activities. As a result, you can increase member engagement and retention.
How To Choose An Association Management Software?
Choosing the best AMS for your organization can be difficult but here are some tips for you to consider before you make a purchase:
Know Your Organization's Needs
Before you search for software, you should know your organization's needs and identify what your expectations are from the software. You can make a list of must-have features for your organization, such as membership management or financial management.
Compare Different Pricing Plans
It's crucial to compare the pricing plans of different software. Software that offers a range of pricing options that speaks to different budgets and needs is always better than software with a single pricing plan.
Request A Test Use
Always test the software before you buy a subscription to make sure it meets your expectations. Some companies offer a free trial or a demo version of their software.
Evaluate Customer Support
Don't forget to evaluate the customer support of the software provider. Customer support can play a crucial role in case of an emergency. They should provide necessary training, troubleshooting, and assistance.
After considering all the things we mentioned above, it's time to make a decision. We hope this helps you find the best software for your organization!
How Much Does Association Management System Cost?
Let's talk about money, shall we? We know you're wondering how much an AMS costs, but there is not a single answer to your question. The price varies depending on a few factors:
Organization Size: The cost changes based on the number of members in the organization, as well as the volume of data being stored.
Features Of AMS: The more features it has, the more costly it becomes. An AMS with advanced management features, payment processing, or online communities costs more than a basic membership management system.
Type Of AMS: The cost also changes based on the type of AMS you want to purchase. While cloud-based AMS typically requires a monthly or yearly membership fee, a one-time purchase is enough for on-premise AMS.
The long and the short of it, AMS can cost a few hundred dollars per year if it's a basic cloud-based system or it can cost tens of thousands of dollars if it's an enterprise-level on-premise system with customizable features. It all depends on your and your organization's needs.
Features To Look For In Association Management Software
As we mentioned before, there is a variety of association management software available on the market. Regardless of your organization type, there are some features that every AMS must have to thrive in your association. Let's see what these essential features are:
Dues Management
Make sure that your AMS provides membership options that are tier-based and adaptable. Your system should be capable of monitoring each member's use of various benefits and placing them in different membership levels.
Event Management
You should be able to create events ranging from basic to complex, such as luncheons, webinars, monthly meetings, and two-day trade shows using an AMS. Additionally, it should be able to store information like the location, date, payment terms, and a summary of the event.
Email Marketing
Email is one of the best ways of connecting with your members and also announcing upcoming events. You should choose an AMS that enables you to send personalized emails to your members. You can also see your members' profiles and their engagement history in the membership database.
Polls And Surveys
You can prepare and send out surveys to your members for voting or gathering feedback on past events. This feature also enables you to use the member center's polls to collect data in a more informal way and learn about your members' opinions.
Website Builder
As part of your organizational management software, look for a content management system (CMS) to assist with website functionality. You can create web pages and a navigation menu to give your members essential information about events and memberships.
If you're looking for an all-in-one association management software, look no further than Raklet!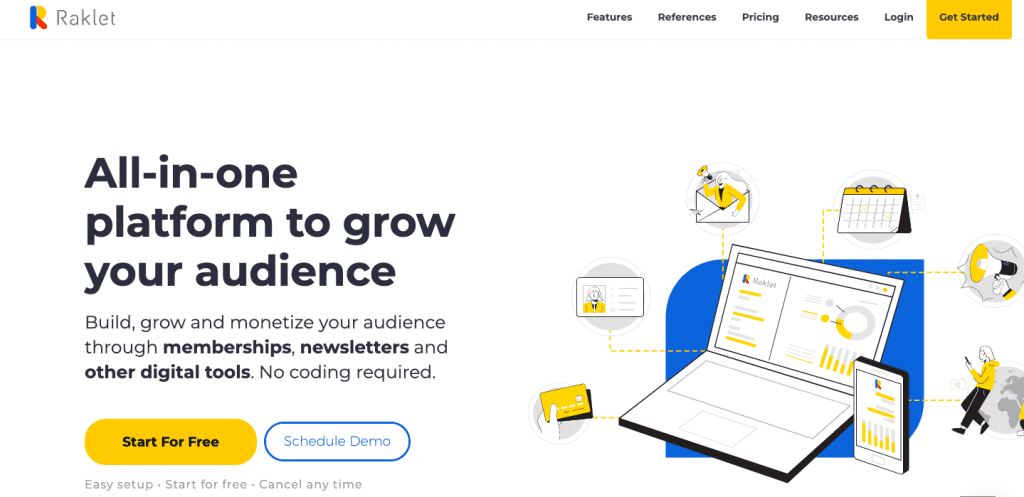 Raklet: The All-In-One Association Management Software
There are dozens of association management solutions, but if you want to run a successful club, you need successful management software that has proven itself in more than 35 countries worldwide.
Raklet is an all-in-one association management software that offers everything you need for your organization. With Raklet, you can manage your organization's events and membership details, analyze and store data securely, collect fees, and automate repetitive tasks in one platform.Raklet offers a forever-free plan for one site admin. Raklet's premium plans start at $49/month, with a 14-day free trial available. Visit our pricing page for more details.