If you want to streamline your contact management, you've come to the right place. Read our article to see how good contact management software can help you, and check out our top 10 recommendations for 2023.
What is Contact Management Software?
A contact management software is software through which you can complete all of your contact management needs. You can use these to create a comprehensive CRM and to track your customers, donors, other businesses you work with, etc. These can include features such as:
A comprehensive CRM database that can replace manual data input into sheets
Email & SMS marketing tools that can be automated
Payment & revenue tracking
Individual & trackable contact profiles
Engagement tools like discussion boards, events, custom forms, etc.
Exportable real-time data analysis options
…and more!
We at Raklet have compiled a list of the 10 best contact management software options of 2023 to kickstart your research process. Check out our list of recommendations below:
10 Best Contact Management Software of 2023:
→ Google Contacts: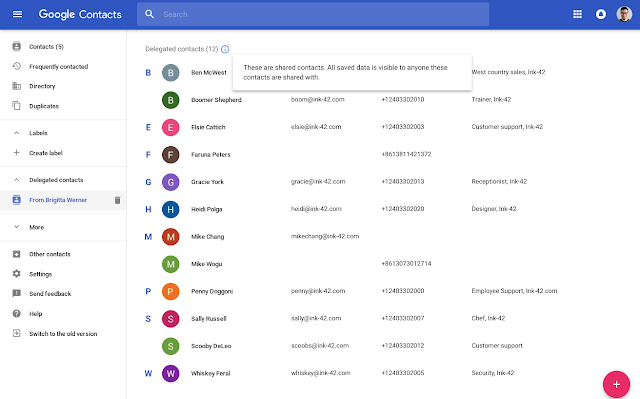 Google Contacts is a basic contacts tool that you can use via your Gmail account.
Features: Contact organization & CRM, contacts grouping, personal mailing lists, data import & export.
Pros: Very simplistic, integrations with a high number of apps, automatic mobile sync.
Pricing: Google Contacts is completely free to use with your personal Gmail account. If you use Google Workspace as a business, the pricing for that service in completion starts from $6/user/month for the Business Starter package.
→ SpinOffice: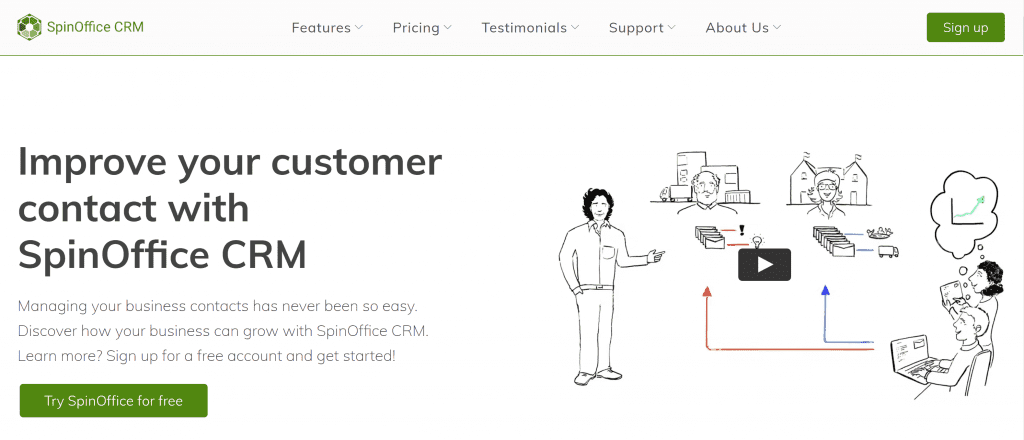 SpinOffice CRM provides a customer information database tool to help your management needs. It's mostly preferred by small to growing businesses.
Features: CRM & contacts management, email marketing, calendar & tasks organization tools, project management, mobile app.
Pros: Easy-to-use Kanban board for planning, vast customization options, useful integrations.
Pricing: SpinOffice offers a free version with its basic tools and only up to 50 items in terms of data storage. Their paid plans are the Pro plan ($32/user/month), and their Enterprise plan ($85/user/month), both of which are billed annually.
→ Capsule: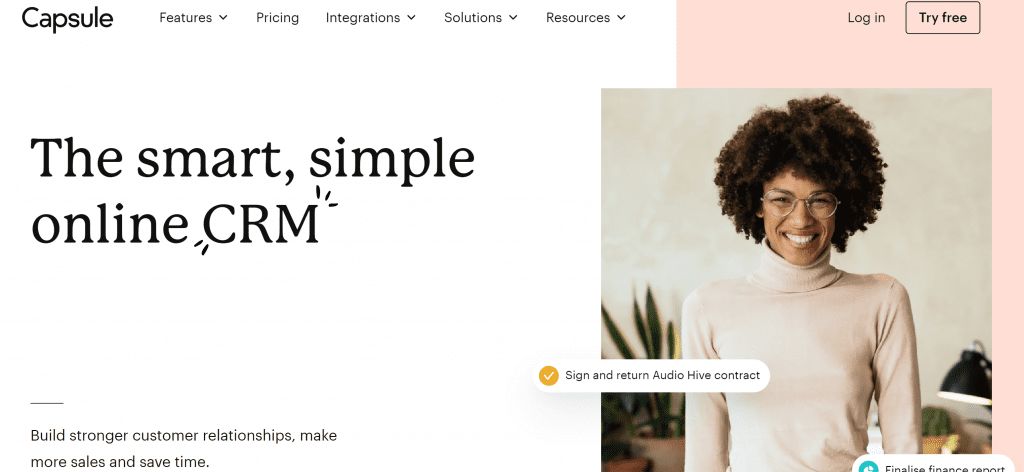 Capsule by Zestia is a simplistic online tool to manage your contacts, customers, and all related processes. It's best suited for small teams and businesses.
Features: Detailed CRM, calendar & task management, project management tools, real-time sales analytics, contacts import from sheets, and more.
Pros: Simplicity, mobile access, helpful integrations (like Zapier, Mailchimp, FreshBooks, etc.), responsive support staff.
Pricing: Capsule CRM offers a free plan for 250 contacts, alongside its most basic features so you can try out their software. Besides that, they offer three paid plans: Professional, Teams, and Enterprise. These range from $18 to $42/month, depending on the number of users, storage capacity, and a few vital features. There is also a 30-day free trial available for all of their paid plans.
→ Nutshell: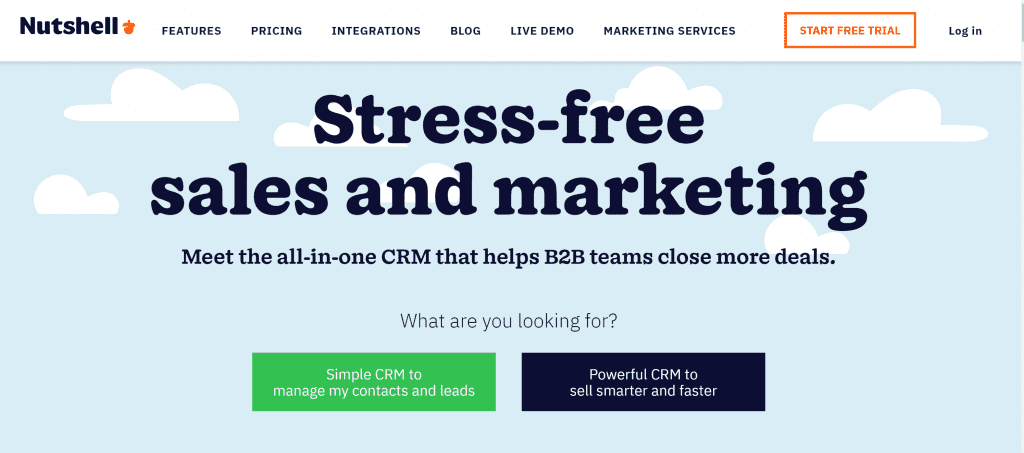 Nutshell is a simple CRM and sales marketing software for businesses. It's best for B2B (business-to-business) organizations that need a single tool for both sales and marketing.
Features: Contacts & CRM, email sequencing, sales automation & pipeline management, collaboration tools, customizable data reports.
Pros: Easy-to-use UI, filtering tool in your CRM, automation & goal-setting workflow, on-the-go mobile app.
Pricing: Nutshell doesn't have a free version available. Instead, they have two paid plans: The Starter plan with $19/month per user, and the Pro plan with $35/month per user. Their prices for Sales and Marketing options can vary. They also have free trials (duration not specified) available.
→ Zoho CRM: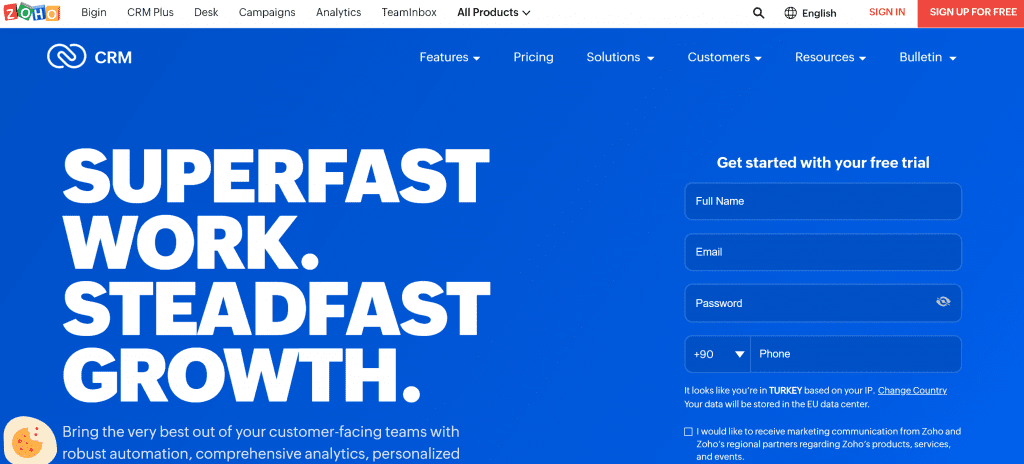 Zoho CRM by Zoho is an extensive contacts management tool to grow customer relationships.
Features: CRM, sales automation, workflow process management, detailed analytics reports, finance tools, document library with updatable permissions, customization.
Pros: Simplicity & ease of use, mobile app, intuitive interface, customer relations optimization tools.
Pricing: There is a basic free plan of Zoho CRM available for up to 3 users. Other than that, their paid plans start at $20 per user per month, and go all the way up to $65.
→ Vtiger: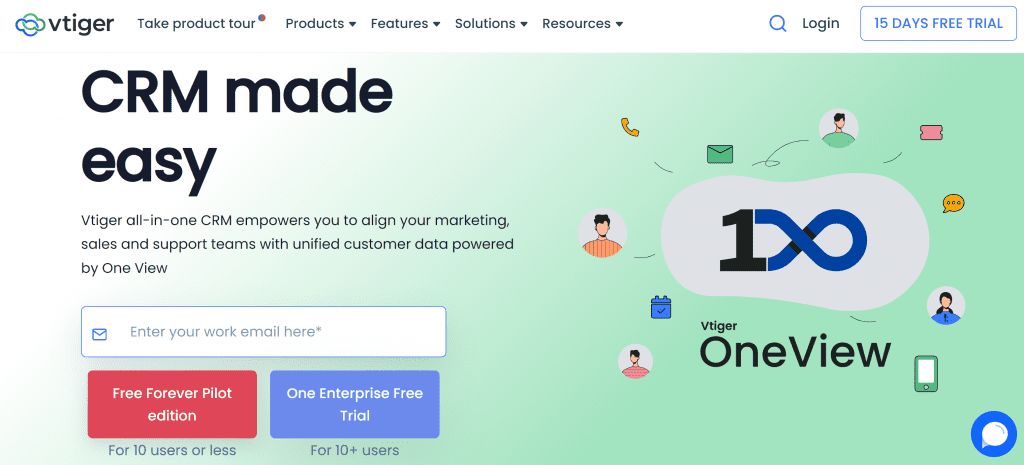 Vtiger is a customizable CRM tool focused on sales & marketing.
Features: Easy-to-use CRM, appointment scheduling tool, email management, automation, sales analytics.
Pros: Customizability, 500+ app integrations, ease of use, responsive customer support.
Pricing: There is a free version available for a maximum of 10 users and 3 GB storage. Their One Professional plan is $30/month per user, while the One Enterprise plan is $42/month per user. Both of these plans offer free trials, but their duration hasn't been specified on the Vtiger website.
→ Pipedrive: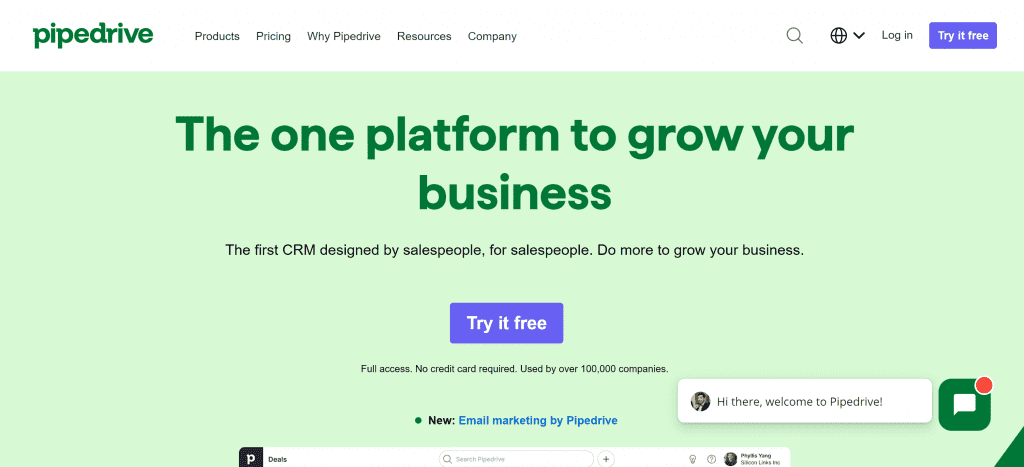 Pipedrive is a sales software with all-in-one management tools. It's the SourceForge Fall 2021 leader in its respective category.
Features: Lead management, email marketer & tracker tool, data reporting, mobile app, etc.
Pros: Customizable & simplistic interface, 200+ integrations with different apps, detailed reporting function.
Pricing: Pipedrive offers 4 different paid plans with varying features, and all 4 have 14-day free trials available. There is no free plan specified on their website. Their lowest plan comes down to $12.50/month per user when billed annually, and carries very little of their integral features. For example, there's no group emailing, contacts timeline, meeting scheduling, etc. Whereas their other plans with more features are $24.9/month/user, $49.9/month/user, and $99/month/user, respectively.
→ Wild Apricot: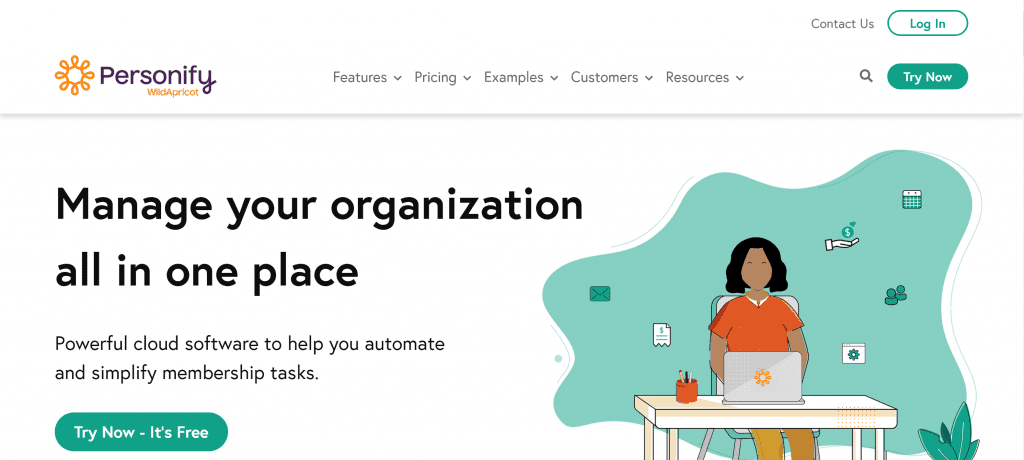 Wild Apricot is a cloud-based membership management software with a built-in CRM to suit your needs.
Features: Member database, website builder tool, payments & invoicing, event management, emails, online store management.
Pros: Powerful integrations & widgets, ease of use, helpful customer service, automated updates & customizability.
Pricing: There is a free version of WildApricot for up to 50 contacts. The lowest-paid plan starts at $48/month for up to 100 contacts, and goes up to $720/month for up to 50,000. In addition, all of the 7 paid plans offer a free trial.
→ NetHunt CRM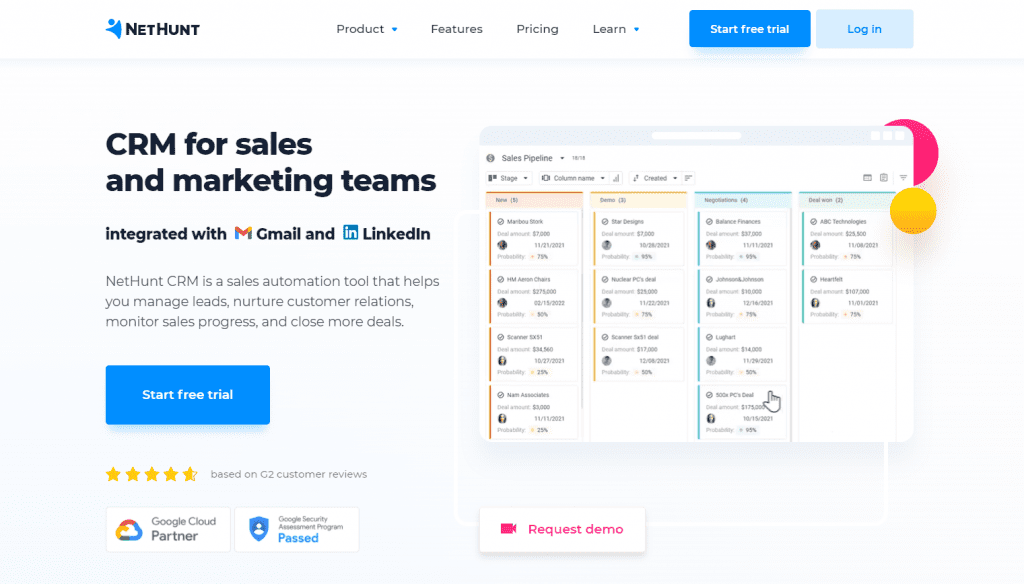 NetHunt CRM for sales and marketing teams integrated with Gmail and LinkedIn. It helps manage leads, nurture customer relations, monitor sales progress, and close more deals.

Features: Full-featured CRM, sales automation, pipeline management, email campaigns and automation, team collaboration, tasks, sales and team activity reports.

Pros: Native-like integration with Gmail and LinkedIn, customization of the system, dedicated customer success manager, mobile app.

Pricing: NetHunt CRM offers three different pricing plans, all of them come with a 14-days free trial. Basic plan starts at $24/month per user when billed annually, while Business and Advanced plans cost $48 and $96 per user per month when billed annually, respectively. NetHunt also has a Startup Plan with special terms for early-stage startups.
→ Raklet:

Raklet is an all-in-one membership management software that can fulfill all your management needs from one place. It's suitable for all kinds of organizations including non-profits, associations, HOAs, clubs, chambers of commerce, and more.
Features: Membership management & CRM, custom membership forms, event & fundraising management, payment & fee collection, digital membership cards, email & SMS, and many more. Check out our extensive list of features to see all in detail.
Pros: Customization and personalization, customer-friendly UI, ease of use, 200+ integrations, effortless management tools, branded mobile app.
Pricing: We at Raklet offer a forever-free plan for up to 50 members. Our paid plans start at $49/month, with an additional 50% discount offered for non-profits. Review our transparent pricing page and get in touch with us for more information.
---
Read some of our other blog articles: