If you are looking for alternatives to Facebook groups, you are at the right place. Managing your community with an engagement platform is much easier now. There are many options out there, but which one suits you the best? Let's find out.
Facebook is the world's largest social media platform with more than 2 billion active users and millions of groups. Communities also use it to keep contact with their members.
Facebook groups may seem convenient for some communities as an engagement space because they are completely free and most people already have an account on Facebook. So, without needing to create a new membership, they can easily join groups with their existing accounts.

However, because of its recent security issues and constantly changing algorithms, more and more people start to look for alternatives to Facebook. There are many platforms out there that can replace Facebook with their additional features.
Why do community-based organizations use Facebook groups?
Facebook has been in our lives for a long time, and many communities use Facebook groups as an engagement space.

Facebook groups seem convenient at first glance because of two reasons: Almost everyone has a Facebook account, which means that people don't have to create a new account to join a community group, and, Facebook groups are completely free.

However, if you are looking for a platform where you can manage your members, Facebook groups are probably not the best choice for you. As a group administrator, you have very limited control over your members because your group belongs to Facebook, not to you. Also, Facebook groups come with certain rules and limitations. For example, you can't check who sees your posts or send bulk emails and SMS to your members. Or, collecting payments through Facebook groups may be challenging for you in certain ways.

There are many community engagement platforms out there as an engagement space for communities and organizations, with better features. If you are still wondering why you should switch to better alternatives to Facebook groups, let's explore together.

Why should you look for alternatives to Facebook groups?
1- Facebook is distracting
Facebook is a social media platform for individuals who want to engage with their family, friends, and people with similar interests. Therefore, a Facebook member's feed gets filled with the accounts they follow, targeted ads, and suggested profiles. If you want to use a Facebook group as an engagement space for your community, other accounts and posts can distract your members and prevent them from seeing important announcements from your group.
2 – There are some privacy concerns over Facebook
Facebook doesn't have a great reputation when it comes to data privacy. The recent scandal of Cambridge Analytica and many other similar incidents continue to raise concerns over privacy issues within Facebook and cause more and more people to look for alternatives.

3- You have limited control over your members
As an administrator of a Facebook group, you get to have limited control over your members. For instance, Facebook does not allow you to send mass emails or SMS to your members. Instead, you can post a message on your group for your members to come and view. But the downside is that your members can see these posts only if they log into their Facebook accounts. Also, if you have more than 250 members, you don't get to see which members viewed your posts.

4- Facebook groups lack some useful features
Facebook groups have limited features that help you engage with your members. For example, they do not come with a built-in event management feature. Instead, you have to create an Eventbrite account and connect it to Facebook, which comes with additional costs. Therefore, a platform that comes with a built-in event management feature can save you a lot of time and money.
Also, Facebook groups are not customizable according to your needs and preferences, so you can't change the look and feel of your page.
5- You can't directly collect membership fees
Are you running an organization that collects membership fees or any other sort of recurring payments? If so, using Facebook groups can be challenging for you because they don't come with a built-in payment management feature.

If you want to collect payments from the members of your Facebook group, you have to comply with many of Facebook's policies like Partner Monetization Policies, Community Standards, and Community Payment Terms. Keeping up with all these restrictions and requests can be time-consuming and discouraging for you. Running all the administrative tasks and payments in one place is always easier, which is why you need an all-in-one platform!
Alternatives to Facebook Groups
Community management platforms help you build a safe and engaging space for your members. They offer various features to provide you with the best experience and serve as great alternatives to Facebook groups. Let's check them out together!
Alternative #1: Tribe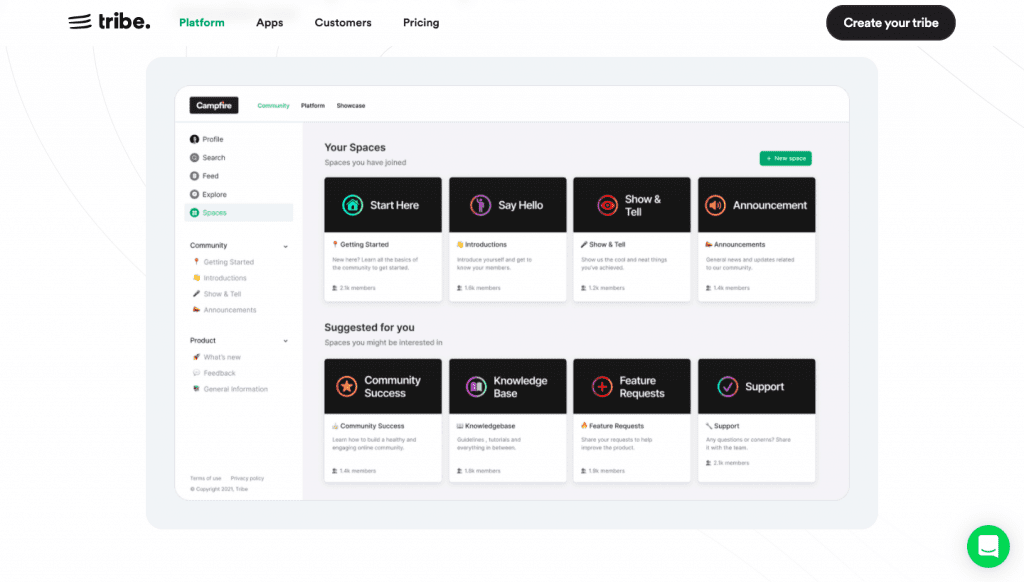 Tribe is a white label community engagement platform that you can use as an alternative social media to Facebook. It provides organizations with a customizable platform where they can engage with their members effortlessly. They also offer features like discussion boards, polls, Q&As, and detailed reports on membership engagement.
Pros:
Fully customizable
User-friendly
Forever free plan available
Cons:
No mobile application
No event management
Additional prices for third party integrations
Alternative #2: Glue Up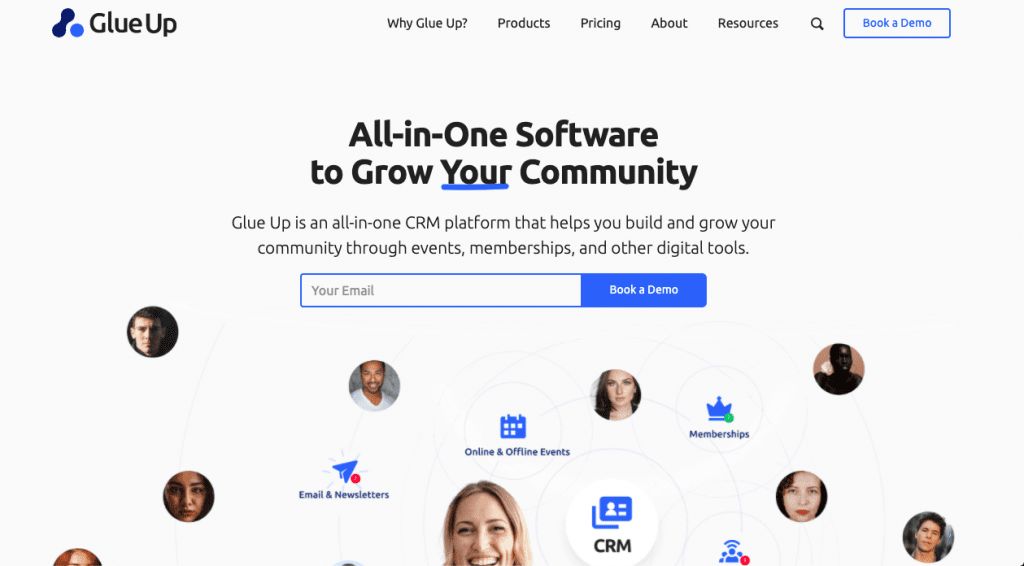 Glue Up is an all-in-one online community software. With its membership management feature, you can easily engage with your community. It also comes with many features like CRM, event management, payment collection, and 3rd party integrations.
Pros:
Email marketing
Event management
Payment collection
Cons:
Limited customization
No free plan
Limited support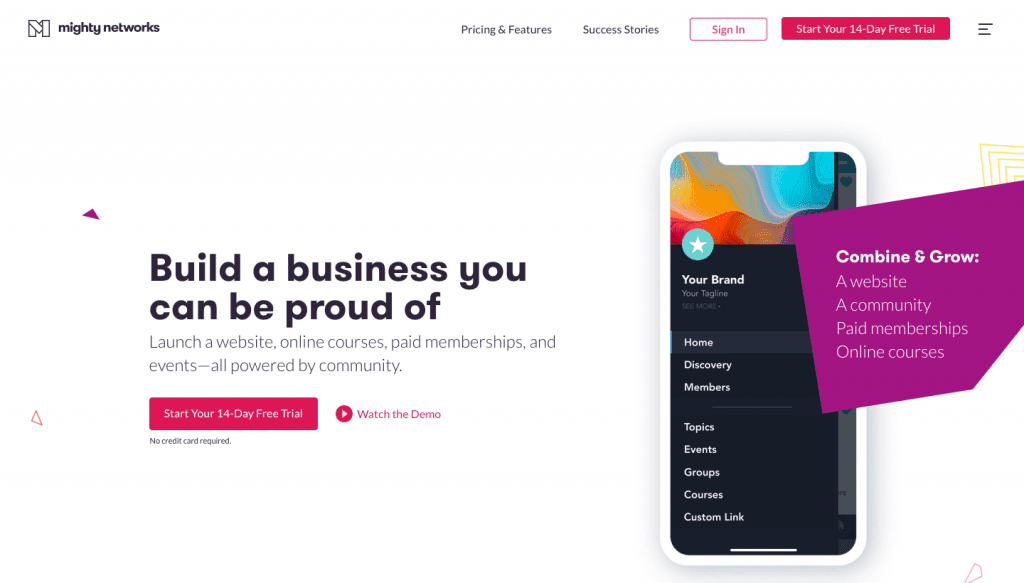 Mighty Networks is another platform that helps you bring your community together. You can easily manage your members, post engaging content, and run discussion forums. They also help you grow your community with their ambassador feature.
Pros:
Branded mobile application
Event and content management
Social media integration
Cons:
No free plan
No built-in email or SMS service
Limited customization
The Best Alternative to Facebook Groups: Raklet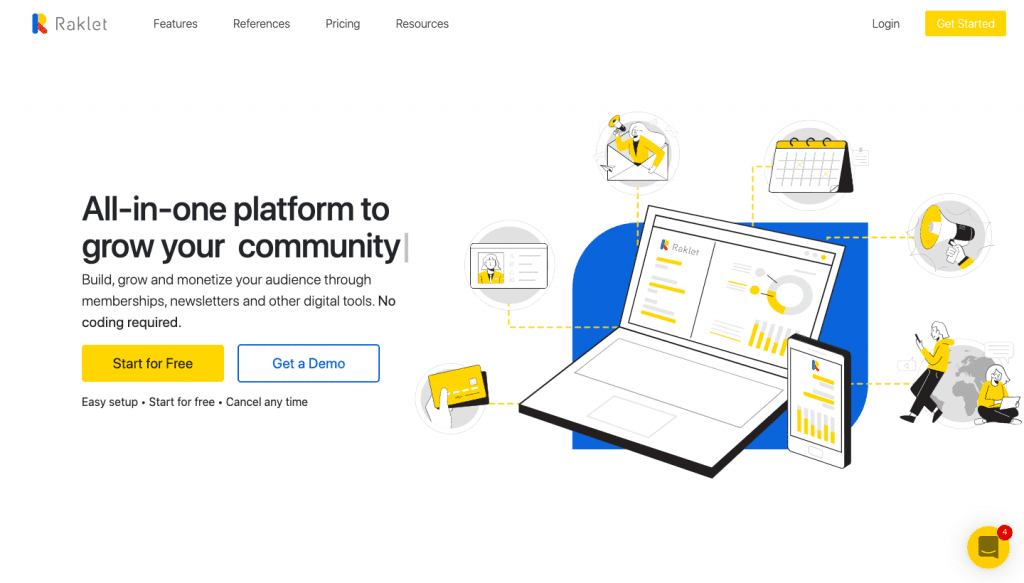 Raklet is a cloud-based all-in-one community engagement platform that offers a broad selection of features and a user-friendly design. With Raklet, you can create an exclusive website for your community, business, or organization.

Since Raklet is specifically created as a community engagement platform, nothing else will distract your members. We don't feature paid advertisements or suggest similar communities to your members. In addition, your members' feeds will only consist of your organization's posts and announcements.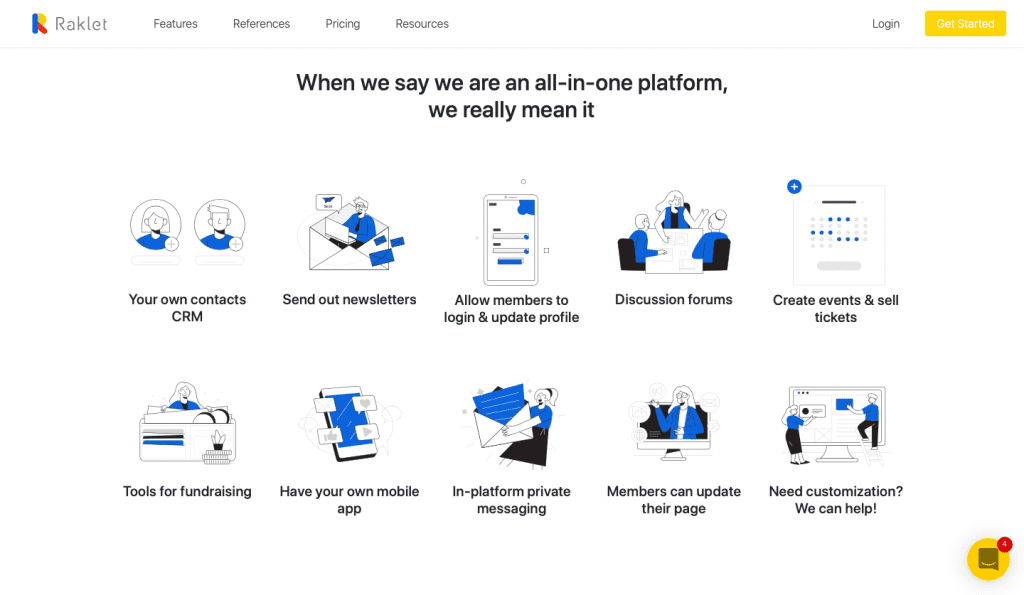 We truly are an all-in-one platform! With our built-in features, you get to have full control over your members. You can send bulk emails and SMS, post announcements, or create discussion boards.
Similarly, you can create and manage events, sell tickets and keep track of attendants, collect payments, run fundraising campaigns, or post job listings. You don't need to connect to other platforms for any of these features or pay additional fees!
However, if you still need to connect with other platforms, we ensure that as well. In addition to our built-in integrations with Google Analytics, Zoom, Double the Donation, and Square, we integrate with 3000+ apps through Zapier to provide you with the best experience.
We have an in-house engineering team that is always ready to help. Our team can even develop a branded mobile app for your organization. All you need to do is to tell us your preferences.

Raklet has a forever-free plan that allows you to add up to 50 members. For more information, check out our pricing page.

You can also check out our success stories for inspiration and to see how our customers benefited from Raklet.
Launch your membership platform now to have your inclusive and custom online social network, or schedule a demo with us for more detailed information!
If you'd like to learn more about community management, check out our articles below: