Amnesty International Malaysia chose Raklet to manage its members, membership subscriptions, events, and more. See how they make use of Raklet's extensive member community software to offer exclusive content to their members!
Who Is Amnesty International Malaysia, and What Do They Do?
Amnesty International is a non-governmental organization with millions of members across the world. They are a huge organization that has massive impacts on human rights. Amnesty International helps overcome vital problems in many countries. They have regional offices in Europe, Africa, Asia, and Latin America. Amnesty International Malaysia is one of the offices tied to this huge organization. They take action against violations of basic human rights and fight for freedom of expression. They are also working to stop torture and the death penalty.
This kind of crucial job requires being organized and in-sync with members. So, Amnesty International Malaysia chose Raklet to manage them, using a member community software. Let's explore how Raklet helped Amnesty International Malaysia together:
How Did Raklet Help Them?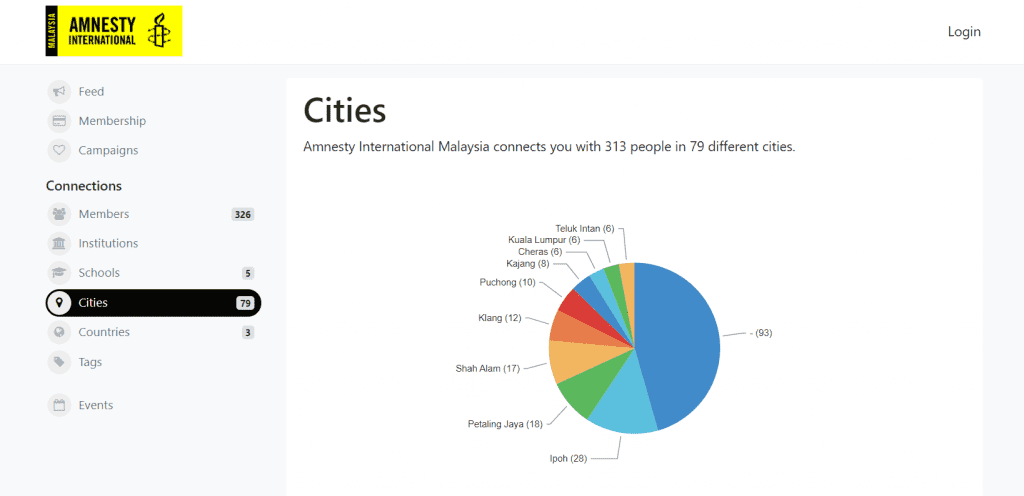 Amnesty International Malaysia currently has 326 members registered on their Raklet account. Raklet helps them keep the member data in a single platform and manage them easily. For example, they can easily access statistics like how many members they have in each city.
Knowing that they have registered members in 70 cities across Malaysia is crucial information for their events and volunteering work. Members can also click on the name of the city to see which other members are registered there. This is crucial to increase member engagement and accessibility for many organizations.
Exclusive Content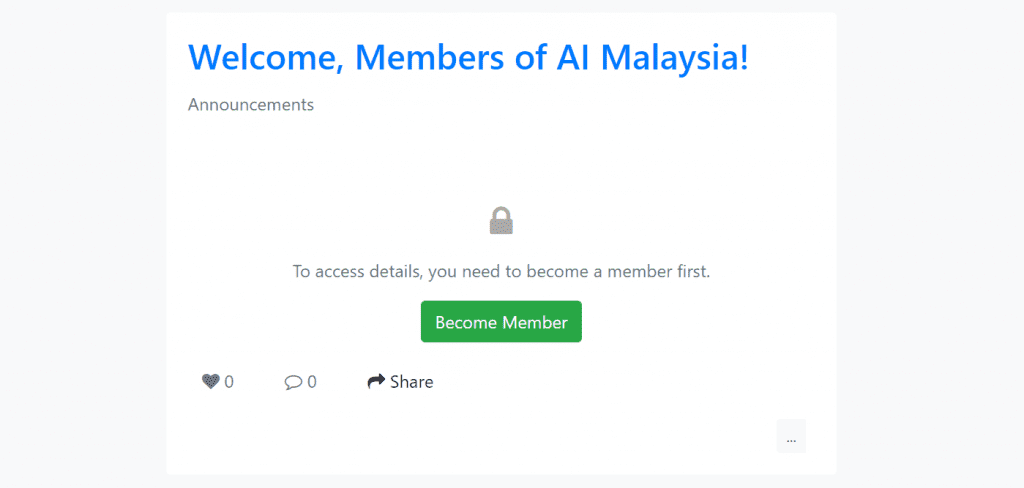 Raklet also allows Amnesty International Malaysia to determine the visibility of its content. They want this to be a closed group, so the public can't see much when they go on the website. Announcements, events, discussion boards, and member data are exclusive to those who are registered members.
The feature to offer exclusive content to members also helps increase their memberships. While anyone can read their blog posts or public statements on their website, Raklet is a place for members only. Offering exclusive content makes the members feel truly like a part of a whole. It also encourages them to sign up for a membership.
Membership Application Forms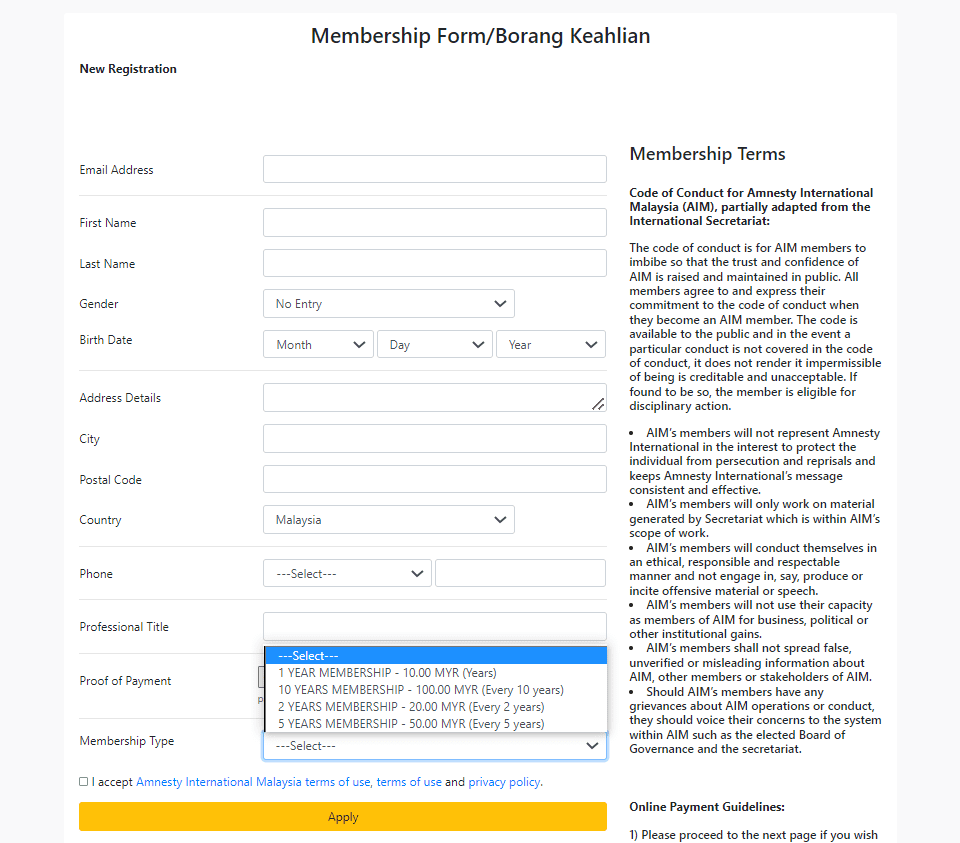 By clicking on the "Become a Member" button or simply through the Membership tab on the navigation bar, anyone can access the application form. If someone is not already a member, it is easy to find your way into this page. You can fill out the information in only a few minutes. Amnesty International Malaysia offers four types of membership plans, all created on Raklet. They have year-based membership plans with different pricing for each of them. Once someone fills in the application form, managers can find the information on the admin panel. They can then keep track of both existing members and incoming applications.
Amnesty International Malaysia has also added custom fields to their application form according to their needs. They allow people to choose which membership plan they want to apply for, and collect payments directly through Raklet. Once someone becomes a member, they have access to the exclusive content and events.
Customizable Member Platform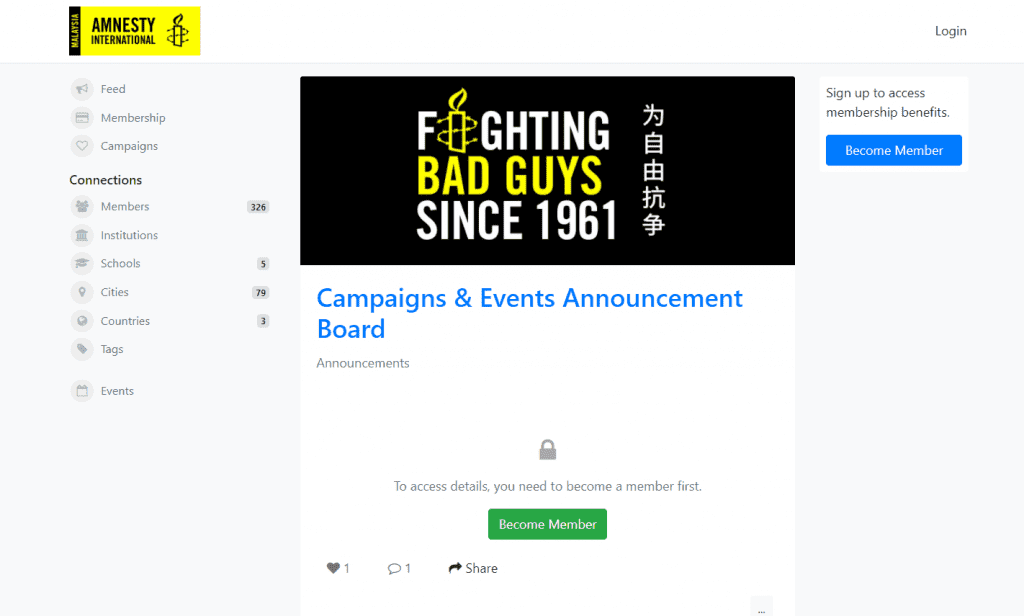 Using Raklet's membership management software, Amnesty International Malaysia created its own customizable, branded platform. They added their logo at the top of the page. They then customized the colors of the navigation panel to fit it. Their site can be reached by anyone through raklet.com/amnestymy, although you need to be a registered member to access some content.
Not anyone can see general announcements or instructions on how their members can proceed upon signing up. You need to fill in their specialized application form and become a member. They also decided to make member information private. So, if you want to see how members' names, you need to be a registered member. We can say that Raklet allows Amnesty International Malaysia to create their own private community very easily.
Announcement Board
Amnesty International Malaysia decided to keep its announcement page locked as well. However, it is a great way to communicate with their members. They can share updates and the latest news about their organization. Especially at the time of Covid, it has become crucial to keep in touch with members. It was hard to let them know about crucial information or potential cancellations of events.
An announcement board is a perfect way to build strong connections and a true feeling of community. Members can like and comment on these announcements as well, enabling them to have direct contact with the managers. This is very close to having one-on-one communication with Amnesty International Malaysia managers and members. That is crucial, especially for the volunteering work and attendance at events.
Event Management
Amnesty International Malaysia organizes events and meetings to engage its members as well. The event visibility can be determined by the admins. So, they can use it to organize both exclusive events and public ones. They can add a description and an image to the event page. Limiting the number of tickets that will be sold is also possible. After creating an event, they can add as many ticket types as they want, from free to paid.
When people go on the event page, they can see the address on Google Maps. They can add it to their calendar, and see how many people are participating. It is also possible to organize and sell tickets for online events. Purchasing tickets right through the platform is a big relief. It makes things easier for both the managers and the members.
Raklet: The Best Member Community Management Platform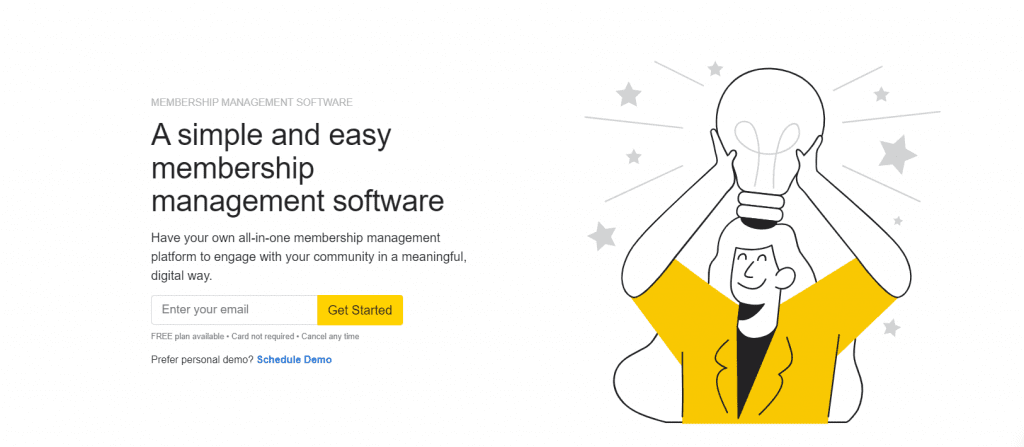 Amnesty International Malaysia is only one of the examples of how Raklet helps organizations change the world. If you are managing an organization and offering exclusive content based on memberships, Raklet is the right platform for you. We offer diverse features like creating membership plans and a completely customizable application form. You can offer exclusive content to your registered members, which will encourage people to sign up for a membership plan. It is possible to send mass emails and text messages to your members. In addition, you can also post news on your announcement board.
If you have any questions about what else you can do with Raklet, you can book a personal call with us. To explore our vast features, create your free account now and see how easy it is to manage your members with Raklet!
We have a variety of articles on membership management, you can check them out here: