Are you looking to plan an event that will leave a lasting impression on your attendees? Look no further for event planning advice and plan your next event easily!
Whether it's a corporate meeting, social gathering, or fundraiser, planning an event requires careful attention to detail and a well-executed plan. We've seen it all when it comes to organizing successful events, and we're here to share our wealth of knowledge with you. While every event is unique, we've got you covered with the best practices that will point you in the right direction. In this article, we'll discuss the key elements of event planning, including virtual events, and how you can utilize Raklet's software to streamline the event management process. So get ready to plan with confidence, because we've got everything you need to know.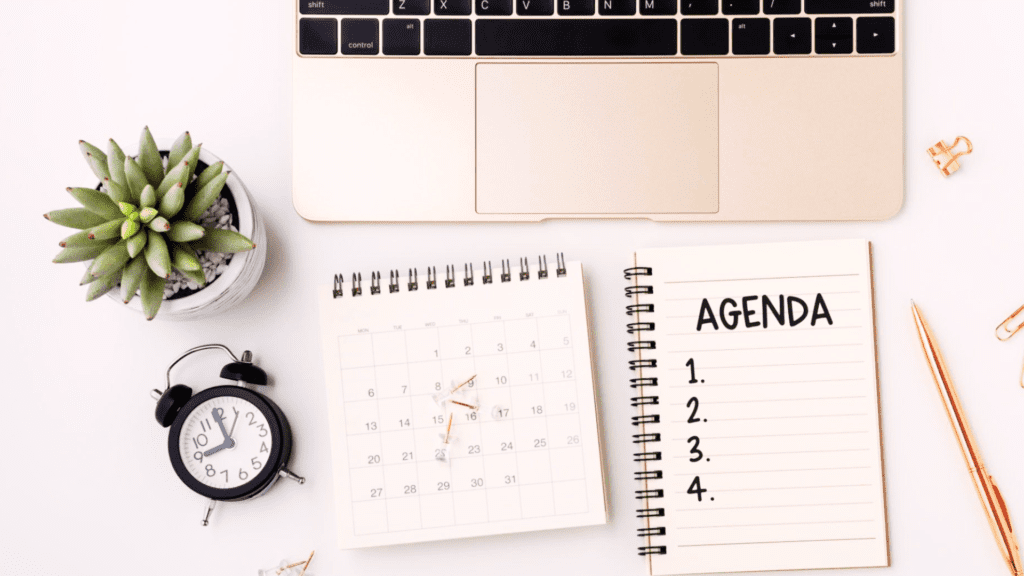 What Is an Event Plan?
An event plan is a detailed document that describes the whole event, including goals, objectives, budget, and timeframe. The plan also includes logistics information for the event, such as venue selection, catering, entertainment, and marketing activities. An event plan acts as a guide for event planners to ensure that all components of the event are well-coordinated and executed.
​​​​​​What is Event Planning?
Event planning and management is the art of coordinating and managing all aspects of an event, from the initial idea to the final outcome. Effective event management involves a collaborative and well-coordinated team effort that includes planning, organizing, and executing activities to achieve a specific objective. Whether it is a party, conference, convention, wedding, ceremony, festival, or any other type of event, proper event planning and management is critical to its success. To learn how to plan an event, one must carefully consider all aspects, such as budget, venue, guest list, vendors, marketing, and logistics, and ensure that they are organized and executed efficiently.
What is Virtual Event Planning?
The creation and execution of a virtual event take place entirely online, allowing guests to engage remotely from anywhere in the globe. Virtual events have grown in popularity in recent years because they provide a simple and cost-effective option to reach a larger audience. Virtual event planning requires specialized skills and tools to ensure that the event is engaging and interactive for participants.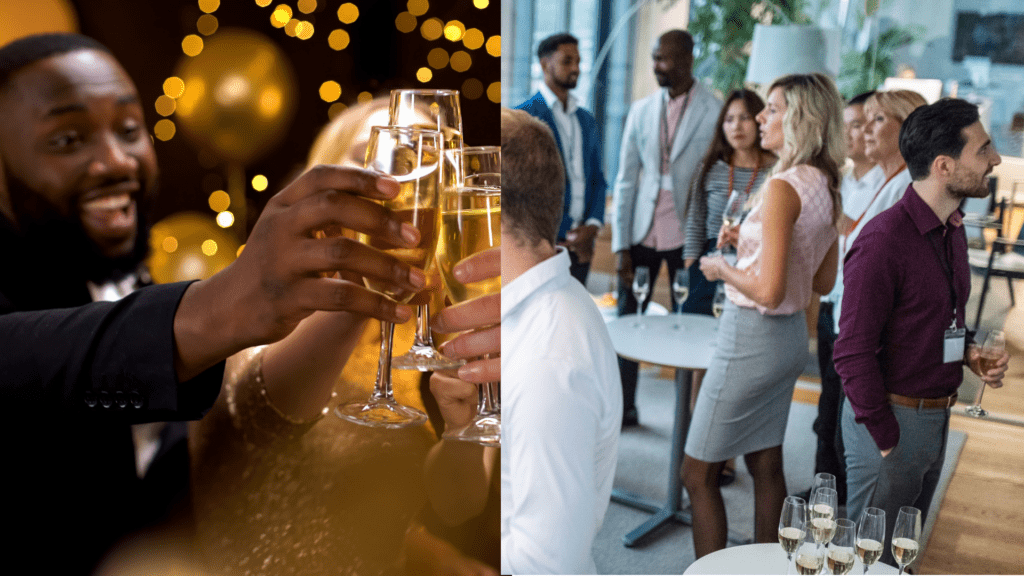 What Are the Key Elements of Event Planning?
Event Planning requires careful consideration of a variety of elements in order to ensure a successful event. Here are the key elements of event planning:
1. Define the event goals and objectives:
The event goals and objectives must be defined as the first step in the event planning process. It entails establishing the event's purpose and what the event planners hope to achieve. This enables them to design an event that is suited to their target audience's demands and achieves their desired goals.
Event objectives might range from increasing brand recognition to generating leads or raising funds for a charity. Event goals should be specific, quantifiable, attainable, timely, and relevant (SMART). For example, an event goal could be to boost sales, whereas a SMART objective for the event could be to produce $50,000 in sales within six months following the event.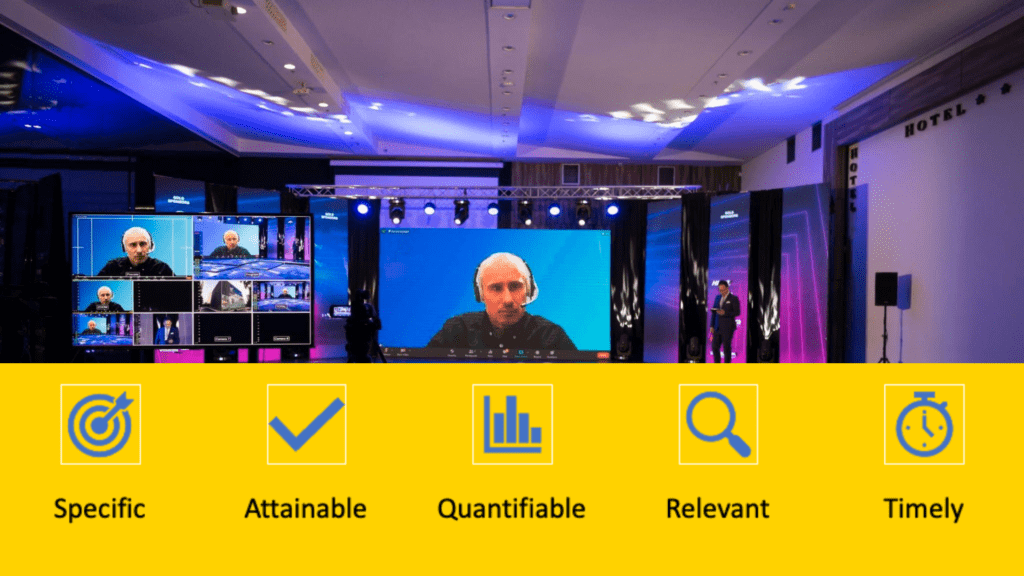 2. Determine your event budget:
Event planning is a concerted team effort that requires meticulous attention to all the details involved. After defining the goals and objectives of a corporate event, the event chair and key participants must determine the available budget and allocate it appropriately. A well-planned budget enables informed decision-making about the type of event and services that can be provided. It also ensures that the event remains within financial constraints, preventing any unforeseen costs from derailing it. Careful consideration of all the event details, such as venue, catering, transportation, marketing, and logistics, is essential to ensuring a successful outcome. Effective event planning management requires close collaboration among all team members to create a cohesive and successful event.
Venue rental prices, catering expenditures, transportation, marketing and promotional charges, and event production costs such as audiovisual equipment and staging may all be budget issues. By establishing a budget in advance, event planners can make informed decisions and distribute resources effectively, resulting in a successful event that meets its goals and objectives while staying under budget.
3. Identify your target audience:
Event planners must have a good grasp of the audience they are attempting to reach in order to produce an event that will resonate with them. Planners can determine what type of event would be most appealing by identifying the target audience and designing the event accordingly. To design the event experience, they must examine elements such as age range, interests, and demography. It is useful to plan events and offer them to the members of your organization.
For example, if the target audience comprises families with small children, an event planner may wish to include interactive activities that are enjoyable for both children and adults. If the target audience is made up of professionals in a given area, the event planner may prioritize networking opportunities or instructional sessions.
Event planners can guarantee that attendees have a pleasant experience by designing an event that fulfills the requirements and interests of the target audience, which can lead to repeat attendance and favorable word-of-mouth referrals. Furthermore, by appealing to the target demographic, event planners can boost the likelihood of meeting their event objectives, such as increasing attendance or revenue generation.
4. Choose a date and venue:
Once the target audience has been selected, event planners must select a day and location that is convenient for the guests.
Before deciding on a date, keep the following in mind:
Give plenty of time to plan the event, preferably 3-5 months or more.
Consider statutory and religious holidays.
Avoid scheduling during school holidays such as winter, spring, and summer vacations.
Before establishing the date, confirm the availability of important participants such as speakers, presenters, and VIP guests.
They must also consider the location, size, and amenities of the venue. Selecting volunteers for your event is just as important. Below are some examples of volunteer positions that may be required for an event:
Set-up and Take-Down Personnel:
Is in charge of preparing the event venue, setting up equipment, and dismantling the event after it has concluded.
Ushers and Coat Check Attendants:
Welcome guests, direct them to their seats and assist with coat check.
Parking Attendants:
Are in charge of controlling traffic and parking visitors' automobiles in an orderly fashion.
Refreshment Servers:
Are in charge of preparing and serving food and drinks to event participants.
Workers at the Registration Desk:
Are in charge of checking guests in, issuing name badges, and distributing event materials.
It's important to have clear communication and leadership when managing volunteers. Typically, a volunteer coordinator will oversee the volunteer team and ensure that each role is adequately filled and that volunteers understand their responsibilities.
Understand who will be responsible for leading the volunteers, and ensure you know the types of roles needed.
5. Develop an event theme or concept:
Creating an event theme or concept is an important part of event planning. It entails coming up with a distinctive and memorable idea that will interest the target audience while also aligning with the event's aims and objectives. The theme should be visually appealing and embrace current trends and technologies, but it should also be real and relevant to the objective of the event. A tech conference, for example, can have a future theme that integrates holographic displays and virtual reality, whereas a charity event might have a theme that emphasizes the organization's goal and ideals.
6. Speakers & Special Guests:
Another important aspect of event preparation is the selection of speakers and special visitors. Event planners must discover possible attendees who can add value to the event while also engaging the audience. Speakers may be subject matter experts, while special guests may be celebrities or industry influencers who can draw attention to the event. It is critical for event planners to work with speakers and special guests to ensure they have the resources and information they need to present and that their content is relevant to the event theme and objectives.
7. Partnerships and Sponsorships:
It is critical for event planners to identify partnerships and sponsorships in order to support the event and improve its awareness. Partnerships and sponsorships can give cash assistance as well as in-kind donations such as catering, venue rental, or promotional materials. Event planners must discover possible partners and sponsors who are compatible with the event's concept and objectives and approach them with a proposal. After establishing partnerships and sponsorships, event planners must work with their partners and sponsors to ensure they are delivering the essential resources and information to support the event. Good partnerships and sponsorships can contribute to the success of an event while increasing exposure and money.
8. Create an event timeline and schedule:
Creating an event timeline and schedule is an important part of event planning. It entails describing all of the tasks that must be accomplished as well as setting deadlines to guarantee that everything works properly. Setting up the location, planning the program, and coordinating logistics such as transportation, parking, and security should all be included. An event planner must ensure that all tasks are completed and that nothing falls through the cracks.
9. Develop a marketing and promotion plan:
Creating a marketing and promotion strategy is also necessary to ensure the success of an event. To advertise the event to the target demographic, event planners must consider several marketing methods such as email campaigns, social media campaigns, and media relations. This includes determining the best channels and developing intriguing content that will capture the audience's attention and build interest.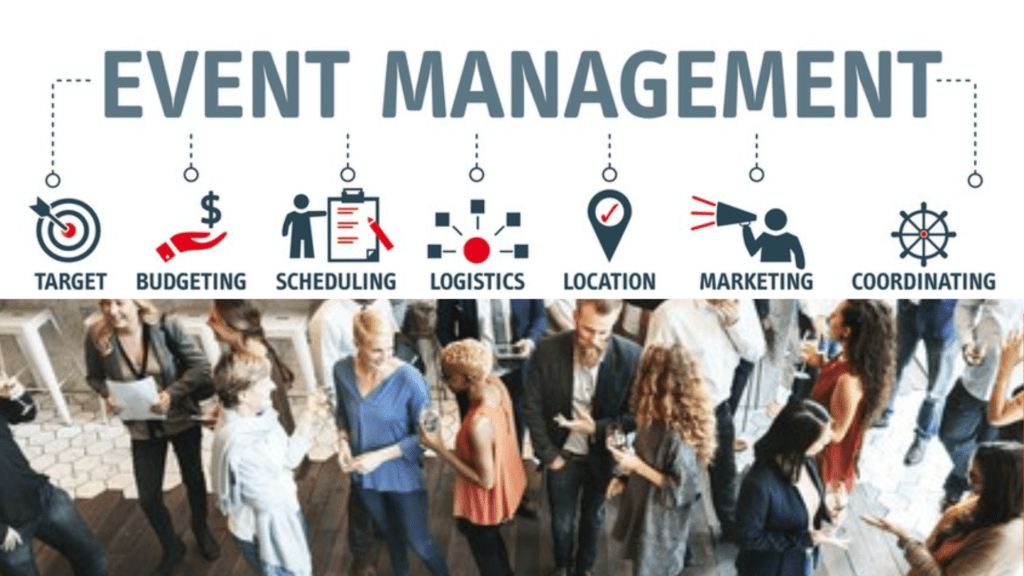 10. Coordinate logistics and operations:
An event planner must coordinate the logistics and operations of the event in addition to planning and promoting it. This includes activities like setting up equipment, scheduling cuisine, and supervising event employees. To avoid any disruptions to the event, it is critical that everything works well and that any faults are swiftly rectified. The planner must also collaborate closely with suppliers and service providers to ensure that their services are delivered in accordance with the agreed-upon terms and conditions.
11. Manage event staff and volunteers:
Event planners must properly manage event employees and volunteers to achieve a successful event. They must designate roles and obligations to each individual and train them on their responsibilities. It is also critical to ensure that everyone is on the same page. Event organizers must also ensure that staff and volunteers have the materials and knowledge they need to do their tasks effectively. Handling event employees and volunteers is critical to ensuring that everything works well and that guests have a great time.
12. Plan the event program and activities:
It is critical to plan the event program and activities in order to keep guests involved and interested in the event. Event planners must design a well-paced event schedule that includes a variety of events such as keynote speeches, panel discussions, and interactive workshops. Organizing entertainment, such as live music or entertainers, can also contribute to the event's success. Creating activities such as games or tournaments can also engage participants and foster a sense of community.
13. Ensure adequate event security and safety:
Event organizers must ensure that all participants are safe at all times. This includes working with law enforcement to assess the appropriate level of protection and providing suitable security personnel. Event planners must also ensure that proper safety measures, such as fire exits and medical facilities, are in place at the location. Managing event security and safety properly can make guests feel safe and secure, which can improve their whole event experience.
14. Measure and evaluate event success:
Assessing and analyzing event success is critical for determining whether or not the event reached its aims and objectives. Event organizers must solicit feedback from participants in order to understand what succeeded and what needs to be improved. Assessing the event's impact on the organization can also aid in determining the event's success. Metrics and key performance indicators (KPIs) like attendance, revenue generated, and social media participation can be used to assess the event's impact. These metrics can be measured by Raklet's event portal with ease.
15. Follow up with attendees and stakeholders:
Following up with event participants and stakeholders after the event is a critical component of event planning. It expresses gratitude for their participation and input, which may be used to improve future events. Sending thank-you notes to participants can also leave a good impression.
About Event Management Softwares
Many organizers are taking advantage of event management software. The time that would have been spent on manual tasks is greatly reduced by this software's features, which include attendee management, email marketing, and meeting schedule. For potential speakers and attendees, it also provides the option to create personalized registration pages, streamlining the procedure for all parties. As a co-founder or employee or manager, we invite you to see how this software has transformed event planning, making it simpler for our team to manage sizable groups of attendees and maintain everyone's organization. All things considered, event management software is a vital tool for anyone looking to streamline the event planning process and produce a seamless experience for all parties concerned.
Raklet: The Best Event Management Platform!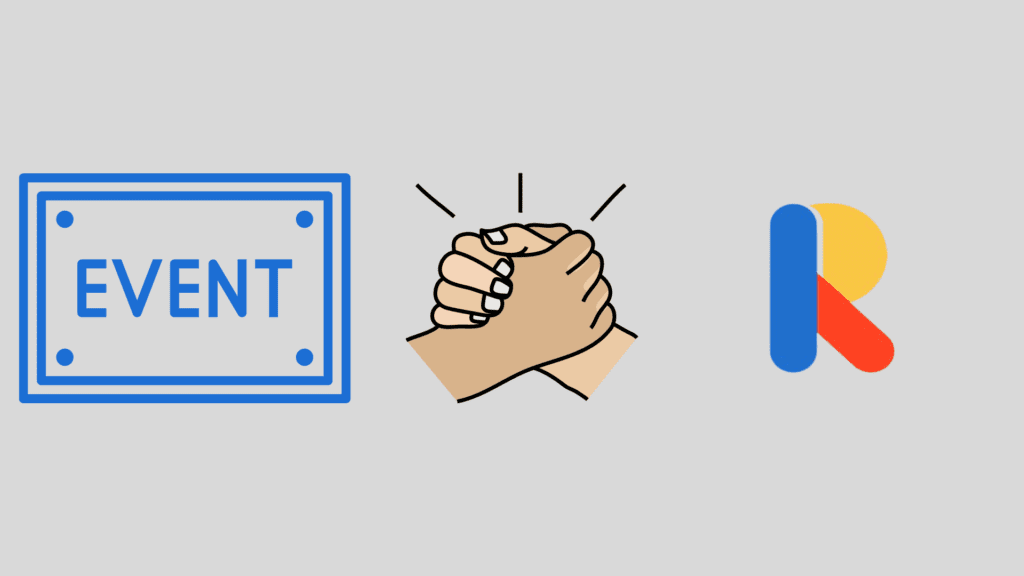 Raklet's event management software makes it simple for people to schedule events. It's an excellent tool for managing huge events, tracking time spent on each task, and tracking attendee engagement. It also aids in the management of vendors, volunteers, food, partners, and sponsors. Its features can also be used by co-founders to coordinate logistics, marketing collateral, and lodging costs.
You can create events that are either free or require a ticket to enter by leveraging our ticketing functionality. You can also limit the number of participants and provide different ticket options to those interested in attending.
Our organization offers a unique feature that sets us apart from the competition: digital membership cards. These cards are personalized with your organization's logo, member information, a unique membership ID, and a handy built-in QR code. This enables your members to breeze through event check-ins by simply scanning their card, making the process more streamlined and convenient.
With its many features like these, Raklet is with you to manage all your events! You may schedule your demo and get in touch with us if you'd like to test it out or have any questions for us.