With the increasing trend of organizations shifting their operations online, having membership management software has become critical. Whether you're running a recreational club, a nonprofit organization, or a professional association, managing memberships can be a formidable challenge without the right tools. Without membership management software, such an organization requires a lot of labor to run.
There are numerous steps to go: database management, reporting, analyzing, outreach, marketing, payment processing, and so on. Don't worry, you can automate all these steps with membership software! In this guide, you'll learn what membership management is, why it's important, what features to look for in membership management software, and what the best membership management software platforms are.
What is Online Membership Management?
Membership management is the process of managing a member database, including member profiles, communication records, and payment information, using an online platform. Keeping track of member information such as personal details, payment information, and communication records is essential to maintaining a smooth and organized membership experience. Membership management software is essential for organizations that take serious action in interacting with their online community members.
Implementing a membership management platform is crucial for organizations that rely on membership subscriptions, such as non-profits, associations, and other member-based organizations, as it helps streamline operations, improve member journeys, and membership agreements, and, ultimately, achieve organizational goals.
Why is Online Membership Management Important?
Any organization must have an efficient membership management platform to keep correct membership records, connect with members, and handle payments quickly. Management software helps save time and money. Additionally, member management software automates a central database of member data, enabling membership trend tracking, data-driven decisions, and all-in-one memberships. A top membership management software can promise many membership features such as website management, recurring billing systems, or website creation tools.
Why Should You Use Online Membership Management Software?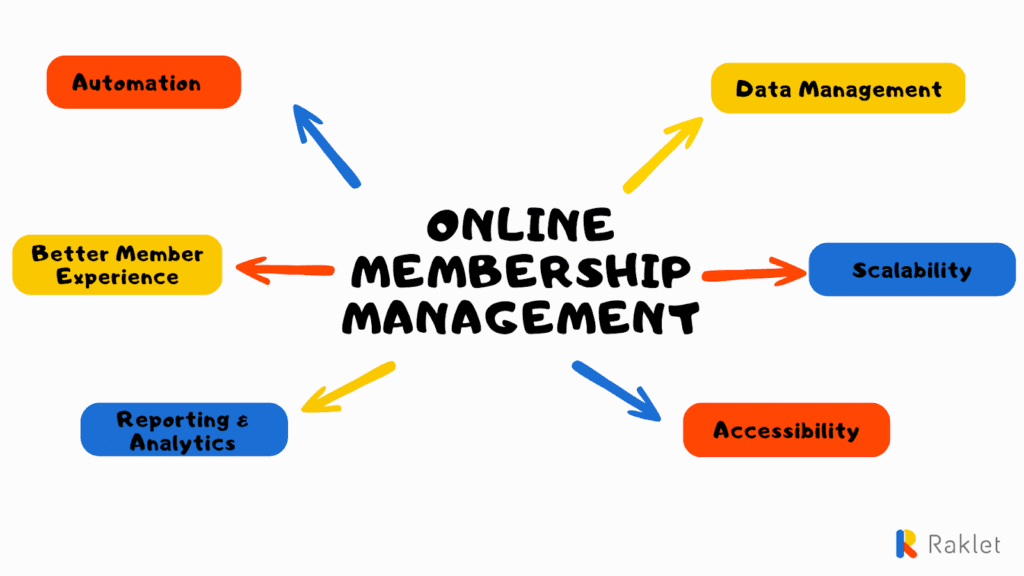 Using membership management software can save your organization resources, money, and time. The following are some of the main advantages of membership management:
Automation
Membership management software automates member engagements including contact with members, reminders for membership renewals, and financial reports. Most of them have a convenient payment processing portal. This way, organizations can collect membership payments with minimal effort.
Data Management
Centralized membership databases make it simple to maintain contact details of members, which may be utilized for email marketing campaigns and includes contact information, membership status, and payment records. In addition, management software and a recurring billing system integrated with the centralized membership databases can provide a comprehensive solution for membership-based organizations, enabling them to manage their memberships seamlessly and efficiently.
Better Member Experience
With the help of a member management system, nonprofit organizations can create custom business portal displaying member data, upcoming events, and valuable resources, providing members with a streamlined and personalized experience. By utilizing these custom business portal displaying features, nonprofit organizations can not only enhance member engagement but also optimize their internal processes, ultimately saving time and resources that can be allocated to other critical areas of their mission.
Reporting and Analytics
Membership management software, such as full virtual software or software used by fitness businesses, provides powerful reporting and analysis tools. With membership management software, event management, and donor management integrated into a single platform, organizations can gain valuable insights into member behavior and preferences, enabling them to make data-driven decisions and improve member engagement.
Scalability
Membership management software is easily scalable, allowing organizations to add new members, programs, and events without adding additional staff or resources. By this means, organizations can devote more time to important issues such as growing their membership base. Moreover, membership management systems frequently offer personalized business portals that empower members to conveniently access their accounts, update their information, register for events, and make recurring payments online. This streamlined and user-friendly experience can enhance member retention and satisfaction with its key features, consequently improving the organization's online visibility and search engine rankings.
Accessible Anywhere, Anytime
With the help of web-based membership management software, accessing essential information and executing tasks from any location and at any time has become effortless for both members and staff. Any device that has an internet connection can easily access this program and its key features.
Web-based membership management software enables convenient access to essential information and admin tasks from any device with internet, while fostering an online community through discussion forums, messaging, event calendar and event management. It can also integrate an online store, providing a comprehensive business software solution for community engagement thanks to its key features.
Overall, by implementing a leading membership management software, organizations can significantly enhance their membership management processes, improve the experience of their members, optimize communication channels, and advance their financial management. Utilizing such online membership management platform can play a pivotal role in attaining these goals.
What Kind of Online Membership Management System is Right for You?
Depending on the specific needs and objectives of your organization, you can choose new membership management software. Some important aspects to take into account while choosing such software include:
Budget: How much can your organization afford to spend on membership management software? Which features do your organization expect from such membership management software? While there are some free membership management software, some programs may also charge a fee. Depending on the features and the size of the organization, the amount of membership fees can change.
Features: What features does your organization need? Some common features include membership renewal reminders, recurring payments, an existing website, a custom business portal, and communication tools. In order to meet the unique needs of different organizations, it is substantial to have a customizable system that can fulfill specific requirements. For example, a sports club can benefit from a system that enables efficient, accurate attendance tracking and scheduling, whereas a professional association may require a system that seamlessly tracks continuing education credits.
Ease of Use: Is the system user-friendly or will your staff need extensive training? Ensure that the membership management software provides adequate support, including online tutorials, great customer service and documentation.
Scalability: Can the system grow with your organization, as your membership management software expands? The features you require will depend on how many members you have. A small group may only require basic functions such as registration and email communication, while a large organization may need a more complicated system with customizable forms, automated renewal reminders, and payment processing.
Integration with Other Systems: Consider how different membership management software integrates with your website, email marketing software, and other member-based organizations you use. If integration with other systems is important to you, you can choose a solution such as Raklet that can integrate with Slack, Trello, Google Suit and other platforms.
At the same time, Raklet, which is an all-in-one membership platform, has many features such as membership apps, flexible database, email marketing, and custom profiles. Building a membership app on a robust membership management platform like Raklet can be an effective way for organizations to engage members, provide them with easy access to their accounts and events, and grow their membership base through mobile channels.
Security: Security measures of the system are quite important because you need to protect members' data of your membership organization. For this reason, you should learn detailed information about the security policy of membership software which you chose.
While considering the above features, you can briefly answer the following questions to determine the most suitable platform for you:
How many members do you have?
How many events do you organize on an annual and monthly basis?
What services do you want to offer?
If you have a small number of staff members, there is probably more than one task per staff member. Membership management software developed for non-profit organizations has a user-friendly interface and time-saving automation and reporting features. Therefore, a practical and professional solution like Raklet may work for you!
What are the top 5 benefits of Online Membership System?
The best membership management software has many advantages. Practicality, being cloud-based, convenience for personnel, saving time, and automating manual processes are some of these pros. But here are five of the top benefits:
1. Automated Membership Management
Automation is essential for the best membership management software. It automates administrative tasks such as membership registration, dues collection, renewal reminders, email marketing, member directory, event management, and member communication, enabling member-based organizations to save time and enhance their productivity.
2. Increased Member Engagement:
Utilizing a membership software enables organizations to leverage user-friendly communication tools and engage with members more efficiently. Members can stay informed about upcoming events, reward programs and other features.
3. Streamlined Administration
Membership-based organizations can streamline their day-to-day operations and focus on growth by leveraging the best membership management software to automate administrative tasks like payment reminders, freeing up time for more critical activities.
4. Simplifies Payment Processing
Membership management software solutions typically feature a built-in payment-processing portal that simplifies the payment of membership fees for members. Therefore, organizations can collect membership fees and payments effortlessly without requiring integration with a separate payment-processing application.
5. Secure Data Management
Online membership systems come equipped with robust data security measures, including encryption, access controls, and regular data backups, providing comprehensive protection for sensitive member information and guarding against data breaches or loss.
If you are looking for a solution that includes all the benefits listed above, you can consider Raklet because it is an excellent membership management platform which has the following features that you can take advantage of:
Member management
Event Planning
Marketing
Fundraising
Integrated chat box
Integrations with other software programs
How Much Does Online Membership Management System Cost?
Are you looking for a membership software? The cost can vary based on the features you need, the size of your organization, and the provider you choose. Some systems offer a free plan with basic features, while others have monthly or yearly subscription plans ranging from a few dollars to several hundred dollars. Keep in mind that some providers may charge setup fees, transaction fees, or extra fees for add-on features like event calendar or online payment processing.
If you are looking for a software with both free and paid options, Raklet is for you! Depending on the needs of its business partners, Raklet has both free membership management software and paid ones.
We offer a free plan with basic features for up to 50 members, which can be a great option if you have a small organization or just getting started with membership management.
Our basic plan starts at $49 per month, which includes up to 1000 members, access to all core features, and 10GB of storage. The standard plan starts at $99 per month and includes up to 2,000 members, additional features such as digital membership cards, custom fields and integrations, group memberships and 20GB of storage.
For larger organizations with more than 10,000 members, Raklet offers a premium plan that can be tailored to specific needs and requirements. With an enterprise plan, you can have unlimited contacts. To learn more about enterprise plans, you can contact us.
Overall, Raklet's pricing is competitive with other membership management software providers in the market, and their flexible plans make it easy for organizations to find the right subscription management solution for their needs and budget. If you want to work with a leading membership management software, you can consider Raklet!
Features to Look for in Online Membership Software
When looking for online membership software, there are several key features to consider. Here are some of the most important ones to look for:
Optimize Your Member Database with Tiered Membership Plans: Empower your website with diverse membership plans and streamlined online payment processing for one-time or recurring fees.
Efficiently Manage Your Community with Personalized Membership Forms: By customizing application forms, organizations can streamline the member recruitment process and allocate resources more efficiently. These forms provide a user-friendly interface for potential members, which helps attract new members and promote growth.
Efficiently Manage Individual Member Profiles with a Free CRM Solution: Manage and update all your member data efficiently with feature-rich individual member profiles. An user-friendly CRM solution allows members to access their profiles anytime, anywhere, and make updates as needed. Enjoy benefits like media upload options for photos and videos, and display contact information seamlessly using Member Profiles feature.
Boost Members' Sense of Belonging with Custom Membership Cards: Enhance your members' experience by creating personalized digital membership cards. Strengthen your community and increase member engagement with customized brand colors, logos, and membership information. Digital Membership Cards provide a hassle-free and eco-friendly alternative to traditional plastic cards, offering your members a convenient way to stay connected to your organization.
Conclusion
In conclusion, membership software is indispensable for organizations of all sizes and types. It enables them to streamline the membership management process, save valuable time and resources, and enhance member engagement significantly. While selecting an appropriate system and features, organizations must ensure that they consider key factors, including the software's features, ease of use, scalability, and cost, as well as their specific requirements and goals. With the right management software, organizations can enhance their operational efficiency and provide a better user experience to their members.
Try a free membership management software such as Raklet for your membership organization.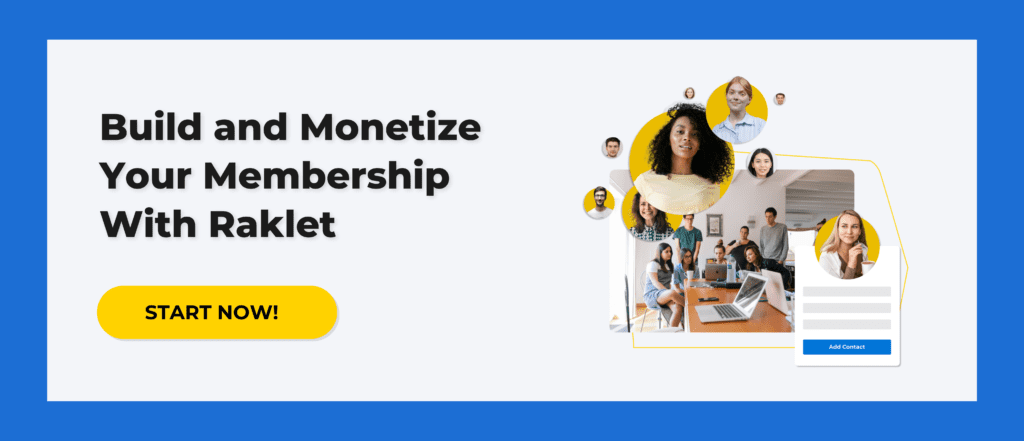 Raklet is all-in-one membership management software that helps you build and grow your community through events, memberships, and other digital tools.
With a lot of excellent features, you can save time and energy with our software. You can focus on growing your community while we take care of your member database with detailed reports and analytics.
Get started with a completely free Raklet account — no hidden charges.
If you would like to learn more about management software, check out other related articles from our blog: