May is a great month for renewing and growing and this is exactly what we are doing. Let's see the newest updates and features on Raklet!
---
1. Automated newsletters for board subscribers
Boards are one ot the most used features on our platform so we keep improving as much as we can. Board subscribers can now choose to receive daily or weekly email updates with recent posts, comments and likes.
Board subscribers are also immediately labeled, allowing you to send emails or text messages easily.
---
2. Display author and board name on posts
We now display more author info on posts along with the date and board name. This metadata does not appear on admin only boards but for all the others, it'll be there!
---
3. See all your boards in one place
Boards are great to keep all your posts under one subject but it might be hard to manage once you get several boards in place.

We launch a dedicated "boards" page that lists out all your boards in one place. Checkout boards page in action on Boston College.
---
4. More visibility options for your posts
Having restriction settings for your content is the key to creating specialized content for your audience. For that, we added more visibility options to our posts.
Now, you can change the visibility of likes, comments and sharing options as well as general visibility of the posts.
---
5. Job board improvements
| | |
| --- | --- |
| With Raklet growing and reaching out to more people, we had the opportunity to work with a variety of organizations that have different needs. | |
One of them was the type of jobs and workplaces they wanted to post. So, we added more options to our module. Now you can choose a Volunteer, Intern or Freelancer option as well as the workplace being onsite, remote or hybrid.
---
Integrations
Integrations are great ways to connect multiple tools with your Raklet account for a more robust experience. And this month's integration is with HubSpot.
HubSpot's CRM platform has all the tools and integrations you need for marketing, sales, content management, and customer service. Now, whenever you create a new contact on Raklet, you can also create it on HubSpot and keep your database in sync. See our setup guide to start using it right away.
---
Customer Spotlight
Millennium Campus Network (MCN) is a Boston-based, global non-profit convening and training 21st-century social impact leaders. Through the Millennium Fellowship and Millennium Oceans Prize, MCN helps young leaders use their voices and power to make a difference on campus and in community. This requires a robust CRM with an engaging front end so they chose Raklet as their alumni space.
With Raklet they can:
Have an up-to-date alumni database
Post career opportunities
Offer networking for members
Publish members-only content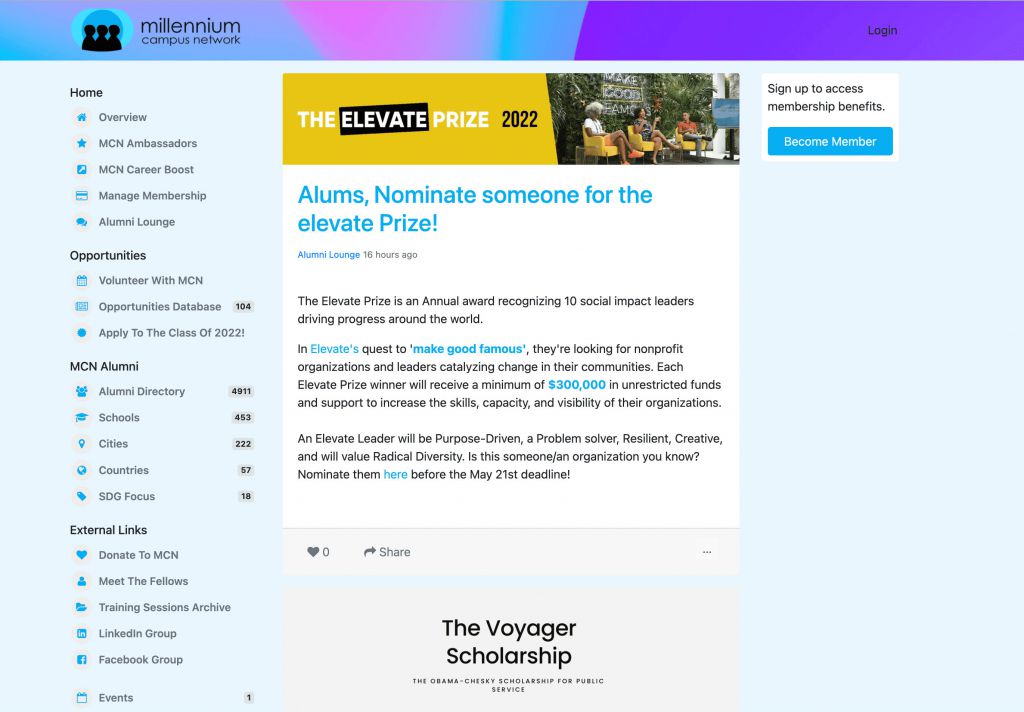 https://alumni.mcnpartners.org
---
Thanks for reading thus far. I hope you enjoyed our update as much as we did.
Any feature requests? Are you excited about anything new in particular? Simply reply to this email and let us know!
Until next time