What is a Membership Site?
A membership site is a website that requires its visitors to become members before they can access some of the content. In fact, in some cases, it can be more like a social network: Members need to sign up and have access to certain pages, communicate with each other through comments or private messaging, post their own content, and more. They also usually require a one-time or monthly membership fee to increase the sense of exclusivity.
Sometimes, membership sites can be used as an online course platform, where you can sell videos online to your community. Other times, they help provide extra benefits for customers in exchange for their payment, or growing a tighter-knit community.
What is WordPress?
WordPress is a powerful and flexible content management system (CMS) that can be used to create all kinds of websites. Their goal is to allow users to create dynamic websites with minimum effort, while also giving them full control over their components. As such, they're the leading website hosting service in the world today, with over one-third of all websites having been built on WordPress.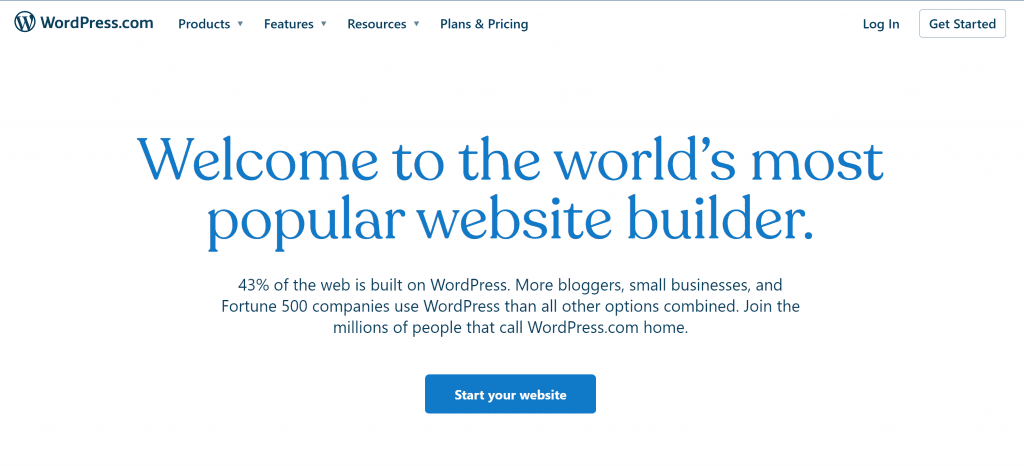 Why Choose WordPress for Your Membership Site: Pros & Cons
WordPress has a large amount of potential when it comes to creating your own membership site. If you're trying to decide whether it's the right platform for you, check out our list of pros and cons below:
Advantages of WordPress:
First thing that comes to mind, of course, is that WordPress is completely free to use, unless you choose to buy a premium theme or plugin. There are thousands of websites and blogs out there that were created just using the free WordPress functionality, which you can also do for your own website. (But keep in mind that, even though WordPress itself is a free platform, you will still need to pay for hosting, which is no less than $250 depending on your traffic!)
Along with being free, WordPress also doesn't need coding, since they have many powerful templates and tools available. The open source system allows for a large amount of options available for its users. Along with their simple drag-and-drop system, you can create a sleek and functional site without much effort. This makes maintenance way easier as well.
Not only that, but it has a huge number of free and premium plugins; in fact, it has way more plugins than any other CMS out there. These plugins allow you to have specific functions on your site like a members-only section, online store, digital downloads, and more. Picking the right ones for your personal blog or business website will help modify, extend, and expand its functionality.
Disadvantages of WordPress:
No matter how preferable it might seem to use WordPress to host your membership site, it still has its own weaknesses that you should also consider. One of these is that it might be challenging and costly when it comes to customizations. The bare version of WordPress is limited, and going outside the box often requires third-party plugins. And oftentimes, these plugins will be paid -so the fact that WordPress is free might not mean much to you.
Another disadvantage might be regarding its poor UX. Though it's easy to use overall, the more extensions you have to add, the more difficult it gets to understand and manage. This is especially true to create a membership site: You'll need to choose and configure the right plugins and themes, which might be overwhelming even without coding.
On a related note, performance issues are also common with WordPress. Especially if you've added many third-party extensions to your website, many users report a slowdown and sudden crashes. We recommend you keep it as simple as possible, and update your plugins whenever you can. (Beware that updating might make your system crash as well, so back up your data and check system requirements before you do so.)
Last but not least is the matter of security concerns: Since WordPress is open-source, and also the most popular CMS out there, it's prone to be the victim of cyber attacks from time to time. You should be careful when picking plugins and themes, and research if they're trustworthy. You might also consider taking additional security measures, especially if your membership site stores sensitive personal information.
How To Create a Membership Site with WordPress
If you've decided to use WordPress for your membership site, there are two ways to go about this (after you've created a WordPress website with its own domain, of course!). Let's explore them together:
Option #1: Using WordPress Plugins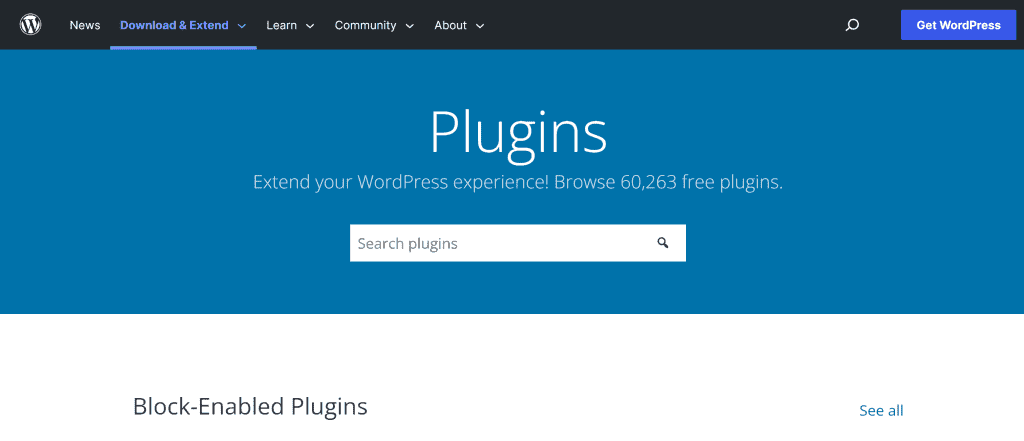 After creating your WordPress website, you can add membership features into it using a WordPress plugin. These are accessible, as you can also see on the photo, right on your admin panel. Some of the most popular options include:
MemberPress
BuddyPress
Memberful for WordPress
WPMU Dev Membership
LearnDash
Restrict Content Pro
Keep in mind that you will have to buy these plugins to add membership functionality to your WordPress website. All of the options we listed above have their own strengths and weaknesses. Decide on the best option for your community, and buy & install it directly from within your WordPress platform.
Option #2: Lightweight WordPress Integrations
Another option is to use lightweight integrations, which is where you don't directly integrate a membership option via plugins, but create a separate membership platform and link it instead. This can have many advantages for your membership site: For example, it's mostly preferred because it won't slow your WordPress website down. You'll also get more features at a similar (if not cheaper) pricepoint, and have access to even more integrations within your membership platform.
You can easily do this with Raklet: An all-in-one membership management platform that can help kickstart your membership community.

To implement a lightweight membership integration like Raklet, all you have to do is create your free account and share a link in your WordPress website navigation for effortless logins and signups. With your own custom domain for your Raklet platform, as well as a simple custom CSS or JS, you can preserve your image and continue your branding efforts.
As another example, you can read about how AMORC implemented Raklet into their own website with a simple custom CSS.
Still not convinced? Book a personal demo call with us now to see how we can help you!
Check out other articles on our blog below: