Association management is not an easy task, especially for growing organizations. As the number of members grows and there is more complicated information to keep track of, it's impossible to do everything manually. You might have a dedicated team at your disposal, but it's still a loss of resources and time to keep track of every individual member and enter data one by one. This is where association management software (AMS) comes in, where you can handle everything from an all-in-one platform! 
In this article, we begin by talking briefly about what an association management software is, and which features are an absolute must. Afterward, we move on to listing the best association management software out there, with their pros and cons, so that you can decide for yourself! Make sure to keep reading.

What Is an Association Management Software?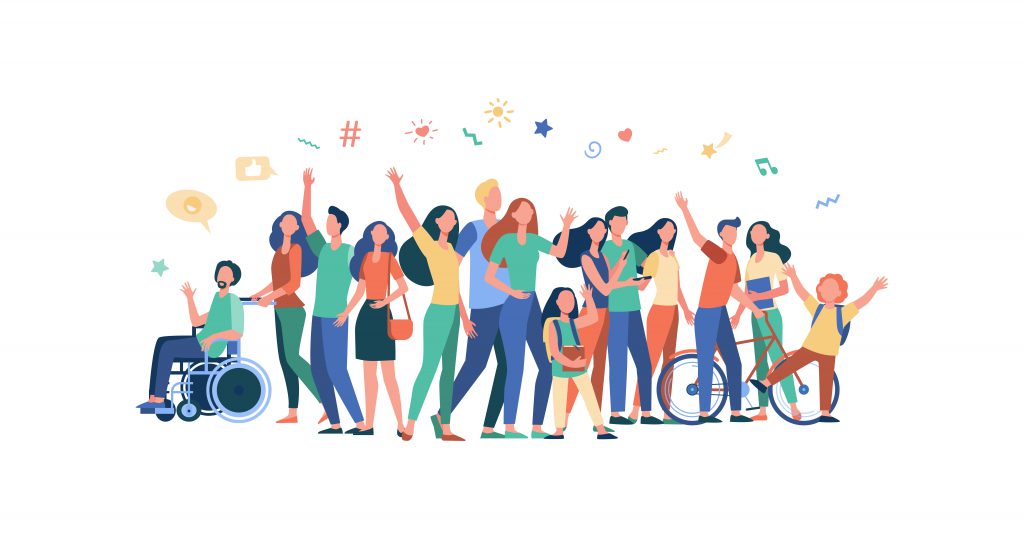 Association management software, or AMS, is an all-in-one platform where associations manage large amounts of data quickly and efficiently. As organizations grow and the number of their members rises, these types of software become extremely important to save time and make things run smoother.
The traditional approach before AMS has been spending hours organizing Excel spreadsheets manually. This is also the same way a lot of associations still run their data management. They use multiple platforms depending on what they need, which makes administration complicated and difficult to handle.
Association management software, on the other hand, has a variety of features that make management much easier. You can handle everything from a single location and won't need to shift programs to do another task. When it comes to features, while contact management is the absolute base here, there are many other features that we advise you to look out for when choosing the right software. In the next section, we will be talking about these features in detail.
Association Management Software Features: What Should You Look Out For?
Here are some association management features you definitely should have when choosing the right AMS software:
Contact management, ability to update contact data regularly and quickly
Membership registration tools, new members should be able to apply through AMS
Customizable membership forms for new members registering on your platform
Mass emailing and SMS options, so that you can reach out to your members
Event organization, volunteer events, association events, and ticketing
Fee collection, membership fees, either recurring or one-time payments through the platform
Fundraising opportunities, donations either for the association or an association-supported cause
Besides the features above that you absolutely need, we recommend that you look out for these features as well:
Membership tiers for different types of memberships to your association
Various integrations depending on your specific needs, Zapier integrations are a must
Digital cards to enter physical venues, or give membership benefits
Discussion boards, to keep up engagement in your association
Social networking features, for people to keep in touch with each other
Stylish customization options to maintain organizational values
Mobile application for members on the go
Now that you know which features are a must and which are useful in the long run, let's move on to the software options. There are a lot of different companies out there, and it might be daunting to figure out which one you should choose. This is why we compiled a list of the top 5 association management software! In the following lines, you can find out more about them, so that you can make the right decision.

Let's start with Higher Logic!
Higher Logic prides itself on raising engagement within a community. They are built around the idea of an online community, which also serves for associations.
Pros start with their discussion boards where members can talk about specific topics and share their thoughts. It's similar to an online forum, making engagement much easier.
Another positive aspect of Higher Logic is its customizable databases. You can customize what kind of information you'd like to keep and order your data accordingly.
Then there are fundraising tools, which is very important to an association as we mentioned in the features section. You can either raise funds for the association or a cause that you support. Collection donations online will help you keep track of data much easier as the platform will do it all for you.
They do not have transparent pricing options on their page. However, a third party has reported that it ranges from $9,000 to $150,000 USD per year, and certain modules need more money to unlock. There is no free plan.


They have 4.4 stars on Capterra, which is a good result.
Their cons come to light when we look at their negative reviews. Many users have complained that their platform is not intuitive, which makes it difficult to use. The navigation and admin interface is complicated, and this does not make it easy for an association to shift to Higher Logic.
Another complaint is similar, that newer and less tech-savvy members have been having problems when using the platform. As such, a good number of people have found it difficult to use.
These cons as well as their expensive pricing options are the reasons why we have put Higher Logic lower on our list.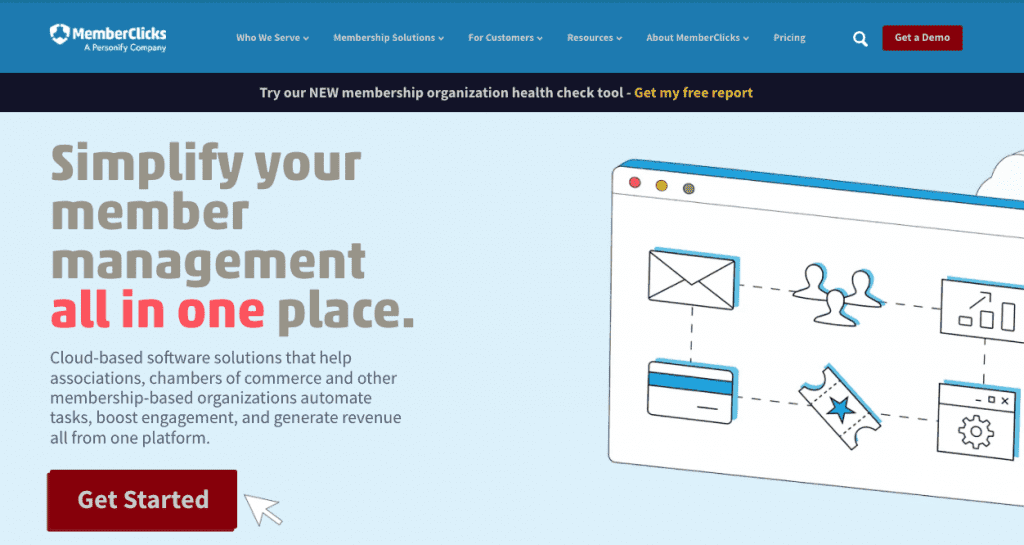 MemberClicks is built for associations, chambers, and other membership-based organizations. Their tagline is that they help automate tasks, boost engagement, and generate revenue.
Their useful features include an event management module, which is vital for an association. They also have automated membership management tools, and renewal modules so that everything can be automated.
When it comes to engagement, they also have important tools to boost member relations. Their communication modules will help association members keep in touch with each other and power their team spirit.
They do not have transparent pricing information on their page, but they say that their cheapest plan starts at $3,000 USD per year. While it's cheaper than Higher Logic, it is quite steep compared to other options here. There is no free plan.


They have 4.4 stars on Capterra, which points at overall satisfied customers.
The negative reviews point towards the cons of their platform. Many of the customers say that the platform is not easy to use, as the spacing is off and there are no preventative measures to stop people from accidentally creating second accounts.
Another complaint is that there is no WordPress plugin, which makes things difficult since customers cannot easily connect their website to Memberclicks.
Problems when it comes to their ease of use and steep pricing put MemberClicks lower on our list.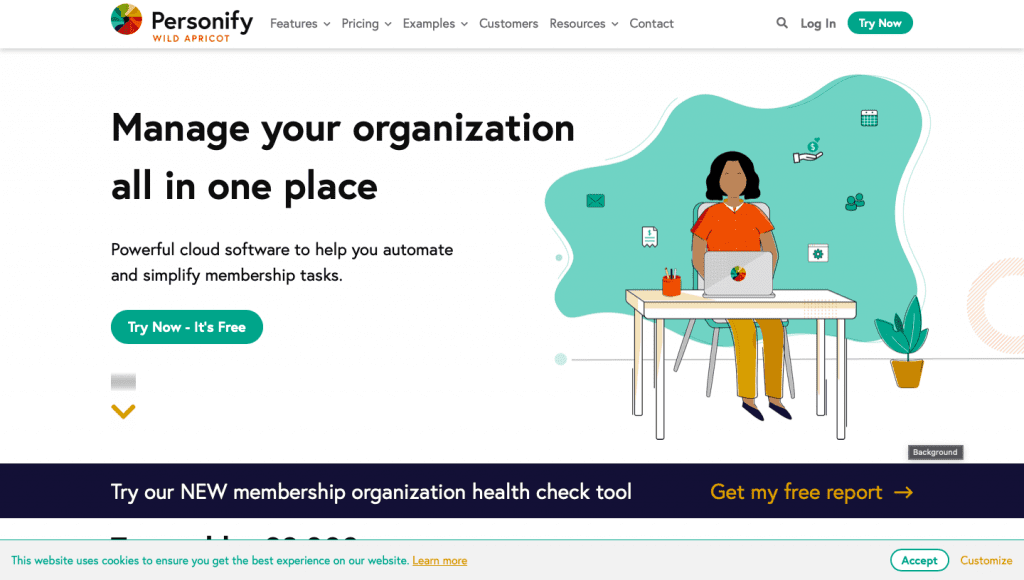 WildApricot is one of the most famous membership management software out there. While it is used for many different types of organizations, it can also be used for associations.
When it comes to their pros, the initial one is their built-in website builder tools. Their plug-and-play solutions are easy to use and you can build your own website through their platform.
Another positive aspect of the platform is its payment modules. Similarly, you can collect payments and membership fees through WildApricot's software. Furthermore, they handle renewals and reminders, which makes it easy to keep track of your members.
They also have other important features such as email automation and database management, which are a must for association management software.
On the subject of plans, they do have a free plan, but it does not support many of the features that are important for an association. Their actual plans with more features start at $48 per month.

They have received 4.5 stars on Capterra. Similar to the other software on this list, this is a good result.
Let's talk about the cons of their platform. Their pricing seems to receive a lot of backlash since they have revamped it recently, which caused a lot of problems for their older members.
The major complaint, however, comes from their customer service. People have reported that not only is it difficult to reach out to WildApricot, it is also difficult to find an actual person to talk to. Automated messages and robotic answers are not the same as a customer service specialist's approach.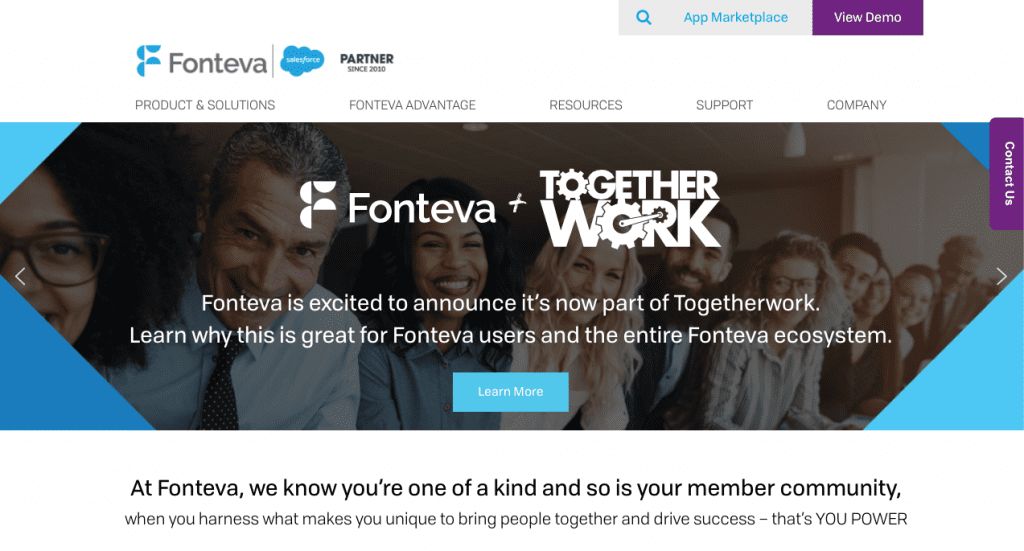 Fonteva is a great solution for associations that use Salesforce.
Salesforce is a CRM solution, and Fonteva is built into Salesforce with features and tools that are vital for associations. They also aim to target medium to large associations with over ten administrators.
They pride themselves on their detailed member profiles and database tools. You can keep track of every little detail and change through Fonteva, so that you won't need to do any of it manually.
Another important feature for association management is their event organization module. As we have said before in this article, events are important for all associations. This is why they offer an all-in-one solution that connects your database with the event organization module so that you can keep track of guest information and more.
When it comes to pricing, their plans start at $175.00 per month and they do not have a free plan. Additionally, you will need a Salesforce membership. While they have cheaper plans for fewer people, their Enterprise plan starts from $150 USD per month.

Fonteva has received 4.6 stars on Capterra, which is a great result.
The initial complaint, which is not surprising, is that you must also be a Salesforce user. Many important CRM features that are also important for associations are locked behind this paywall, and Fonteva alone will feel restrictive as an association management solution.
Other complaints consist of a difficult implementation process. Both for the association managers and the members, some users have found it difficult to make the switch to Fonteva.
Another important complaint is their membership tiers. Users have found it difficult to assign different membership tiers to their members and require different amounts of payments for them.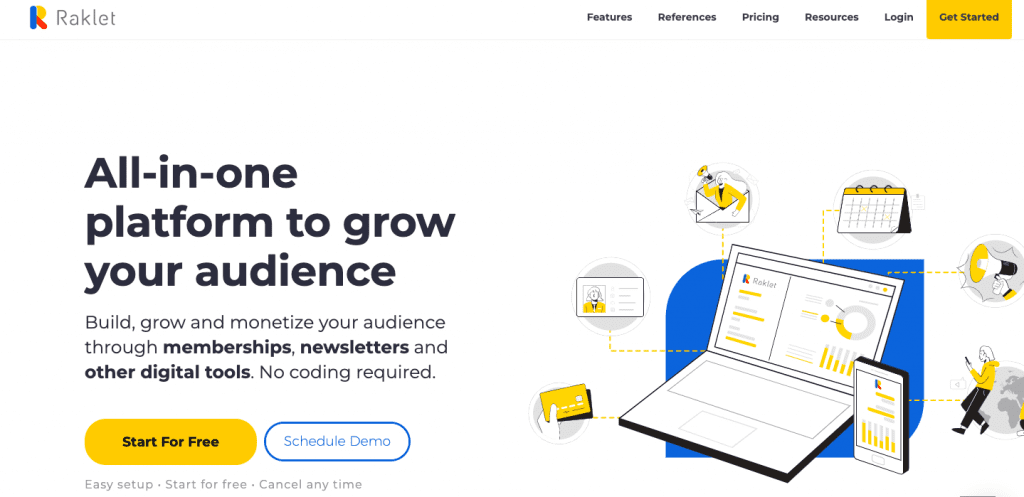 Let's talk about Raklet! We are an all-in-one cloud solution for organizations all around the world, and many associations have found Raklet a joy to work with.
There is a great variety of features that will help immensely with association management. Not only will management be much easier, our users have also reported that engagement was higher after they have started using Raklet.
One of the first features is the robust CRM database. This is where you can store your contacts, update them and reach out to members accordingly. Through customizable membership forms, new members can fill in the data you want them to, and this information will be at your fingertips whenever you need them.
There are also event organization modules, payment modules, fundraising opportunities, digital cards and so much more. Mobile application and discussion forums will help raise engagement even further, as members can connect anytime, anywhere.
Raklet also has a completely free plan for up to 50 members! Our paid plans start at $49 per month, and you can find more details here. Don't worry, there won't be any extra charges that are an unpleasant surprise!
We serve both small and large associations, provide out-of-the-box features, build custom solutions when needed, and integrate with more than 3000 platforms.
Raklet Reviews:

When it comes to reviews, Raklet has received 4.8 stars on Capterra, which puts it at the top of our list!
We have pleased clients all around the world, and we also share Success Stories about their journeys. You won't need to just believe our word, you can also see how they have used Raklet and moved their association forward!
MAFH, Mauritius Fintech Hub, is just one of these happy clients, and you can find their story here.
If you'd like to read more about associations, you can check out our detailed guide to associations right here.
For more articles like this one, check out these below: