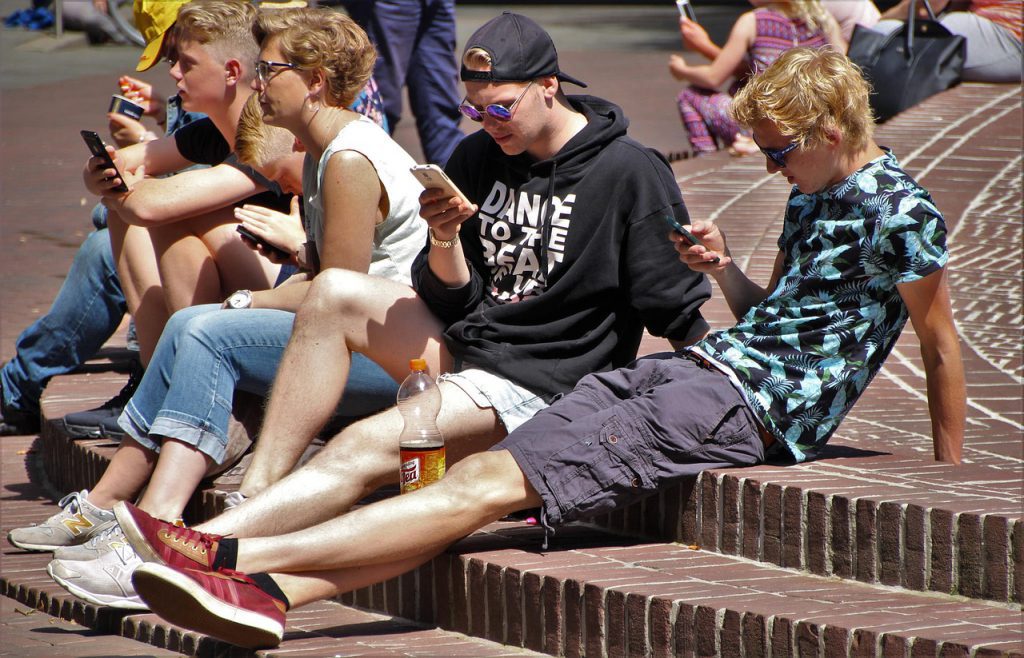 Here's why you need a mobile membership app for your organization.
To build an online community, you'll need a community app. With a community app, you can create your own community the way you want, engage with them and provide them with a much richer experience. Find out how to create custom apps for your community here.
What are online community apps?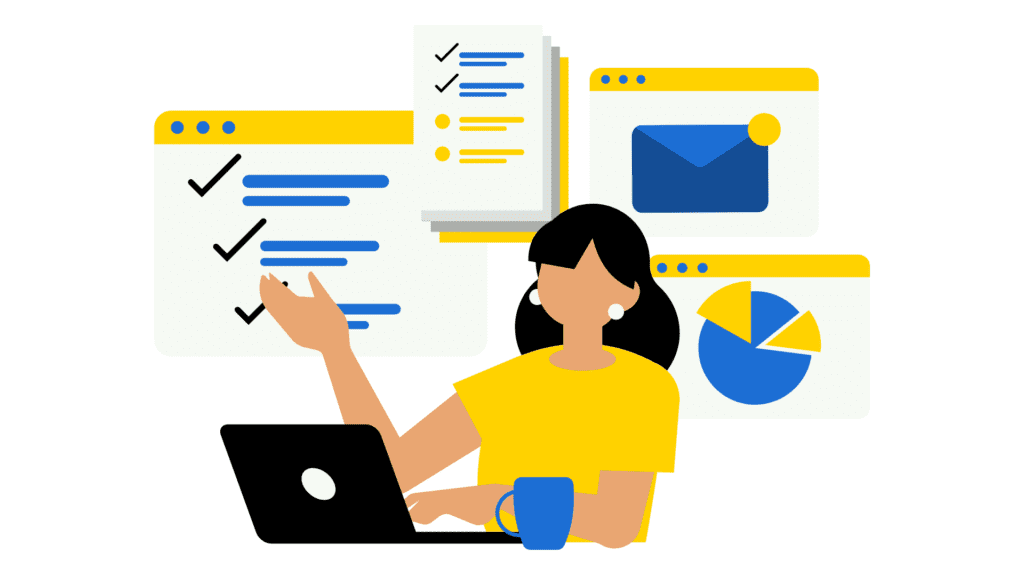 Community apps give you, your brand, or your business the opportunity and flexibility to interact with your followers and for them to interact with each other. In the words of Seth Godin, a marketing genius, the best marketing is when you allow your customers to have conversations with each other.
A community app is a dedicated app that allows you to manage your followers, customers, and members. You can provide them with a private and safe place to share their interests with like-minded people, and get exclusive content, offers, and opportunities. This may increase your community engagement and help you to attract more members. Managing your community becomes more straightforward because they're all in one place. Plus, you can easily monetize the community by providing exclusive features.
Perhaps you're already asking the question, why can't I use Facebook groups or email lists? Well, there are two significant issues with these platforms.
First off, it's incredibly hard to monetize your community there. If you want to have different membership tiers and provide exclusive content to some members, you'll find that it is very hard or even impossible to do.
Secondly, these platforms don't allow for conducive discussion. An email list, for example, can't facilitate discussions, and the best a Facebook group can do is allow members to comment on each other's posts.
Moreover, you can't get your data off these platforms. You don't get to own your membership data on LinkedIn or Facebook, for example. And you can get banned from any of these platforms without any prior notice.
What makes a good online community app?
Depending on your needs and expectations from community management software, the answer to this question may vary. You should decide on which tools and customizations you would like to have in a community app, and then compare the available ones. However, there are some essential features that every online community management software should have. Let's take a look at these:
Discussion boards and private messaging,
Customizable member profiles,
Email marketing and other communication tools like automated messages and emails,
Safe payment collection system,
Automated fee and debt reminders,
And the other essentials your community needs!
The best community apps of 2023 combine a wide variety of features that make managing a community easy and profitable.
Best Community Apps of 2023
Here's a look at some of the best community apps in 2023. We'll review their features and a few of the pros and cons of each app.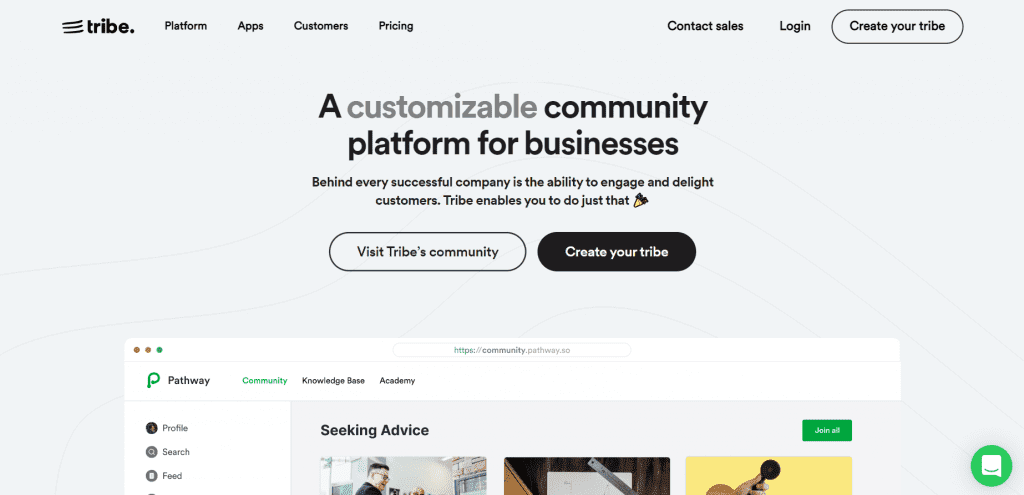 Tribe is a cloud-based community platform that empowers a new generation of communities with the best social media practices. It allows businesses and brands to create customized online communities and use gamification tools to connect with and retain users. Members can ask questions, create polls, vote, comment, and even upload media. You can also use integrations, widgets, and APIs to create your community.
Tribe's pricing starts from $85/per month and ranges to $249/month. It also has a free version, a 14-day credit card-free trial, and a customizable plan for enterprise customers.
Pros
Provides event management for live events and discussion boards.
Allows community owners to moderate communities.
Unlimited contacts and customizable profile fields.
Collects payments either one-off or recurring.
Can create a member directory.
Cons
Customer support isn't that great.
Not a lot of integrations yet.
Can be a bit hard to learn for new users.
Confusing navigation.
Handling the API and integrations requires technical knowledge.
Don't forget to take a look at our article comparing Raklet and Tribe!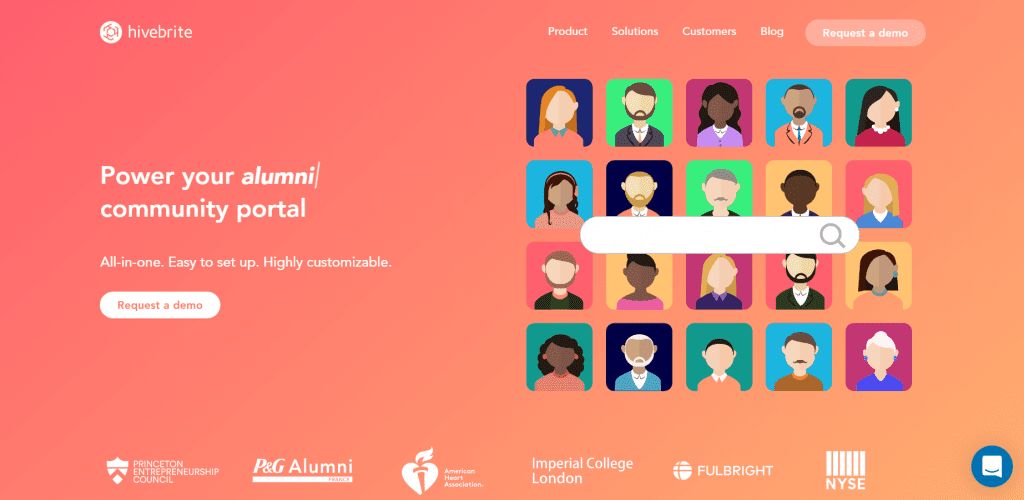 Hivebrite is a cloud-based community management platform targeted at institutions. Incubators, schools, businesses, nonprofits, and similar organizations use the app to build brand engagements and provide networking opportunities for their members. The app has a member directory, an events page, a dashboard to display members' information, a member inbox, and paid membership functionality.
This suite of tools helps institutions manage and engage with their members while providing them with full control over their community. It also allows external integrations with CRM systems and social media platforms. Hivebrite's price is not fixed and is customized to the needs of the organization.
Pros
Accessible on a wide range of platforms, macOS, Windows 10, and Web browsers.
Comes with an iOS and Android-compatible mobile app.
Good customer support.
Easy to learn and use.
Cons
Analytics and page-building features are hard to figure out.
The media center isn't optimized.
You can check out the pros and cons of Hivebrite in detail and determine if it is the correct solution for you!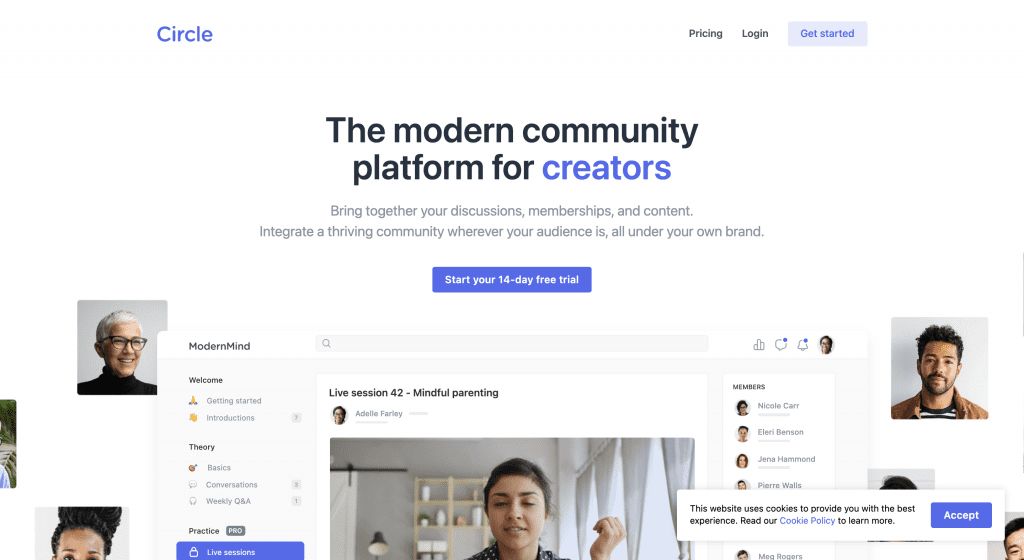 Circle is a community app primarily built for creators and offers tools for community building and engagement. It's perfect for authors, influencers, course creators, and coaches. It allows users to create discussions in their community and organize them into public or private spaces, depending on how the community is built.
Different settings within the app allow users to customize their experience. For example, users can choose whether to allow community members to create their own spaces or not. Users can also decide if the private spaces they create will be hidden from members that are not in the space.
Circle is a paid product, ranging from $39/month for the basic plan to $199/month for the enterprise plans. A free plan doesn't exist, however, there's a 14-day free trial. The basic plan provides 1,000 monthly active users, 10 spaces, a custom domain, and Zapier integration. However, you don't get access to a Whitelabel, the API, or CSS.
Pros
Perfect for creators and smaller personal brands.
Can integrate with your website.
Can integrate with online course platforms, you can sell courses.
Cons
No freemium version, so you have to pay for the product.
Best for creators that already have an audience.
Can't host courses.
No branded mobile application.
Don't forget to read our comparison of Circle and Raklet!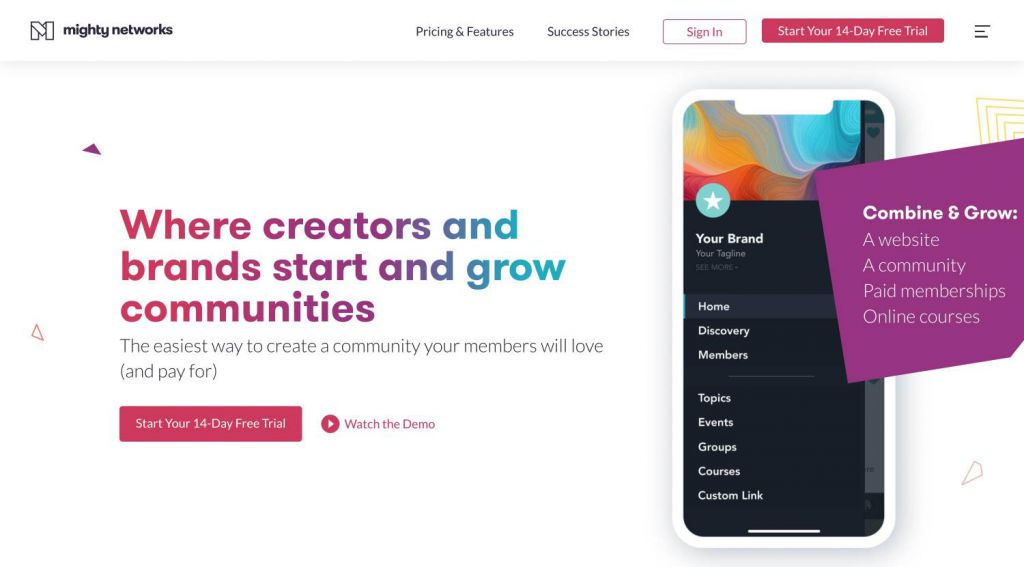 MightyNetworks helps creators and entrepreneurs bring their communities together. They can also manage sales pages and online courses under their brand. They can connect with their members, and members connect with each other in sub-groups, fees, categories, chat, and more. Users can also share media, post engaging questions, and create polls.
MightyNetworks is available on the web, iOs, and android mobile apps. This community app has a free version, while priced plans start from $23.00 per year.
Pros
Great customer support.
Can easily host courses.
Easy to use interface.
Cons
The branded mobile app starts from $36,000/year.
Hard to manage notifications, especially on mobile apps.
Not easy to navigate.
You can read more on how the all-in-one software Raklet compares to MightyNetworks.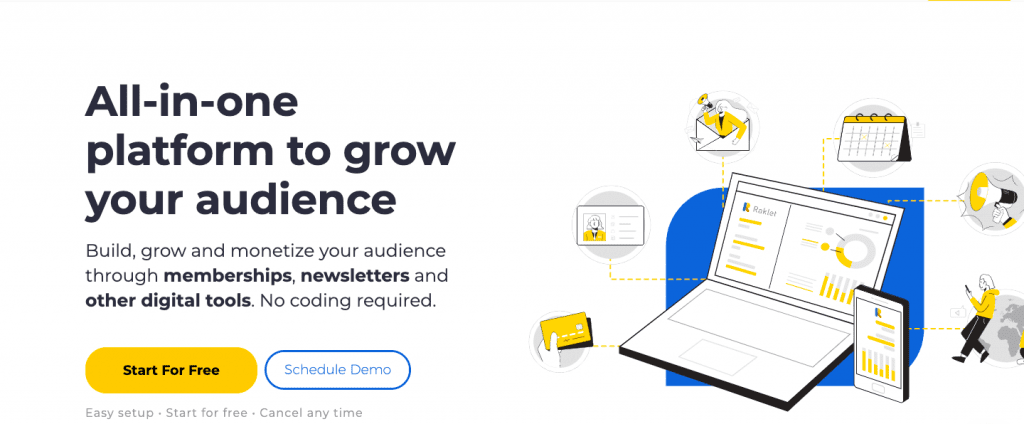 We're at the top of the list, and for a good reason too. Raklet is the all-in-one community management platform and one of the best community apps in 2023.
Using Raklet, admins can access a centralized CRM system that can track each member's engagement and website activity. You can also collect & process online payments for e-tickets or products. These include membership fees, ticket sales, and subscriptions.
Special Bonus: Get started with a free Raklet account today!
You can use the scheduling tools built into our community app and send out email notifications to make the onboarding process easier. Smart analytics allow you to track events and gain insight into how your event is performing.
Members can also connect within their community based on location, education, and work. They can also discover community events, manage membership cards, and even start group discussions.
Raklet offers a free plan for up to 50 members so that you can get started without making a commitment. Paid plans offer more advanced features and start from $49/month, you can check out Raklet's pricing page for getting more information about the professional plan.
Pros
Easy to use.
Feature of creating an application form.
Manage memberships, events, and payments all in one place.
Create digital membership cards.
Robust CRM system for managing member data.
Superb customer support.
Available on the Web, iOS, and Android.
Robust integrations with multiple platforms supported.
Cons
Displaying all the member information might be problematic.
This is the list of some of the best community apps in 2023. However, before choosing which one, there are a few things you should keep in mind.
The ultimate guide to choosing community apps for online communities
Now that you know the best community apps in 2023, the next step is to choose the one that's perfect for you, your business, or your organization. There are a lot of things to consider, depending on your unique position and requirements. What you require from a community app in 2023 will determine which app you get.
Here are a few things to consider when choosing the best community for your unique requirements.
1. Price
This is probably one of the first things you should consider when choosing a community app. How much does it cost? Most community apps have different packages depending on the features you need or the number of members you want to manage. So, keep that in mind when comparing prices. Have an idea of what features are essential and how large you can expect your community to grow.
Switching community apps when your members have gotten used to the old ones can be a pain, so make sure that you made the right choice.
2. Integrations
If you work, create, or interact online, then there's a high chance that you already use a few tools. When selecting a community app, check if the app has an integration with your favorite platforms. Can you integrate with your website, CRM system, or other important platforms? If the answer is no, it might be more trouble than it's worth. This is especially true when you begin to scale. Imagine your community app can't adequately collect membership data or integrate with a CRM. Managing your members becomes a nightmare when you grow to 50,000 or 100,000 members.
3. Payments
If you plan to monetize your community, then this is a vital concern. Does the community app allow you to receive and process payments safely? Can you create paid membership plans and offer exclusive content?
Ideally, the best community apps should allow you to accept payment from as many sources as possible. You don't want to lose members because they couldn't pay with their preferred platform.

4. Forums and Messaging
One of the cornerstones of a community is the conversations that the members can have with each other. Does the messaging app allow you to create forums or spaces for discussions between members? More than just allowing you to address your members, you want your community members to have conversations with each other about topics that interest them.

When selecting a community app, check out these features and others and weigh them against your requirements. It might take a lot of work to find the perfect one, but it's not wasted time. If you choose a community app that's perfect for you, you'll reap the benefit for years.

Conclusion
If you own a business, a brand, or an association, then Raklet is a great all-in-one community app option for you. It has so many robust features that are also highly customizable to your needs. No matter what you do or how big you are, there's something for you at Raklet.
Start managing your community with Raklet today.
If you'd like to learn more about community management, check out the articles below: