Disciple Alternatives, Pricing, Reviews & Ratings
Finding a good software to help you engage with your audience reliably through a mobile app may seem hard at first, there are so many options available to choose from. How can you decide which can cover all your needs best? We're here to help you decide by comparing Disciple to Raklet.
The global influencer marketing industry has reached a mind-blowing 14 billion USD in value in 2021. There is no denying the content creators' help in boosting that up there. Content creators and influencers collaborate with certain brands which want to market their products to their target audience. Yet, in addition, content creators are always in search of a good community platform that offers a safe space for them to share their content and make an income. A good community platform will help creators not only ease the hardships they encounter but also give them the valuable and reliable community platform they seek. Picking the right one is hard yet important, since it is going to be the main communication channel between you and your audience. Some of the features to consider before taking the community platform into consideration would be their ability to integrate with other much-needed tools and platforms, their engagement forms and digital membership cards for an increased sense of belonging, community features, and more. It is crucial that you are not focusing on technical issues but rather on what you do best, and create content for your audience in a space where you all feel safe. When talking about community platforms, one of the names that come to mind is Disciple. Let's explain their company, what they do, and then assess their strengths and weaknesses tohelp you decide.

Disciple was founded in 2015 by Benji Vaughan. Vaughan, who is an electronic musician tech entrepreneur, created Discipleto further help him directly connect with his audience digitally. Disciple evolved into a platform that enables and empowers many to build their own community platforms You can create your own website, or your mobile app as a community platform customized for you and your needs. This platform will help you market your content, engage with your audience, make an income for yourself, and do it all in a safe space dedicated to you and your audience.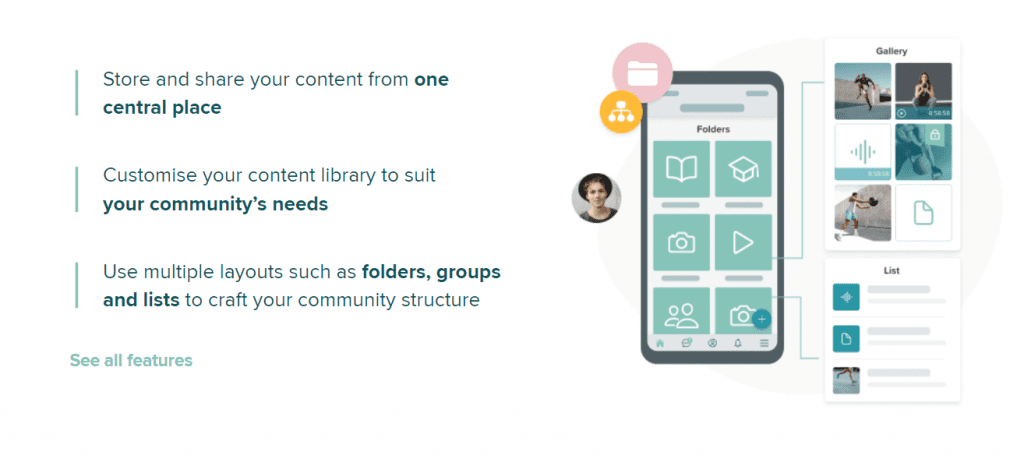 Their features generally are to enable you to grow, engage, and monetize your community. We've talked about some of the features you need to consider before making an ultimate decision on a platform, and here are some features Disciple covers as a software:
An all-in-one place to store and share your content with your audience.
The ability to customize your content library.
Multiple layouts such as folders, groups, lists, etc to your needs.
Push notifications, events, and emails.
Polls.
DM function, and livestreams for you to connect with your members in real-time.
Data analysis: both for your content and members.
Some integrations.
Subscription choice for your members.
Disciple offers the essentials of a community platform that enables their clients to have a safe space whether it's a customized website or a mobile app. Yet, we have to talk about the prices they ask for these features and their cost-effectiveness in this regard. So, keep reading the pricing section to find out.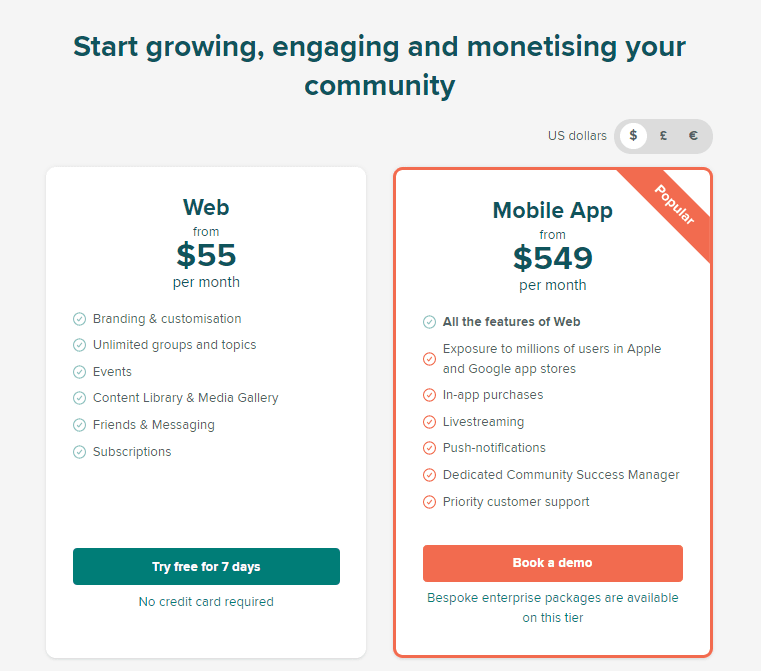 The first thing that strikes you is that they do not offer a free version. They do offer a free trial for a week. Though it may be enough for you to find out whether you like the website or not, there is not much you can do to check the mobile app, which is ten times the cost of a website.
They charge you 55$ a month for a website and 549$/mo for their mobile app plan. You also do not get every feature we've written about in the features section when you go with the Web plan. In-app purchases, the ability to livestream, push notifications, a community success manager are all special to the Mobile App plan. Also, they prioritize those who pay ten times as much rather than seeing every customer the same regardless of what they pay.
Moreover, their Mobile App plan is for 500 members / 1 seat, and you have to see the full pricing to find out. They charge for almost every add-on they offer, starting with as simple as additional members and admin seats. For example, you have to pay 130$ a month for a custom domain or white label your app on top of the Mobile App plan cost.
Disciple has received great reviews all around the reputable software listing platforms like Capterra, G2, Get App, and more. Their overall 4.8 rating is nothing to be shocked by since they do their job well on helping creators engage with their communities by giving them fully customized, functional mobile apps that will be their safe space.
Although Disciple's clients are generally content with the platform, some of them have concerns about technical issues, and whether the money they are willing to spend is worth it and is cost-efficient.
So, you might be wondering if there are alternatives to Disciple, and we are here to give you one Disciple alternative that may cover your certain needs. Let's explore Raklet together!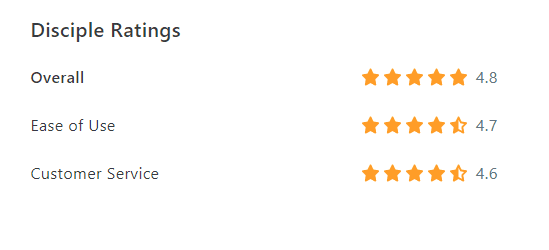 We offer you Raklet as an alternative to Disciple. Raklet is an all-in-one cloud platform, a perfect solution for your needs, and a great companion to have by your side on your journey. Raklet enables you to organize your members, engage with them whether through traditional or digital ways, and increase the sense of belonging all across your community.
Our extensive features are there to cover all your needs, and all from one place. Combined with over 3,000 integrations Raklet can be one of your best supporters! Let's dive deep and explore some of the key features you may need on your journey: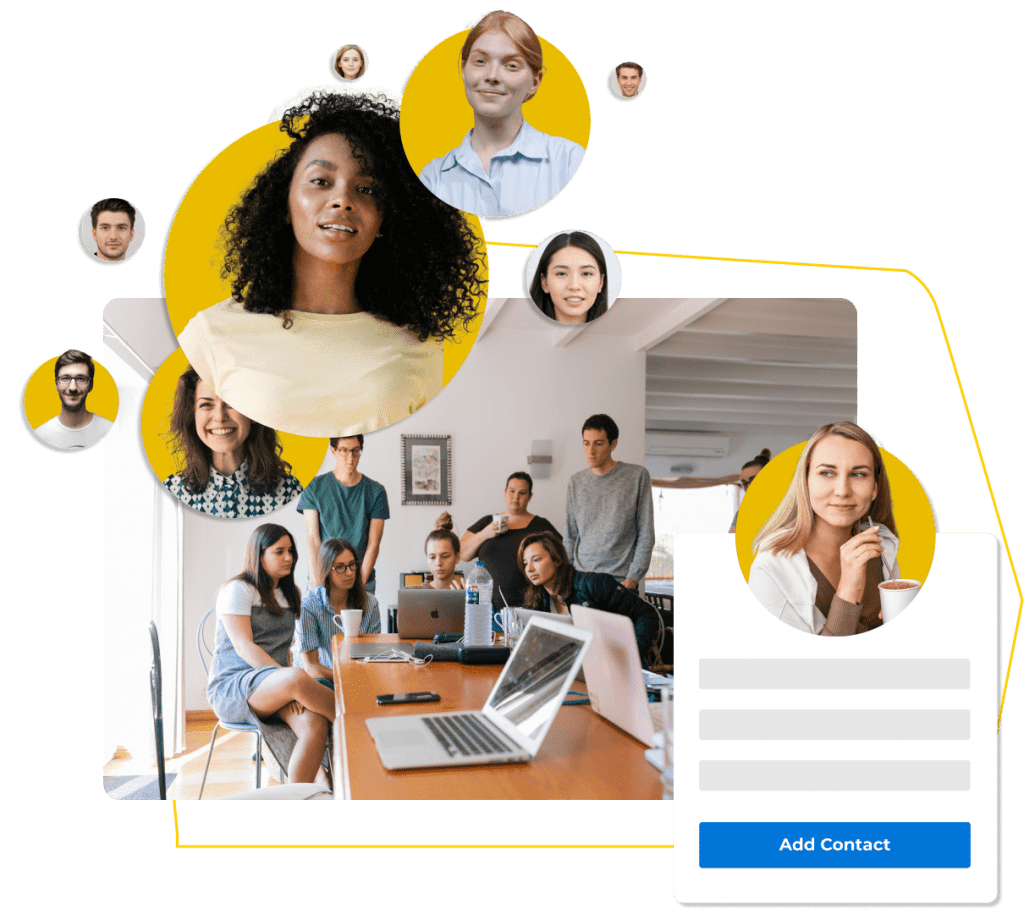 We offer a completely free CRM for you to make your journey way much easier; a way to streamline contact management with an easy-to-use, safe, online platform for you. With our CRM, you can learn more about your audience, your supporters, your community by using different tags and separating them into different groups. We offer you the ability to pick and choose what you want to learn about your audience and interact with them however you wish to do so, and it is all free.
Raklet is a great Disciple alternative in many ways, and keeping track of membership fees is one of them. You can collect membership fees, get daily or monthly reports about your income, give your members a way to support you with subscriptions, and give them tiered membership plans so they have options to pick one for themselves. You don't have to spend hours and hours trying to keep track of membership fees, we've got you covered!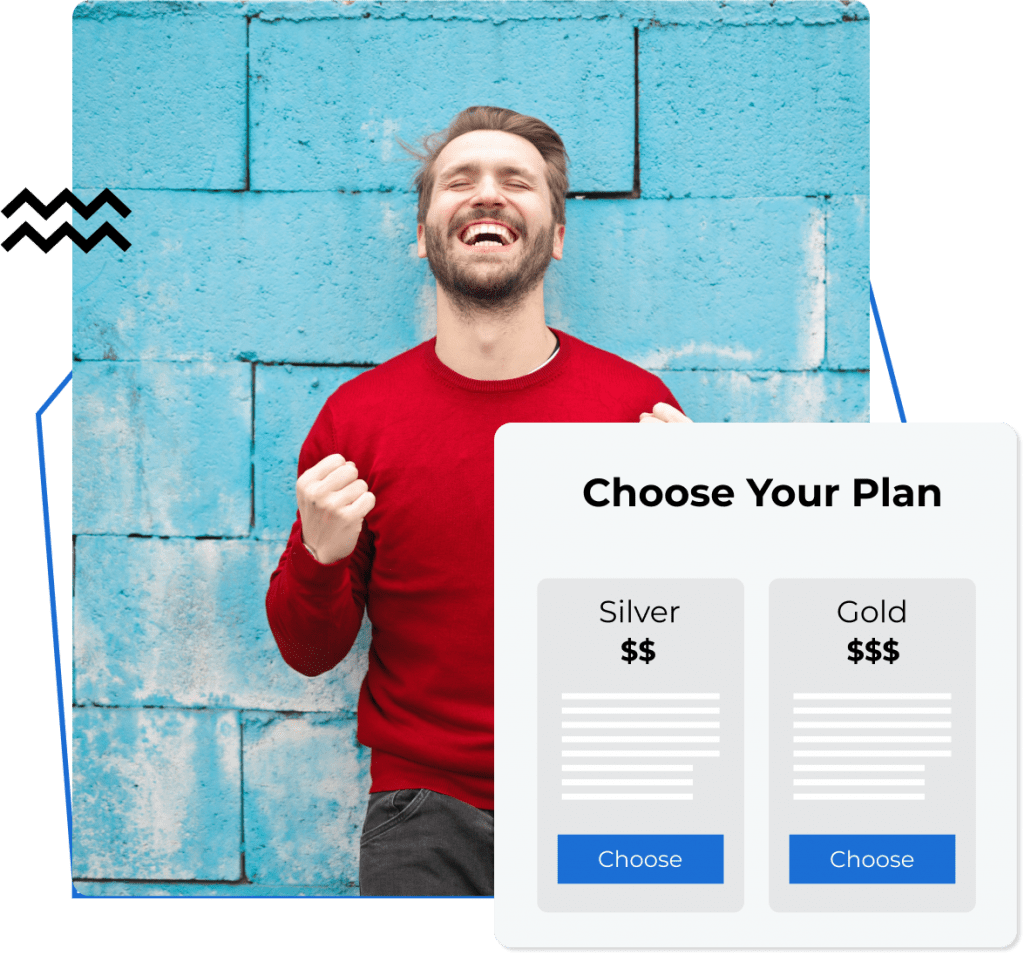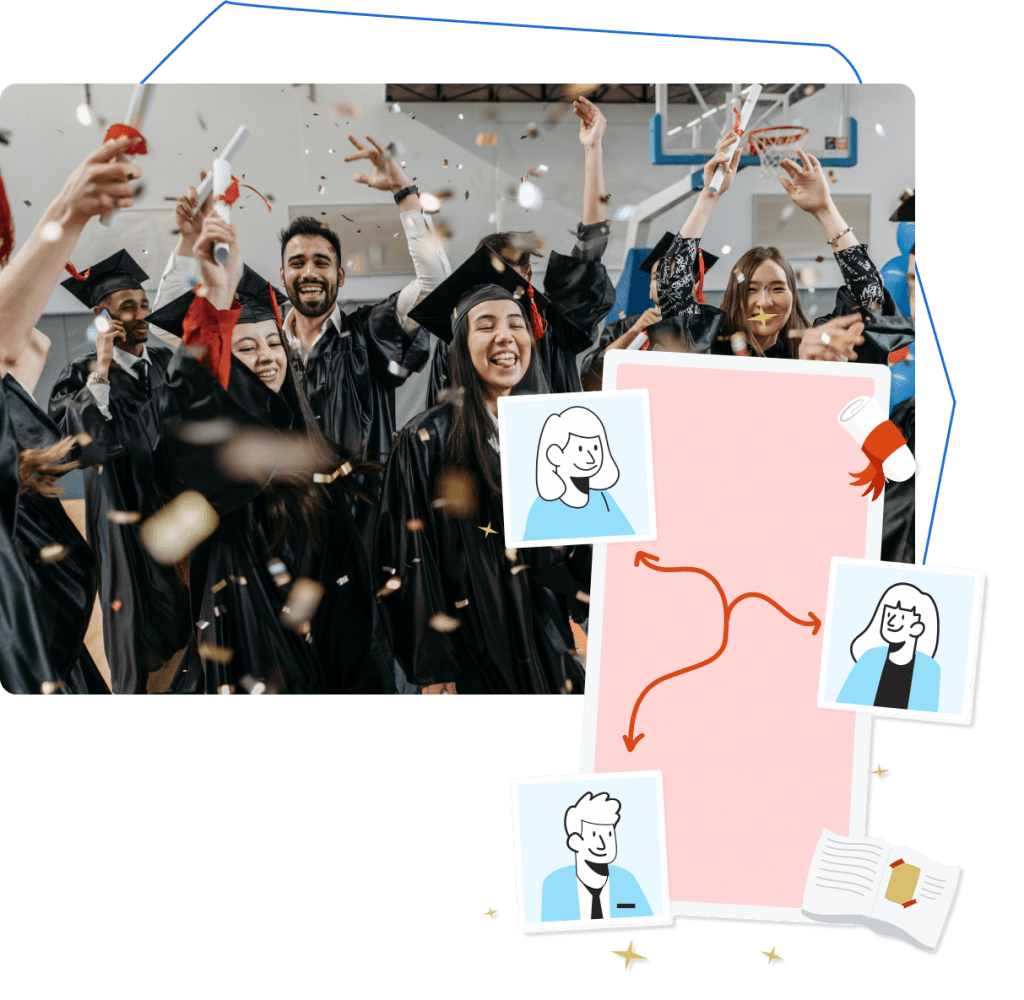 Raklet offers you an alternative safe space to keep in touch with your members, subscribers, and audience. With Raklet, you'll have the ability to create various discussion forums and posts; also, you and your members can shoot direct messages to one another, or communicate through public posts! There is no limit to the social network you can create with our tools.
As a way to keep engaging with your audience, and grow it even further, we give you the ability to send mass emails. On top of that, you can send newsletters and reach potential subscribers or members. You will have access to reports of these to get a hold of what is working the best for you and what is not.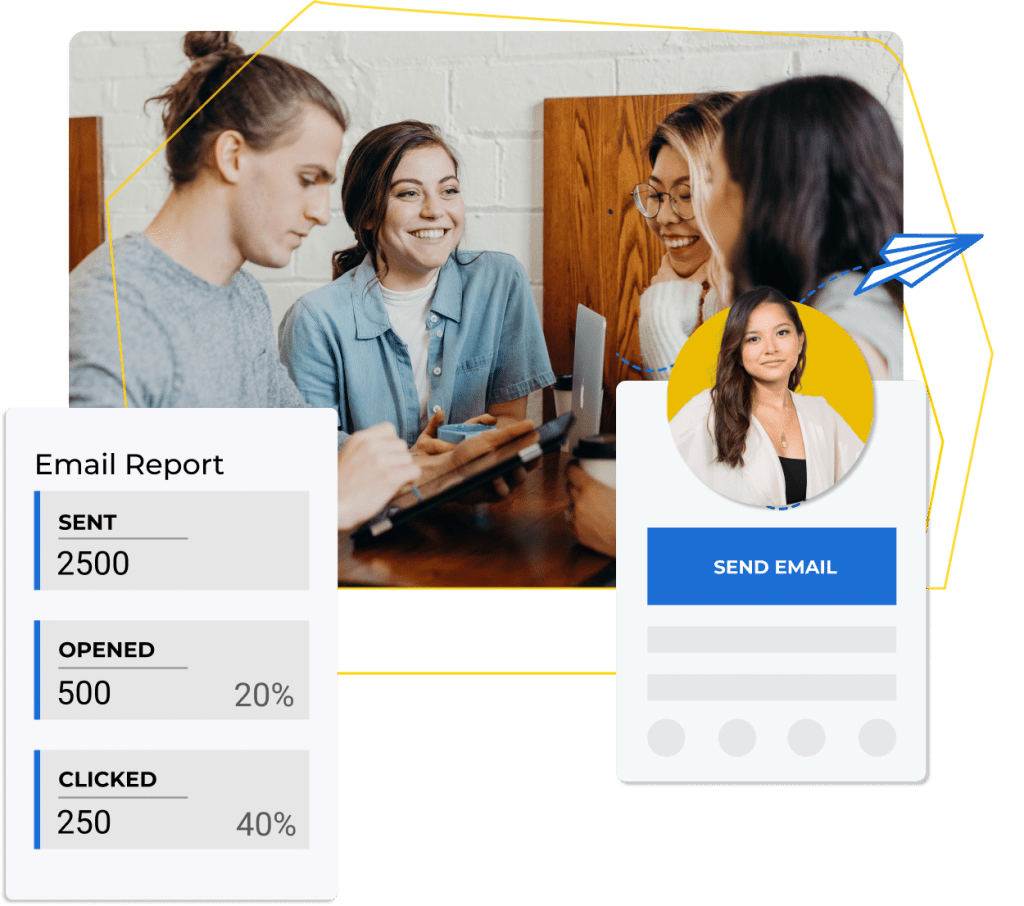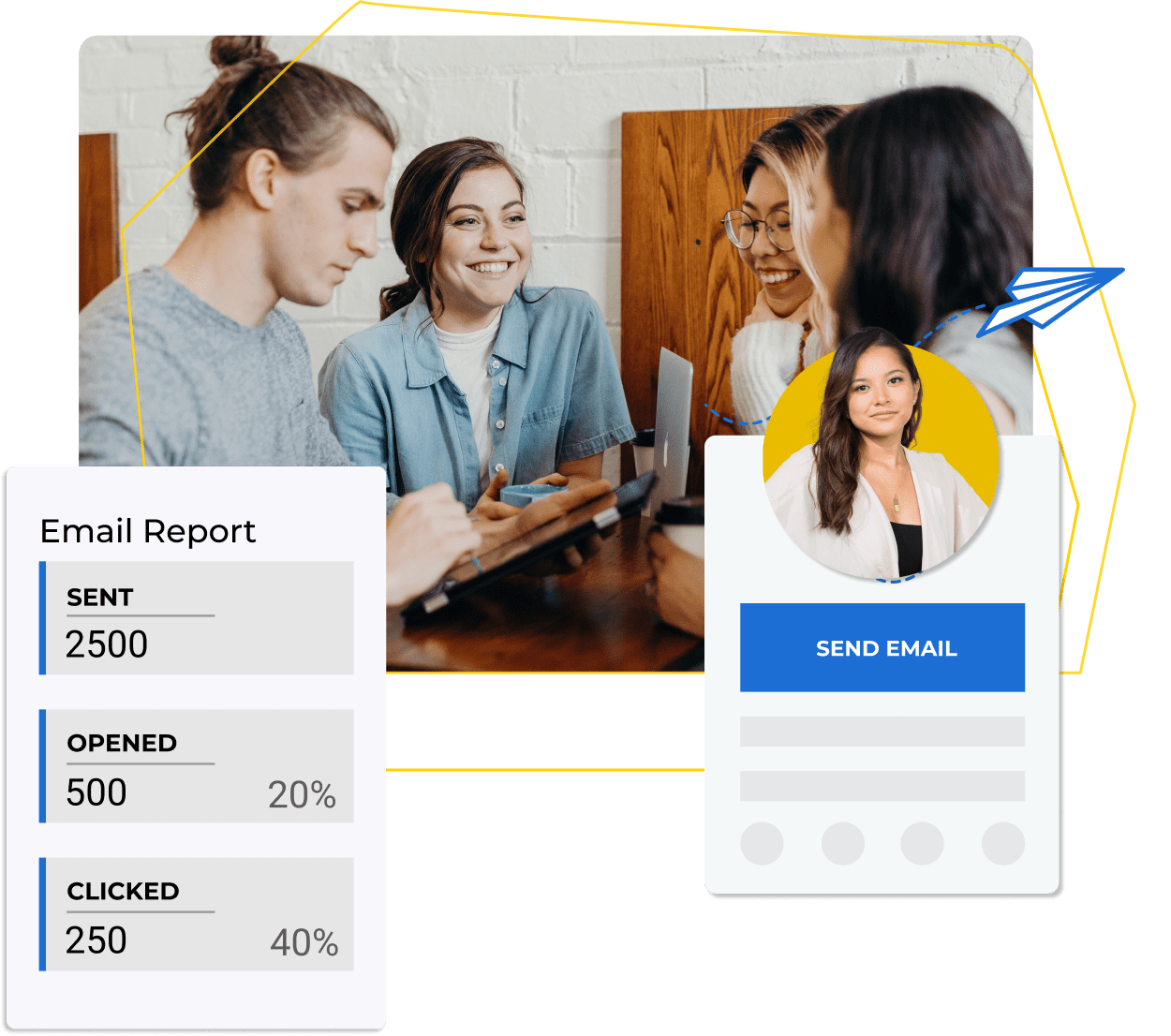 Another way to boost up the engagement with your community members is to manage the events to let you socialize with them in a meaningful way. You can organize face-to-face or online events, create tickets, and collect payment to your wish. Events are one of the crucial elements of increasing the sense of belonging in a community, and we'll be there by your side to help you do it!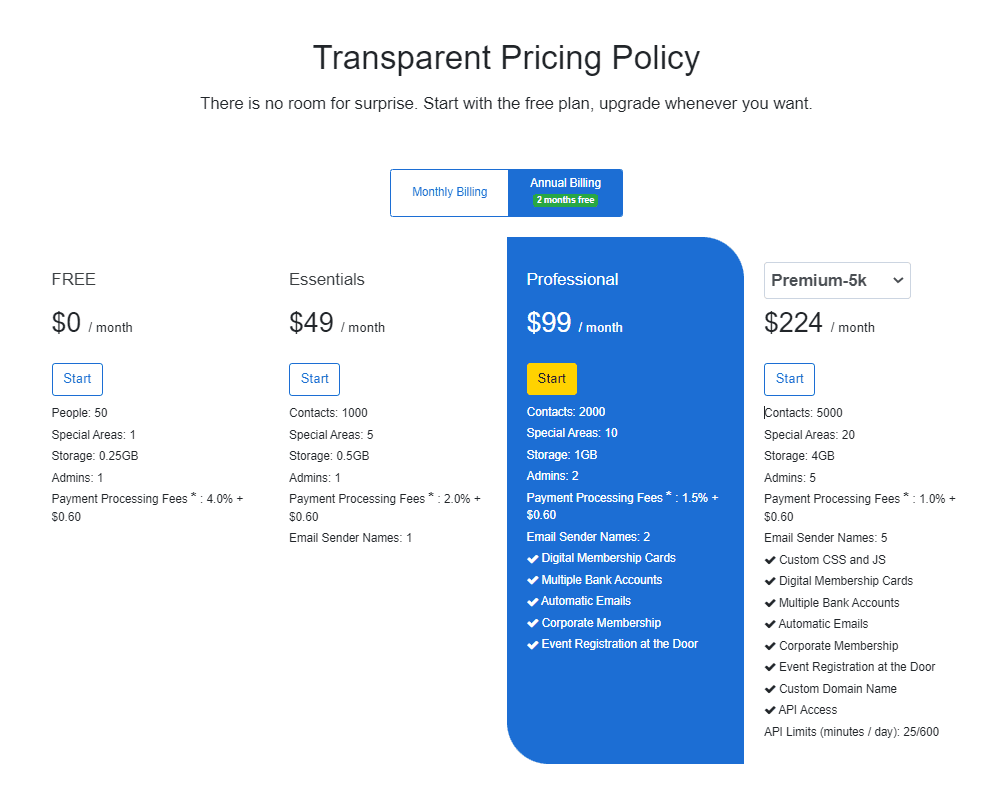 Raklet, unlike Disciple, offers a completely free plan! On the other hand, our paid plans are separated into three distinct categories as Essentials, Professional, and Premium, as you can see above.
These paid plans start from as low as $49/mo, you can see the details of our pricing by clicking here, our pricing page is simple and thoroughly transparent!
Our customer service is available to you every day to support you on your journey. You can chat with us for more details and how we can cover your needs; reach us through email at [email protected] or by scheduling a demo.

You can check out and read more about our reviews through some of the most popular and reliable platform listing sites like Capterra, G2Crowd, and GetApp by clicking on them. As you can see, Raklet is one of the highest-rated, well-recommended platforms available on the market.
How is Raklet better than Disciple?
You can see the comparison below:
Free or starts from $49/mo
Don't listen to us, listen to what our clients say

Good membership software! I really liked the support responsiveness. They are on the ball, listen to your comments and try to integrate if the comment can bring value to their product.
Powerful event management software! Raklet's web and mobile apps makes it really easy for us. We create tickets for public and members-only, offer coupons to promote our events and check-in guests onsite.
I am satisfied. We manage the administration and communication of our associations thousands of members. Support team is really kind and help us solve problems quickly through chat or video call. We sell tickets and also crowdfund on the platform.
We publish digital cards for our members on Raklet. They can benefit from the perks simply by using mobile app or adding their cards to mobile wallets. Highly recommended.
As we were about to spend thousands to develop membership software, we discovered Raklet and saved. Raklet has a lean and well thought architecture that provides you the most important features you need for membership management. It looks familiar from day 1, easy to use without extensive training.
Looking for other community software alternatives?
Create your account.
It's free for as long as you need.
Start for free & upgrade only if you need. Card not required.