Every member-based organization needs a good membership management software. Your platform should provide tools to engage your members as well as delight them with a great member experience. As your community grows, you need a great member management system to tackle all routine administrative tasks. Save time and money. Focus on creating value for your organization.
Why does your community need a membership management software?
Streamline administrative tasks easily. Access, manage, and monitor all member data from a single platform. Reach out to members with targeted messages and grow your revenue.
Set up successful events and campaigns for your community. Automate manual workflows such as payments and messages to help members stay updated. Above all, build great relationships with your members.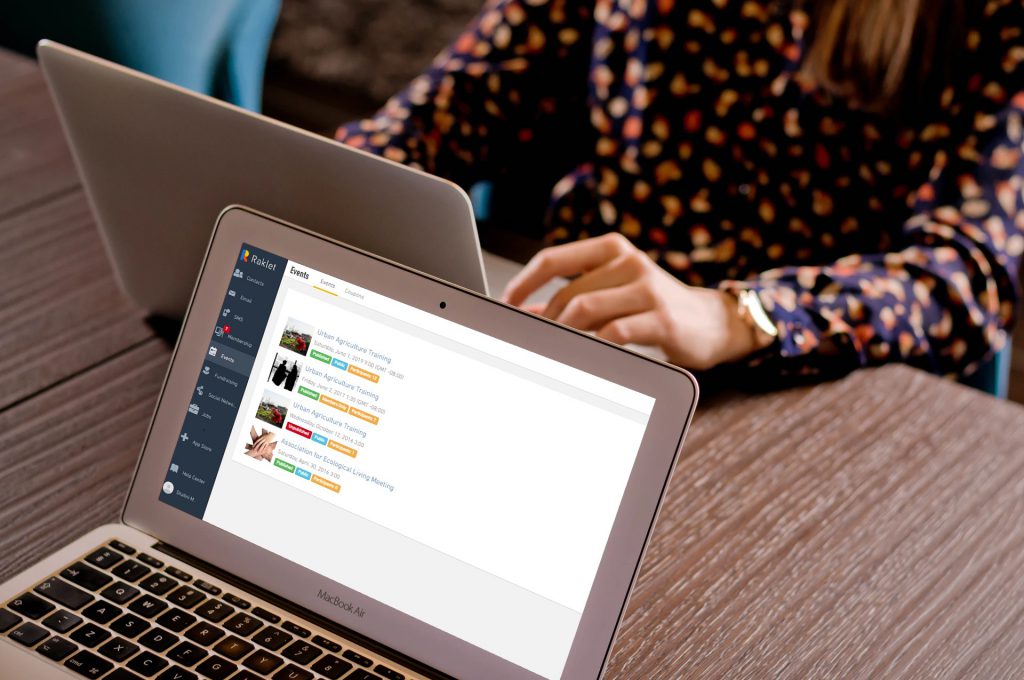 -Raklet:
Raklet's Membership Management Software is easy to use. It can be set up in a few minutes. Our platform helps communities engage with members and helps organizations with membership tasks. Our member management software is used across many organizations as well as member-based communities.
We are rated as one of the best top 20 of membership management software by Capttera.
In addition to it, our member platform is highly intuitive and user-friendly. Our mobile applications help you connect with members. Gather meaningful data about your members. Scale-up and grow your revenue.
1. Member database management
Get as much information as you want from your members with our smart application form. Collect vital data with custom fields. Store all contact information in a single platform. Manage as well as monitor member databases easily.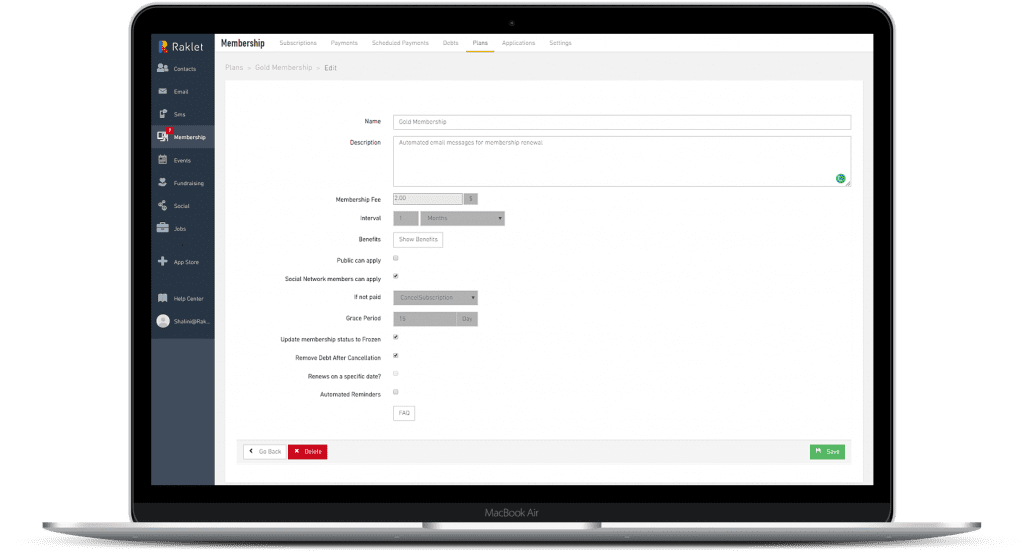 2. Automated payments; send easy membership renewals emails
Automate payments so that members have the power to instantly renew their membership. Send custom renewal reminder emails to members from the membership management system.
Read more to know how you can now view your incoming bank transfer details on Raklet.
3. Customize and publish digital membership cards for your members
Customize your digital membership cards for your members. Change the brand colors, text fields, as well as logo to reflect your community branding. In addition to this, wallet integration enables members to save the cards to their wallets and enjoys the perks of membership.
See how LHG created more than 1500+ digital membership cards for their investors in a short span of time.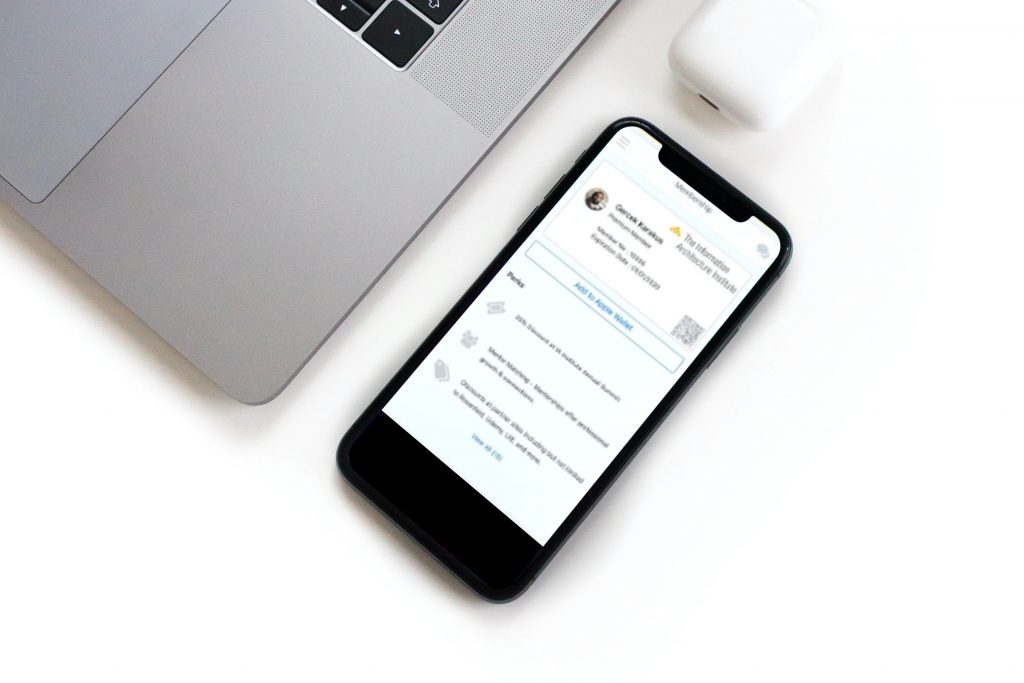 4. Set up custom membership plans for your community.
Set up membership programs with the help of various membership plans. Besides, group your members into various membership tiers based on the member activity. Flexible but powerful membership program to suit your community needs.
5. Set up events and campaigns; sell tickets online.
Set up and plan successful events as well as campaigns. Invite members using targeted messages. Sell tickets online. Create reports to know your member attendance; all from a single platform.
-Memberplanet:
Memberplanet is a great membership management software for your growing organization. Great features that enable your community to engage as well as grow. Multiple features to help you with member management, collect payments, as well as organize events with ease.
Send instant communication to your members with messaging modules. Seamless integration with third-party apps possible with API integration. Therefore, grow your member database and nurture better member engagement.
Lack of proper mobile application.
The major drawback is the lack of a proper mobile application. Mobile membership applications are not user friendly. Therefore, membership management on the mobile application is difficult.
Setting up processes takes time.
Too many steps involved in simple processes such as adding a member. Site navigation is difficult and users need training. However, they provide a lot of self-help articles and tutorials to help the users but it is time-consuming.
-Clubexpress:
Clubexpress is another great membership management software. Awesome features such as member management, event management, payment management, all from a single platform. This secure platform helps you move all your members to your online platform easily. In addition to this, all the member data can be accessed by administrators.
Secure platform with automated renewal reminder. Set up as well as manage your events easily. Managing members and communicating with members is effortless. They also have an excellent support system. So, it is easy to set up and get started quickly.
Email module not user-friendly
Though they have an email management module, many users feel that it is clunky and not user-friendly. There is no separate section to maintain insights about email communication such as click-through rate, bounce rate, etc.
Outdated web interface
Another disadvantage is the outdated web interface. A lot of time is spent on understanding how the software works. In addition to this, a few integration to third-party tools are not well- supported.
-Zenplanner:
Another membership management software on our list is the Zenplanner. This platform helps you manage members as well as keep them engaged and happy. This membership platform is mostly used for gyms, fitness facilities, yoga centers, and martial art studios.
This software has payment processing, workflow automation, and provides detailed reports to the community. They also provide scheduling which is integrated with Google calendar.
No access to instant messaging
This easy to set up a membership platform does not offer an instant messaging system. Therefore, they do not have access to quick messages. Only emails can be sent. Many users feel that the email module is not very user-friendly.
No mobile membership application
It does not have a mobile membership application as well as the ability to accept online bookings. These features are a setback for users using Zenplanner. They do offer a free trial but not a free account for communities.
Best membership management software for member management
Raklet's membership management software contains all advanced features to manage your membership with ease. With mobile applications for the iOS/ Android platform; members can be connected on the move. It is very easy to set up. Our software also offers excellent integration with other party applications such as Quickbooks.
Schedule a demo today to understand how our membership management system can help your community grow. Create a free account today.
If you'd like to learn more about membership management, check out these articles below: