The International Society of Surgery (ISS/SIC) has chosen Raklet to provide an easy way for their members to access membership benefits with a great user experience. Administrators can manage their members, update their info, and collect membership payments without any hassle.
There are two key benefits of implementing a membership management software for any society. The first one of these benefits is a customized membership application form to pre-qualify members at the time of their application. The second key benefit is the integration of a journal access.
Membership management for the International Society of Surgery (ISS/SIC)
ISS/SIC is a community of 6 Integrated Societies with surgeons from more than 100 different countries. Their goal is to provide international education in specialized surgeries as well as general surgeries in developed and developing countries.
What ISS/SIC thought about our membership software
"The greatest change and values in the application for us is, that an applicant can actually see the fee immediately when application details are entered in the system- (we didn't do applications via email before). Applicants actually had to complete a long form which was rather complex-look and feel for users/applicants now is a lot better.

Initially, all the files were sent through emails and there was a high chance that these member details could be lost. Now, event a new administrator can easily access member data and send out custom notifications based on the custom fields they have in the application forms."

Densie, ISS/SIC
Why was ISS/SIC looking for A membership management software?
ISS/SIC community had various members from all around the world. In order to accommodate all of them, tailor-made membership plans were required.
The challenge is to provide an easy way to enable the members to choose the right membership plan depending on their country, occupation, and age. We have created a user-friendly form for their onboarding process.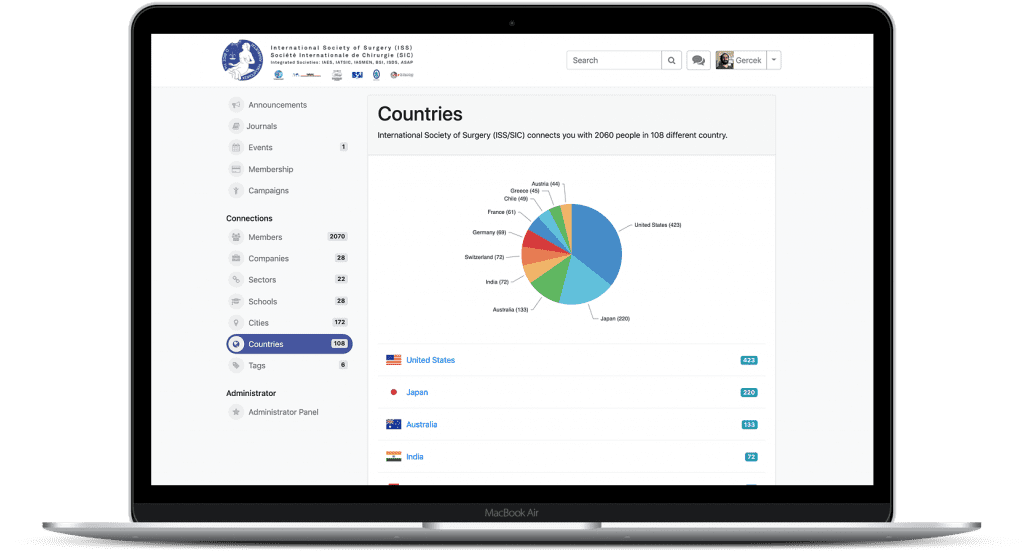 One of the key benefits of being a member of ISS/SIC is to get access to their journals. This helps them post the latest and most current journals and write papers exclusively for their members.
Automatic membership renewal was another hurdle they had to cross. They had members from all over the world so it was difficult to keep track of payments. So, they were looking for an easy to set up the software for managing their members
Raklet: all-in-one member directory software
Simplified membership management: Now they can simplify membership tasks such as new member processing and automating membership renewals. In addition to this, they can manage their member database with Raklet's membership management software.
Seamless Integration: Raklet offers seamless integration to their website with the help of WordPress membership plugin. Members can log in or sign up directly from the website which has links to respective pages on Raklet. Therefore all their members can easily access the members portal from the organization's website.
Engage your community: Raklet offers various features to engage your community. Admins can use integrated email and SMS messaging tools to keep their members updated and engaged. They can also publish announcements, organize events, and provide job boards to provide additional value.
Manage Your Subscriptions: Subscription management is very easy with Raklet. You can set up your membership application form, collect payment information securely and charge members automatically when it's due. Raklet also automates membership renewal reminders for members so admins don't need to worry about manually following up when a membership is about to expire.
Raklet's membership management software to the rescue
To accommodate the various membership plans, Raklet customized the application forms by building the pre-qualification questionnaire. Now, members answer the questions, and based on their responses, Raklet offers the right plan from over 60+ membership plans that ISS/ SIC has for its members.
Customized membership forms for ISS/SIC
The customized forms in the membership management software for ISS/SIC were specially designed following their business logic. We also added custom fields in the membership form so that the members can choose their interests. File uploads in the membership form helped them maintain a complete database of each member.
Initially, all the files were sent through emails and there was a high chance that these member details could be lost. Now, even a new administrator can easily access member data and send out custom notifications based on the custom fields they have in the application forms.
Members can choose multiple membership plans and they can see their total fee in real-time. This experience is similar to an online shopping cart.
Journal integration for their members
One of the best benefits of being a member of ISS/SIC is the member's access to different journals. Journal integration allowed its members to learn more about their community. Above all, it offers the latest insights about advanced clinical practices which are vital for ISS/SIC members.
The ISS/SIC community uses Springer for its publishing needs. Raklet seamlessly integrates with Springer so that members can easily access journals with a single click from the members portal.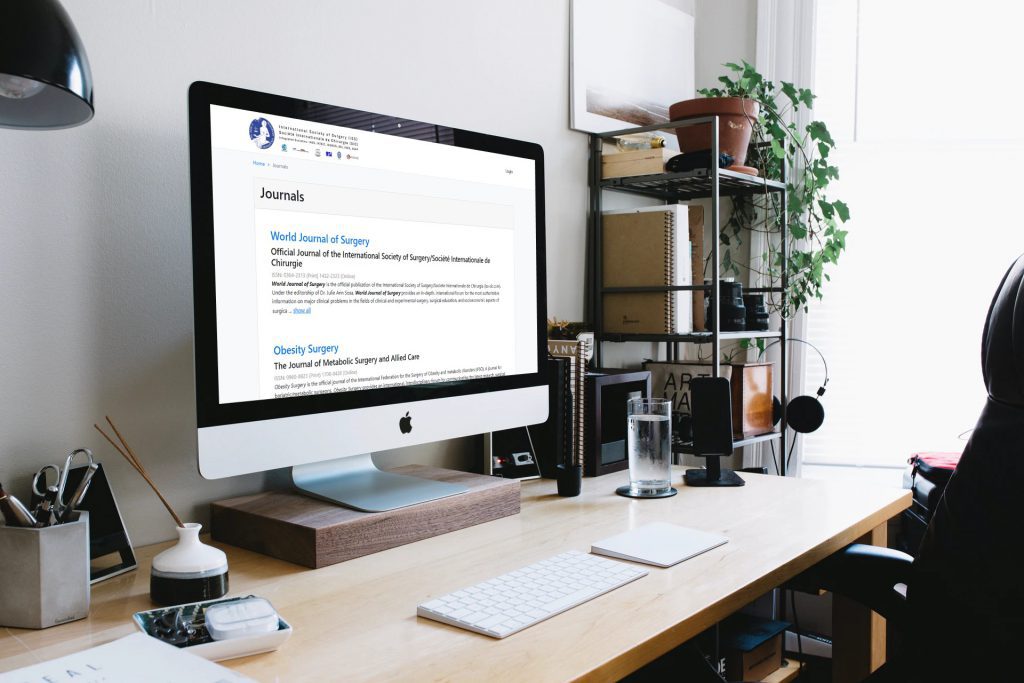 Membership management software by Raklet empowers members to stay connected with each other. They can browse the member's directory, see where they work, as well as live, and send private messages to each other. Similarly, Raklet's email and SMS modules enable admins to send out information to update their members.
Raklet's event management module allows ISS/SIC to schedule their community events easily. It helps their members register for the event by filling in necessary member information before registering for the event.
Mobile membership applications
Both the administrators as well as the members of ISS/SIC can access Raklet's iPhone /Android-based mobile applications from their phone. Admins can approve a member on the go while a member can access the journals and other updates on their mobile phones.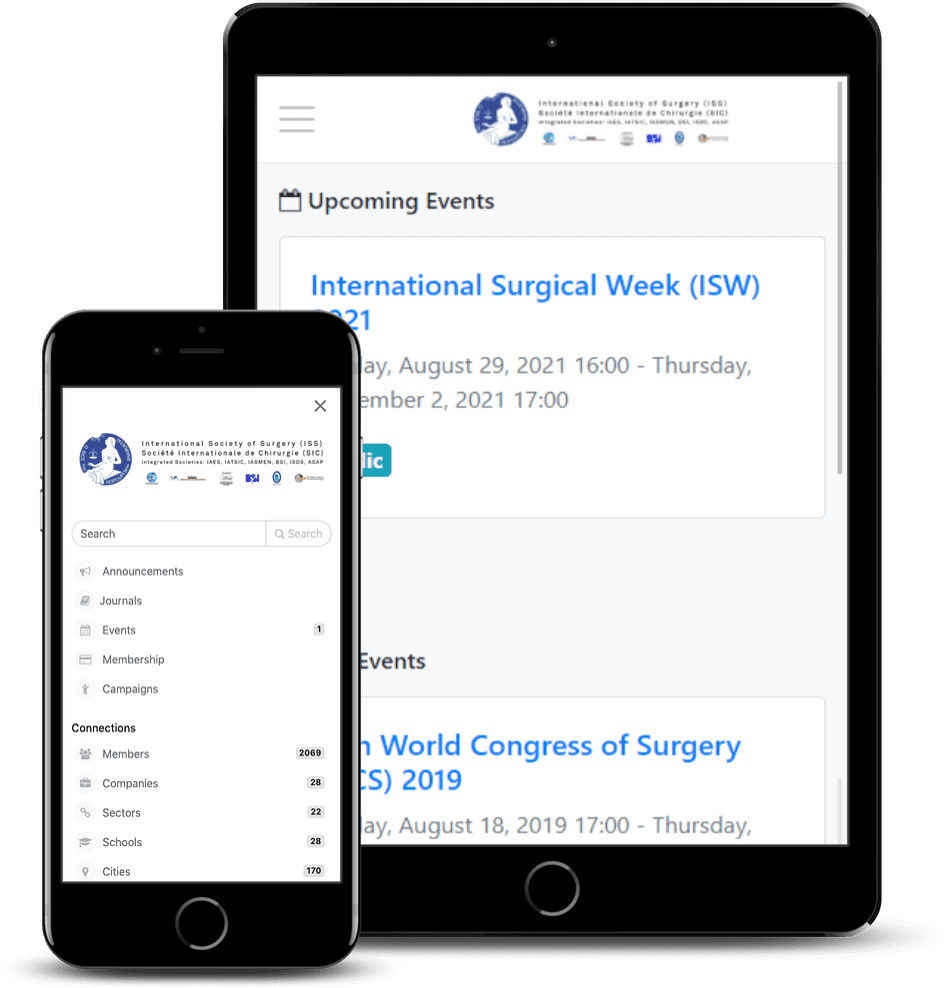 Simplifying membership management for ISS/SIC
We're really happy that ISS/SIC decided to work with us to streamline their membership process. We also believe that Raklet will be very useful and helpful to any other society looking for a modern membership management platform.
Want to learn more about how to create an easy-to-use platform for your members? Check out our membership management software and create a free account today.
If you'd like to learn more about membership management, check out these articles below: