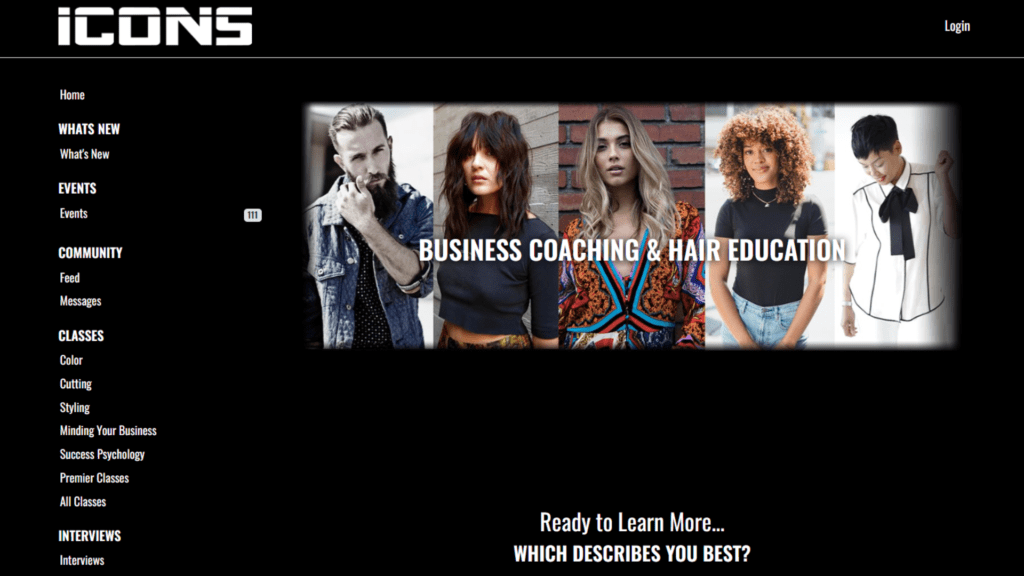 Are you selling courses or coaching online and building a community around it? Do you know what to do? Let's figure out the success story of Icons, a high-quality beauty and wellness institution, to explore the power of Raklet, a revolutionary all-in-one platform.
Icons, a renowned beauty school, realized the power of Raklet in transforming its business and hasn't looked back since. They offer a vast range of classes, including hairstyling, makeup arts, skincare, and nail care. Icons have always been committed to excellence, and they needed a management tool that could match their dedication.
Thanks to Raklet, Icons can control their members, but this is just one of the great features of Raklet. At the same time, it can do things like event management and online classes through its platform, Raklet. Thanks to the layered feature, the ability to share according to the level of the member is the cherry on top of the cake part of the business.
In short, with Raklet, you can apply your imagined designs to the platform and mobile app, easily control your members, organize events, and keep them informed of all updates.
What are you waiting for? Read on to discover all the features of Raklet!
Raklet vs. Mighty Networks: Why Raklet Stands Out
Icons could've chosen any community management system, including Mighty Networks. However, Raklet triumphed due to its holistic solution. Unlike Mighty Networks, Raklet focuses on both building communities and managing memberships.
They chose Raklet because, unlike Might Pro, which costs $30k/year, it has branded apps for iPhone and Android. Raklet can also be changed in many ways. They sell memberships, classes, and materials behind a paywall. It's easy to add different levels of membership to posts and boards. Raklet allows for a unique design, premier classes, and a personalized homepage. For events, Raklet works with Zoom to automate registration, tickets, and check-ins, and it also lets people talk to each other in separate groups. Raklet is their top choice because it has so many features and makes it easy to organize events and memberships.
Raklet's Role in Revolutionizing Icons' Class Management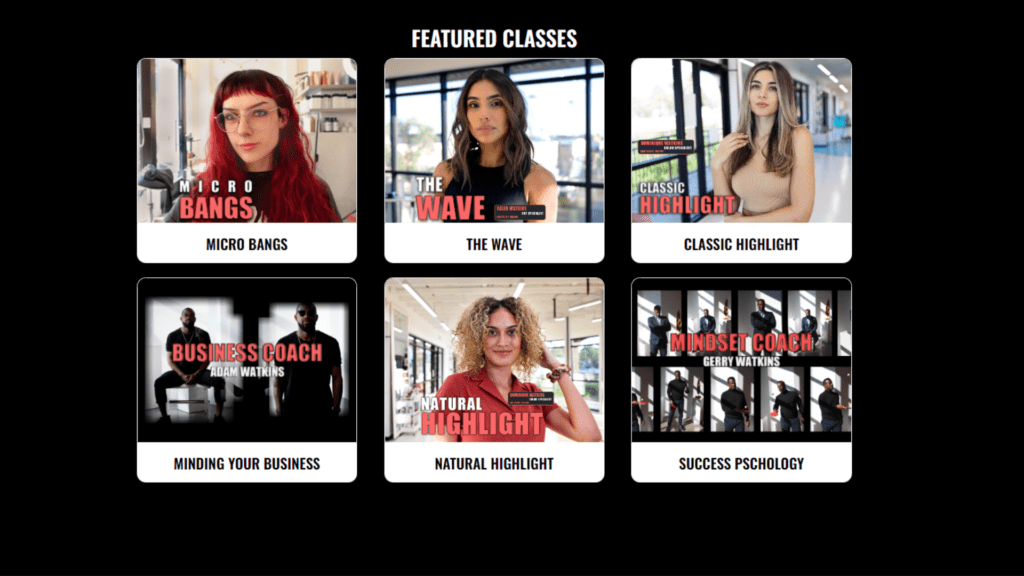 Raklet has played an important role in streamlining Icons' class management and sales processes. It has provided an organized strategy that has not only simplified management tasks but also enhanced the user experience. From efficient class registrations to secure payment systems, Raklet has improved the overall revenue generation of Icons.
The Power of Customization: Icons' Branded Mobile App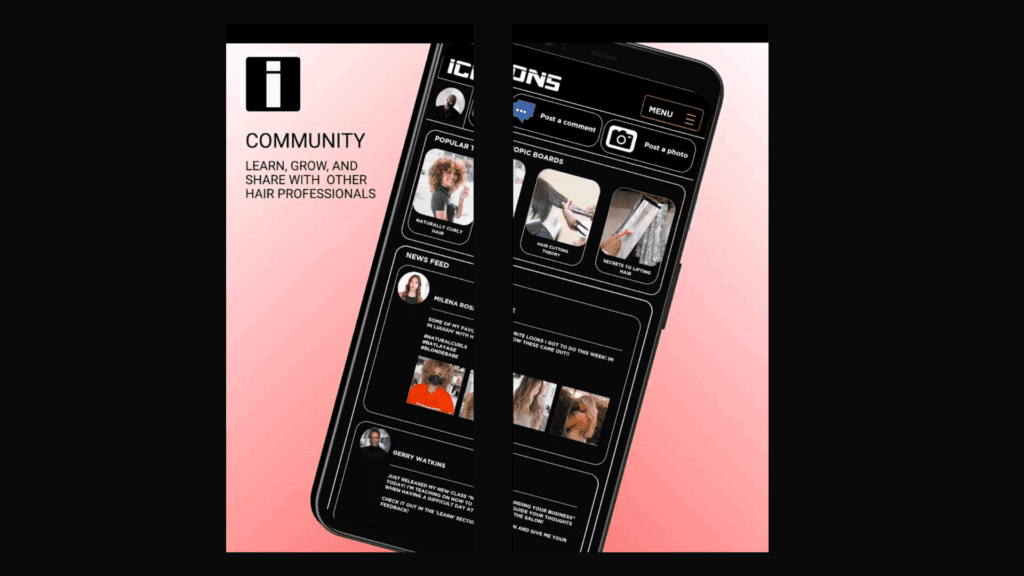 Raklet's custom-branded mobile app feature has been crucial for Icons to boost its brand identity. Designed meticulously to reflect Icons' unique style, the app provides essential information and connects the community effectively.
Icons use Raklet's wide range of customization choices to make the most of the branded mobile app feature. They have carefully chosen the app's style and features to meet the wants and needs of their group. Icons can include unique features like customized user profiles, interactive event calendars, and smooth contact routes within the app. This level of customization lets Icons build a personalized experience that works for their community, giving members a sense of being part of a small group and making them more interested in the site. By using Raklet's branded mobile app feature to its fullest, Icons has created a mobile presence that is consistent with its brand personality and gives its community members an intense and interesting experience.
Maximizing Engagement with the Custom-Branded Mobile App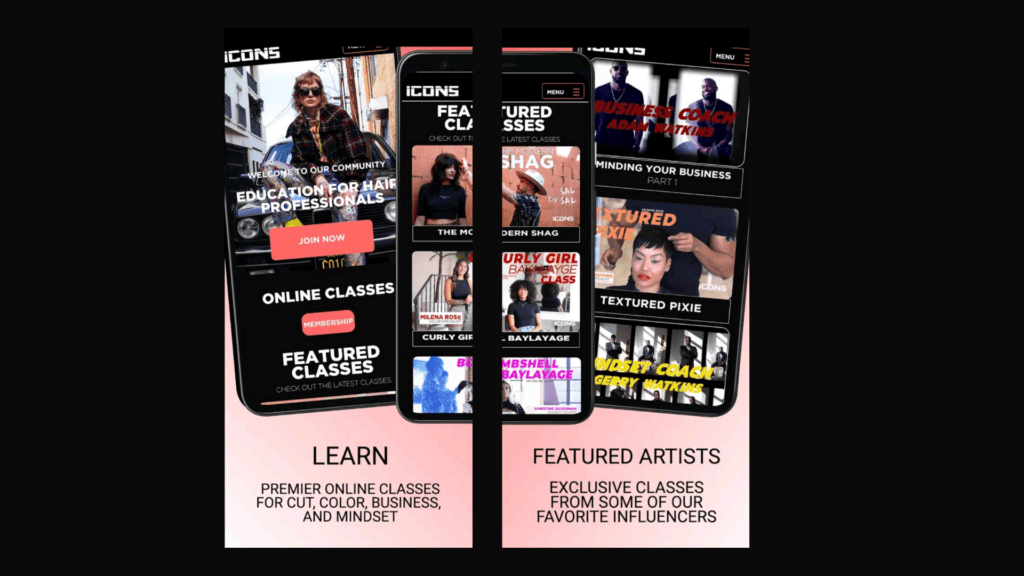 Icons' custom-branded mobile app serves as a one-stop solution for members to access important information, sign up for classes, stay updated with news, and engage with the community. Through this app, Icons managed to enhance member involvement, elevate brand visibility, and provide a seamless connection to its services.
Creating and Managing Events with Raklet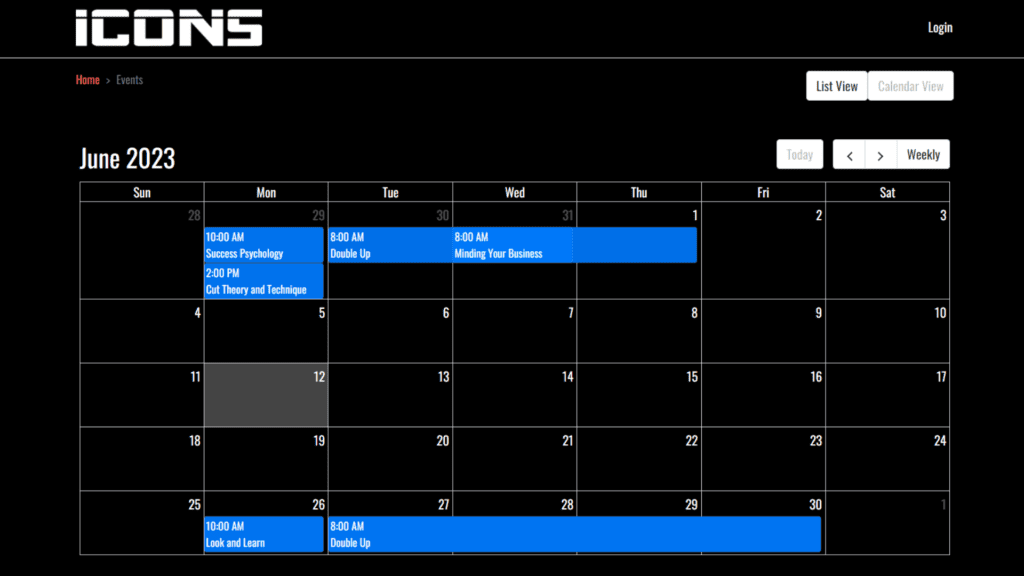 Raklet's ability to manage events is very helpful to Icons. They can easily hold Zoom meetings, collect registrations instantly, and keep track of who is there with special tickets for members. The Zoom integration makes the experience even better by letting people automatically check-in and making it easier to talk to attendees based on things like their involvement state when they signed up, and more. In addition to these features, Raklet integrates with Google Calendar and other tools, giving Icons a complete option for managing events.
Raklet's impressive event management goes beyond just Zoom integration. Icons can easily set up the details of an event, invite people to attend, and sell tickets. Raklet's analytics allow Icons to make choices based on data, gain useful insights, and keep improving their event services. Raklet's easy-to-use interface and wide range of integrations, such as with Google Calendar and Zoom, make it a complete option for managing events efficiently, and Icons can give their members great experiences.
Leveraging Boards for Exclusivity and Value
Icons have used Raklet's board tool to make their classes even more exclusive and valuable. Icons have made it possible for course participants to have focused talks, share important insights, and get access to special tools by giving plan-only access to some boards. This method not only makes people feel like they are part of a group, but it also makes their learning experience more valuable. Icons' smart use of Raklet's board tool has led to more people signing up for courses, happier members, and a better image for providing high-quality educational material. Participants feel lucky to be a part of a small group and enjoy being able to meet with people who have similar interests in an exclusive learning setting.
Connecting the Community with Raklet's Messaging Tool
Raklet's messaging feature has facilitated a vibrant, engaging community within Icons. This tool has made communication simpler, more personalized, and more collaborative. From teacher-student interactions to peer discussions, Raklet's messaging feature is the lifeblood of Icons' thriving community.
If you want to elevate your organization and community, then why wait? Icons' change shows how powerful and promising Raklet is. Explore Raklet and change the way you do management today.
If you would like to learn more about the other organizations using Raklet software, you can check out other case studies from our website: