Building a positive alumni engagement is the foundation of creating a life-long relationship with your alumni. With Raklet's all-in-one alumni management, you can create a scalable alumni network. Moreover, you can streamline all your alumni processes with ease, and integrate the alumni platform within your website. Above all, our alumni engagement platform makes sure you have everything you need to keep your alumni happy.
GSUMED's needs for building a sustainable alumni network
Galatasaray University Alumni Association (GSUMED) is an alumni community with over 3000 members from various sectors and companies in their network. With a large alumni base to cater to; they had various needs for better alumni engagement such as:
All-in-one alumni engagement software with advanced engagement modules such as member database, event modules, job boards,
Member portal that allowed members to update their membership data,
Easy-to-access member database with all the data in a single platform,
Job boards that enable new career opportunities for their alumni,
Easy messaging system to empower their alumni to share valuable information between themselves,
A reliable as well as a secure platform for online payments and donations,
A software that enabled them to build a mentoring network with a large network of talent.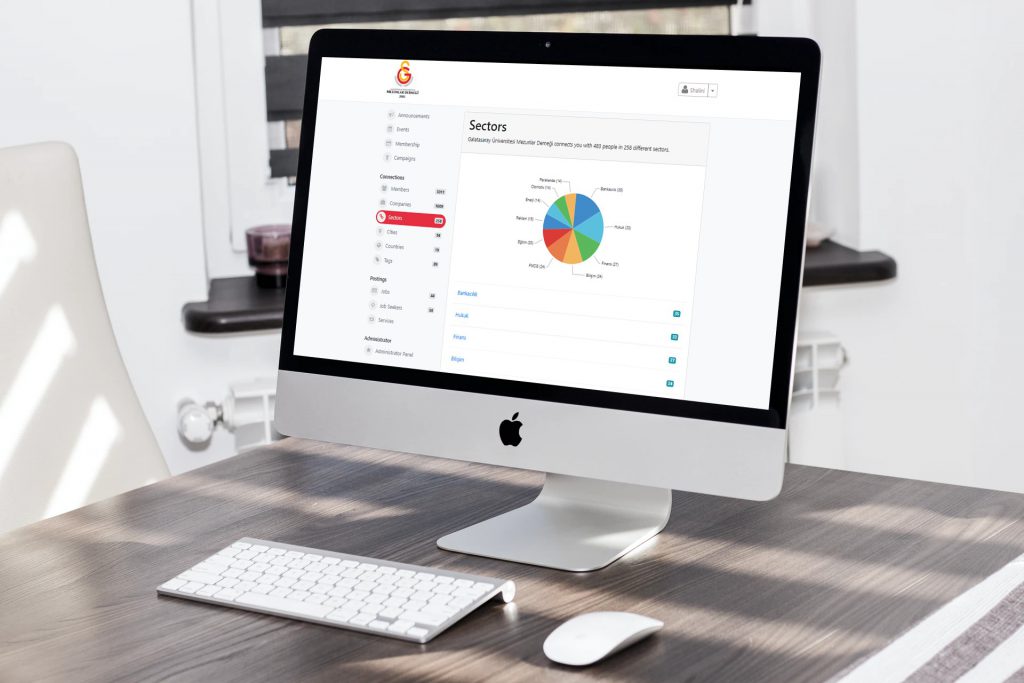 Tailored and meaningful programs to empower alumni and promote positive alumni engagement with Raklet.
Raklet's alumni engagement platform enabled GSUMED to have a clear picture of their alumni data from a single platform. Our software has been the center of alumni activities. With all data stored on a secure database, members were able to share knowledge as well as grow their network.
1. Positive alumni engagement with social networking capabilities
Simplified communication modules helped drive better engagement between the members. Besides, automated messages and push notifications enabled alumni to stay connected with each other. Mentoring opportunities and knowledge-sharing sessions were possible with the instant messaging system.
2. Member management from a centralized platform
Members don't have to fill out long forms to join the community. The online membership application system empowers alumni to sign up from anywhere. Raklet allows you to store and access all your member data in a single platform. This way, you can learn more about your alumni, contact information as well as their member activity. Above all, automate payments to enable members to pay their membership fees on time.
3. Digital membership cards for your alumni
You can save time and money by offering digital membership cards. You don't need to print outdated physical copies of membership cards and renew them every time information is updated. It is easy to customize and publish membership cards for an unlimited number of contacts. Raklet allows for customizations in terms of colors, text fields as well as logo to reflect your alumni community. You can start creating your own digital membership cards with Raklet now!
4. Plan and set up events as well as fundraising campaigns
With our event and fundraising modules, you can plan as well as set up successful events for your members. It is easy to sell tickets from the platform itself. Moreover, you can set up donation drives for your alumni with our fundraising module. Raklet's integrations enable members to pay donations through secure and fast online payments.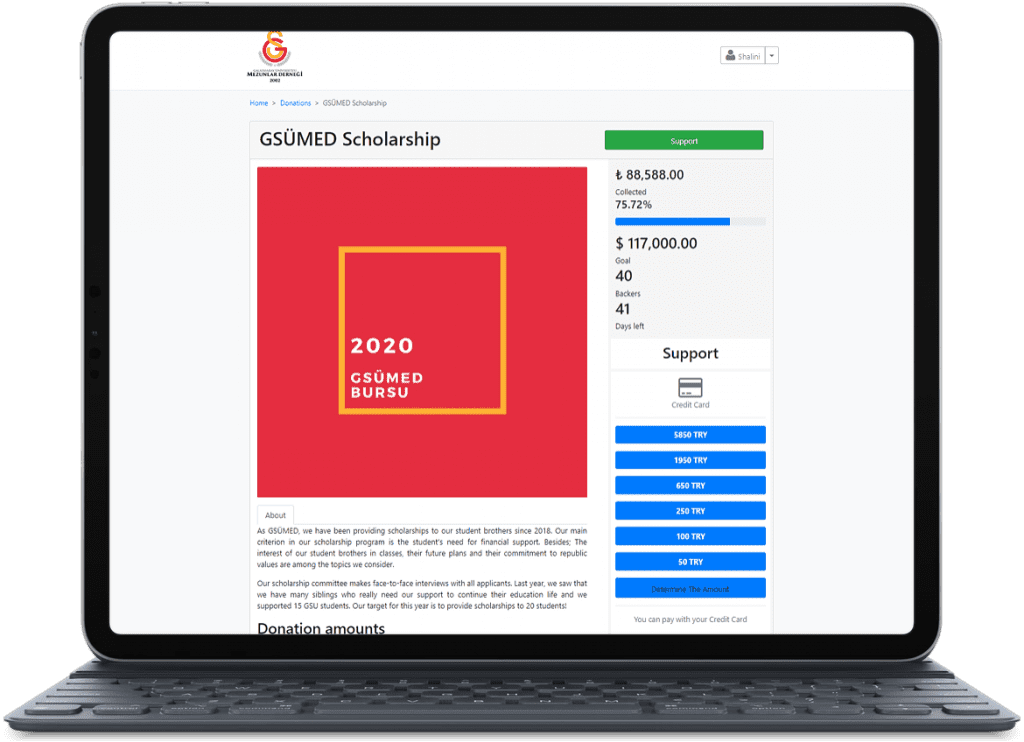 Read more to find out how to set up a donation page in your Raklet account.
5. Create new opportunities for better alumni engagement with in-built job boards
Our built-in job boards help you create new job opportunities for your alumni. GSUMED used the platform to engage as well as empower their alumni with new career opportunities. Similarly, custom filters helped them select the job they were looking for.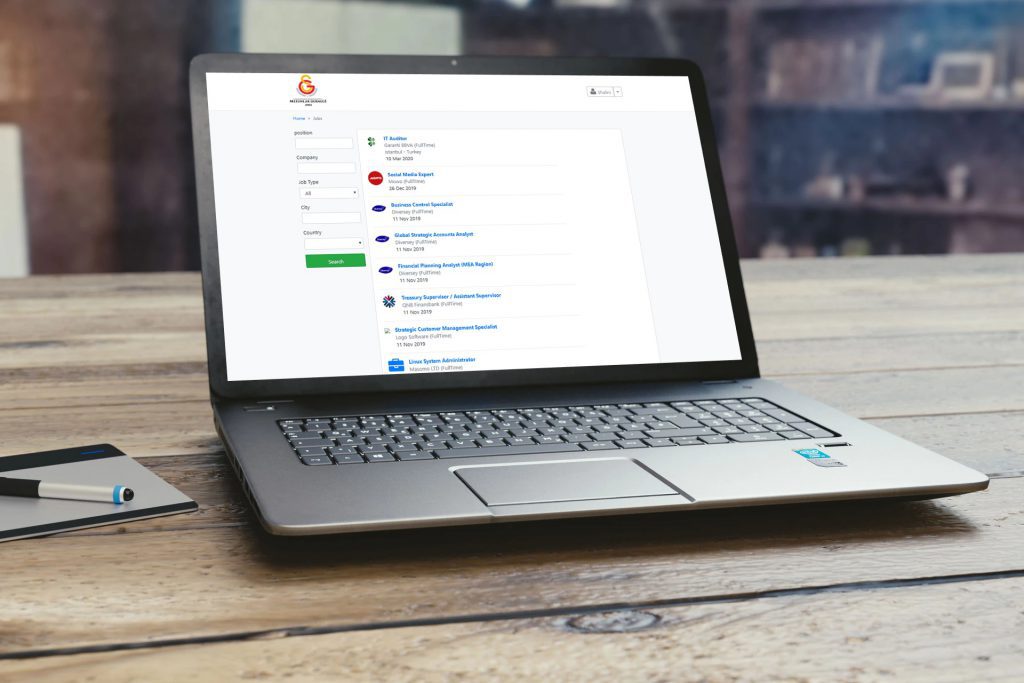 Bring your alumni together with advanced features; create a big impact with relevant alumni data.
Raklet's alumni management helps you to focus on bringing your alumni together. You can create a big impact with a small team, automate many processes, and promote positive alumni relationships. With mobile applications on both iOS and Android platforms, it is now easier for alumni as well as administrators to stay in touch. Above all, you can provide efficient knowledge transfer and relevant expert advice for your alumni.
You can integrate our alumni management software within your already-existing website. There are many areas to customize your platform to meet the unique needs of your alumni group whether it is a fraternity or college graduates group, Raklet is here to help! If you would like to learn more about what Raklet offers, you can schedule a demo with our experts. You can create a free account to get started right away!
If you'd like to read more about alumni association software, check out these articles below: