Saint Joseph School Alumni Association had challenges while trying to engage with their alumni. As most schools would know, bringing alumni together can be hard. Saint Joseph School chose Raklet alumni engagement software to overcome these challenges.
All schools want to keep their relationships with their alumni. They want to remember the good times they had. As years go by, it gets harder to keep the bond between graduates. Everyone goes their separate ways, mostly they cannot build lifelong relationships.
Alumni associations aim to sustain the relationship between the school, alumni and the existing students. Their main goal is to keep track of their graduates, and see how they are doing.

They also try to hear about their experiences they had after the school, and use these experiences as a roadmap for their current students. Alumni associations can be extremely useful for existing students in their way of getting ready for work life.

But it is not always possible for schools to keep track of their alumni. Especially as each and every years the alumni number increases, alumni associations find themselves under a greater burden. Plus, it's not easy to get up-to-date information about your alumni manually. You would need to search or call every one of them to update the data on hand.

Luckily, it is possible to create a platform where you can engage with your alumni. You can automate all of your work. This was also the Saint Joseph School's case. They had challenges engaging with their alumni, but were able to overcome them through Raklet's alumni engagement software.
What Were Their Challenges?
Saint Joseph Alumni Association had the same issues with other alumni associations. In order to solve them, they were looking for an online platform for their alumni. We gathered some of the problems they encountered until they found a solution.
#1 Collecting Up-to-Date Information About Alumni
All schools can track their alumni information about the first 1-2 years after graduation. But, as graduates change their jobs, industry, or country, things get complicated. It is not possible to keep track of information about thousands of alumni for years. If you rely on the data on hand, it won't be reliable as graduates climb on the career ladder.

Sure, alumni associations did this manually before. You can choose to collect alumni information by calling them one-by-one. But if you think about it, it's not the most efficient way. Also, alumni associations that don't have an online database always face the risk of losing all the information.

#2 Lack of Engagement
There may be thousands of graduates, but if you lose the connection, they won't be your alumni anymore. This is one of the most important challenges that alumni associations face. They might gather the data by hand, but more than usually, graduates won't connect with each other.

This results in lack of communication between alumni and the school. Also, graduates that work in the same area can't communicate with each other. Not to mention that if you plan events in your school, most of the alumni won't even hear about it.

#3 Waste of Labour
Alumni associations can be definitely run manually. It is not efficient but certainly possible. But this wastes a ton of time, and keeps you from spending time for more important things. It is not ideal to write down or collect information about thousands of people by hand. Especially when there are tools to do that automatically. Saint Joseph School Alumni Association has thousands of members, it would be a nightmare to write them down manually. 
But luckily, Raklet's all-in-one high school booster club membership software allows you to automate these works and prevents waste of time.
#4 Identification of Graduates
It is not always easy to identify your alumni. If you have an immense number of alumni, you'll see that you forget about them easily. Graduates without graduation year, major or pictures could harm the credibility of your school. Ideally, you would want them to be visible with all of their information. You should know exactly who they are, and what they are doing now.
How Did Raklet Solve These Issues?

Collect All the Information With One Click
Raklet allowed Saint Joseph School Alumni Association to collect any data they need, with just an application form. They even included a custom field about the most memorable moments of their alumni. You can easily collect any type of information in your application forms.

After you collect all the data you need, you can export them in a file to use further. Also, Raklet's improved filtering feature will make sure to categorize your members however you want.

For example, Saint Joseph School Alumni Association published all the data about their alumni. Raklet made it possible to list them in an orderly fashion. Now, you can see their graduates' university, work, and where they live. They can easily show any current information with up-to-date design.
Private Social Network With Raklet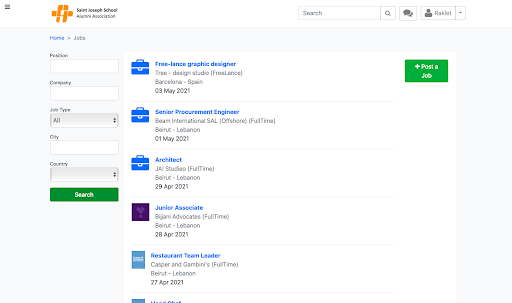 As we mentioned before, one of the biggest problems of alumni association is engagement. Saint Joseph Alumni Association solved this problem too, with Raklet. They created a job board to help their members. Now, they can post jobs for members to apply. In addition, members can create "job seeker" posts to let their alumni know they are looking for jobs.
Less Work Thanks to Raklet
The best part about creating an online platform for your alumni using Raklet is; you don't have to spend hours and hours managing your alumni association. Saint Joseph School Alumni Association was able to automate their membership application and current member information.

Raklet also provided SJS Alumni with;
Automated emails
Event management
Discussion boards
to engage with their graduates.

To sum up, Saint Joseph Alumni Association chose Raklet to overcome their struggles about maintaining an up-to-date alumni database. They now have approximately 600 members. They don't have to manually update their information from now on.
As you can see, Raklet's alumni engagement software is a great way to speed up the process. Schools can keep their connection with alumni effortlessly. You can create your account within a matter of minutes.
After that, you'll be able to:
Import alumni database easily
Automate membership process
Engage with your alumni
Keep track of current alumni
If you are also looking for an alumni engagement software to easily manage your association, check out Raklet. You can book a personal call with us from here. You can easily start thriving your alumni with Raklet.
If you'd like to learn more about alumni association management, check out these articles below: