Event management IS a must for all nonprofit organizations, and it was even more important for Erin's Hope For Friends. They are a nonprofit organization hoping to create "lasting relationships through joyful interactions for autism spectrum teens and young adults"; whıch ıs WHY events were the focal point as they looked for a nonprofit software! They chose Raklet, and have been launching events nonstop ever since. To learn more about how Raklet helped EHFF, keep on reading.
Who is Erin's Hope for Friends?
Erin's Hope for Friends (EHFF) is a nonprofit organization created to help autistic teens and young adults build meaningful connections with others. Most young people on the spectrum have a very difficult time fitting in; because they have difficulty understanding social cues and common gestures. This leads to higher depression rates and lowered self-worth. They had a variety of features they looked for when searching for a nonprofit software.
EHFF's mission is to help them build lasting and healthy relationships in a safe space. This is why event organization is very important for them.
COVID has made things more difficult in the past two years, but they have been continuing their admirable mission both through virtual and sometimes physical events. As vaccination rates increase, EHFF has been organizing even more physical events where people can interact, meet, and build meaningful relationships!
What Did EHFF Need?
First of all, as a nonprofit organization, they needed a robust database to list their members and store their profile information. Collecting data manually is an unnecessary and time-consuming task, which is why they were looking for a robust membership software.
Furthermore, they also needed a private platform to share announcements. They looked for a feature that would help them reach out to their members about any updates within the organization. A branded platform where members could log in and access EHFF-related information was a must for a nonprofit software.
When it comes to interactions, which is EHFF's main goal, events were the top priority. They needed a solution that could help them set up events, share their date, location, whether their physical or virtual, and much more.
Similar to other nonprofits, they also needed a space where they could collect donations and payments. Selling tickets, creating memberships, collecting donations were important for them to continue working towards their goal.
How Did Raklet Help Them?
1. Branded Platform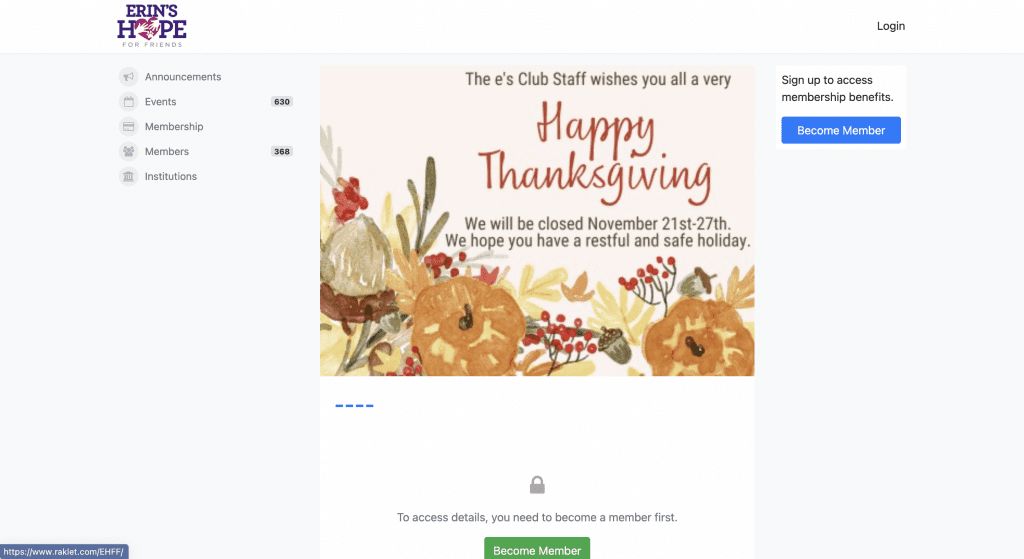 With Raklet's nonprofit software, they have created a branded platform specialized for their organization! They use their logo at the top, and their members (or any visitors) can access their website from https://raklet.com/ehff.
They can create public posts or posts that are for members only. In order to access member benefits, learn more about events and read announcements, you'll need to become a member of EHFF. They decided to make their content locked to members to keep their information private.
2. Announcements Board
As you can see above, they make great use of the announcements board. These posts are locked to their members only, and they keep them up to date with any changes that occur within the organization. Especially in a post-COVID world, where connection mostly happens online, announcement boards and mass messages are very important for a nonprofit software.
They share images, links, and more information about any updates they might have. This way, they can build strong connections between the managers of the organization and the members of EHFF. Members can also like and comment on these posts to share their thoughts and wishes.
3. Event Creation and Management
Events are a core part of the EHFF, and they can create and organize events freely with Raklet. They can create different types of events and then give more information on the event's specialized page. They can add images, links, and further decide how the event will progress.
For example, the event above is an online event, created for members only. There is a limited number of members so that it's not too virtually crowded and everyone has space to talk. Once someone registers for an event, they are able to access the link that will lead them to the meeting when it's time.
Furthermore, they can also add the event to their calendar so that they can be reminded when it's almost time! As more people register, the members will also be able to see how many participants there are, as well as who will be attending with them.
Raklet's a great solution not only for online events, but also for physical events. You can see EHFF's "Drive-In Movie Night" event above. They have created a drive-in event so that people can still do an activity together and abide by COVID regulations at the same time.
Members can RSVP their spots, and also access the map of the precise location of where the event will take place. Once they have RSVP'd, they can also add the event to their calendar for ease of use. As we have mentioned above, they can also see other participants and how many people will be attending.
4. Payment Collection – Selling Tickets and More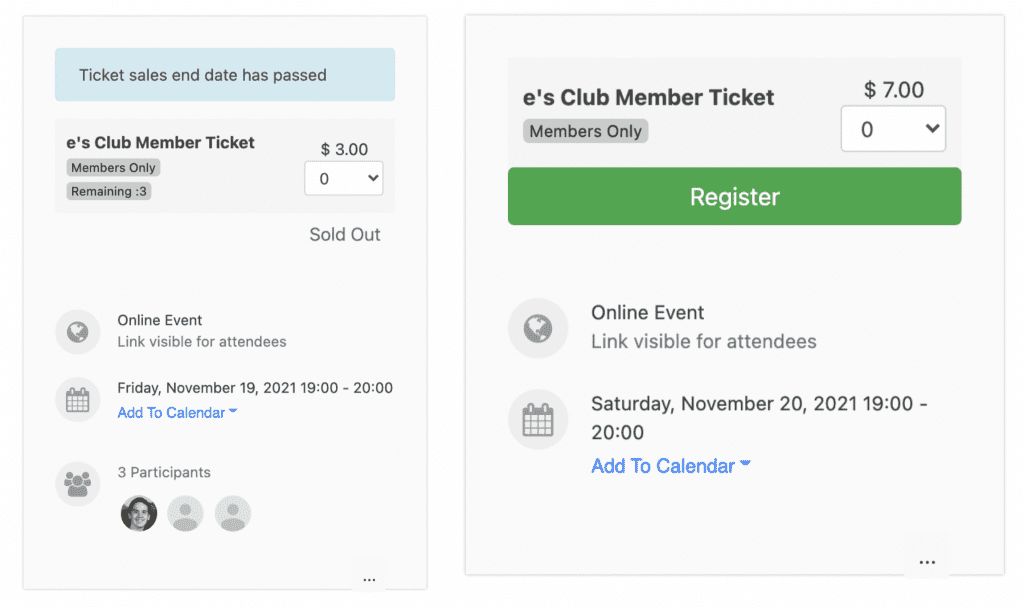 Not only can they organize events, they can also collect various payments through Raklet's nonprofit software. One of the most used methods of collecting payments by the EHFF is through selling tickets to the events we have mentioned before.
They can arrange different ticket prices for different events, and if they so wish, they can also allocate different prices for different membership tiers. Right now, they are focusing on selling event tickets to fund their organization and events, and have been doing so seamlessly since they started working with Raklet.
Best Nonprofit Software Raklet
If you have similar problems as the EHFF and are looking for a nonprofit software, Raklet's the answer for you! We have a great variety of features for nonprofit management, ranging from custom application forms to event organization, payment collection, and much more. You can send mass messages, emails and arrange fundraisers to reach your goals.
Raklet is passionate about helping nonprofits change the world, and we do our best to help you streamline difficult membership processes from a single platform. Furthermore, to eligible nonprofits, we also offer a %50 discount on our plans! For more requirements, you can mail us at [email protected].
If you have any questions or doubts, consider setting up a demo with us. We would love to share with you what Raklet does, and help you find the best solution for your nonprofit.
We have written a comprehensive guide for nonprofits to help them get set up from A to Z, which you can check out here. For more articles on nonprofit management, check out these below: