Managing a nonprofit organization requires hard work and dedication. Here is detailed information on why you need a nonprofit accounting software and the top 5 best software in 2022!
What is a nonprofit accounting software?
Nonprofit organizations do not sell products or offer services for their own profit. Nonprofit organizations are mostly event-oriented. They focus on helping a specific group of people. However, they still receive funds from their members. That is why they need an easy solution for accounting. Most nonprofit accounting software offer services like fund accounting and donation management. These are good for your organization as it is important for your donations and expenses to be transparent.
Why do you need a nonprofit accounting software?
Since nonprofits do not try to make a profit for themselves, they function mainly with funds and membership fees. With a nonprofit accounting software, your members can be aware of how their money is being used. It is easier to track your payments since you can gather them all in one place. A nonprofit accounting software will give you features like donation tracking and donor management. You can do accounting and budgeting as well.
Top 5 Nonprofit Accounting Software of 2022
5. MIP Fund Accounting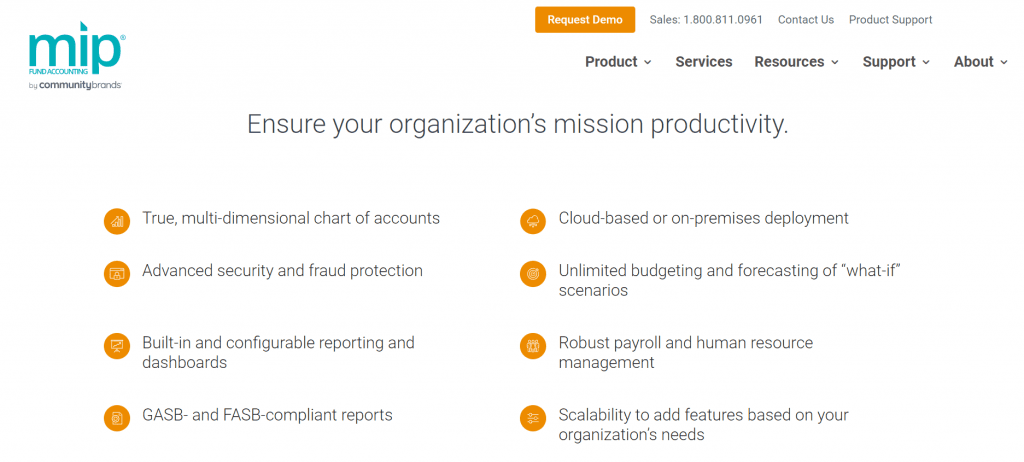 MIP Fund Accounting is a software designed specifically for the financial needs of nonprofits. They offer services like budgeting and fund accounting. You can also manage donors and track donations through the platform. This is a nonprofit platform and not an accounting platform by itself. So, the software might be offering more specific and focused features for your organization.
One of their biggest defects is that they do not offer pricing information on their website or on Capterra. In order to get an estimated price for their services, you need to contact them and maybe request a demo call. They also don't have a free version or a free trial. This might be a drawback for people who are in the contemplation stage on deciding which platform to use. There are also negative reviews about the system manuals being complicated. Overall, they are said to be a good and reliable software.

4. Adaptive Planning

Adaptive Planning is another accounting software designed for nonprofits. Like most software options, they offer budgeting and financial reporting services. You can also do donation tracking and donor management, as well as fund accounting and fundraising management. Adaptive Planning promises a chance to increase visibility into your nonprofit's expenses. This is an important quality for a nonprofit accounting software, since transparency is crucial.
The pricing information is a bit problematic here as well. There is not enough information on their pricing anywhere. They do not have a free version but they offer a 30-day free trial. Only once you sign up for the free trial can you see the pricing details of the software. Apart from that, some users found the setup process to be time-consuming and complicated. Overall, it seems to give a satisfactory enough service to most of its customers.

3. QuickBooks
An accounting software can also work for your nonprofit organization's other needs, like QuickBooks. QuickBooks promises a good service with flexibility to meet your needs. They have all the features you look for in an accounting software. That involves donor and fundraising management and donation tracking. You can also get financial reports and budgeting services. QuickBooks offers an option for multi-currency as well, which is beneficial for international organizations.
It is easy to get financial reports, an important feature for a nonprofit accounting software. Still, there are negative customer reviews of QuickBooks as well. Apparently, there are long-term bug-related problems that cannot be resolved. It still looks like a good alternative compared to some other accounting software.
Their pricing starts from 12.50$ per month and goes up to 90$ per month. They offer a free trial but do not have a free version. You should check which plans offer which features to decide on what works best for you. This accounting software was not made specifically for nonprofit organizations, so make sure your chosen plan meets your needs.

2. Aplos
Aplos is a software specializing in fund accounting and donations. They offer service to nonprofits and churches, both functioning through donations and funds. Thus, they have the optimal qualities you might be looking for, like fund accounting and donation management. In addition, they have fundraising tools to make your job easier. They are ideal for small-to-mid-sized organizations.
However, some customers complain about poor tech support when they have technical problems. There are also users that say they experienced bank integration problems. Still, Aplos seems to be an organized and easy-to-use nonprofit accounting software.
Their prices start from 29.50$ per month and go up according to your needs. You can get customized solutions starting at 179$ per month as well. They offer a free trial but do not have a free version of the software.

1. Raklet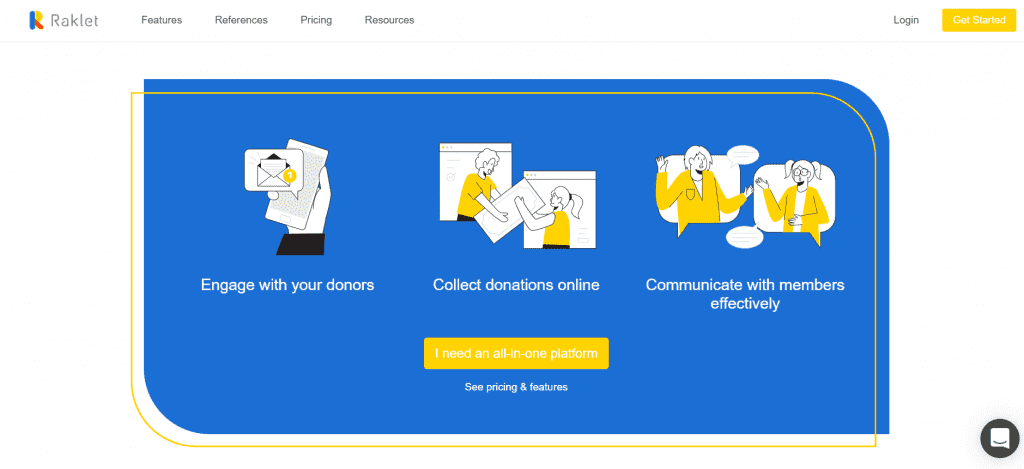 As Raklet, we are an all-in-one management software that offers accounting services as well. Raklet is ideal for nonprofit organizations with its features that make your financing much easier. We offer services like accounting, budgeting, payment processing, and forecasting. You can create fundraising campaigns and track incoming donations. Donor discovery and management are also possible. You can manage your fundraising and grants with Raklet easily.
We offer a free trial, as well as a forever-free plan for up to 50 members. If you want a larger business plan, our pricing starts from 49$ per month. We have a completely transparent pricing policy that you can check out on our website.
Raklet is one of the best options if you are looking for a nonprofit accounting software. It makes your job a lot easier! It has high customer satisfaction and is constantly improving itself too.

Launch your free account today for a good nonprofit accounting software at Raklet today!
You can find related articles on our blog:
Here are some success stories of organizations that work with Raklet: