Givelify Alternative Raklet
If you are looking for an alternative for Givelify that offers fundraising solutions to your nonprofit, you have come to the right place. Tune in to this article to find comparisons of Givelify and Raklet in every aspect worth considering, and then decide if we are the alternative that you seek.
In this digital era we live in, almost every task can be automated. And luckily, the repetitive tasks that a proper fundraising process requires can be automated as well. A membership management software can easily help your fundraising events to go smoothly, keep track of the data of your members or donors, and so much more. While the software handles these, you can focus on making your business decisions with a clear mind, away from tasks that manually take so much of your time and effort.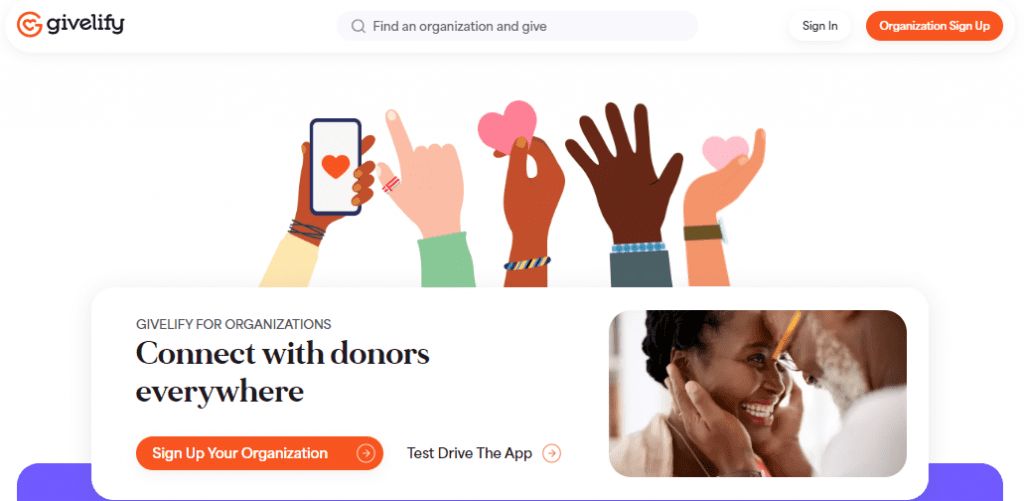 Givelify was founded in 2013 and since then, their main aspiration has been to make donating achievable whenever a person feels motivated to give. They are certainly one of the useful software out there for nonprofits. They offer tools for fundraising events, donor management, and reporting. But there are other software that offer the same features to their members as well. So, let's check what Givelify offers and what they lack in detail.

As you can see from above, Givelify offers a variety of features. So let's now examine them in more detail.
Donor Management:
Givelify offers built-in donation management tools for you to be able to easily track each donation and donor. You can reach donor details, including their donation history and preferences. You can also break these data down however you need: daily, monthly, or by donor.
Fundraising Event Tools:
Givelify offers tools to take your fundraising events to the next level, such as Givelithon. Givelithon is a campaign thermometer that allows you to encourage your members to make donations during an event. Using a fundraising tool such as Givelithon enables you to watch your donation total rise in real-time with every contribution.
Reporting tools:
Givelify offers financial reporting tools to save you from so many time-consuming reporting tasks. Their reporting tools include donation reports that are sent to your donors as well so that you won't have to deal with them.
Mobile App:
Givelify has a mobile application on IOS and Android. From the application, donations can be made within three clicks: entering a pre-configured amount, selecting a fundraising campaign, and finally, donating.
Givelify doesn't offer plans that require monthly or annual fees. There is only a 2.9% + $0.30 transaction fee per donation for organizations. Their plans are divided as For Donors and For Organizations. Their plan, For Donors, are free to download and to use. Their users, in general, find Givelify affordable and give good reviews on their value for money.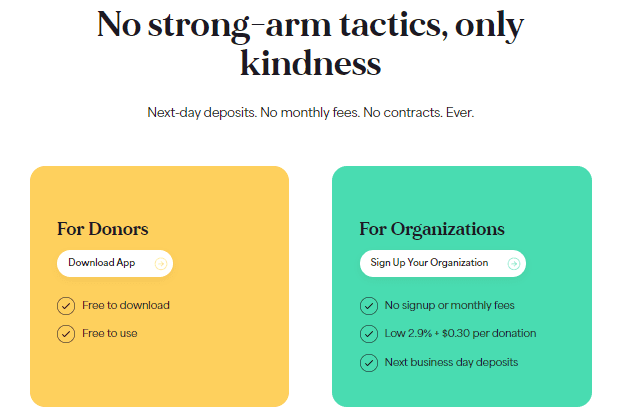 Givelify provides an overall good experience to their customers in terms of fundraising. That is why they have a 4.8/5 rating in Capterra, one of the most reliable software review platforms. Their popularity mostly comes from the software being easy to use, being affordable, and delivering good customer service. Let's see their most commonly mentioned pros and cons.

Raklet is an all-in-one membership management software which offers a variety of fundraising solutions for nonprofit organizations. If we were to give some examples of our unique tools that are especially beneficial to nonprofits, we can talk about our live support chat or unlimited customization options. To paint you a more detailed picture, let's look at some of our most important features: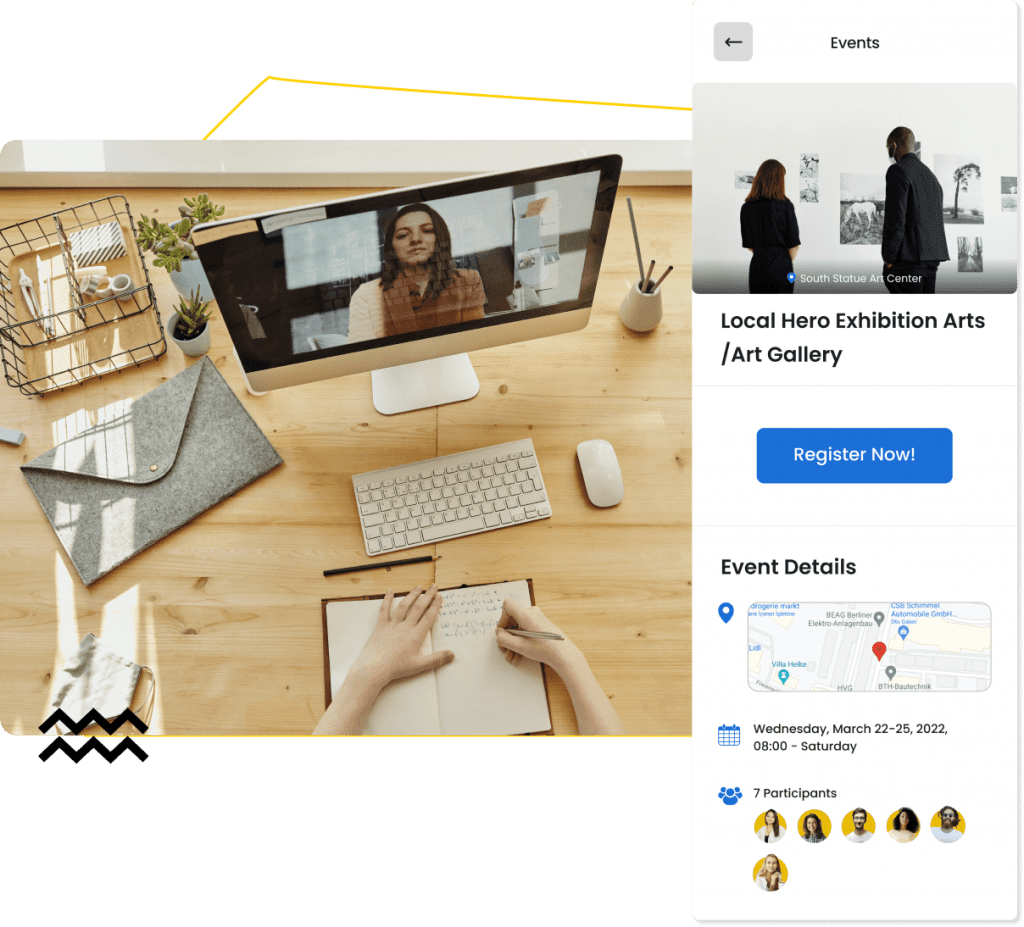 Using Raklet, you can create and promote your events which can be both online or physical. With our powerful CRM, you can track your attendees as well. Also, if you are planning a ticketed event, Raklet provides the necessary tools for you to sell tickets for your event and make sure the payment process is handled in a secure and smooth way.
Raklet provides you tools to create individual fundraiser pages for each of your fundraising campaigns and allows your donors to make donations easily. With our fundraising thermometer, you can set up your funding end goal and track your progress towards that goal. You can also send your donors personalized thank you messages for their contributions and make them feel valued.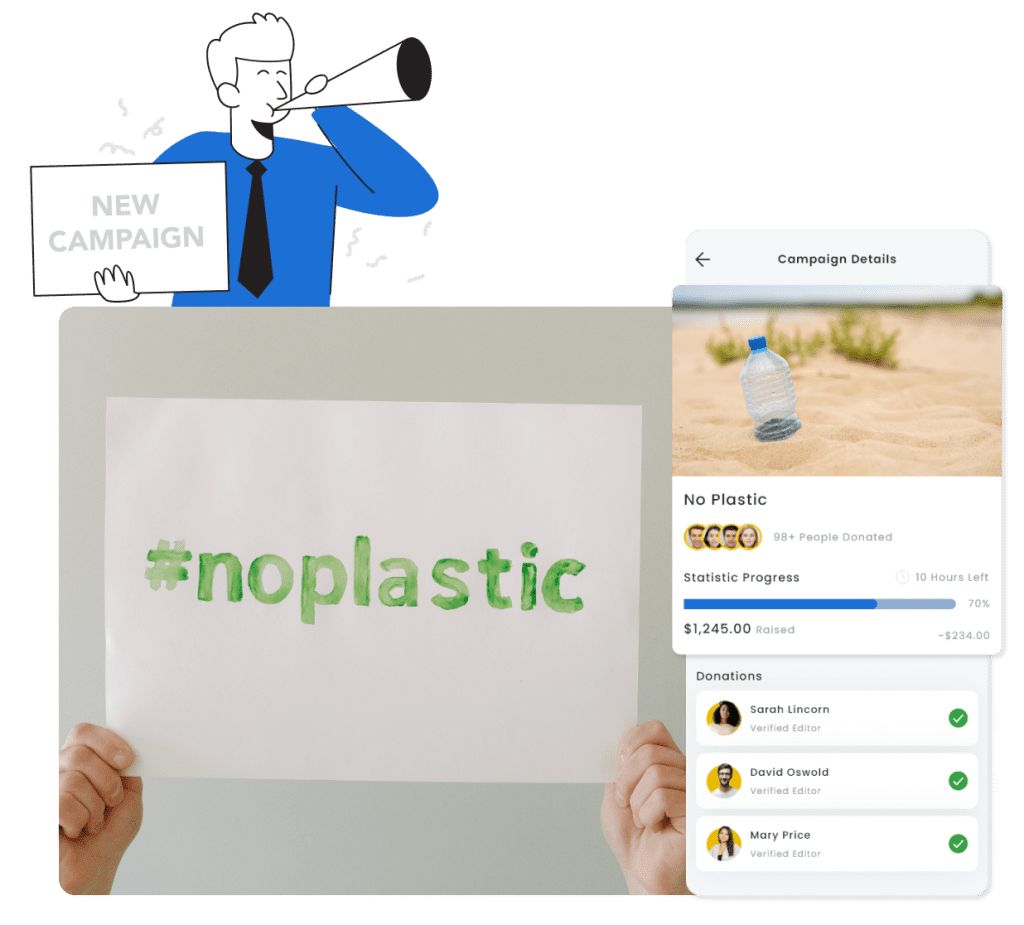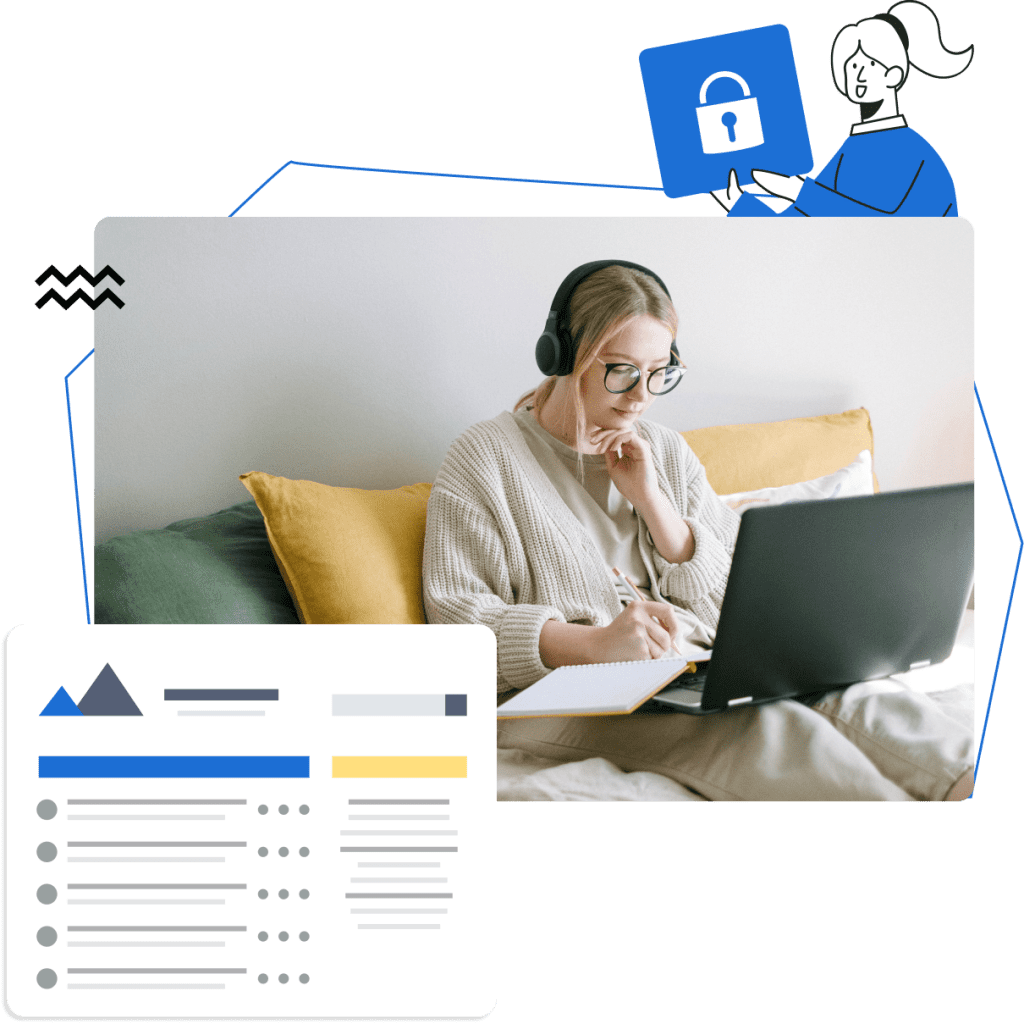 Raklet offers you tools to create your own social network platform as well. This way, you can keep your members updated about upcoming events and share important information with them through customizable announcement posts. You can also strengthen your members' bonds with your nonprofit by allowing them to use our private messaging tools and discussion boards.
Raklet offers you a chance to collect all the needed information of your members and donors with custom individual membership profiles, and your members to update their membership profiles whenever they need. Using Raklet, you will have a powerful database that securely stores all of these profiles and you will be able to categorize them with advanced filtering options. Also, in order for you to stop worrying about reporting tasks, there are reporting tools that provide extensive reports on your donors or members.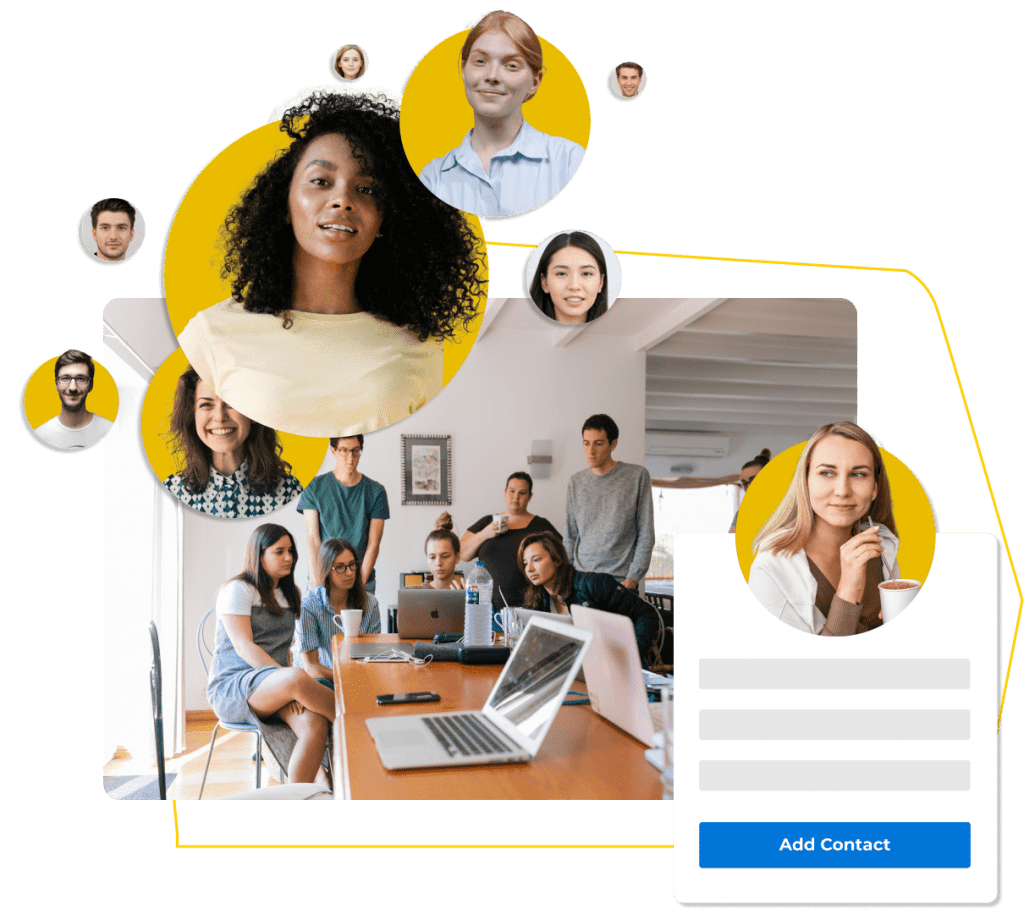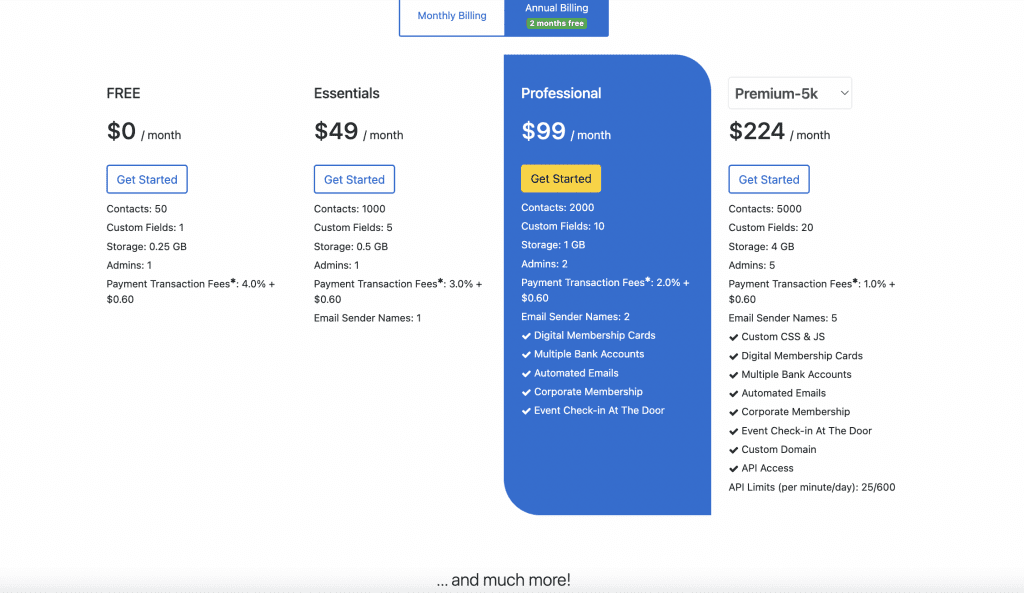 As you can see, Raklet offers 4 different pricing plans. We also provide both a free version which you can choose to use forever, and a free trial which lasts 30 days. Our paid packages start from $49 per month with our Essentials package and go up to $249 per month for our Premium-5K package.
All of our packages offer a broad selection of features to meet your nonprofit's needs. For example, our professional package which costs $99 per month has features like automated emails or digital membership cards.
You can check out our pricing page for more detailed information. Keep in mind that there is a 50% discount on our paid plans for nonprofits!
As our ratings show, with a 4.8/5 overall rating, Raklet is one of the best membership management software out there. One of the main reasons for this is the services we provide to nonprofits, such as our success in fundraising events and donation management. Using Raklet, your nonprofit will meet its needs and have a great experience in terms of fundraising!
The ratings shown above are from Capterra. You can also check out SourceForge, G2, or GetApp for Raklet reviews as well.

How is Raklet better than Givelify?
You can see the comparison below:
Free or starts from $49/mo
2.9% + $0.30 per donation
Don't listen to us, listen to what our clients say

Good membership software! I really liked the support responsiveness. They are on the ball, listen to your comments and try to integrate if the comment can bring value to their product.
Powerful event management software! Raklet's web and mobile apps makes it really easy for us. We create tickets for public and members-only, offer coupons to promote our events and check-in guests onsite.
I am satisfied. We manage the administration and communication of our associations thousands of members. Support team is really kind and help us solve problems quickly through chat or video call. We sell tickets and also crowdfund on the platform.
We publish digital cards for our members on Raklet. They can benefit from the perks simply by using mobile app or adding their cards to mobile wallets. Highly recommended.
As we were about to spend thousands to develop membership software, we discovered Raklet and saved. Raklet has a lean and well thought architecture that provides you the most important features you need for membership management. It looks familiar from day 1, easy to use without extensive training.
Looking for other nonprofit software alternatives?
Create your account.
It's free for as long as you need.
Start for free & upgrade only if you need. Card not required.